Iowa State Cyclones vs. Oklahoma State Cowboys: Complete Game Preview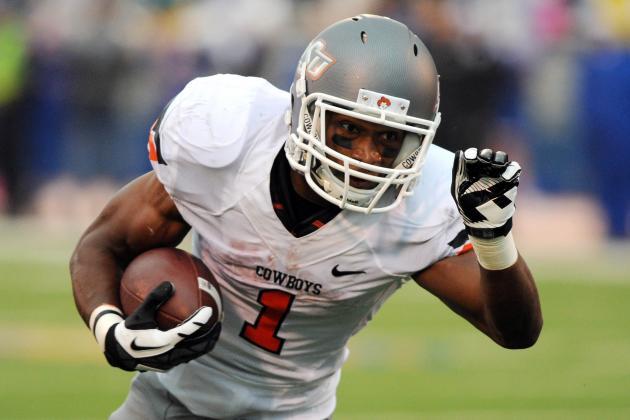 John Rieger-US PRESSWIRE

On the week of their homecoming, the Oklahoma State Cowboys will host the Iowa State Cyclones, looking for revenge for their late-season loss to them back in 2011. Homecoming is always a big deal in Stillwater, and the fact that Iowa State is coming to town just adds to the excitement.
After losing a close game to Texas and playing a poor game at Kansas last week, the Cowboys will face perhaps their toughest test of the season with Iowa State. The Cyclones play solid defense, something that is rare in the Big 12, and they can put points on the board when given the opportunity.
If the Cowboys have a similar game to the one they had last week in Lawrence, they will undoubtedly lose to the Cyclones. Iowa State is looking to rebound after pushing Big 12 leader Kansas State to the brink last week and will be ready to give this Cowboys team all it wants.
Each of these teams is currently in a huge logjam in the middle of the Big 12 race. A win for either would be a step toward the top.
Begin Slideshow

»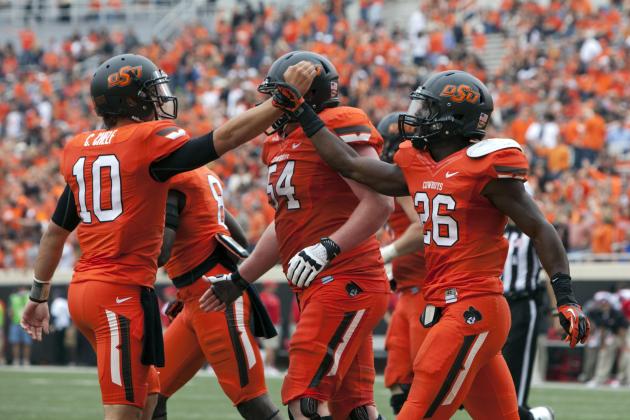 Richard Rowe-US PRESSWIRE

Who: Iowa State at Oklahoma State
When: Saturday, 11 a.m. CT
Where: Stillwater, Oklahoma
Stadium: Boone Pickens Stadium (cap. 60,218)
Series History: Oklahoma State 48-35-7
TV: FX
Radio: Cowboy Radio Network, Sirius Ch. 117, XM Ch. 202
Internet Stream: OkState.com
John Rieger-US PRESSWIRE

Offense
Position Number Name Height Weight Class
Quarterback 4 J.W. Walsh 6'2" 205 Fr.
or
Quarterback 11 Wes Lunt 6'4" 211 Fr.
Running Back 1 Joseph Randle 6'1" 194 Jr.
Fullback 9 Kye Staley 5'10" 236 Sr.
Wide Receiver 82 Isaiah Anderson 5'10" 175 Sr.
Wide Receiver 87 Tracy Moore 6'2" 220 Sr.
Wide Receiver 5 Josh Stewart 5'10" 170 So.
Wide Receiver 18 Blake Jackson 6'3" 238 Jr.
Offensive Tackle 71 Parker Graham 6'7" 292 Jr.
Offensive Tackle 58 Daniel Koenig 6'6" 295 So.
Offensive Guard 70 Jonathan Rush 6'4" 284 Sr.
Offensive Guard 68 Lane Taylor 6'3" 328 Sr.
Center 60 Evan Epstein 6'3" 291 Sr.
Defense
Position Number Name Height Weight Class
Defensive End 80 Cooper Bassett 6'5" 270 Sr.
Defensive End 96 Ryan Robinson 6'4" 246 Sr.
Defensive Tackle 91 James Castleman 6'2" 296 So.
Defensive Tackle 99 Calvin Barnett 6'2" 299 Jr.
Linebacker 11 Shaun Lewis 5'11" 222 Jr.
Linebacker 37 Alex Elkins 6'3" 222 Sr.
Linebacker 45 Caleb Lavey 6'3" 240 Jr.
Cornerback 19 Brodrick Brown 5'8" 185 Sr.
Cornerback 4 Justin Gilbert 6'0" 194 Jr.
Safety 7 Shamiel Gary 6'0" 205 Jr.
Safety 8 Daytawion Lowe 5'11" 198 Jr.
Special Teams
Position Number Name Height Weight Class
Punter/Kicker 13 Quinn Sharp 6'1" 205 Sr.
Punter Returner 6 David Glidden 5'7" 171 Fr.
Kick Returner 4 Justin Gilbert 6'0" 194 Jr.
Longsnapper 53 Andrew Suter 6'2" 268 Jr.
Holder 39 Wes Harlan 5'7" 178 Sr.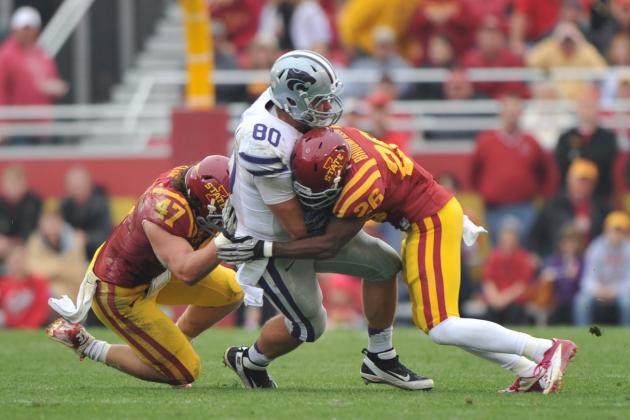 Peter G. Aiken-US PRESSWIRE

Offense
Position Number Name Height Weight Class
Quarterback 7 Jared Barnett 6'1" 198 So.
Running Back 8 James White 5'8" 190 Jr.
Wide Receiver 15 Chris Young 5'11" 197 Jr.
Wide Receiver 3 Aaron Horne 5'9" 177 Sr.
Wide Receiver 19 Josh Lenz 6'0" 194 Sr.
Tight End 81 Rick Howard 6'4" 257 Sr.
Offensive Tackle 71 Carter Bykowski 6'8" 303 Sr.
Offensive Tackle 79 Brayden Burris 6'6" 298 Sr.
Offensive Guard 64 Ethan Tuftee 6'4" 318 Jr.
Offensive Guard 69 Kyle Lichtenberg 6'6" 294 Jr.
Center 74 Tom Farniok 6'4" 280 Fr.
Defense
Position Number Name Height Weight Class
Defensive End 50 Willie Scott 6'2" 231 Jr.
Defensive End 38 Roosevelt Maggitt 6'3" 246 Sr.
Defensive Tackle 90 Cleyon Laing 6'4" 290 Sr.
Nose Tackle 94 Jake McDonough 6'5" 290 Sr.
Linebacker 26 Deon Broomfield 6'0" 196 Jr.
Linebacker 20 Jake Knott 6'3" 239 Sr.
Linebacker 47 A.J. Klein 6'2" 244 Sr.
Cornerback 5 Jeremy Reeves 5'7" 176 Sr.
Cornerback 2 Jansen Watson 5'9" 185 Jr.
Safety 24 Durell Givens 6'0" 211 Sr.
Safety 10 Jacques Washington 6'1" 208 Jr.
Special Teams
Position Number Name Height Weight Class
Kicker 41 Edwin Arceo 5'9" 187 Jr.
Punter 13 K. Van Der Kamp 6'4" 203 Jr.
Holder 8 Brett Bueker 6'4" 229 Sr.
Long Snapper 49 Spencer Thornton 6'1" 238 So.
Punt Returner 19 Josh Lenz 6'0" 194 Sr.
Kick Returner 1 Jarvis West 5'7" 170 So.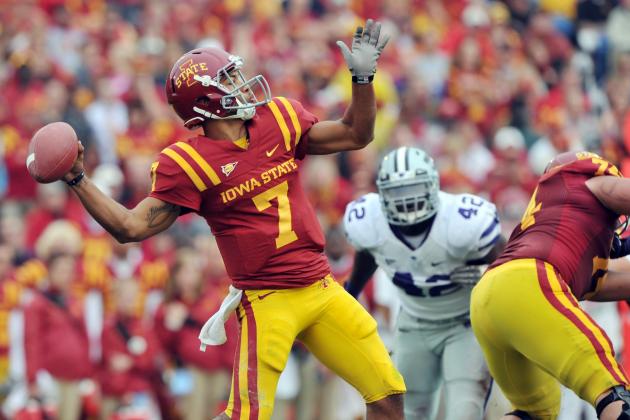 Peter G. Aiken-US PRESSWIRE

Last week, the Iowa State Cyclones played the Kansas State Wildcats to one of their closest games of the season. A 27-21 loss was the result, but the Cyclones have to be feeling good about themselves after pushing a Top 10 team that well.
As impressive as it was that Iowa State nearly won, the Cyclones did have their share of problems. Quarterback Jared Barnett struggled with his accuracy, completing just 16 of 36 passes. He also threw a costly interception into the endzone. The Cyclones were also held in check in terms of rushing the ball, averaging just 2.7 yards per carry.
The Cyclones will need to correct these issues for next week. Completing key passes on third downs is what the Cowboy defense will force them to do, so Barnett must be on his game. Running the ball is important against any team, and it will be tough against a Cowboy defense that has shown an ability to stop the run.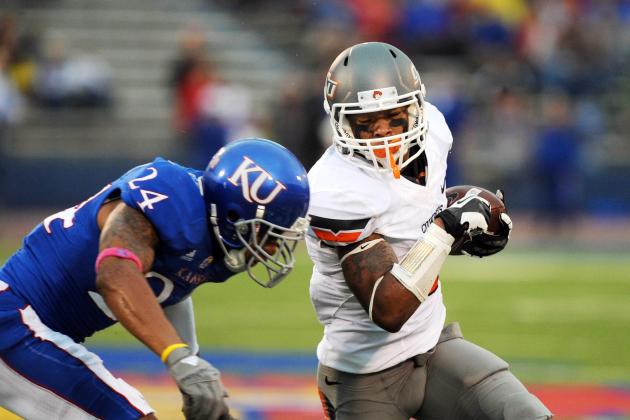 John Rieger-US PRESSWIRE

The Cowboys squeaked by the Kansas Jayhawks last week 20-14 in one of their most uninspired performances in the past four or five years. The Cowboys were outgained offensively by a Kansas team that is generally considered to be the worst team in the Big 12.
The passing game was not crisp, the running game could not open any holes and penalties and mistakes creeped their ugly faces back into the picture. This team has got to get a handle on playing with discipline and poise. The Cowboys are entering a point in their schedule where they play a lot of good teams in a row, and these mistakes will kill them.
Obviously, Kansas did not have the talent that Oklahoma State did, but the Jayhawks still nearly won anyway. That is not a good sign for this team, especially heading into this game with Iowa State.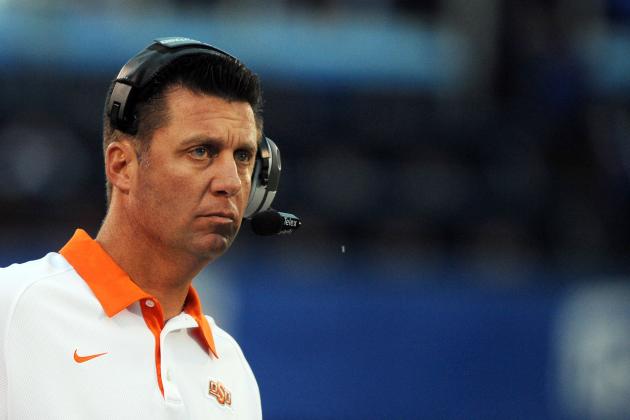 John Rieger-US PRESSWIRE

Oklahoma State has the biggest homecoming celebration in the nation, which automatically makes this week a huge game for the Cowboys. When you combine that with the fact that Iowa State beat the Cowboys last season, it gets even bigger. Revenge will certainly be a factor in this game, yet there is even more than that for the Cowboys.
If Mike Gundy wins this game, he will become the winningest coach in Oklahoma State football history, passing Pat Jones with 63 total wins. That is a bigger deal than any of the rest of this, and you can bet that Gundy's players want more than anything to win this one for their coach.
Iowa State needs this win to continue to build up their program under Paul Rhoads. With four wins already, the Cyclones needs just two more wins to reach bowl contention. Getting this win will help them achieve that goal and beyond. The tough remaining schedule that they have makes that all the more important.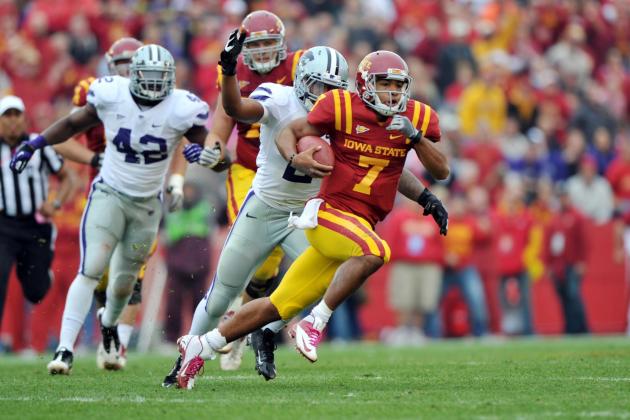 Peter G. Aiken-US PRESSWIRE

Jared Barnett
This Oklahoma State secondary has struggled quite a bit against the pass, so the chance for Jared Barnett to have a big game is here. However, if he does not have a good game, it will probably be a loss for the Cyclones.
The Cowboys have done well against the run this season, and that probably will not change. The secondary has severely underperformed. Barnett has struggled with accuracy at times, but he has also shown the ability to make big throws. The Cowboy defense wants to force teams to convert long third downs. If Barnett can complete passes on such downs, Iowa State will be in really good shape.
Mark D. Smith-US PRESSWIRE

Joseph Randle
Joseph Randle is the star on this team, and he will be the key player most of the time. The junior has rushed for 614 yards and six touchdowns so far this season, and he is on pace to shatter his rushing mark from last season.
The Cyclones have a solid defense, especially in the linebacker core. The matchup between them and Randle will probably be the one that decides the game. If Randle can run on this defense, the Cowboys will win the game. He struggled to find daylight against Kansas last week, so you can bet he will determined to have a good game this week.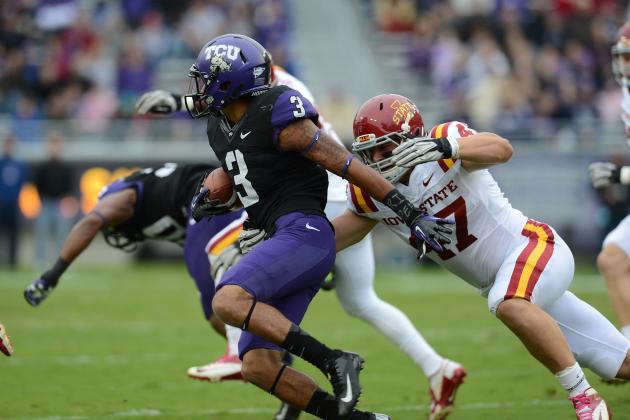 Matthew Emmons-US PRESSWIRE

The Cyclones need to do a couple things if they want to win this road game. The first is move the ball.
By moving the ball down the field, both on the ground and through the air, the Cyclones can keep the ball away from the Cowboys high-powered offense, which is always a good strategy against them. It will allow Jared Barnett to get into a rhythm and allow them to dictate the tempo of the game.
The second big thing they must do is defend the running game well. Joseph Randle is a stud, and he ran all over what was considered the best Big 12 defense in the Texas Longhorns. If he finds holes, he will gain huge chunks of yards. He is a big, strong back who rarely goes down with the first hit. It is a must that the Cyclones stop him if they want to win this game.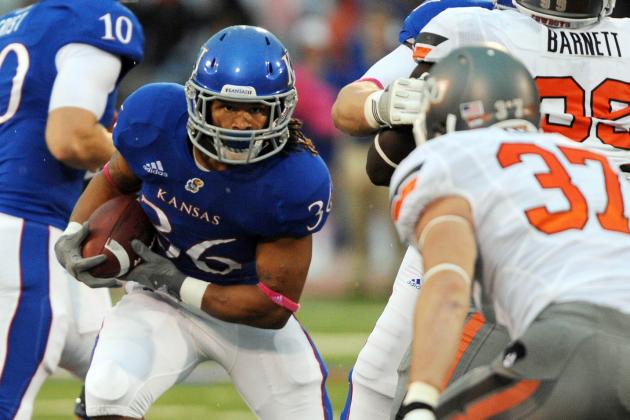 John Rieger-US PRESSWIRE

The Cowboys are the more talented team in this game. However, as they have proven in the past, that does not guarantee a win. If they want to get their fourth win of the season, they must do a few, very important things.
Running the ball is key. We still do not know if Wes Lunt will be back for this game, but running the ball is important either way. Balance is an integral part of this Cowboy offensive machine running smoothly, which is a big part of why it did not work so well last week in Lawrence.
Joseph Randle must get at least 20 carries in this game, and the team must run the ball at least 30 times.
The second thing is stopping the run on the other side of the ball. Iowa State wants to run the ball. Paul Rhoads understands the importance of that part of the offense, and he emphasizes it in his offense. Stopping the run will force the offense to depend quarterback Jared Barnett, who has struggled at times. The running game will be huge on both sides of the ball for the Cowboys.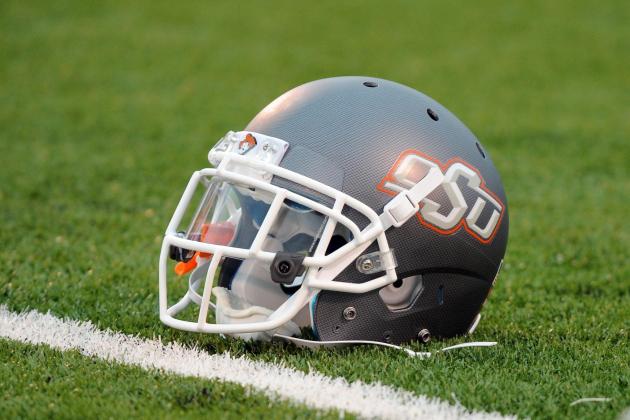 John Rieger-US PRESSWIRE

This game will come down to emotion. The Cowboys want revenge for their loss last season. They want to win this one for their coach so he can break a huge record. And they want to win their homecoming.
While Iowa State will put up a big fight, and the game will be very close, ultimately that wave of emotion will be too much to overcome. Expect Oklahoma State to be sharp, executing almost perfectly and playing very well, especially on offense. This game will be one of those that is in doubt for most of the game, but ultimately, the Cowboys will come out on top.
Oklahoma State 34, Iowa State 28