Alabama vs. Tennessee: Third Saturday in October Rivalry Has Not Lost Its Luster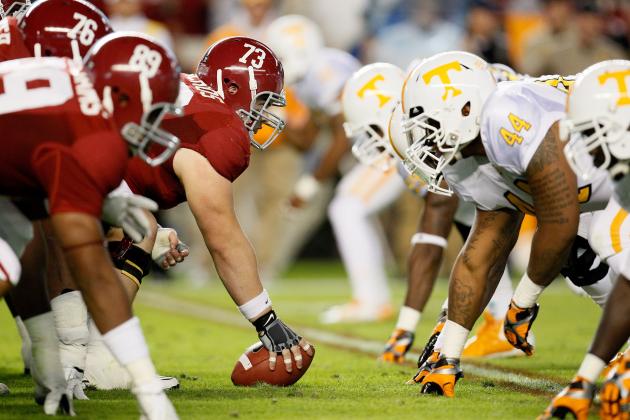 Kevin C. Cox/Getty Images

The Alabama vs. Tennessee game has been played since 1901. Since its inception, each team has won its share of games, but this year carries a lot of storylines that will bring eyes to the television and cheeks to the seats in Knoxville.
The third Saturday in October has not lost its luster; if anything, it is beginning to shine bright again.
The Crimson Tide have the best defense in the land heading into this week's contest, but there has to be an expectation that Tyler Bray and his host of talented receivers will make some plays against the Alabama secondary.
The Vols will have a sea of orange awaiting the arrival of Nick Saban and Co. but it will take a lot more than a loud crowd to win the game. Here are the reasons why this game remains a college football classic.
Begin Slideshow

»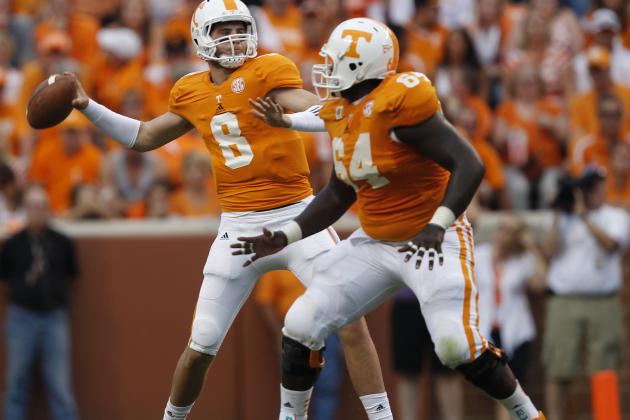 John Sommers II/Getty Images

Alabama and Tennessee better be ready in the secondary this week, because there are two gunslingers that will take the field this Saturday.
Tyler Bray is the leader of the Tennessee offense, tossing 16 touchdowns and already compiling 1,730 yards through the air. A.J. McCarron leads Alabama and has 12 touchdown passes and 1,170 yards to his name so far this season.
Both quarterbacks lead teams that can score points, and they both have playmakers at receiver. Bray has Cordarrelle Patterson and Justin Hunter while McCarron has Amari Cooper and Kevin Norwood.
This game may very well come down to which set of players can make more big gains through the air. Both quarterbacks have the potential to gain a win, but Alabama and McCarron will be favored heavily.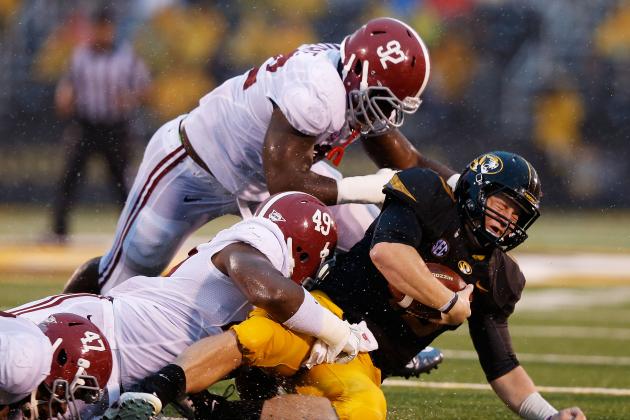 Jamie Squire/Getty Images

Alabama was thought to have one of the toughest openers of the 2012 season when the Tide traveled to Dallas to take on the then-No. 8 Michigan Wolverines.
Since then, the Wolverines have fallen to a 4-2 record and are no longer ranked in the Top 25. Alabama has not faced another Top 25 team so far this season.
The Tennessee Volunteers have fought for all three of their wins and stood very strong in all three losses against ranked teams. These Vols are due a big win, and it could come this Saturday.
The Tide have yet to be challenged in the secondary, and this should be a big one on Saturday. This will be the toughest contest for Alabama to date.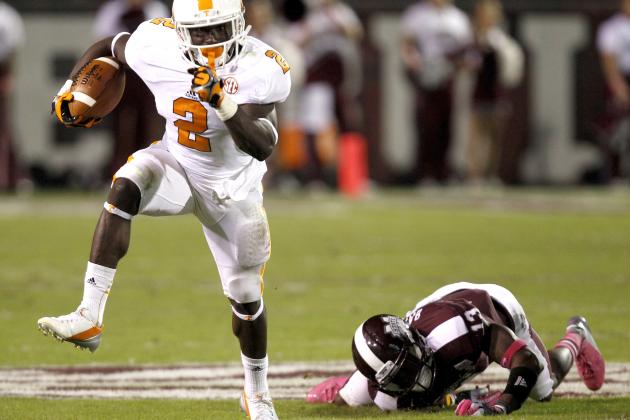 Butch Dill/Getty Images

College football is all about tradition. Keeping with tradition, Alabama will travel to Tennessee this Saturday for the 94th meeting between the Tide and Volunteers.
This game has been played since the 1901 season, with Alabama holding the lead in the series 48-38-7. Both sides have battled through the years and have built streaks during the series tenure.
The Volunteers have had three streaks of three wins, two four-win streaks and a seven-win streak. The Tide have won seven in a row twice; they have won four in a row once and three in a row twice. Their longest streak was 11 wins in a row.
This game has been, and will continue to be, one of the best rivalries in the SEC. A number of national titles and All-Americans have passes through the tunnels to both Bryant-Denny and Neyland Stadium to play in this game over the years.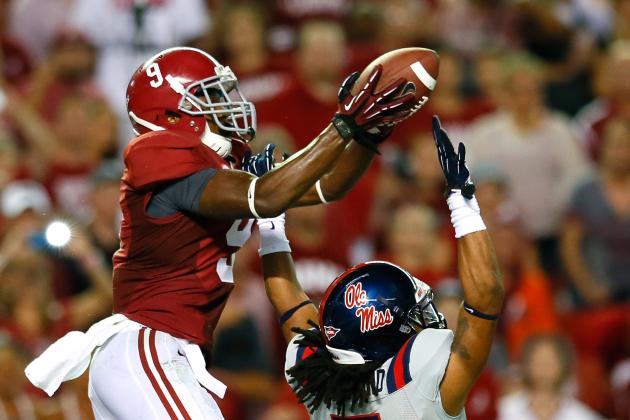 Kevin C. Cox/Getty Images

Anytime that a SEC school travels inside the conference, it is expected to be a relatively close game. Saturday is listed as a 20.5-point line in favor of the visiting Crimson Tide.
That is a ridiculously high point spread and looks very favorable to Tennessee. If you have a bettor's eye, this is likely a game that you have your vision focused on.
A home underdog with a three score spread against it seems to be an easy pick. Alabama has won big in a number of games, but Ole Miss kept the game within 20.
This is a passion-filled rivalry game with a passing offense that can score points. This Crimson Tide secondary has yet to be tested like this. This game will be closer than three scores.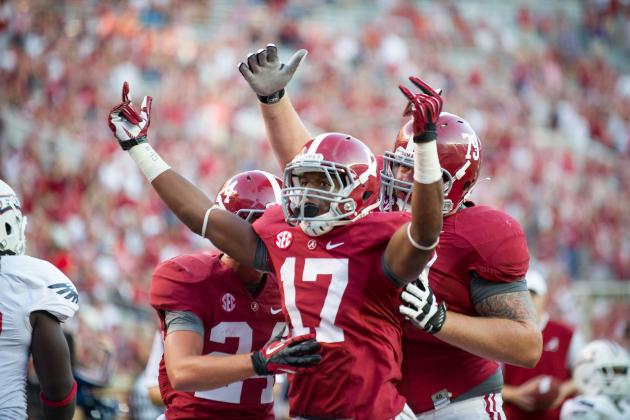 Michael Chang/Getty Images

This has been a crazy college football year so far. A number of top teams have lost when they shouldn't, which makes this matchup even more fun to watch.
Alabama is the far and away favorite in the game, but with the cupcake schedule that has been placed in front of it, there are a lot of questions for this No. 1 ranked Tide team.
The Tennessee team will be upset-minded, and so will the country. Oregon fans are definitely pulling for an Alabama loss. This will be one of the best contests on Saturday for a number of reasons, but watching a possible upset will be the No.1 reason for a number of the sets that will be dialed in.