Florida State vs. Miami (FL): Complete Game Preview
Will FSU beat the 'Canes yet again?
Mike Ehrmann/Getty Images
Florida State trumped Miami in Jimbo Fisher's debut year 45-17—in Miami Gardens.
This year it seems Miami won't have the home crowd advantage.
The Hurricanes have been swept by all the legitimate competition they've played this year, losing to Top 5 teams Kansas State and Notre Dame by a combined 93-16.
The 'Canes have had their up moments (they beat NC State when they had an uncharacteristically undisciplined week), and quarterback Stephen Morris can throw the football.
It is true the Seminoles have struggled on the road. They are 1-1 outside of Doak Campbell Stadium this season, and Miami has historically been a tough place to play.
History doesn't seem likely to repeat itself, but that was the case with the Wolfpack, too.
Game-Day Information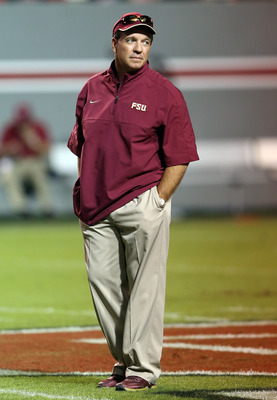 The Seminoles 51-7 win likely cost BC's Frank Spaziani his job.
Streeter Lecka/Getty Images
Who: Florida State vs. Miami (FL)
When: Saturday 8:00 PM EST
Where: Miami Gardens, FL
Stadium: Sun Life Stadium in Miami Gardens
TV: ABC
Radio: Sirius XM (among others)
Locally: Check out Seminoles.com's listing to the left
Internet Stream: Not applicable
Florida State Depth Chart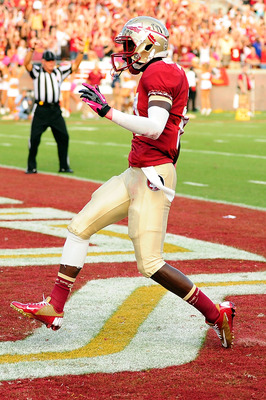 The Seminoles want to continue their offensive progress this weekend.
Stacy Revere/Getty Images
Miami Depth Chart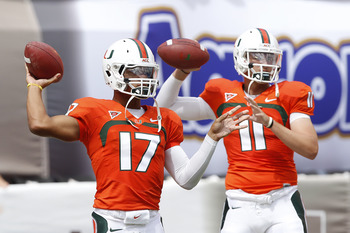 Back-up quarterback Ryan Williams might start for Stephen Morris.
Joel Auerbach/Getty Images
The upheaval in Miami's depth chart makes for a more captivating story.
Stephen Morris' injury gives back-up quarterback Ryan Williams a chance to start against the 'Noles. Though he did not lead his team to victory, Williams went 9-of-13 against UNC last week. The worst case is that this quarterback will be a game-manager, but might in his own right shine against FSU.
According to the Miami Herald's latest release of the 'Canes depth chart, there are three candidates to fill the middle linebacker position. In my opinion, you can't go wrong keeping your eyes out for freshman Raphael Kirby—he averaged 4.5 sacks per game in his two appearances. Watch out, E.J. Manuel!
The running back position is also a point of interest. Mikes James will take over for injured starter Duke Johnson on Saturday. James has performed well on the big stage so far, but this is the first national competition these 'Canes have seen in the ACC.
What Happened to the Seminoles Last Week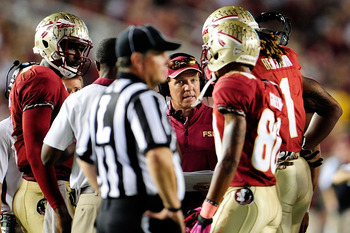 Jimbo Fisher's team bounced back excellently last weekend.
Stacy Revere/Getty Images
Jimbo's tribe showed us it wouldn't spiral into a depressing losing streak.
At least the Seminoles can beat really bad teams (sorry BC) after coming off an upset loss.
FSU thrashed Boston College 51-7 and played four solid quarters of football. E.J. Manuel had a career-record passing day, getting the ball in the end zone four times.
Tidbit to remember: The Seminoles are 6-1 (3-1 ACC) and are in a position that reflects the 2010 team. The Seminoles started 6-1, but after a loss to N.C. State, they faded a little down the stretch. In other words, the team went 6-1 in its first seven games and then went 4-3 the rest of the year.
What Happened to the Hurricanes Last Week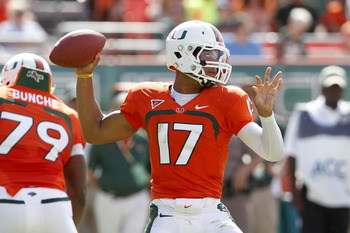 Stephen Morris will be missed against FSU.
Joel Auerbach/Getty Images
UNC consistently beats Miami by narrow margins. Honestly, it's amazing.
Stephen Morris was forced out of this low-scoring affair with an apparent left ankle injury, and backup Ryan Williams performed admirably. Unfortunately, missing his receivers on a critical fourth down (along with two Morris turnovers) had to make some 'Canes fans think they couldn't be playing with south Florida recruits.
It also didn't help this game was played in Sun Life Stadium, the Hurricanes' home stadium. Given their lack of fan support already, UNC was not a preferable tune-up game before hosting the Seminoles.
What It Means to Both Teams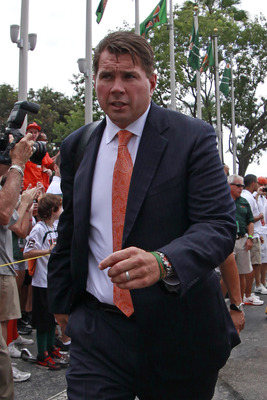 Al Golden walked into a mess, but he needs a marquee victory.
Joel Auerbach/Getty Images
For Chief Osceola, it is simple. Winning in Miami would be a huge confidence booster to the tribe, as the Seminoles would validate their ability to win on the road. A dangerous Thursday night trip to Virginia Tech looms, and while the Hokies are underwhelming this season, one cannot deny that Lane Stadium remains an intimidating host.
Getting another victory would also keep FSU in the ACC Atlantic race. As of right now, both Clemson and FSU have one conference loss each. If Florida State loses, it will fall to 3-2 in conference, and Clemson will get ahead of the Seminoles with only one conference loss. One should also remember Atlantic Division member Maryland is undefeated in ACC play.
Miami needs any kind of victory. The Hurricanes have to show some fight against the nation's best teams to even dream of a return to elite stature. Two of the team's three losses have come to now-Top 5 teams Kansas State and Notre Dame. Though those games were both on the road, the team lost the two games by a combined 93-16.
Al Golden seriously needs a marquee victory to show that his turnaround of Temple wasn't an aberration. Getting the Seminoles at home gives the Hurricanes an opportunity to play an elite team in comfortable confines, but not many fans show up. Golden has been reminding his players of all the Wide Rights in the rivalry to get them energized.
In addition, the nation's number one high-school linebacker, Matthew Thomas, will be at Miami Gardens mulling offers from both programs. This game might decide where he goes.
Key Player for Florida State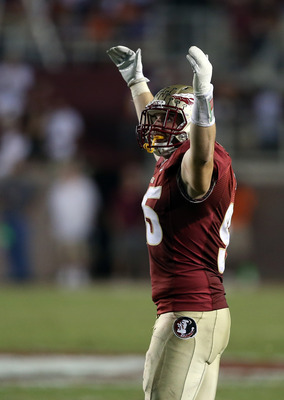 Bjoern Werner must limit Ryan Williams.
Streeter Lecka/Getty Images
Miami's defensive corps is allowing over 500 yards per game, so the offense has had to bail it out.
Enter the Quarterback Nightmare, also called Bjoern Werner. The defensive end, along with pal Cornellius "Tank" Carradine, will harass Ryan Williams all night and make things difficult for Miami's new starting quarterback.
Key Player for Miami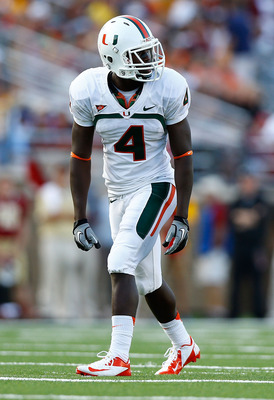 Phillip Dorsett is the catalyst to a Miami upset.
Jared Wickerham/Getty Images
With players such as Stephen Morris and Duke Johnson absent or limited, the Hurricanes need a reliable player to support Ryan Williams. Receiver Phillip Dorsett will need to make it easier for Williams to throw. The quarterback will be under pressure all day, but Dorsett has shown his capability to be a go-to receiver. For Miami to stand any chance, they need a receiver that can mess up the FSU defense.
Florida State Will Win If...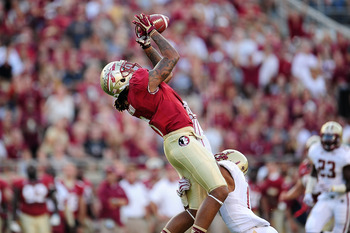 WR Kelvin Benjamin should be E.J. Manuel's favorite target.
Stacy Revere/Getty Images
1. E.J. Manuel connects with Kelvin Benjamin.
2. Bjoern Werner hits Ryan Williams often.
3. The Seminoles remember that they can win on the road.
4. Dustin Hopkins can kick under pressure. (If you are a Seminole fan, pray to God that this doesn't happen.)
Miami Will Win If...
Al Golden should heed these tips!
Joel Auerbach/Getty Images
1. E.J. Manuel throws multiple interceptions.
2. Ryan Williams keeps his pinpoint accuracy.
3. Miami's defense comes to play.
Prediction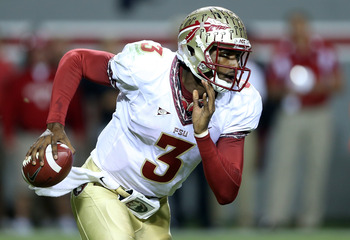 E.J. Manuel should enjoy a win in Miami Gardens to go 2-0 against Miami.
Streeter Lecka/Getty Images
Prediction: Florida State 42, Miami 17
I expected maybe a 38-14 performance from the Seminoles and felt my hopes bolstered when Phil Steele came out with (roughly) the same prediction.
Since Phil Steele's genius is beyond human definition (no one is literally more accurate in predicting outcomes), I will go with his prediction.
This would break the trend of close nail-biters between these pieces of college football royalty (10 of the past 11 games have been decided by a touchdown or less). But one should remember the one exception to that pattern was FSU's 45-17 thudding of the 'Canes at home.
Everyone at FSU has to enjoy Miami these days.
Keep Reading

Florida State Football: Like this team?