NASCAR: Ranking the Top 10 Drivers Fans Would Love to Have a Beer with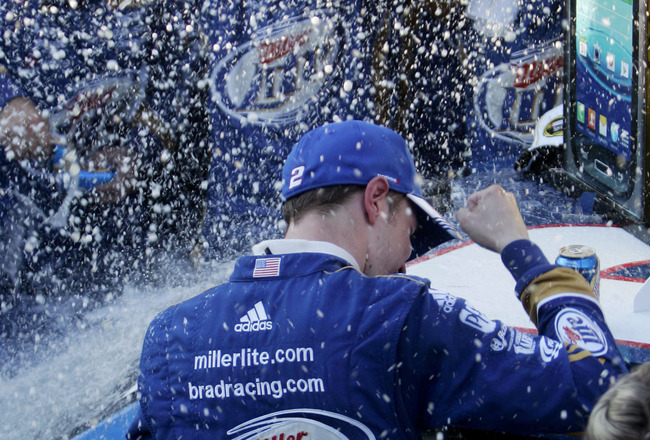 Spraying beer is almost as good as drinking it, especially after a win.
US PRESSWIRE
Admit it, how many times have you watched a NASCAR race on TV or in-person and wondered to yourself, "Gee, I wonder how (fill in driver's name) is in person. I'd love to sit down with him and have beers and get to know him."
Well, we here at Bleacher Report started putting our heads together and began raising our glasses. Then, we thought, why not come up with a way to have a beer—either in-person or cyber-wise—and we came up with "ranking the top 10 drivers fans would love to have a beer with."
So, whether your drink of choice is Budweiser, Miller Lite, Heineken or some fancy imported ale, lift your glasses and give a toast to your favorite—or least favorite driver, in some cases—and quench your thirst.
No. 1: Dale Earnhardt, Jr.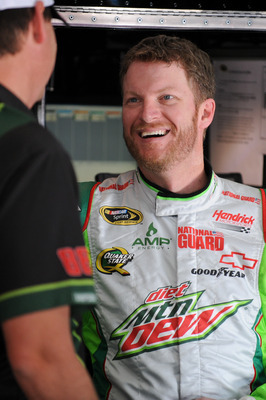 Budweiser used to be Junior's drink; now it's Diet Mountain Dew.
Kevin Liles-US PRESSWIRE
Voted NASCAR's most popular driver the last nine years in a row, who wouldn't want to have a beer with Junior (even if you aren't a fan of his)?
While he's toned down his ways in recent years—getting older will do that to you (Junior turned 38 last week)—Earnhardt really is a fabulous person to talk to and, more importantly, listen to.
He might take a while to warm to you, but once he does, he's a chatterbox.
Not only does he have a plethora of his own stories to tell, imagine the things he could tell you privately about growing up the son of The Intimidator, the late Dale Earnhardt.
And given that Junior is worth a reported $300 million, he'd likely even pick up the bar tab—if you visit him at his downtown Charlotte bar, Whiskey River, that is.
No. 2: Tony Stewart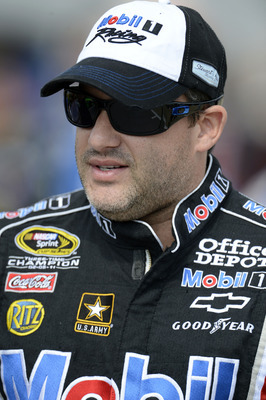 Tony Stewart's favorite brand is Schlitz.
John David Mercer-US PRESSWIRE
A close second to Dale Earnhardt, Jr. in terms of popularity—and someone who has been known to hoist a can or two of cold cerveza in his time—is the man known as "Smoke," Tony Stewart.
He has so many stories, not just of himself, but his friendships with some of the sport's greatest drivers.
And when he talks about one of his favorite drivers, octogenarian and original Alabama Gang member Red Farmer, Stewart will wax downright whimsical.
Do you want to know how to get on Tony's best side? Bring a case of his favorite beer, Schlitz, and you'll have a friend for life.
No. 3: Denny Hamlin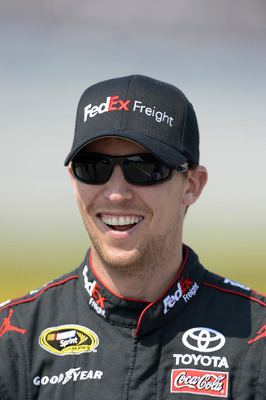 So, Denny, can you tell us about those infamous parties you threw?
John David Mercer-US PRESSWIRE
Rumor has it that some of the parties Hamlin has thrown in recent years at his Lake Norman waterfront estate have become almost legendary.
Unfortunately, those parties are just about history, as Hamlin recently his house and is due to become a father in January.
But when his social life was in high gear, you never know how you'd run into at his place, not just fellow NASCAR drivers, but also folks like NBA Hall of Famer Michael Jordan.
I don't know about you, but rather than having a drink or two at a Hamlin backyard soiree, I'd rather challenge him to a game of one-on-one hoops in the driveway.
Or two-on-two, and I get to pick Michael.
No. 4: Brad Keselowski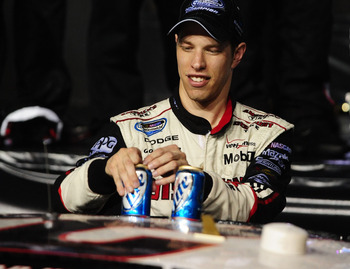 Make Brad Keselowski's brand a Miller Lite.
Mark J. Rebilas-US PRESSWIRE
Brad Keselowski has really made an impact in less than four full-time seasons on the Sprint Cup Series.
And not only does he continue to lead the Chase for the Sprint Cup standings halfway through the 10-race playoffs, Keselowski is one of the brightest shining stars in the sport.
This kid is the epitome of a blue-collar, Midwestern-born working stiff who struggled early in his racing career, but his hard work ethic and stick-to-it-ive-ness have made him NASCAR's latest folk hero.
And the beauty of the Polish Rocket is that he's practically just starting out his Cup career.
There's likely another 15 or more years still to come and the potential of several championships from the driver of the legendary Blue Deuce.
No. 5: Marcos Ambrose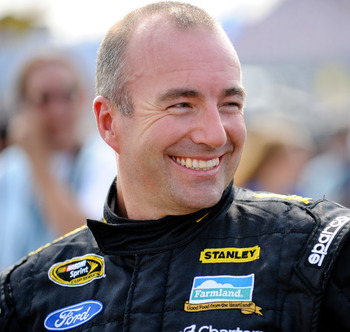 Blimey, G'day mate, how about a nice cold one?
Kevin Liles-US PRESSWIRE
Sure, he doesn't have the number of fans that Stewart or Earnhardt or Hamlin have, but having a beer with Marcos Ambrose would be an international treat.
Especially if you were drinking a stout Australian lager with the Tasmanian native.
What we wouldn't give to learn about Ambrose's racing roots in his native land down under or how racing there is clockwise, as opposed to NASCAR's counterclockwise ray of racing around ovals.
And, come on, admit it: Wouldn't you love to toast Marcos, and then, when you leave, you part by saying "G'day mate!"
No. 6: Clint Bowyer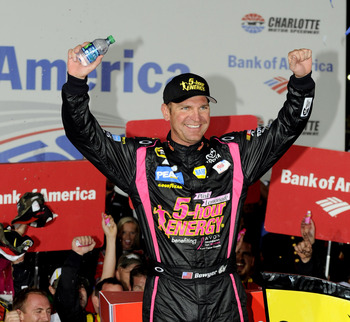 Will 5-Hour Energy soon come out in beer form for Clint Bowyer?
Sam Sharpe-US PRESSWIRE
With his Aaron Eckhart (Harvey Dent in The Dark Knight) chiseled jaw and movie-star good looks, Bowyer is one of the best type of guys to have a beer with because, let's face it, country boys know their beer and how to have a good time.
And that's exactly what the Emporia, Kansas driver is all about: having fun.
Perhaps more than any other driver on the Sprint Cup circuit, Bowyer doesn't get too wrapped up in himself, and he exudes an "aw shucks" kind of persona that easily makes him a fan favorite.
While he touts his main sponsor, "Five Hour Energy," maybe Bowyer can talk them into making a "Five Hour Energy Beer."
You know, when you need to get stuff done, but with a little kick to it as well.
No. 7: Carl Edwards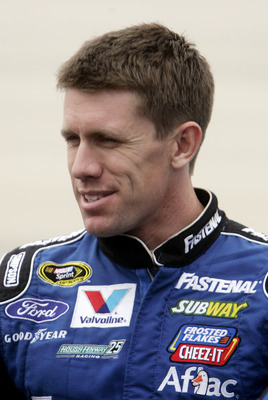 His 2012 season is enough to make Carl Edwards want to drink.
US PRESSWIRE
Come on now, how could you not want to have a long cold one with someone nicknamed "Cousin Carl" and who likes to do backflips off his race car when he visits victory lane?
Sure, he hasn't done any backflips thus far this season in the Sprint Cup Series, but there's still five races left for Cuz to get his groove back on.
But we're not talking having just any kind of beer with Edwards.
Rather, we'd like to have one in some of the exotic places he likes to go do during the offseason, like Thailand or Africa.
Now that would be adding extra cool to an already cold one.
No. 8: Kurt Busch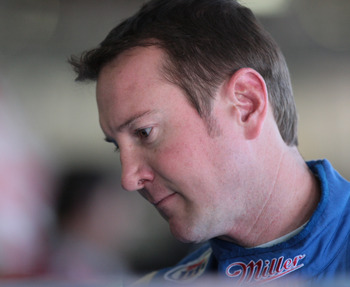 Remember those days when you had all the free beer you wanted?
Marvin Gentry-US PRESSWIRE
I'm speaking from experience here, having tipped a few with Kurt over the years.
But none of those experiences compare to a party he threw last September (2011) after the Chase opener in Chicago.
Kurt rented out a house directly across from Wrigley Field and hosted about 100 of his closest friends and media types as they watched the game from the rooftop.
He put out a great spread of food, and his mother was even on hand to pass out cookies. How cool is that?
While Kurt had a few Miller Lites—remember, he was still with Penske Racing at that point before the big season-ending blowup two months later that would cost him his job—but the elder Busch brother was nothing but the most hospitable host.
Not only did he throw out the ceremonial first pitch at the Cubs game across the street, he also sang the seventh-inning stretch (definitely a performance we'll never forget).
But more than anything, Busch acted like just your average guy, toasting his friends, hugging them hello and goodbye and acting not as a driver, but only as a diehard Cub fan for the entire evening.
Oh yeah, and he picked up the tab for the whole night, worth a reported $20,000.
He may not be everyone's favorite racer, but that's the kind of guy you want to party with.
No. 9: Kyle Busch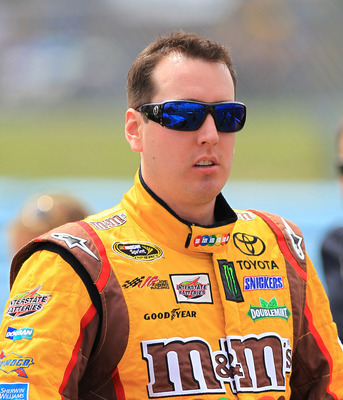 M&M's and beer -- an interesting taste experience, for sure.
Kevin Hoffman-US PRESSWIRE
Come on, admit it, even if you absolutely hate Kyle Busch, wouldn't you love to sit down next to him, have a beer and try to pick his brain to see what makes him tick?
Actually, when he wants to be, the younger Busch brother can be quite charming away from a race track environment.
Don't be surprised.
He's just that ultra-competitive any time he gets near a track.
Plus, there's one other advantage of having a beer with KyBusch: If you get in a bar fight, wouldn't you want to have the unpredictable one behind you, having your back?
No. 10: Kevin Harvick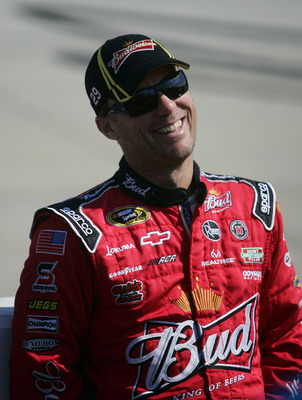 That post-race beer is going to taste real good, isn't it?
US PRESSWIRE
This is a no-brainer: Budweiser for everyone!
But seriously, Harvick really is a pretty nice guy.
Sure, he may have this gruff appearance when he's racing, and he's not one to back down from any challenges, but away from the track, he loves to crack jokes and even occasionally play some practical jokes.
On a more serious note, believe it or not, Harvick is also one of the smartest, shrewdest business-type minds out there.
Not only is he all business on the race track, he's equally all-business when it comes to getting and keeping sponsorship: i.e., Budweiser.
He also is one of the best examples of a good sponsor representative in the sport.
So, Kevin, for all you do, this Bud's for you.
(Now, if you could just win a race or two before the end of the season, then we'd really have something to toast and drink to.)
Honorable Mention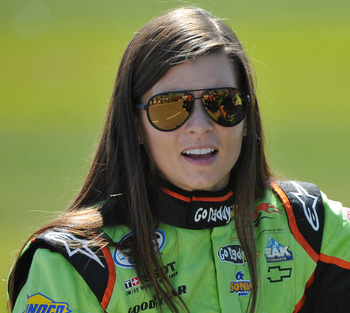 Danica Patrick is among our honorable mention candidates.
Rob Grabowski-US PRESSWIRE
We'd be remiss if we didn't mention four other drivers who also might be fun to have a beer with. They are Danica Patrick, Michael Waltrip, Matt Kenseth and Juan Pablo Montoya.
Patrick would give a completely different perspective on racing than her male counterparts.
Waltrip would be fun to tip glasses with, and I bet he could make some great toasts.
While he gives the impression of being the quiet type, Kenseth is really fun to hang around with off from the track.
And as for Montoya, well, the career he's had in Sprint Cup is something that needs some beer—and lots of it.
Follow me on Twitter @JerryBonkowski
Keep Reading