NBA Preseason 2012: Veterans with the Most to Prove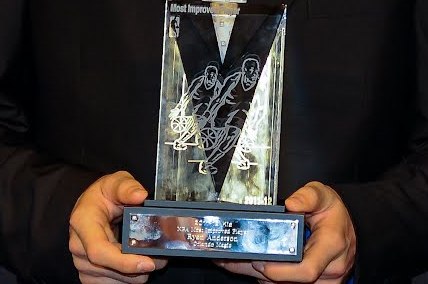 The NBA Most Improved Player award.
The 2011-12 season may have ended with Ryan Anderson winning the NBA Most Improved Player award, but there are plenty of veterans entering the 2012 preseason with plenty to prove.
Some players are assuming new roles of leadership. Others have either joined new teams, been asked to play a new role for the team they're on, or both.
Some guys are playing to rebuild their careers and some are just trying to prove that they can still play.
Today we'll have a look at Spencer Hawes, Brandon Roy, Josh Smith, Joe Johnson and Andray Blatche.
Begin Slideshow

»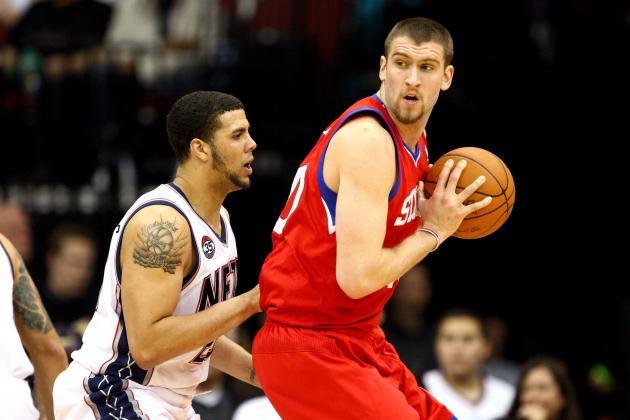 Chris Chambers/Getty Images
How will Hawes adapt to having Andrew Bynum playing on the same team?
This past offseason featured quite a few shakeups. The biggest was the four-team deal that sent Dwight Howard to the Lakers.
This trade altered the makeup of the Philadelphia 76ers, who sent long-time star Andre Iguodala to the Denver Nuggets and received Andrew Bynum in return.
Spencer Hawes, who has been a starting center for four of his five seasons in the league—two with Philadelphia, will now have to adjust to playing a new role with Bynum in the fold.
Hawes may prove to be the greatest beneficiary of this arrangement.
If the Sixers should choose to bring Hawes off the bench this season, he will instantly become their best player in their second unit.
Monday night, playing as a reserve with the second unit, Hawes racked up 17 points, eight rebounds and four assists in only 18 minutes of play.
For his career—even as a start, he has never averaged more than 11 points and seven rebounds over the course of the year.
If Philadelphia can get this kind of production out of Hawes off the bench, he might be looking at both the Most Improved Player and Sixth Man of the Year awards finding their way to his mantle.
It may seem like he doesn't have much to prove, but consider that his team thought it was worthwhile to trade their best player to upgrade his position.
With only two years remaining on his contract, it may be in his best interest to prove—to the Sixers and the rest of the league—that he is capable of putting up big numbers in the post.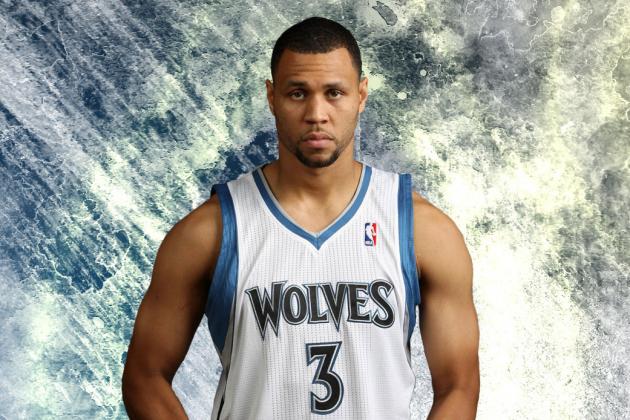 Brandon Roy now playing for divisional rival Minnesota Timberwolves. [Image circa Basketwallpapers.com]
In December of 2011, Brandon Roy announced his retirement from the NBA, citing his ongoing knee problems as his reason for hanging up his sneakers.
The former 2007 NBA Rookie of the Year and three time All-Star had been hampered by knee injuries, having had surgery on both of his knees—his right knee twice and his left knee once.
Roy was quoted listing his health and family as major factors in his decision to retire, saying:
"My family and health are most important to me and in the end this decision was about them and my quality of life."
He doesn't have to worry about his quality of life. After having his contract amnestied by the Portland Trailblazers, whom he had spent his entire career with, he will still be paid the remainder of his contract.
Having the opportunity to test the open market, he opted to sign on to play with the Northwest division rival Minnesota Timberwolves. He stands to earn an additional $5 million per year for the next two seasons.
The Timberwolves committed to a two-year contract for the mid-level exception, taking a risk that perhaps he'd be healthy enough to contribute at the wing position that has been their one glaring weakness in recent years.
His production through three games so far this preseason has been commendable; averaging nearly 11 points, two assists and 33 percent from distance in less than 20 minutes per game.
The biggest issue with Roy is his health. How long will his knees hold up?
With Russian three-point shooter Alexey Shved and second year guard Malcolm Lee on the roster, one has to hope the Wolves have enough depth to limit his playing time throughout the season and keep him healthy for any playoff aspirations.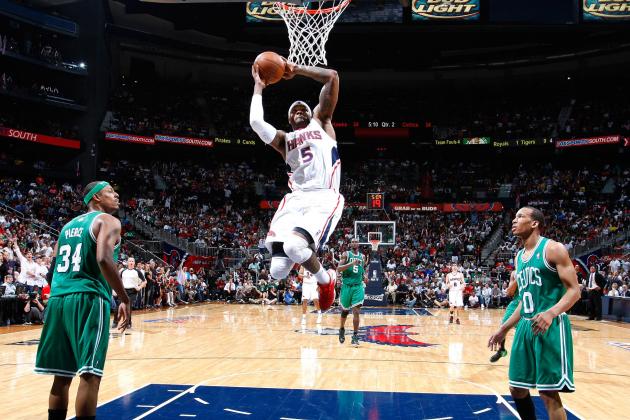 Kevin C. Cox/Getty Images
The ever-athletic Josh Smith has much to prove this year.
Atlanta Hawks forward Josh Smith has always been a touch on the mercurial side. He has an abundance of talent, but at times seems to get in his own way. He can fill out a stat sheet but can shoot his team into a hole.
He is one of the best high-flyers and when matched up against small forwards, he has an immediate advantage in the post. Yet, he has a penchant for shooting three-point shots, which he only makes at a dismal 27.8 percent clip.
Now that Joe Johnson is gone, it only makes sense to expect more from the star who has the most talent.
This should be a big year for Smith. He assumes more scoring responsibility in lieu of Johnson's absence. He is in the final year of his previous contract. He still has yet to make the NBA All-Star roster.
He has a lot to prove, but will he?
Thus far, in Atlanta's first three preseason outings, Smith is averaging a little more than 21 minutes, nearly 11 points, two assists, two steals and a little less than five rebounds and one block per game.
The Hawks are 1-2 in their first three outings. Wins and losses don't mean much in the preseason but how much starters are able to contribute during their limited playing time often does. But Smith's numbers don't seem to be any better than his typical career averages.
Perhaps, he is still getting acclimated to his 11 new teammates?
Hopefully, he figures it all out before the season starts. His numbers, at present, do not seem to indicate that he's ready to be an All-Star or assume the scoring vacancy left by Johnson.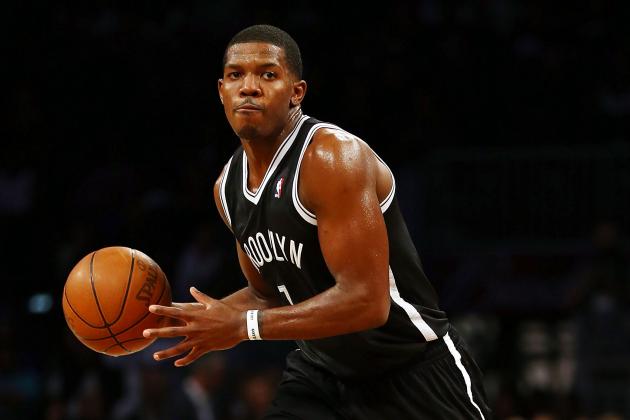 Alex Trautwig/Getty Images
Joe Johnson enters his first year with the Brooklyn Nets.
Speaking of Joe Johnson...
In his first season with the Brooklyn Nets, Johnson assumes a new role, one that he hasn't had the pleasure of playing since his days in Phoenix.
In Atlanta, Johnson was paid to be the go-to guy. He assumed larger ball-handling responsibilities, was expected to perform in the clutch and was the centerpiece of a largely iso-centric half-court offense.
With Brooklyn, much the same as his days with Steve Nash and the Suns, he has the pleasure of playing with another elite point guard. Doing so allows him to become more of a spot-up shooter, playing off the ball.
Even so, as he assumes a role that once earned him the big money contract and respect that Atlanta gave him, will he be able to play at a level worthy of the money he is still owed?
Two games into the preseason and Johnson is not making many waves. In 31.5 minutes per contest, he is averaging just 13.5 points, four assists, two rebounds and 1.5 steals per game.
Johnson is the highest paid player on the Nets roster. This season he is making more than $19.7 million. In the final year of his contract, 2015-16, he will be making almost $25 million.
At that price, Brooklyn better be getting some hardware for their trophy case. If they can't accomplish that, Johnson will only have proven to be an overpriced toy.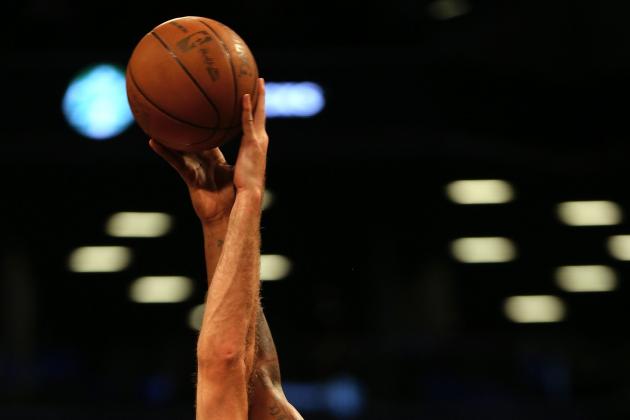 Elsa/Getty Images
Andray Blatche sees the Brooklyn Nets as a second chance.
In seven years with the Washington Wizards Andray Blatche never played to the potential of the paychecks his name was written on. Ultimately, the Wizards chose to part with him and his contract, opting to use their amnesty to rid themselves of him this past offseason.
After his release, he apologized to Washington fans in an interview with Comcast SportsNet's Chris Miller:
And for the fans that was booing me, I want to tell them I apologize for the effort, I guess, I gave out there that wasn't enough.
For Blatche, it may have been the wake-up call that he needed. As he told the Washington Post:
I was at rock bottom. I felt like after that, nobody felt I was going to make it back into the league after last season, so zero reminds of me how everybody gave up on me.
Last season, Blatche played in only 26 games, mostly due to nagging injuries and conditioning problems. He has since admitted that he wasn't physically prepared for the season, as he thought that the lockout would cause the season to be lost.
I would say, the last season, I wasn't ready. I wasn't prepared. I didn't prepare right, due to me thinking it was going to be a lockout. I kind of put my guard down. I don't really blame the fans for booing me, because I put that on myself.
Having hit rock bottom, he chose the number zero for his jersey. For Blatche this season is a second chance, an opportunity to rebuild his career from the ground up.
I'm very thankful for the 2nd chance I have gotten now to make the best out of it

— andray blatche (@drayblatche) Sept. 27, 2012
After spending the offseason working out with John Lucas and coming into camp 20 pounds lighter, Blatche has the look of a new man. After his first two preseason games coming off the bench behind Brook Lopez, he is averaging 14 points and 6.5 rebounds.
Hopefully, he makes the best of this second chance and can one day become the player everyone thought he would be.