2012 MLB Playoffs: Biggest Surprise Players of the Postseason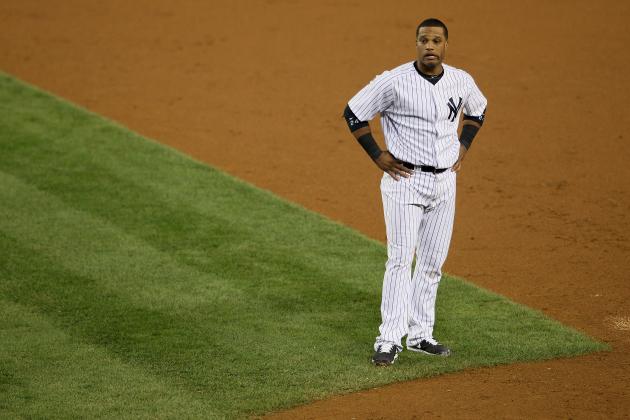 Alex Trautwig/Getty Images

Can we count the Washington Nationals as a whole for surprises of the 2012 MLB postseason?
All jokes aside, it's been one heck of a postseason so far, with all division series games going down to the wire and all of the twists and turns that accompany playoff baseball.
From the offensive collapse in New York to the clutch performances of the St. Louis Cardinals, here are the biggest surprise players from the four teams left in the 2012 MLB postseason.
Begin Slideshow

»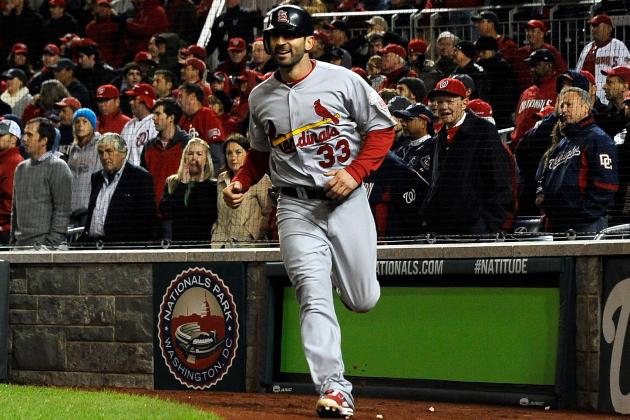 Patrick McDermott/Getty Images

Daniel who?
Yeah, I didn't know his name either until he started going off in this year's postseason.
Descalso has been the unsung hero for the St. Louis Cardinals during their miraculous playoff run. After hitting a mere .227 in 143 games during the regular season with four home runs and 26 RBI, the 25-year-old second baseman is hitting .267 at the dish with two home runs and six RBI through just eight games.
His defense has been on point, and he's been productive on the basepaths, swiping one bag and scoring eight runs. To get an idea of just how good Descalso has been for the Cardinals, I offer you this tweet from CSN Bay Area beat reporter Andrew Baggarly:
Just figured it out: Mark Lemke put himself in carbon freeze sometime around 1993, thawed out last week and renamed himself Daniel Descalso.
— Andrew Baggarly (@CSNBaggs) October 15, 2012
You have to love the hustle and effort that this guy puts on display each day he takes the field.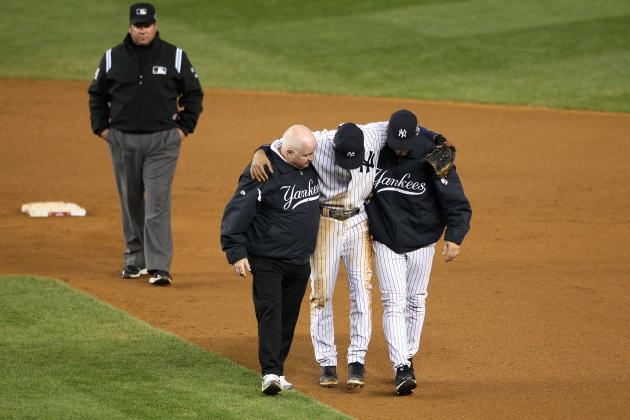 Alex Trautwig/Getty Images

As if the New York Yankees offense wasn't anemic enough this postseason, they lost their hottest hitter and clubhouse captain.
Before Derek Jeter fractured his left ankle, he was easily New York's top hitter in the postseason (as if we'd expect anything less from Jeter).
The Yankee captain carried an excellent 2012 regular season—during which he led the league in hits—into the postseason to help carry New York to the ALCS.
In five postseason games, Jeter posted a .333 batting average to go along with two RBI, two walks and four runs scored and was delivering timely hits in clutch moments for the Yankees while collecting career postseason hit No. 200.
ESPN Stats & Info gives us some insight on what Jeter meant to the Yankees offense this postseason:
Cano, A-Rod, Granderson combined for 8 hits in 81 AB this postseason. Before his injury in Game 1, Derek Jeter had 9 hits...

— ESPN Stats & Info (@ESPNStatsInfo) October 15, 2012
It's not just the on-field presence that New York now lacks; it's the mental toughness and clubhouse demeanor that Jeet brings to the club. I think we can all agree that the postseason isn't the same without the pinstripes' No. 2 out there.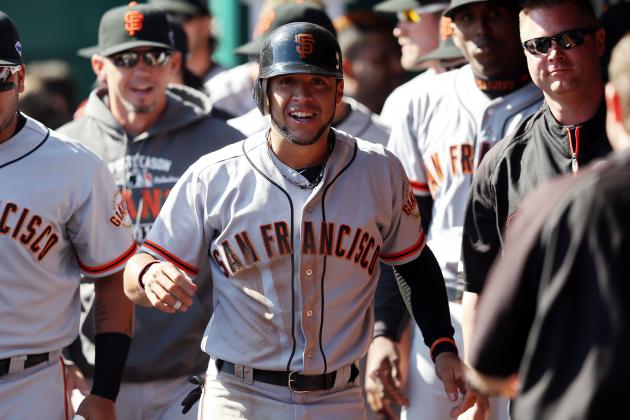 Andy Lyons/Getty Images

It's not Buster Posey but rather left fielder Gregor Blanco who has elevated his play for the San Francisco Giants during the playoffs.
The 28-year-old Blanco has a hit in all but two of the Giants' postseason games and is hitting .286 with one home run, four RBI and six runs scored.
After hitting just five home runs during the regular season, Blanco blasted one over the wall in Game 4 of the NLDS, giving the Giants a lead they would never relinquish in the series.
Blanco has provided San Francisco with excellent defense in left and is always a threat to swipe a bag when he reaches base, as evidenced by his 26 stolen bases during the regular season.
At the bottom of the lineup, Blanco's .375 OBP is a solid contribution for those hitting in the top of San Francisco's lineup.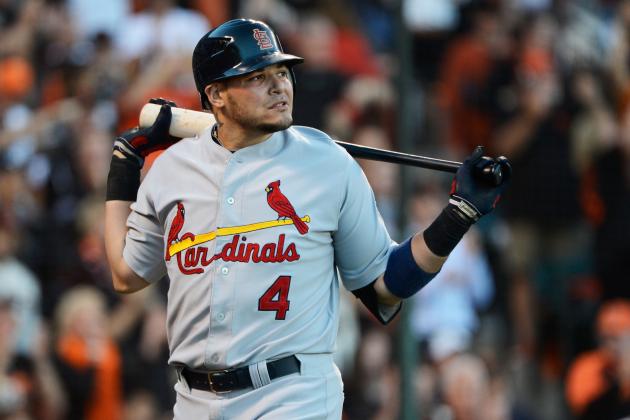 Thearon W. Henderson/Getty Images

It's not quite the dismal postseason that Robinson Cano is having, but Yadier Molina has been pretty awful too.
After leading the club with a .315 batting average during the regular season, Molina finds himself in the basement in terms of postseason average, hitting just .138 (4-of-29) with two RBI.
If the Cardinals hadn't been winning and Carlos Beltran, David Freese, Allen Craig, Daniel Descalso and Matt Holliday weren't stepping up at the plate, Molina's playoff struggles would be magnified, just as Cano's are.
Behind the plate, the eight-year man is as solid as anyone, in terms of calling games and blocking the ball, but his offense has really lacked since October struck.
If St. Louis advances to the World Series, it's going to need Molina's bat to contend with the AL offense of the Tigers (yes, I'm conceding that the Yankees will lose).
Al Bello/Getty Images

To say Raul Ibanez has been clutch for the Yankees this postseason would be an immense understatement.
With a flair for the dramatic, Ibanez has hit three home runs this postseason, with all three either tying or winning the game for New York.
Altogether, the 40-year-old is 7-for-20 (.350) and tied with Ichiro for the team lead in playoff RBI with five. Not bad for a guy who was signed as a luxury off the bench for the Yankees in the offseason.
You can't say enough about the class, veteran presence and overall bat that the 16-year veteran brings to the Yankees, especially when the game is on the line.
Ibanez has been one of the few bright spots for a Yankees squad that has uncharacteristically failed to score runs and take over ballgames.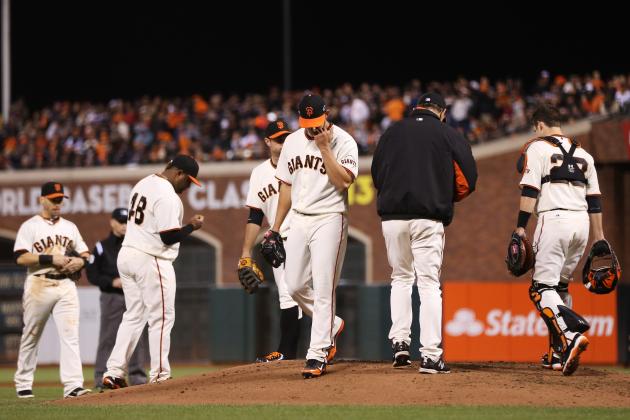 Jeff Gross/Getty Images

Following a 16-11, 3.37 ERA campaign during the regular season, Madison Bumgarner has fallen apart in the playoffs, much to the surprise of many.
In two starts this postseason, the young lefty has lasted a total of just eight innings, surrendering 10 earned runs, including three homers, which adds up to an inflated 11.25 ERA and an 0-2 record.
It was extremely baffling to see the 23-year-old struggle against the Cincinnati Reds in the NLDS, as Bumgarner threw a one-hit, complete-game gem against the Reds on June 28.
As FanGraphs writer Dave Cameron explains, Bumgarner's flat slider—which he's been throwing just as often as his fastball—has been one of the main reasons for his struggles.
For the long term, this shouldn't be anything the Giants organization needs to worry about. At just 23, Bumgarner has a lot left to learn and build upon. But if they're serious about making a run at a World Series trophy this season, they may want to start looking at other options in the rotation.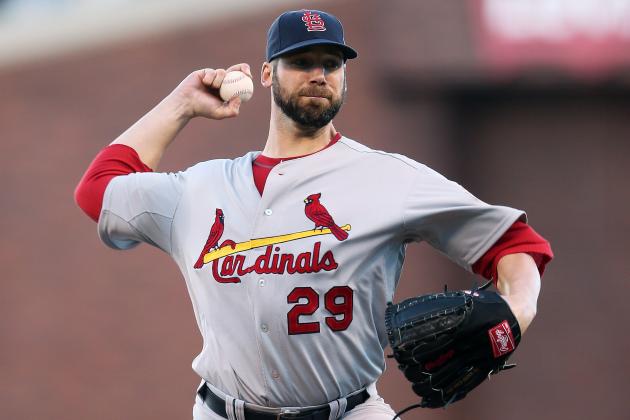 Christian Petersen/Getty Images

Chris Carpenter has been a revelation for the St. Louis Cardinals in the playoffs.
After starting just three games for St. Louis during the regular season and going 0-2 with a 3.71 ERA, the 14-year veteran has been brilliant during the postseason, collecting a win and posting a 1.86 ERA and throwing 91 pitches per start, which is impressive for a guy who spent the regular season on the shelf.
And you can't say enough about what this guy's doing at the plate. Carpenter has been helping himself out, going 3-for-4 and driving in a run. ESPN's SportsCenter compares Carpenter's offensive performance to that of struggling Yankees slugger Robinson Cano (before ALCS Game 3):
Chris Carpenter is now 3-4 at the plate this postseason, with two doubles.He has 1 more hit than Robinson Cano, who is 2-32.

— SportsCenter (@SportsCenter) October 16, 2012
Carpenter's 17 career postseason starts are paying dividends for St. Louis in its run at another World Series championship in 2012.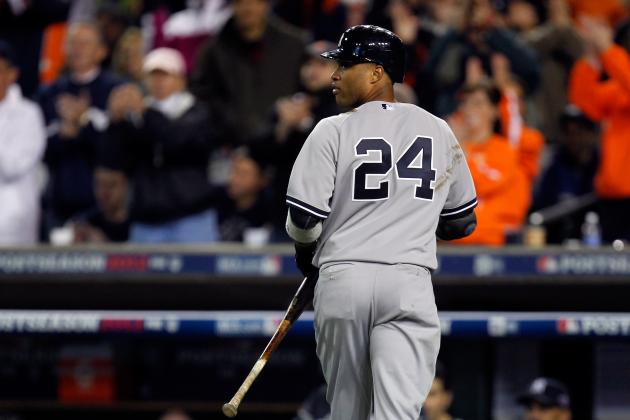 Gregory Shamus/Getty Images

Robinson Cano is easily the biggest surprise of the 2012 postseason.
Known as one of the best hitters in the game, Cano has been the absolute worst hitter during October after entering the playoffs on an absolute tear.
Prior to his last at-bat in ALCS Game 3, the three-time silver slugger had an awful streak going at the plate, as this SportsCenter tweet shows:
Robinson Cano just singled for his 1st hit in last 30 postseason AB.He's 3-36 in the playoffs.

— SportsCenter (@SportsCenter) October 17, 2012
This has to be the biggest surprise of the postseason given the caliber of hitter that Cano is. He was tearing the cover off the ball in the weeks leading up to the playoffs and has since found himself in a downward spiral offensively.
At a time when the other big bats in the order are struggling and the captain has fallen, this was the worst possible time for Cano to hit a brick wall.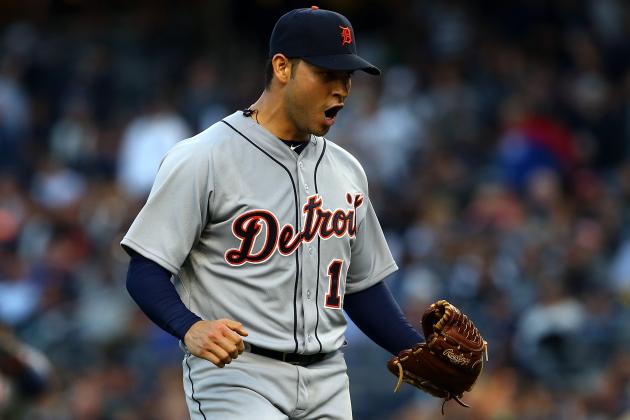 Alex Trautwig/Getty Images

When you think of dominant pitchers on the Detroit Tigers, Anibal Sanchez doesn't exactly pop into your head, but he's been consistently good this postseason.
After pitching to a 9-13 record (4-6 with the Tigers) and 3.86 ERA during the regular season, Sanchez, like teammate Justin Verlander, has really dialed it up this October.
He's 1-1 with a 1.35 ERA and 0.98 WHIP during the playoffs. In the game he lost, Sanchez surrendered just two runs on five hits in 6.1 innings and the Tigers offense was shut out.
Sanchez struggled against the Yankees during the regular season, as he lasted just three innings while surrendering seven earned on seven hits in a start at home on Aug. 8.
Tigers pitchers as a whole are pitching lights out this postseason—probably because they're facing an anemic New York offense—but if anyone was going to struggle, my money would have been on Sanchez.
And I would be broke right now.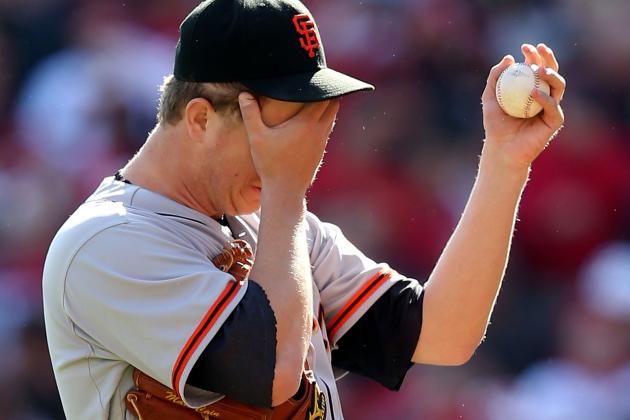 Andy Lyons/Getty Images

Matt Cain is certainly not pitching like the ace of a staff this October.
The righty owned hitters during the regular season, going 16-5 with a 2.79 ERA, 1.04 WHIP and 193 strikeouts, but come the postseason, it's been a completely different story.
A 5.06 ERA and 1.31 WHIP have defined Cain's performance during the playoffs, as he's surrendered 11 hits, six earned runs and three home runs in just 10.2 innings of work for a 1-1 record.
For a guy who's supposed to lead the Giants when taking the mound, Cain certainly hasn't been the dominant pitcher he was during the regular season.
As FanGraphs' Michael Barr details, it's been Cain's slider that has been plaguing him, as he's been leaving some up in the zone that have taken a pounding.
If Cain can find that hard slider that he's had so much success with, he'll be just fine, but it has been a surprise to see a potential Cy Young candidate pitch this poorly of late.
Follow me on Twitter: Follow @Pete_Schauer