NFL Trade Deadline Deals That Would Make the Most Sense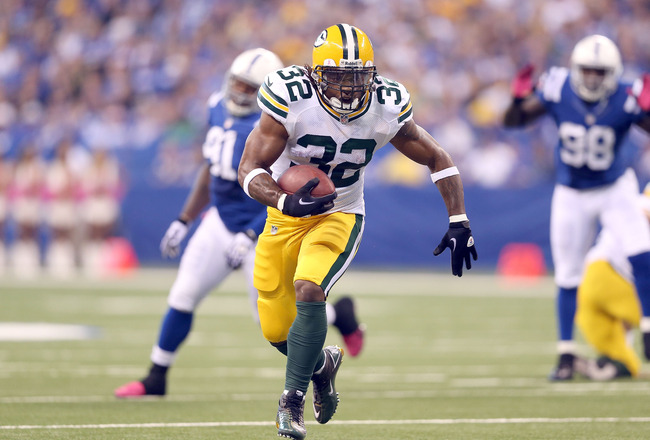 Will Cedric Benson injury force Green Bay to trade for a RB?
Andy Lyons/Getty Images
The NFL trade deadline of October 30 is now less than two weeks away. Albert Breer of NFL Network reported that the trade deadline was moved from Week 6 to Week 8 in the 2012 season based on an agreement between the NFL and the NFL Players Association. All trades must be reported to the NFL by 4 pm ET on Tuesday, October 30.
The move made sense, because at the six week mark, it was too early for teams to know if they were in the playoff hunt or not. By moving the deadline back two weeks, teams now have a better idea if they are buyers or sellers.
Most seasons, you would be reading or hearing about a number of potential trade rumors from the beat writers that follow specific teams. But so far, the 2012 regular season has produced very few rumors on the trade front to report on.
In this presentation, there are three central themes at work here.
The first theme is to identify which teams would be the traditional sellers at the trade deadline, based on an abysmal start to their 2012 season.
The second theme is to conduct some roster analysis at Spotrac.com, to identify which players are going to become unrestricted free agents in the 2013 offseason. Do you let unrestricted free agents walk away at the end of the season and get nothing for them, or do you trade them away prior to the deadline to stockpile some draft picks?
The third theme concerns the laws of supply and demand. Some teams are blessed to have exceptional depth at a certain position, but have weaknesses at other positions as a result. So, we take advantage of that great depth by nominating teams that are hurting at that position.
Of course, any trade needs two teams to make it work, so we will identify a trade partner for each of these potential trades, whether it would be getting a player back, or adding a draft pick or two.
Let's see if any of these potential trade ideas come to fruition within the next two weeks.
The Six NFL Sellers at Trade Deadline
Should the Raiders be shopping Matt Leinart?
Mark J. Rebilas-US PRESSWIRE
Coming into Week 7 action, there are still six NFL teams that have only tasted victory once in the 2012 season. Each of these six teams are facing very long odds of realizing their goal of making the playoffs this postseason.
It would take an incredible turnaround to make the playoffs, so the more likely scenario is that these teams would be labeled as "sellers" at the trade deadline. The six teams that we identified as the sellers would be Oakland, Kansas City, Jacksonville, New Orleans, Cleveland and Carolina.
Let's look at the current assets of each of these six teams for some trade ideas. First up is the Oakland Raiders.
The Raiders are in the midst of restructuring their franchise. With the passing of Al Davis, to the new regime of owner Mark Davis and general manager Reggie McKenzie, the Raiders are looking to rebuild the team.
One way to rebuild is to stockpile some draft picks. The Raiders saw firsthand in the 2012 draft how tough it is to sit on the sidelines when most of their top draft picks were traded away.
At 1-4, the Raiders aren't eliminated from the AFC West race by any means, but this is a team with some major flaws. One example would be their pass rush, which has generated only four sacks in five games.
Looking at the Raiders list of 2013 unrestricted free agents on Spotrac.com, the two names that jumped out at me were QB Matt Leinart and DE Andre Carter.
Carson Palmer and Terrelle Pryor represent the current and future quarterbacks for Oakland, so Leinart is a trade chip to explore.
The Raiders recently signed Andre Carter off the street as a free agent. At 33 years old, Carter was a worthy project to see what he still has left in the tank. He is going to be an unrestricted free agent at the end of the year. If Carter can prove over the next two games that he is healthy and can make an impact, the Raiders might be able to land a draft pick to a team in need of pass rush help.
It might surprise you to see the sack totals of some of these teams after six weeks that are going to be battling it out for a playoff berth; Philadelphia (7), San Francisco (9), New York Jets (9), Baltimore (10), San Diego (10), Pittsburgh (11) and New England (11).
Sellers: Kansas City Chiefs
Dwayne Bowe is an unrestricted free agent in 2013
John Rieger-US PRESSWIRE
While it would be correct to identify the Kansas City Chiefs as sellers based on their poor 1-5 start to the 2012 season, the Chiefs are also a team that could be viewed as buyers too.
Poor play from starting quarterbacks Matt Cassel and then Brady Quinn leave the Chiefs as the next NFL team in desperate need of a major upgrade at the quarterback position. The duo has combined to throw five touchdowns, compared to 11 interceptions. Their combined QB Passer Rating is 63.9.
The Chiefs can play out the string and hope that they are positioned for an outstanding prospect in the 2013 NFL draft. Or, they can make a trade to pick up a quarterback now, recognizing that they can give him a 10-game audition for 2013.
As for being sellers, the Chiefs have handed the ball off to Jamaal Charles 115 times, Shaun Draughn 45 times and to Peyton Hillis 21 times.
Hillis is averaging 4.4 yards per carry, but is an afterthought right now in Kansas City. He is also going to be an unrestricted free agent in 2013. The Green Bay Packers are in desperate need of help at running back.The Packers just claimed Johnny White off of waivers from Buffalo, and he is not the answer.
Another player the Chiefs should be pedaling around the league is WR Dwayne Bowe. According to a tweet from Jason Cole at Yahoo Sports:
I can report this: Bowe wants out of KC very badly. Not exactly a revelation, but true.
Bowe is the leading Chiefs receiver, but was unable to reach a long-term deal with Kansas City in the offseason. Bowe is an unrestricted free agent in 2013, so the Chiefs should try to cash in on his good start (34 receptions for 323 yards and three touchdowns) before he signs with another team in 2013.
The St. Louis Rams are only a game out of first-place in the NFC West division. Sam Bradford needs some talent at wide receiver to work with, so pedal Bowe to them and grab a draft pick or two from St. Louis.
Sellers: Jacksonville Jaguars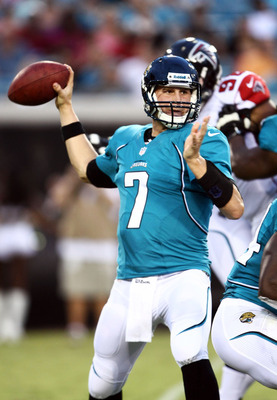 If the Jaguars won't start Chad Henne, should they trade him?
Douglas Jones-US PRESSWIRE
What happened to the AFC in 2012? After six weeks, are you aware that only two of the 16 teams in the conference have a winning record. Those teams are the Houston Texans and Baltimore Ravens at 5-1.
The other 14 teams are either at .500 or below .500. One of those teams below .500 is the Jacksonville Jaguars, at 1-4. While the team may still believe they aren't out of playoff contention for 2012, they look like they should be sellers at the trade deadline.
What do the Jaguars have available to sell off prior to the trade deadline?
First-year head coach Mike Mularkey has been learning more about his personnel with each passing week. By the trade deadline, Mularkey may decide that there are some unrestricted free agents that don't fit into his long-range plans.
Blaine Gabbert and the Jaguars passing attack sure hasn't blown anybody away in 2012. Not a single player has caught at least 15 passes this season. Gabbert showed some promise in the preseason, but his QB passer rating is all the way down to an unacceptable 73.3.
Will the Jaguars let Gabbert finish out the year to see what they have on their hands, or will they turn to backup veteran Chad Henne to see if he can turn their fortunes around? If they don't believe they will turn to Henne, then he might be worthy of exploring his trade value around the league. He does have 31 NFL starts worth of experience to bring to another team.
While we are at it, how good would LB Paul Posluszny look in a Green Bay Packers uniform? They sure need help at MLB right now, and he has never played for a team that was vying for the playoffs before. Obviously Posluszny's huge contract is the stumbling block here (six years at $42 million), but stranger things have happened.
Checking out the rest of the Jaguars 2013 unrestricted free agents, the only other name that jumps off the page is RB Rashad Jennings. The Jaguars have handed the ball off to Maurice Jones-Drew 84 times, while Jennings has only 13 carries on the season. If he is going to be used so seldom, it might behoove Jacksonville to see what they can get for him.
Sellers: New Orleans Saints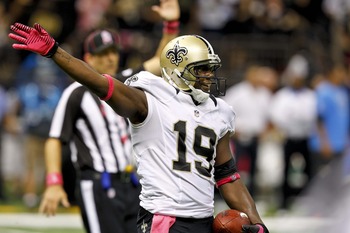 Devery Henderson is an unrestricted free agent in 2013
Derick E. Hingle-US PRESSWIRE
We just detailed the state of the AFC Conference in the prior slide, so now let's turn our attention to the NFC.
The NFC has seven teams currently with a record of 4-2 or better. On top of that, there are another four teams sitting there are .500 on the year. Then there is the New Orleans Saints with a record of 1-4, looking up at the 6-0 Atlanta Falcons.
The Saints should be viewed as clear sellers at the trade deadline. You would like to think that, with Drew Brees, anything is possible, but this is a team that has created too big of a hole to crawl out of. The defense is ranked at No. 27 overall, and that will be the unit that is responsible for holding the team back.
We are all familiar by now with the nightmare of what the bounty scandal has done to the New Orleans Saints team in 2012. The Saints would like to put the whole affair in the rear-view mirror and move forward. So, with that in mind, let's look at the upcoming unrestricted free agents Saints in 2013.
The names on the list that stir the most interest are RB Chris Ivory, QB Chase Daniel, WR Devery Henderson and LB Scott Shanle. While Saints fans might shudder at the thought of trading any or all of these names, you need to focus on the reality of the situation. The 2012 playoff outlook is very bleak.
The bounty scandal resulted in the second-round draft pick in 2013 being stripped away by NFL Commissioner Roger Goodell, so the Saints need to pick up additional draft picks where they can.You have to be willing to give up some kind of value to get value back.
With respect to Ivory, Daniel, Henderson and Shanle, let's see what is going on with each of them.
Ivory has yet to be activated for a single game this year. Ivory is watching in street clothes while Pierre Thomas, Mark Ingram and Darren Sproles split all the carries. Ivory has strong potential and could net the Saints a draft pick or two.
Daniel has been with the Saints for 34 games and is now in his third year but he has never started a game. He has completed six of his eight passes for 45 yards in relief of Brees. Daniel has been through three training camps, three preseasons, and lots of personal coaching from Brees.
With the long-term deal that Brees signed in the offseason, the Saints might want to consider marketing Daniel around the league to see what he could fetch.
Henderson is an experienced wide receiver at 30 years old, but he is only the No. 5 option in receiving this year for New Orleans. Henderson has been fairly quiet this year, but he turned some heads in the game against San Diego by catching eight passes for 123 yards and a touchdown.
Shanle is 32 years old and will also be an unrestricted free agent at the end of the season. Shanle has 103 career starts under his belt, so there could be a buyer that loses an outside linebacker to injury in the next week or two that would place some value on what he brings.
Sellers: Cleveland Browns
Trade market for Colt McCoy has been very quiet
Jonathan Daniel/Getty Images
The Cleveland Browns finally won their first game of the year in Week 6, and with a record of 1-5 they should be sellers at the trade deadline because they don't have any shot of making the playoffs this year.
With the news from the NFL Owners meeting yesterday that the league approved the sale of the Browns franchise to Jimmy Haslam, the Browns will be busy at their headquarters as they figure out who stays with the new regime and who is going to leave.
One person that will leave is President Mike Holmgren, and he will be replaced by Joe Banner, who becomes the CEO on October 25.
Due to all of the developments, it is hard to knock the Browns if they don't pull the trigger on any trades at the deadline. The Browns' 2013 unrestricted free agents aren't exactly top-tier, so it is debatable what they could wind up with in trade talks.
The trade chip that might make some sense is backup quarterback Colt McCoy, but it sounds like Cleveland likes having McCoy there to serve as the backup to rookie Brandon Weeden.
So, even though we pegged the Browns as sellers, we expect they will be very quiet at the trade deadline.
Sellers: The Carolina Panthers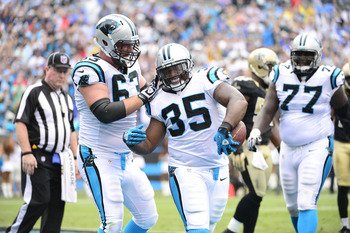 Should Carolina be shopping Mike Tolbert?
Bob Donnan-US PRESSWIRE
Most people are genuinely surprised to see the Carolina Panthers stumbling out of the gate at 1-4 this year. Cam Newton was ready to take a step up from his outstanding rookie season, but found the sledding much tougher than anticipated.
Newton is experiencing more frustration this year than he ever had as a rookie. 2012 will be chalked up as a valuable set of learning lessons for Newton. That doesn't change the conclusion that Carolina should be sellers at the trade deadline, because the Panthers face the same long playoff odds that the Saints do.
One veteran that might make sense to shop around prior to the deadline is RB Mike Tolbert. To date, the trio of Newon, RB DeAngelo Williams and RB Jonathan Stewart have accounted for 113 of the Panthers 128 running attempts on the year. Tolbert has only been given 11 carries, which amount to 26 yards.
Carolina envisioned a greater impact when they signed the free agent, so perhaps a trade to a team that isn't as stacked in the backfield is in order. Calls to Green Bay, Detroit or Arizona regarding Tolbert could make sense right now.
The 2013 Panthers unrestricted free agents include CB Captain Munnerlyn, who leads the Panthers with four pass deflections and has returned an interception 33 yards for a touchdown. The Ravens just lost Lardarius Webb for the year, so their depth in the secondary took a major hit.
Dealing from Surplus: Green Bay Packers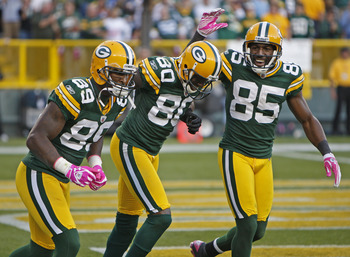 Will the Packers part with a wide receiver at the trade deadline?
Matt Ludtke/Getty Images
The Green Bay Packers are blessed with a very gifted wide receiver corps. That is one of the reasons why Aaron Rodgers is as effective as he is, because he has so much talent to throw the ball to.
Donald Driver and Greg Jennings will both be unrestricted free agents in 2013. It is difficult to know for sure if Driver wants to continue playing after 2012, but you know that Greg Jennings does. The Packers are so deep at wide receiver that they could trade away James Jones or Jennings and not miss a beat.
But the Packers are also in the mix for being a buyer at the trade deadline. Due to a number of injuries that have left their depth very thin at running back and middle linebacker, this could be a scenario where one player is actually traded for another player, as opposed to being traded for draft picks.
If the Packers could part with a wide receiver and get back a middle linebacker or a running back that has the ability to step in and start, it would be a worthwhile investment of their time.
Teams in need of wide receiving help include St. Louis and the New York Jets. The Buffalo Bills lost WR David Nelson for the year. Could they part with Nick Barnett for James Jones?
Deadline Buyers: Baltimore Ravens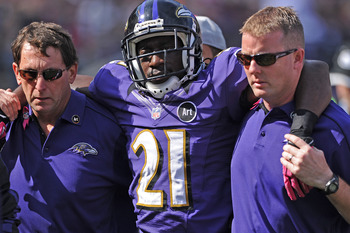 Will the Ravens need to trade for some defensive help
Patrick Smith/Getty Images
There were already some concerns being voiced over the Baltimore Ravens defense giving up two straight games of over 200-plus rushing yards. Then you compound that with the loss of CB Lardarius Webb and MLB Ray Lewis for the rest of the year.
The Ravens had enough depth to plug guys in for the departed starters, but there is a drop off in talent, in addition to a serious depletion of the Ravens' depth on defense.
Haloti Ngata sprained his knee and Terrell Suggs still isn't ready to be on the active roster. If there is any team that is in need of trying to swing a deal to acquire some help on defense, it would be the Baltimore Ravens.
Deadline Buyers: Arizona Cardinals
Arizona Cardinals miss Beanie Wells
Matt Kartozian-US PRESSWIRE
The Arizona Cardinals started out 4-0 before losing their last two games. At 4-2, they are still in contention, but have some immediate needs that they have to address.
The two biggest holes are the Cardinals starting tackles and the need for a healthy running back. The injury to Beanie Wells leaves the Cardinals without a top-notch back for the near term, and it is preventing opponents from respecting the running attack.
The starting tackles for Arizona, Bobby Massie and D'Anthony Batiste are No. 1 and No. 2 in the NFL in giving up sacks. The poor play by the tackles has allowed Kevin Kolb to take a beating, and his rib injury from Week 6 will keep him out longer than one month.
If the Cardinals have any shot at the postseason, they need to find a way to upgrade the tackles and land some help at running back.
We offered some running backs that should be made available by the deadline, so let's see if any of these potential trades will actually occur.
Thanks for checking out the presentation.
Keep Reading