5 NBA Rookies Looking to Earn a Starting Spot in 2012-13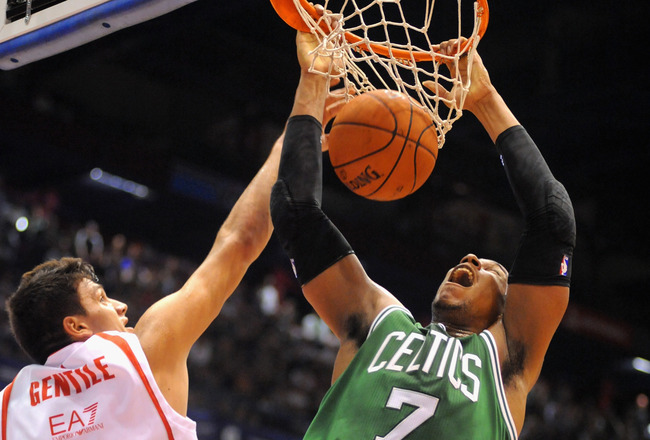 Jared Sullinger is one of many NBA Rookies looking for starting time this season
Roberto Serra/Iguana Press/Getty Images
Every NBA season brings with it a pile of young rookies looking to prove themselves to their team, coaches, and the world.
We always see a few rookies come out of no where and find themselves in a starting role on an NBA roster.
The 2012-13 season will be no different.
This draft class has a lot of talent, and while it's essentially assumed that players like Michael Kidd-Gilchrist and Anthony Davis will earn starting roles on their teams, there are other rookies who have the skills and talent (and are in a good situation) to find starting minutes in their first NBA season.
Here are five of these players.
Damian Lillard: Portland Trail Blazers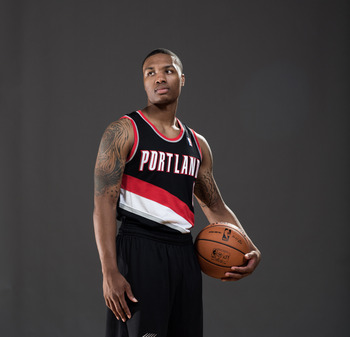 Lillard has taken the NBA world by storm and has the skill set to start right now
Nick Laham/Getty Images
Until the summer started, Damian Lillard was relatively under the radar.
Good play over the summer followed by an impressive training camp has made Damian Lillard an early sleeper to win Rookie of the Year this season.
To add fuel to the fire of anticipation, Lillard dropped 14 points, five rebounds and seven assists on the Lakers in his preseason debut.
After a great training camp, Lillard looks like he has earned a starting spot over Ronnie Price and Nolan Smith and will get a lot of opportunities to play and shine in Portland alongside Nicolas Batum and LaMarcus Aldrige.
John Jenkins: Atlanta Hawks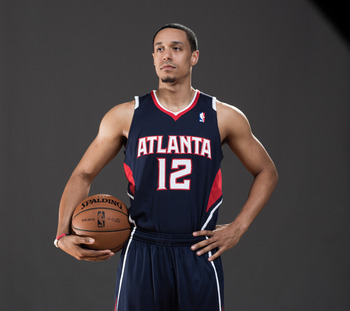 Jenkins' shooting ability will give him a chance to take the vacant spot left by Joe Johnson's departure
Nick Laham/Getty Images
At the moment, John Jenkins is listed behind Anthony Morrow and Louis Williams at the shooting guard position for the Atlanta Hawks. But I'm not so convinced that the lineup stay that way.
Jenkins is one of the best shooters in this year's draft class and can attack on the dribble with ease.
While Jenkins will begin the season on the bottom of the bench, his quality three-point shooting will allow him some time on the court, as Atlanta looks for a three point threat having lost Joe Johnson to the Brooklyn Nets.
Once Jenkins receives playing time for his shooting ability, he'll continue to impress until he finds himself in a starting role.
Jenkins will have a great chance to do big things with the Hawks this year.
Kyle O'Quinn: Orlando Magic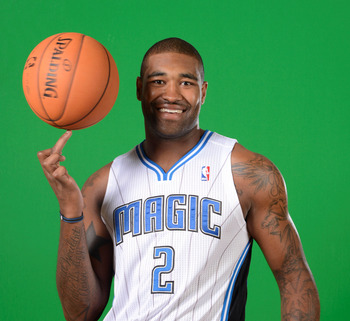 O'Quinn has a shot at a starting spot in Orlando now that Dwight has taken his talents to LA
Brad Barr-US PRESSWIRE
Kyle O'Quinn is another rookie who isn't exactly on the radar of many NBA fans.
O'Quinn has found himself in the right place at the right time this season after being drafted 49th overall by the Orlando Magic.
Dwight Howard left Orlando to take his talents to Los Angeles and his vacancy in the lane is pretty much up for grabs between Gustavo Ayon, Nikola Vucevic and O'Quinn.
O'Quinn has similarities to Howard in that he's very athletic and has a great eye for rebounding, using his wide frame to swipe boards.
He put up decent numbers this summer and it will be hard for the Magic to resist starting the Queens native if he continues to bring his hard work and unique intangibles to the table.
Jonas Valanciunas: Toronto Raptors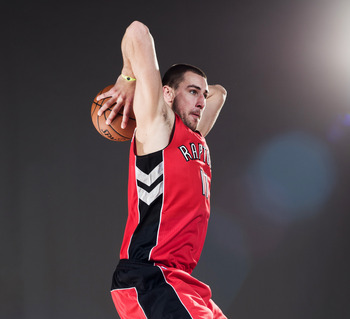 Jonas Valanciunas is finally here and is ready to make a name for himself on a young Toronto team
Nick Laham/Getty Images
Valanciunas' debut has been heavily anticipated in Toronto as the Raptors have had to wait for the seven footer to finish his contract with his team in Lithuania. And it may be just the perfect time to make his arrival in the NBA.
Valanciunas has a great skill set for a big man, averaging 23 points, nearly 14 rebounds, and 3.2 blocks per game in his European league—a stat line that secured him the 2012 MVP award of the Lithuanian Basketball League.
Valanciunas has a great chance at a starting role this season, mainly because he plays in Toronto.
The Raptors haven't enjoyed a true center for quite a few years. They had Chris Bosh, who was really a power forward playing in the 5 position most of the time, and since Bosh's departure the Raptors have enjoyed the talents of Andrea Bargnani, another power forward playing in the center spot.
Valanciunas' arrival will give the Raptors a very talented true center and will also allow Bargnani to slide down to his natural position at power forward, letting Toronto spread the floor more and keep Bargnani's shooting game going.
Having Valanciunas and Bargnani on the floor together is far too tempting for the Raptors to pass up.
Jared Sullinger: Boston Celtics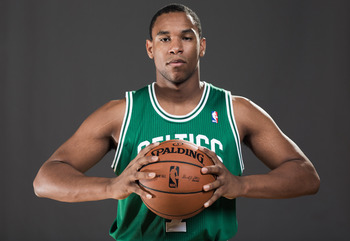 Sullinger's health has been a question mark for the Celtics, but the Big-10 Alum is prepared to explode onto the scene
Nick Laham/Getty Images
If I posted this list a few years ago, Sullinger wouldn't be on it. He would be thrown into the group with Kidd-Gilchrist and Anthony Davis as players who will obviously come in and start right from day one.
But after dealing with back issues and other injuries, Sullinger isn't the marquee name that he was at Ohio State just a few seasons before.
Sully will still put up huge numbers with the Celtics, offering them a talented big man to play opposite Kevin Garnett.
He's already hovering around the top of the depth chart at the power forward position, right behind Brandon Bass and just ahead of Chris Wilcox.
Sullinger is the type of player that the Celtics love putting on the floor to help the big three (replace Ray Allen with Rajon Rondo) and will offer another threat both offensively and defensively.
The ex-Buckeye is too talented to remain out of the starting lineup for very long.
Final Thoughts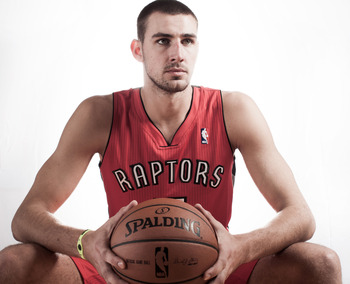 Valanciunas and other rookies will have great opportunities to stake their claim as mainstays in the NBA for years to come
Nick Laham/Getty Images
These rookies possess the skill set to be starters while also being placed in situations that can lead to a lot of playing time in their first year as NBA players.
Keep an eye on these young stars (and the rest of the talented rookies) as they continue preseason play and battle for the starting roles usually reserved for elder statesmen of the league.
What rookies do you think will earn a starting role this season?
Which of these players do you think won't make it to the starting rotation?
Keep Reading