WWE Raw: 5 Talking Points from Monday Night's Show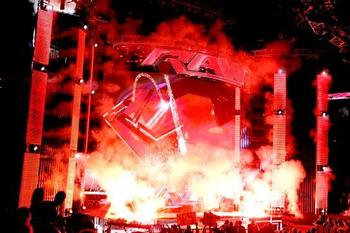 Photo courtesy of WWE.com
Raw had its fair share of drama this week, with key storyline developments surrounding the Divas, Intercontinental and WWE Championships.
There were matches both rumored and confirmed for the upcoming Hell in a Cell pay-per-view, which certainly appears to be benefiting from the extended build time of five weeks since Night of Champions last month.
And with regards to the wrestling, I was made to eat my words after noting the rareness of a tie between the heels and faces this past week on SmackDown. Raw saw a 6-4 success for the bad guys, with a bumper card of ten matches in total.
But now for the week's big talking points.
This article outlines the five most notable incidents from Raw, assessing their long term relevance for the WWE.
Paul Heyman Has Been a Success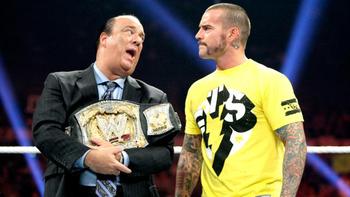 Photo courtesy of WWE.com
The WWE's decision to pair Paul Heyman with CM Punk created a rather diverse response.
But rather than act as the mouthpiece for the WWE Champion, as many assumed he would, Heyman has simply endorsed Punk and really put him on a pedestal so to speak.
Take Heyman's introduction for Punk on Raw for example.
Having a man of such experience in the business make such grandiose statements about Punk is far more convincing than if Punk were to stand alone and make such claims himself.
It adds credibility, it reinforces Punk's new-found larger-than-life status; it elevates Punk to a higher status that otherwise may not have been attainable.
Most importantly, it works.
Punk still has free reign over the mic, delivering his trademark cutting and entertaining promos, while he is portrayed as the "big deal" that a Champion should be.
It has been a win-win situation and a great move from Creative.
What Has Happened to Brodus?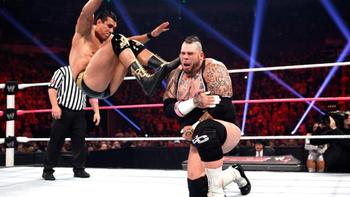 Photo courtesy of WWE.com
Brodus Clay must have really hacked someone off.
Before the debut of Ryback, The Funkasaurus had the most impressive win-loss record in the WWE. But Clay has now won just once in singles competition of Raw since July, and even that was against resident jobber Heath Slater.
And it's not just the losses that are puzzling, it's the nature of the matches that he has been put in that is questionable.
He has been used as bait to up-and-comers Damien Sandow and Antonio Cesaro in the last couple of months, and again found himself in a match that looked destined for defeat against former No. 1 contender Alberto Del Rio.
Furthermore, Vince McMahon pretty much buried him last week on Raw, criticizing him in his brief and inconclusive "state of the WWE address."
So what has gone wrong for Brodus?
From an unbeatable force to a man ridiculed and booked in matches that, realistically, he has no chance of winning.
Perhaps a character change is on the way?
We can only hope.
Referee Overkill
Photo courtesy of Withleather.uproxx.com
The biggest talking point to come from Eve's win over Layla was the latter actually putting her foot on the ropes as the former scored the pinfall.
You know, like when John Cena pinned Punk four weeks ago on Raw, and when Sheamus defeated Del Rio at SummerSlam?
Don't get me wrong, it's a nice way of extending a feud in controversial circumstances, but when we see these refereeing errors occur three times in less than two months, the act starts to wear thin.
Then again, perhaps the WWE will pursue a storyline based on the refereeing mistakes—something that appeared a possibility after Brad Maddox's failure to notice Punk's foot in the aforementioned case.
Such a route seems unlikely from the WWE though, as that idea was dropped fairly promptly last time out.
As it stands, it would appear that this was just another cheap way to draw out Eve vs. Layla, which is a shame given the added time and focus that has been invested in the Divas division as of late.
The Miz vs. Kofi Kingston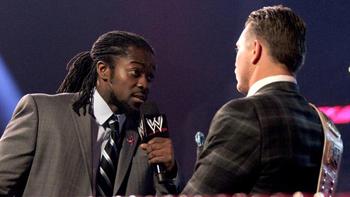 Photo courtesy of WWE.com
My first impressions on this one were negative, as I felt the match should have been saved for Hell in a Cell.
But it must be said: The WWE booked this one brilliantly.
The segment between the two men on Miz TV was intriguing with both guys on form, and possibly for the first time ever I found myself feeling empathy towards Kingston after Miz's hard-hitting remarks.
The resultant match was of equal quality, and Kingston's instinctive Trouble in Paradise was perfectly executed, catching the Miz square in the head for a great end to the match.
Having initially been skeptical, I was soon well and truly convinced that this was the right development for this feud.
Kingston, Miz and the IC Title are in need of some big-time matches to rejuvenate their wavering status', so hopefully the rivalry will last long enough to culminate in a high-profile clash at Hell in a Cell.
We may have seen it before, but I for one would gladly see it again.
WWE Title Match Announced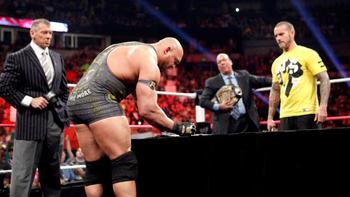 Photo courtesy of WWE.com
This was always going to be the biggest talking point from Raw, as Ryback vs. CM Punk was confirmed for Hell in a Cell.
I've been somewhat critical of Ryback in recent weeks, but his orchestration of the crowd was highly commendable, and if he can consistently generate that kind of response, then I have no problem with seeing him put into the main event.
But I did have an issue with John Cena's involvement in proceedings.
A few weeks ago, Cena was desperate to face Punk for that WWE Championship. But now, despite declaring himself fit to compete at Hell in a Cell, he suddenly wants Ryback to be the man to take the title shot.
This doesn't really seem to add up, and Cena's role in the contract signing seemed odd and strangely executed.
Nonetheless, this was the only blemish on an otherwise good end to the show.
It will definitely be intriguing to see where this one goes come the PPV, as it would be a shame for Punk's reign to end just short of a calendar year. Equally though, I doubt the WWE want to end Ryback's unbeaten streak so soon.
I'm just hoping that this won't result in an anticlimactic DQ win for Ryback.
Conclusion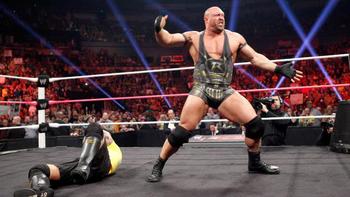 Photo courtesy of WWE.com
So we have a main event for Hell in a Cell, and more importantly the WWE are pushing ahead with Ryback thrust into the main event scene.
Say what you will about the WWE's next big star, but Creative's plan has worked; he's now incredibly popular with the fans, and the surprising nature of the move has added a lot of buzz to the WWE Championship picture.
Next week's Raw will certainly not be one to be missed, as the plot further thickens heading in to the PPV on Oct. 28, so make sure you stay tuned for next week's talking points.
But in the meantime, remember to comment below with your thoughts on this week's show, as well as your opinions on the talking points raised in the article.
Keep Reading