10 Fighters Who Never Got a Fair Shake in the UFC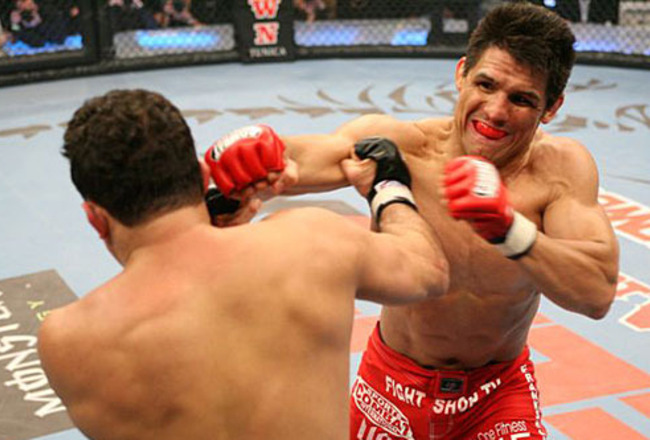 Photo via Strikeforce

For the most part, the cream rises to the top in the sport of mixed martial arts. As political as the matchmaking can get, especially as promotions try to balance entertainment with sport, generally speaking, a fighter will eventually get opportunities he deserves. After all, there's only so long you can ignore success in the cage.
No system, however, is perfect. Over the course of 19 years, there have been a handful of fighters who didn't really get a chance to thrive. These are the men who could have, and likely would have, done even more with their careers if they had only gotten the opportunity.
Pat Miletich

Miletich on 60 Minutes

Pat Miletich was the UFC welterweight champion for nearly three years before he was dethroned by Carlos Newton at UFC 31 in a fight Miletich would likely have won on the scorecards. The champ simply got caught—but it seemed likely he would get a chance to earn his belt back soon enough.
Or so we all thought.
Miletich immediately rebounded with a knockout win over Shonie Carter at the very next UFC event. Surely this would be enough to earn a rematch with Newton?
In a perfect world? Yes.
Instead, the UFC chose Miletich's protege Matt Hughes to challenge Newton for the championship, leaving Miletich on the outside looking in. After Hughes won the belt, Pat had no choice but to journey to the middleweight division, where he was outsized and outmatched by Olympian Matt Lindland.
Miletich never fought for the UFC again, and the bad blood seems to linger. Could he have continued his successful Hall of Fame career into the Zuffa era? We will never know.
Ricardo Arona

Arona was one of the best

Ricardo Arona had all the tools to make it big in the UFC.
Good looks? Check.
Skilled ground game? Check.
Wins against some of the best fighters in the sport like Dan Henderson, Wanderlei Silva and Kazushi Sakuraba? Check.
Yet for whatever reason, Arona never got his chance to shine in the UFC Octagon. He has only fought once since a 2007 upset loss to Rameau Thierry Sokoudjou and, despite frequent rumors of a return to action, seems unlikely to ever have a major impact on the sport again.
Jon Fitch

A pre- UFC Fitch

Despite a record of 14-2-1 inside the UFC Octagon, Fitch has only managed one title shot in his decade-long career. That fight, a five-round decision loss to Georges St-Pierre, took eight consecutive wins to earn.
Following the loss, it was as if Fitch didn't even exist in the UFC hierarchy. He won five more bouts in a row, but a rematch wasn't forthcoming. Contrast that with other fighters like Urijah Faber, who are given numerous opportunities.
The difference, of course, comes down to money. The UFC believes Faber and others who have gotten numerous chances are valuable commodities.
Fitch on the other hand? He's been described by UFC President Dana White as "boring." That single word explains why Fitch, despite his incredible success, has never gotten the chances he deserves.
Fedor Emelianenko
A lot of ink has been spilled parsing blame for why Fedor Emelianenko never appeared in the UFC. Perhaps it was a relationship that was just not meant to be.
No matter where the blame lies, it's a shame the world's best didn't get a chance to fight Randy Couture, Brock Lesnar or other UFC stars when he was still in his absolute prime.
Ultimately, fans were the real victims here. Couture and Fedor were so perfectly and evenly matched. I'm still bitter, all these years later, that the fight never materialized. It would have been one for the ages.
Frank Shamrock
Frank Shamrock retired from the sport at the top of his game—and not entirely by choice. Like Randy Couture and others, the UFC couldn't afford his services. Most fighters, when that time came, chose Japan. Shamrock, instead, chose retirement.
When he came back years later, it wasn't with the UFC. He and Dana White were like oil and water. Instead, Shamrock put Strikeforce and Elite XC on the map with entertaining scraps against Renzo Gracie and Phil Baroni.
Injuries had stolen away many of the traits that had made Shamrock great. He was still a fun fighter, but the fighter who had dominated the UFC in his prime was lost to history.
Gilbert Melendez
No one is quite sure what we have in Gilbert Melendez. Questions abound about the Strikeforce lightweight champion. First and foremost, one that should be simple—just how good is he?
The answer to that question, likely, is that he's very good indeed. But it's hard to say for sure because Melendez has been prosecuting his career in Strikeforce and hasn't had the chance to compete with the UFC's best.
As he continues on the wrong side of 30, it looks more and more likely that Melendez will spend his best years outside the UFC. We'll never know if he was the best in the world or just another good guy who was fortunate he spent much of his career in a small pond.
Matt Lindland

Lindland: anyone , anytime.

There was a time Olympic medalist Matt Lindland seemed destined to upgrade his silver to UFC gold. He fell short in a title shot against Murilo Bustmante, but when the Brazilian left the promotion for a stint in Pride, Lindland was the odds-on favorite to become champion.
New to the sport when he faced Bustamante, Lindland continued to improve. Unfortunately, his best years came when the UFC stopped promoting the middleweight championship altogether.
By the time they were ready to crown a new champ, Lindland was on his way out, ostensibly after a dispute with the UFC over a controversial gambling sponsor.
Josh Barnett

Barnett in Pancrase

Josh Barnett was UFC champion of the world when he fell from grace. Ten years later, he's never again competed for the promotion that had helped make him a star.
Barnett went on to a successful career in Japan, but was relegated to smaller shows and second-class promotions when he fought in America.
The issue with Barnett was never ability. His problems weren't in the cage—they came afterwards in athletic commission mandated drug tests. His most recent failure led to the cancellation of a PPV that was scheduled to feature Barnett in the main event.
Though he proclaimed innocence, history wasn't on his side of the argument:
In 2002 following a trouncing of Randy Couture in the UFC, Barnett was subsequently stripped of the organization's heavyweight belt after the Nevada State Athletic Commission imposed a six month suspension for the presence of banned anabolics in his system: Boldenone metabolite, Fluoxymesterone metabolite and Nandrolone metabolite. The commission maintained at the time that the drugs were "stacked" to enhance their result. Barnett also allegedly failed another test in Nevada. That result, nearly five months prior to the Couture fight, wasn't made public nor was a suspension delivered because it came during a trial run of the respected commission's testing for performance enhancers.
Tom Erikson
Tom Erikson is a beast of a man. If life were a fantasy movie filled with orcs and wizards, Erikson would tote a battle axe instead of a sabre and make mince meat of anyone foolish enough to challenge him.
Since life is not a fantasy film, Erikson had to settle for being one of the most feared fighters alive. No one wanted to tangle with him.
The UFC had an unofficial quota when it came to wrestlers. Too many ground-centric fights would, the prevailing wisdom of the time said, would dampen fan enthusiasm for the sport. Erikson was a victim of this policy, never getting the chance to see how well his skills would translate to the Octagon.
Randy Couture

Couture talks about walking away from the UFC

Couture has fought for a UFC title more than a dozen times in his career, so at first glance, he may be a strange choice for this list. But as great as he's been, I'm afraid we missed out on so much more.
For nearly three years, he fought sporadically in Japan or wrestled in vain for a spot on the 2000 Olympic team, the result of a contract dispute with the UFC that led Couture to leave his title behind for bigger paydays outside the company. The UFC couldn't meet their obligations in 1997, a particularly low year for the company, and Couture, the champion, walked rather than take a paycut.
A decade later, once again the UFC champion, Couture attempted to retire from the UFC. He desperately wanted a champion vs. champion match with the legendary Fedor Emelianenko, a fight the UFC wasn't able to put together, but one that other promotions seemingly could.
Couture walked again, but eventually returned to the UFC when it became clear he wouldn't be allowed to fight outside the company. By then, the great champion was 45 years old. His career as a top fighter had ended while he rusted on the sidelines.
Keep Reading