UFC 153 Results: The 10 Most Surprising Developments from the Event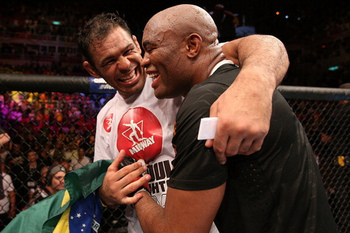 Photo by Josh Hedges/Zuffa LLC/Zuffa LLC via Getty Images
Brazil always delivers an exciting evening of fighting, and in Rio de Janeiro at UFC 153 last Saturday, we witnessed exactly that.
The card was packed with exciting fights and emerging talents, as well as legends demonstrating just what made them greats in the sport in the first place.
Since the event, there's been plenty to reflect on and plenty to contemplate. Here's a list of the 10 most surprising developments to emerge from UFC 153.
Jon Fitch Is an Exciting Fighter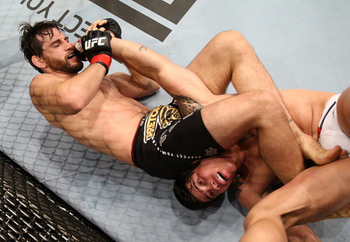 Photo by Josh Hedges/Zuffa LLC/Zuffa LLC via Getty Images
It's been a rough year for Jon Fitch. After tasting a knockout at the hands of Johny Hendricks last December, ending a six-fight undefeated run, he spent the last 10 months on the sidelines, much of it dealing with a knee injury he sustained in June.
However, he came back with vengeance last Saturday at UFC 153 when he punished the arrogance of rising start Erick Silva with some of the grittiest grappling I've ever seen.
He actually made grappling exciting and destroyed the critics who had, throughout his career, accused him of being a boring "lay-and-pray" type of fighter—picking up fight of the night honours in the process.
His unanimous decision victory, where he escaped the most perilous submission attempts and sunk in many of his own, has put him back "in the mix" in the UFC's welterweight division.
Erick Silva Is the Next Big Thing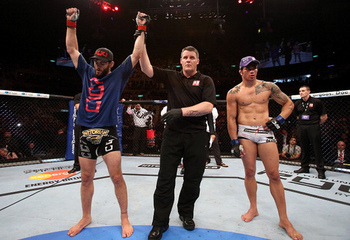 Photo by Josh Hedges/Zuffa LLC/Zuffa LLC via Getty Images
This one is less of a surprise considering the fact that UFC colour commentator Joe Rogan seems to be in love with the 28-year-old Brazilian. Still, Silva lost to Jon Fitch on the night, and his performance highlighted the threat he poses in the welterweight division regardless.
The lack of respect he showed Fitch, dropping his arms, going in karate-style against such a supreme grappler, was ultimately his undoing. Nonetheless, he was half the reason why this fight was declared "fight of the night." He was tough and dogged throughout the three-round contest and had Fitch in trouble several times.
In only his fourth fight for the UFC, this match was a big step up in competition for Silva, and many are comparing his loss to Fitch to Georges St-Pierre's first loss to Matt Hughes, which served as a turning point in his career.
Fighters Peak in Their 30s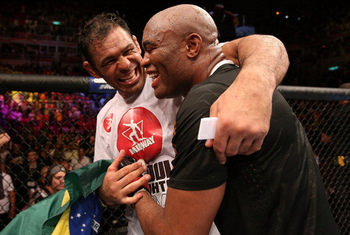 Photo by Josh Hedges/Zuffa LLC/Zuffa LLC via Getty Images
It was largely a story of age before beauty at UFC 153 as the old guard continuously demonstrated the value of experience in the sport.
Anderson Silva (37) beat Bonnar (35), Antonio Nogueira (36) beat Dave Herman (28), Jon Fitch (34) beat Erick Silva (28), Phil Davis (28) beat Wagner Prado (24), and Demian Maia (34) beat Rick Story (28).
Demian Maia Is a Monster at Welterweight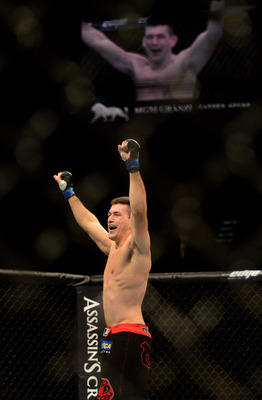 Mark J. Rebilas-US PRESSWIRE
We've long suspected the threat Demian Maia poses, having some of the best BJJ in mixed martial arts. But, for much of the Brazilian's middleweight career, we've been left disappointed.
Enter Maia the welterweight.
We may have seen little of him in his first match at 170 lbs. against Dong Hyun Kim, which ended in the first round after an injury to Dong Hyun, but on Saturday we saw just what he was capable of as he ran through veteran Rick Story.
It took him little more than two minutes to finish Story with a neck crank, juicing blood out of Story's nose and making us forget all his lacklustre performances against the likes of Chris Weidman, Mark Munoz and Anderson Silva at 185 lbs.
Maia's victory, along with Fitch's, has just turned the welterweight division into one of the most stacked in the UFC.
Glover Teixeira: Believe the Hype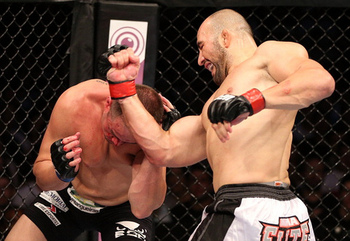 Photo by Josh Hedges/Zuffa LLC/Zuffa LLC via Getty Images
Coming into UFC 153, Glover Teixeira was the most hyped fighter in the promotion, but no one really knew why.
We saw him ruthlessly finish Kyle Kingsbury with an arm-triangle choke in Round 1 of his first UFC match back in May, but other than that, we knew very little of the light heavyweight.
Last Saturday, Teixeira destroyed that mystique when he demonstrated just how terrifying he could be.
He pummelled Fabio Maldonado's head for two rounds until the too-tough-for-his-own-good Brazilian was stopped by a doctor.
Despite one slip-up, when he took a Maldonado counter leaving him on wobbly legs, Teixeira's performance was an assured one. Next up, Quinton Jackson: A win against him will securely put him in the top five.
Antonio Rodrigo Nogueira Is Still at Top-10 Heavyweight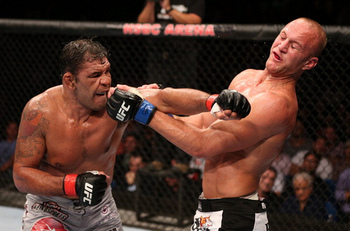 Photo by Josh Hedges/Zuffa LLC/Zuffa LLC via Getty Images
Antonio Rodrigo Nogueira is a true legend of MMA. A two-time Pride heavyweight champion and former UFC heavyweight champion, he's had one of the longest and most illustrious career in the sport today.
But fans have been counting him out ever since his first-round loss to Cain Velasquez at UFC 110, and even more so after his recent loss to Frank Mir, which resulted in him breaking his arm.
All those doubters were firmly silenced on Saturday when he defeated Dave Herman in a performance almost as assured as that of his long-time training partner Anderson Silva later in the night.
Nogueira was determined to make Herman pay for insulting his beloved BJJ, and it was clear from the opening seconds that this match would end in the way of the Brazilian's choosing.
Out-boxing Herman without breaking a sweat, Nogueira tried a variety of submissions at leisure until he found one that hit.
It was a superior performance against, admittedly, an average heavyweight but one that proved Nogueira was still at the top of his game.
Brazil Is the Home of MMA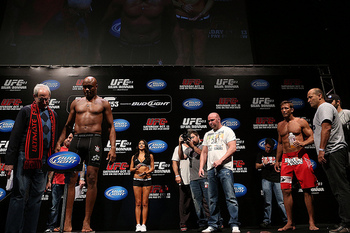 Photo by Josh Hedges/Zuffa LLC/Zuffa LLC via Getty Images
The deafening roar of a Brazilian crowd at an MMA event is unmatched anywhere in the world.
No one comes out in support of their fighters with the same fervent zeal as the Brazilians, who packed out the HSBC Arena in Rio on Saturday.
Not a fight in Vegas nor any stadium in Canada can compare with that kind of electric atmosphere.
Since the UFC's return to Brazil for the first time in more than a decade, MMA has taken the nation by storm. It helps that Brazilians dominate all weight divisions and have a wealth of champions across weight classes.
Considering all the injuries and late changes that beset the UFC 153 card, even without a title at stake, Rio made the event one of the most memorable this year.
You Don't Need a Title Fight to Headline a Main Event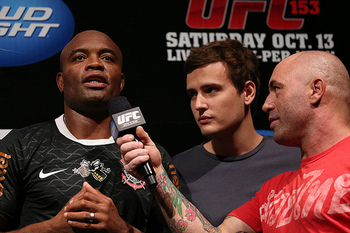 Photo by Josh Hedges/Zuffa LLC/Zuffa LLC via Getty Images
Speaking of titles, UFC 153 was meant to be a title fight between featherweight Jose Aldo and Erik Koch. But an injury to Aldo left the UFC hurriedly putting together an alternative main event.
All but one UFC pay-per-view event this year has featured a title fight. But, unlike the Rich Franklin vs. Wanderlei Silva match in June, the Anderson Silva vs. Stephan Bonnar main event brought all the excitement and electric energy of a championship match.
There was nothing on the line for either fighter. It would only go three rounds, and Silva, by anyone's estimation, was being fed a can.
But that made no difference as Silva mesmerised in one of his most sublime performances to date.
So it's true: You don't need a title fight to headline an event. That is, as long as you have a superstar fighter like Silva on the books.
Anderson Silva vs. Jon Jones May Become a Reality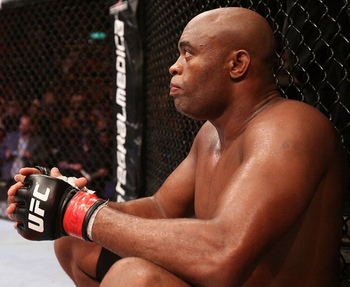 Photo by Josh Hedges/Zuffa LLC/Zuffa LLC via Getty Images
Silva has been talking about wanting to fight Georges St-Pierre in a super-fight ever since his victory over Chael Sonnen at UFC 148 in the summer. However, one of the most surprising developments after UFC 153 is that a match against Jon Jones, at this stage, would be much more likely.
Despite the Brazilian's insistence that he would much rather fight GSP, his boss, Dana White, has no doubt that he could make the Jones fight happen.
Phil Davis Is Ready for the Big Time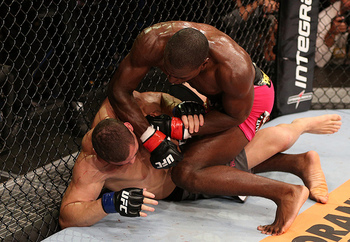 Photo by Josh Hedges/Zuffa LLC/Zuffa LLC via Getty Images
Phil Davis has been a promising light heavyweight prospect for some years now, but the 28-year-old's fight against Rashad Evans in January proved that he was not yet ready for the big time.
Those doubts have now been dispelled as he lay to waste the dangerous Wagner Prado with a second round submission.
He is a much improved fighter since his loss to Evans. Indeed, he's much improved from his last fight against Prado which resulted in a no-contest due to an eye-poke back in August.
There was no hesitation from Davis this time as Prado desperately searched for an escape option from the American's grappling.
Davis is quickly fulfilling his potential and is now firmly in contention as a future champion.
Keep Reading