3 Things Bryce Harper Must Fix This Offseason to Be 2013 MLB Superstar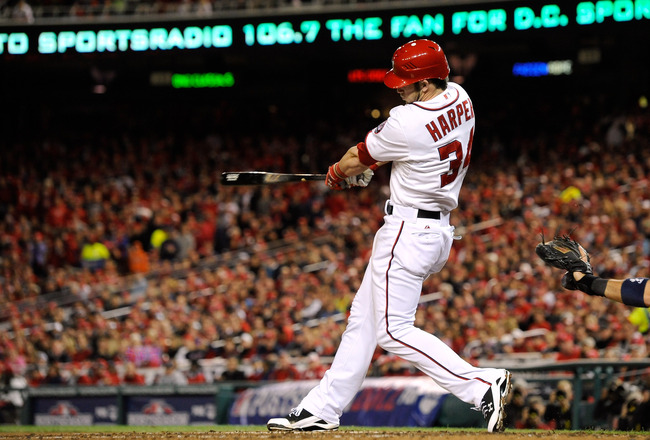 Patrick McDermott/Getty Images
Even though Bryce Harper finished his first postseason with a .130 batting average (3-for-23) and eight strikeouts, it shouldn't detract from his overwhelming success in what is considered one of the greatest rookie seasons of all time.
Playing in 131 games for the Washington Nationals—81 of which were wins, for the record—Harper, who turns 20 years old on Tuesday, batted .270/.340/.477 with 98 runs scored, 57 extra-base hits, 18 stolen bases and 120/56 K/BB this season.
Seeing time at all three outfield positions over the course of the season, Harper's defense was responsible for saving for 14 runs and factored into his highly impressive 4.9 fWAR.
However, while his overall production this season will be a topic of discussion for years to come, that's not to say Harper didn't endure his share of struggles.
And if he can manage to improve these three specific aspects of his game by next season—there's certainly compelling evidence to suggest he will—then there'll be nothing preventing him from being a superstar in his age-20 season.
Employ a Consistent and Defined Approach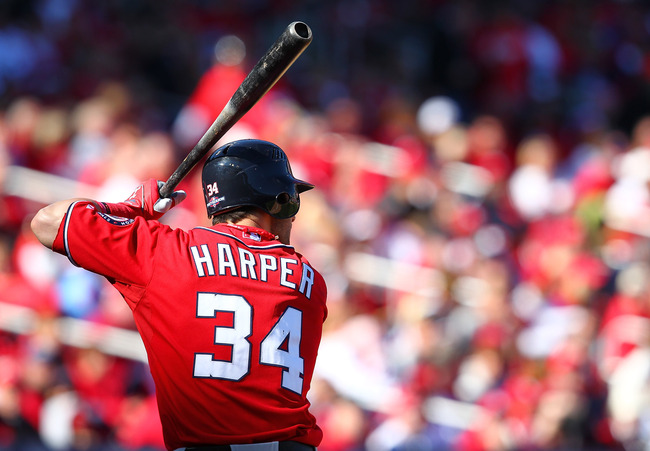 Dilip Vishwanat/Getty Images
When Bryce Harper scuffled this season—like when he posted a .780 OPS and 24.1 percent strikeout rate in June, followed by a .619 OPS in July—he seemed to deviate from the approach that makes him such a special hitter.
Although he's certainly capable and willing to draw a walk, Harper excelled this season when he trusted his hands and swung the bat with authority. With lightning-quick bat speed and 80-grade raw power, Harper possesses the ability to jump the yard to all fields with ease.
So, when the left-handed hitter is kept in the ballpark and whiffing with regularity, it can be somewhat puzzling.
Considering that he was playing in the big leagues as a 19-year-old, the adjustments Harper made over the course of the season were beyond impressive. Yet, that doesn't imply the results were immediate. And when they weren't, the modifications in his approach were obvious.
When things were going well, Harper approached each at-bat with a seemingly defined plan—whether that be keying on a certain pitch or location. But when he was in an offensive rut, the outfielder struggled to find a balance between too aggressive and too passive.
A perfect example was his nonexistent production during the first two games of the NLDS against the Nationals. Normally, when a player sees 50 pitches over 10 at-bats as Harper did, he's more likely to see a drivable pitch.
However, Harper collected only one hit and stuck out six times in those contests and fouled off too many pitches out of the zone in hitter's counts while trying to force results.
Improve Contact, Walk Rate Against Left-Handed Pitching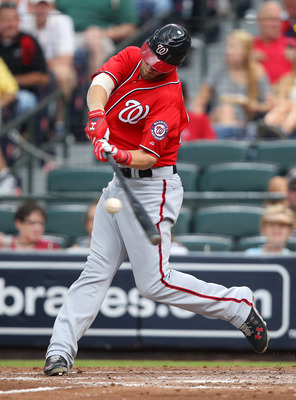 Pictured: A thing of beauty.
Mike Zarrilli/Getty Images
Bryce Harper's most noticeable weakness this past season was inconsistency against left-handed pitching.
Southpaws quickly learned that he was prone to chasing offspeed and breaking pitches away—almost assuredly when behind in the count.
Overall, Harper batted .240/.300/.415 with a 25.2 percent strikeout rate and 7.4 percent walk rate in 208 plate appearances this season against left-handers. Suffice it to say, there's considerable room for improvement.
Increase Productivity Against Curveballs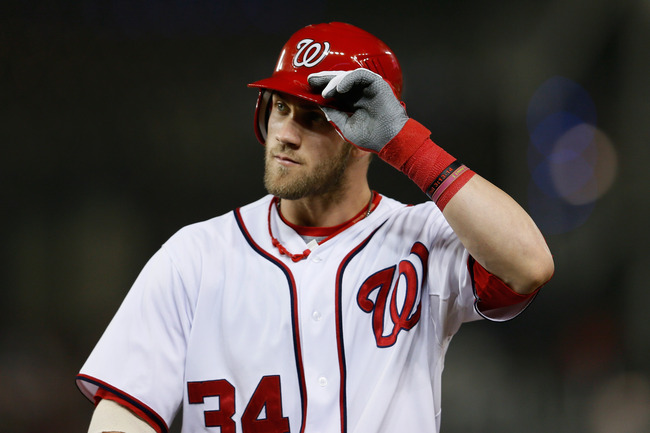 Rob Carr/Getty Images
Given his powerful, max-effort swing, Bryce Harper saw an increased number of curveballs as the season progressed—especially during his aforementioned midseason slump—and with good reason, as the left-handed hitter was considerably less productive against that pitch than all others.
According to FanGraphs.com, Harper posted a 1.6 wCB this season, meaning that he generated 1.6 runs against curveballs. For comparison, he was responsible for 12.8 runs against fastballs.
Now, it's extremely doubtful that Harper will always struggle against curveballs. Rather, this should be attributed to his being a 19-year-old trying to employ both a consistent swing and approach against the best pitchers in the world.
Furthermore, as he gains more experience and sees more curveballs, Harper will inevitably learn more about pitchers' tendencies and his own deficiencies and, in turn, make the necessary adjustments.
Keep Reading