Updated Rookie of the Year Odds for 2012's Top NFL Rookies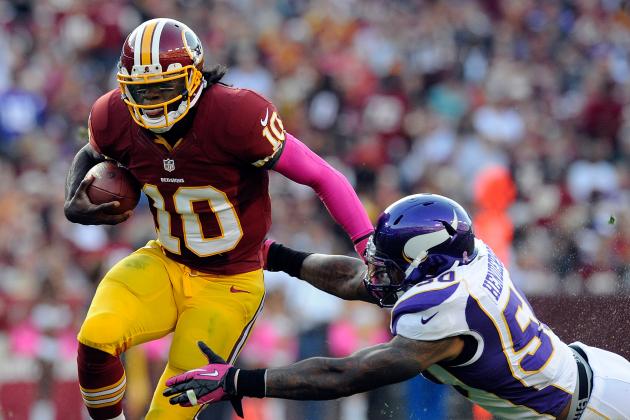 Patrick McDermott/Getty Images

Six weeks into the NFL season, the Rookie of the Year race appears to be almost locked up.
Sure, there is a lot of time left, but Robert Griffin III has become the latest in the line of athletic rookie passers who have immediately transitioned to NFL stardom. If Griffin's play continues at this high level, he will effectively supplant Cam Newton as the best rookie passer in history, and he may do it by winning more games than Newton could have dreamed of as a rookie.
Of course, RG3 has some serious rookie help in Washington, and if anyone challenges him, it will be his teammate Alfred Morris.
On the defensive side of things, it's a little more wide open, with a number of stellar rookie pass-rushers, linebackers and defensive backs contributing for contending teams.
Here's my Rookie of the Year ballot as of right now.
Begin Slideshow

»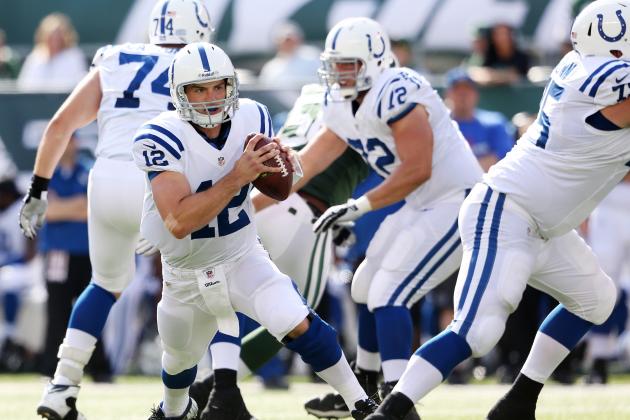 Nick Laham/Getty Images

Andrew Luck (QB, Indianapolis Colts)
Without a doubt, Luck could end up a lot higher in final MVP voting, but he needs to have more games like the Packers thrashing and fewer like the Jets debacle.
Blair Walsh (K, Minnesota Vikings)
It's the year of the rookie special-teamer. Walsh gets the nod here over Greg Zuerlein and Bryan Anger because he's been the difference as the Vikings have turned close losses into wins.

Ryan Tannehill (QB, Miami Dolphins)
Tannehill has proven a lot of his critics wrong (including me) and may end up as the Dolphins' best QB since Dan Marino. He's low on the list now, but he could rise quickly if the Dolphins keep surprising.

Bobby Wagner (LB, Seattle Seahawks)
While Russell Wilson has acquired the lion's share of the hype from the Seahawks' victories this season, Wagner and the defense have been fantastic.

Trent Richardson (RB, Cleveland Browns)
Richardson has looked phenomenal for the Browns this season and has been a steadying hand in both the run and the pass game. His future looks bright, but without wins, the hype won't be there for him to get that many votes.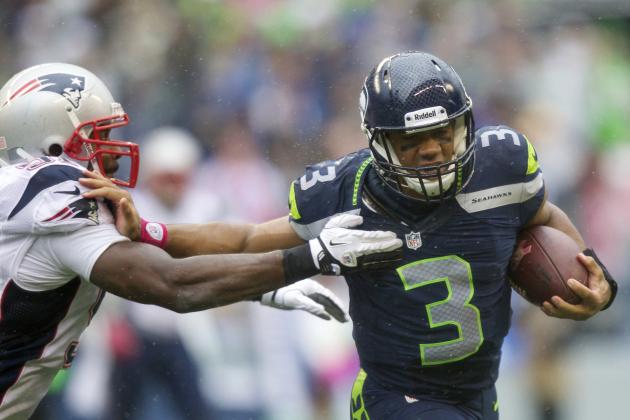 Stephen Brashear/Getty Images

Speaking of Wilson, he vaults onto the ballot with his tremendous effort against the New England Patriots in Week 6.
To some extent, Wilson has become this year's Tim Tebow—a low-percentage passer bolstered by a great rushing attack and defense. If, like Tebow, Wilson can whip up the "All He Does Is Win" hype, voters will be swayed.
Statistically, Wilson isn't the best candidate, but more games like last week and he could win this award.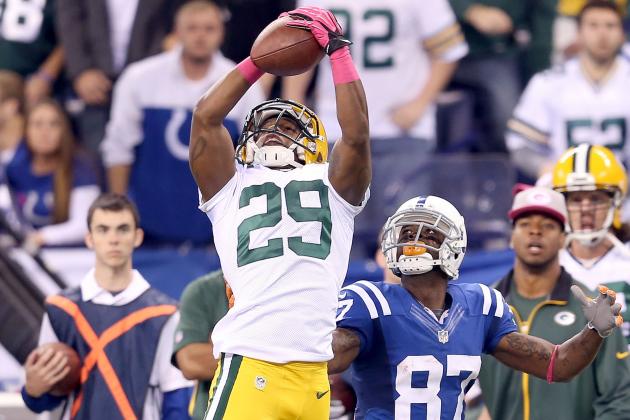 Andy Lyons/Getty Images

If your first response is "who?" when I mention Casey Hayward, be prepared to have your mind blown, because this rookie is the best Packers defender not named Clay Matthews this season. He and fellow rookie Jerron McMillian have really bolstered the Packers secondary.
Opposing quarterbacks throwing his way are only completing 47.4 percent of their tosses for an 18.4 passer rating. His three interceptions lead all rookies, as do his nine passes defended.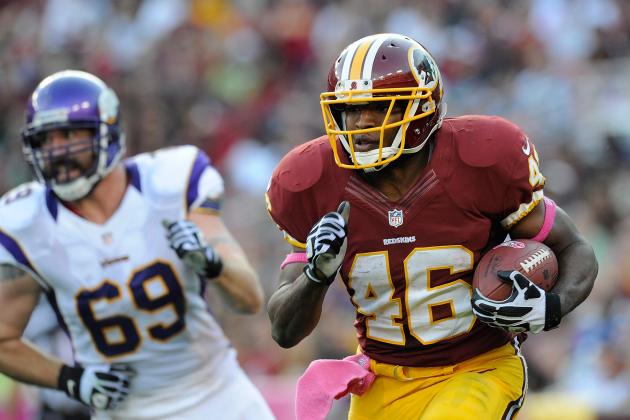 Patrick McDermott/Getty Images

When the Washington Redskins selected Morris in the sixth round of the 2012 NFL draft, they didn't expect him to contribute right away or supplant their stable of capable running backs.
Not only did he accomplish both of those feats, but he's also in the top five in the NFL in rushing and leading all rookies with 538 yards.
Unlike other rookies, who usually take some time to become a complete back, Morris' blocking hasn't been a liability, and he isn't just taking what the offensive line is giving him.
Morris may be the second-best rookie on the Redskins, but he's also the second-best offensive rookie in the entire NFL.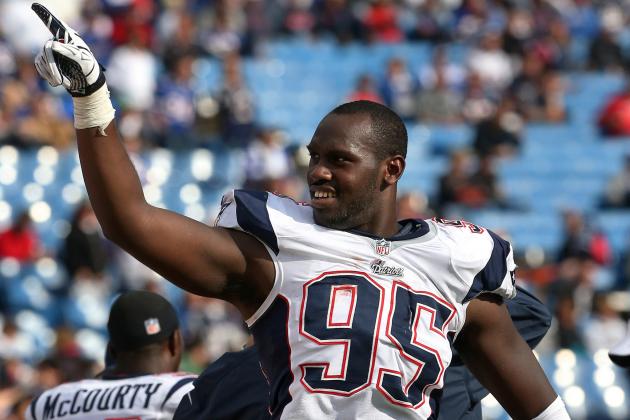 Tom Szczerbowski/Getty Images

When people think about the New England Patriots, they don't typically think defense. But if Chandler Jones continues to improve, that may change.
Jones leads all rookies in sacks with five and has the most tackles of any rookie defensive lineman. He's hurried the quarterback 11 more times, and unlike some other rookie pass-rushers, he plays every down.
His play has helped turn the Pats defense around, and it looks like the sky is the limit for him. If the vote for Defensive Rookie of the Year were today, Jones would win in a landslide.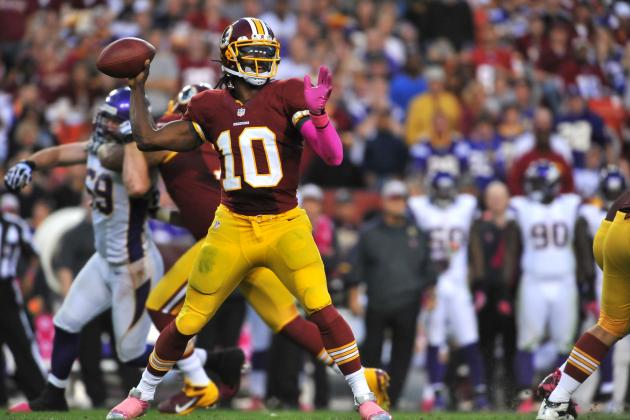 Larry French/Getty Images

Is this even in question right now? Griffin has overcome largely subpar play from those around him and is already knee-deep in superlatives.
He was the NFL Rookie of the Month in September and has twice been Rookie of the Week. His 100.3 passer rating leads all rookies, and his 70.2 completion percentage leads all NFL passers. He's not just a one-trick pony, either, as he became the first player (not rookie—player) in NFL history to run and pass for a touchdown over 75 yards in the same season.
If Griffin stays healthy all season long, this is his award to win.