Fantasy Football Waiver Wire: Top 5 Adds at Every Position for NFL Week 7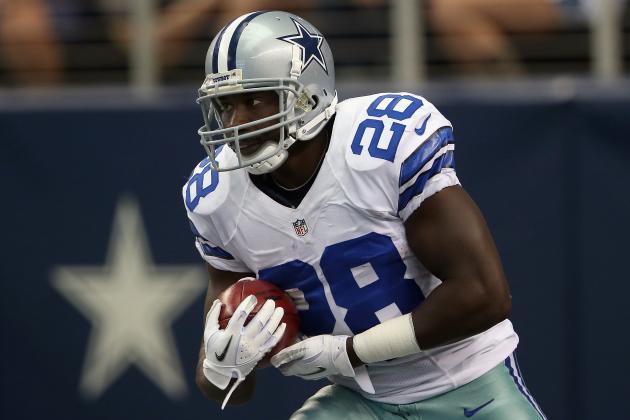 Ronald Martinez/Getty Images

As we approach the halfway point of most fantasy football seasons, we're also entering the week of the NFL season with the most teams on byes. In Week 7 there are six teams with a bye, meaning the waiver wire is as important as ever this week.
While some pickups in recent weeks have been major busts (see LaRod Stephens-Howling), we've also seen a number of players who have started on the waiver wire become consistent producers in fantasy football.
Today we're going to give you the next set of players who could turn into quality starts throughout the season as we bring you the top five waiver-wire adds at each position for Week 7.
Please note that any percentages used in this article came from Yahoo! Sports.
Begin Slideshow

»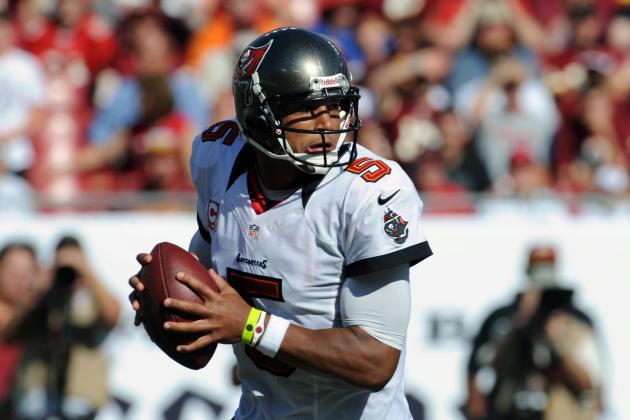 Al Messerschmidt/Getty Images

1. Josh Freeman, Tampa Bay Buccaneers
Freeman is coming off a three-touchdown performance in Week 6. While that performance was against the Kansas City Chiefs, Freeman gets another terrible defense in the New Orleans Saints this week.
This NFC South matchup has all the makings of being a high-scoring affair. Considering that Freeman is starting to find his rhythm with wide receivers Vincent Jackson and Mike Williams, he could be in for another huge week in fantasy football.
Freeman is available in nearly 60 percent of leagues right now, so there is a good chance if you pick him up you could land a potential starter in fantasy football from here on out.
2. Russell Wilson, Seattle Seahawks
If you didn't love Wilson's performance against the New England Patriots in Week 6, it's likely that you don't enjoy football.
His three-touchdown, come-from-behind victory was a thing of beauty, but the best part was the fact that Wilson didn't throw an interception. He's quickly becoming a must-start player, but is only owned in 15 percent of leagues.
Pick him up while you can because he's only going to get better.
3. Brandon Weeden, Cleveland Browns
Weeden has been a consistent name on our waiver-wire board for a few weeks now, yet he is owned in fewer than 15 percent of leagues.
He's coming off his first NFL win, and you have to think that is a huge monkey off his back. As long as he can keep his turnovers to a minimum, he has the potential to put up some very nice numbers in fantasy football.
With a matchup against the Indianapolis Colts this week, Weeden could actually finish as one of the highest scoring quarterbacks, so pick him up if your usual starter has a tough matchup.
4. Jake Locker, Tennessee Titans
After missing the past two weeks with a shoulder injury, it seems like everyone has forgotten about Locker. While it doesn't appear like he'll start this week against the Buffalo Bills, he'll certainly regain his starting spot once he returns from health.
Locker's athleticism and potential to pick up chunks of yards on the ground makes him an almost must-start in many leagues. If you have the space on your roster heading into the second half of the season, Locker would be a fantastic addition.
5. Matt Hasselbeck, Tennessee Titans
While you're waiting for Locker to heal, Hasselbeck is a pretty good option at quarterback. He certainly isn't a long-term answer, but he would be a solid plug-and-play if your top quarterback is on a bye.
With a matchup against the Buffalo Bills this week, Hasselbeck could certainly be in for a big game.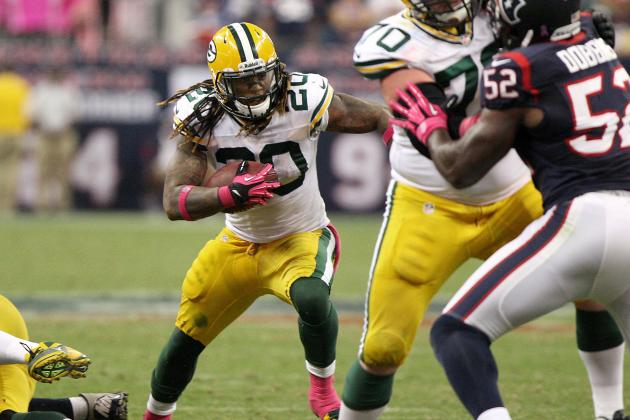 Troy Taormina-US PRESSWIRE

1. Felix Jones, Dallas Cowboys
With DeMarco Murray ruled out for Sunday's game, Jones is expected to get the bulk of the carries for the Cowboys in Week 7.
While Jones has been a major disappointment throughout his career in fantasy football, he actually looked pretty good last week when filling in for Murray. He had 19 touches for 105 total yards and a touchdown to cap a rather strong performance.
Jones may only be valuable for a week or two, but those could be some huge weeks in terms of points for fantasy football.
2. Alex Green, Green Bay Packers
In his first game as the primary running back for the Packers, Green wasn't overly impressive, but he was also playing against a talented defense.
The good news for fantasy football is that he received the majority of the touches in the Packers' backfield. He had 22 carries and added a reception, and if he can continue to get those type of looks, he'll be an extremely valuable part of the offense in Green Bay and a steal off the waiver wire.
3. Vick Ballard, Indianapolis Colts
Donald Brown is out for the next few weeks with a knee injury, which means that Ballard becomes the main guy at running back for the Colts.
While he only had eight carries for 25 yards last week, the whole offense stuttered against the New York Jets and a repeat performance that poor isn't excepted this week against the Cleveland Browns. The Colts need to find a way to take some pressure off Andrew Luck, so look for them to give the ball to Ballard early to try to get the ground game going.
4. William Powell, Arizona Cardinals
While battling with LaRod Stephens-Howling for playing time last week, Powell out-rushed his counterpart by nearly 50 yards on just two more carries. That performance will likely get him the majority of carries in Week 7.
There is still some doubt surrounding the Cardinals offense as a whole, but Powell has the big-play potential to be a dangerous flex option in fantasy football. If he can touch the ball 20-plus times this week, he could be in for a big game.
5. Daryl Richardson, St. Louis Rams
Last week was the first week where Richardson had nearly as many touches as Steven Jackson, and that trend will likely continue for the remainder of the season. In fact, Richardson was actually more effective against the Miami Dolphins than Jackson was.
With two less touches, Richardson still gained nearly 20 more yards than Jackson. As long as he can get a few touches near the end zone (assuming St. Louis can actually get in the red zone this week), Richardson could become a rather solid No. 2 running back on most fantasy football teams.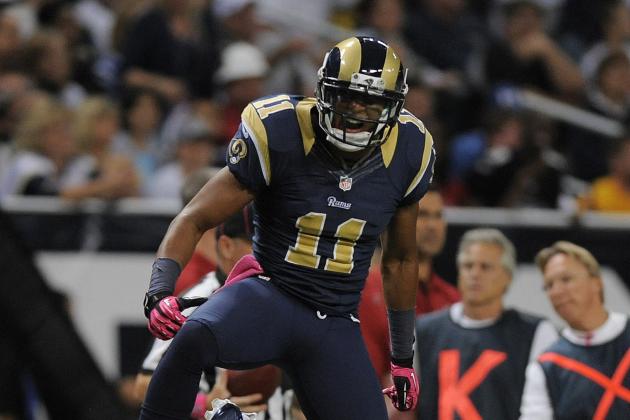 Jeff Curry-US PRESSWIRE

1. Josh Gordon, Cleveland Browns
It appears as if Gordon is finally reaching the potential that infatuated so many people in the offseason.
While he isn't bringing in a ton of receptions, he does have three touchdowns and 181 receiving yards in the past two weeks. He's quickly becoming one of the best deep threats in the league and his chemistry with Brandon Weeden appears to be growing each week.
Of all the waiver-wire additions this week, Gordon has the most potential to put up monster points each week. I'll only tell this once: You need to pick this kid up right now.
2. Brandon Gibson, St. Louis Rams
With Danny Amendola gone for an extended period of time, Gibson stepped in last week and established himself as Sam Bradford's top receiver.
He had seven receptions for 91 yards last week, and with the Rams playing the Green Bay Packers this week, he'll need to have an even bigger game for St. Louis to keep up with the Pack.
Look for Gibson to surpass his last week totals and be a quality start at either wide receiver or the flex position this week.
3. Mike Williams, Tampa Bay Buccaneers
Williams had a rather disappointing sophomore campaign, but it finally appears as if the third-year receiver is back in tune with quarterback Josh Freeman.
He's coming off back-to-back weeks were he's eclipsed the century mark in receiving yards and last week he threw in a touchdown for good measure. While he is still the No. 2 guy in Tampa Bay, he has plenty of value in fantasy football.
4. Stephen Hill, New York Jets
Now that Hill is healthy and the No. 1 receiver with Santonio Holmes out for the season, he is definitely worth picking up off the waiver wire.
Hill's ability to stretch the field as a deep threat makes him dangerous to pick up huge chunks of yards with each reception. It may take him a while to get back into rhythm with Mark Sanchez, but once that happens he has as much potential as any other receiver on this list to produce at a high level.
5. Chris Givens, St. Louis Rams
Much like Brandon Gibson, Givens benefits from the loss of Amendola for an extended period of time.
While he only had three receptions last week, those three receptions went for 85 yards. If Bradford continues to target Givens, he should continue to gain huge chunks of yards and put up quality numbers for fantasy football.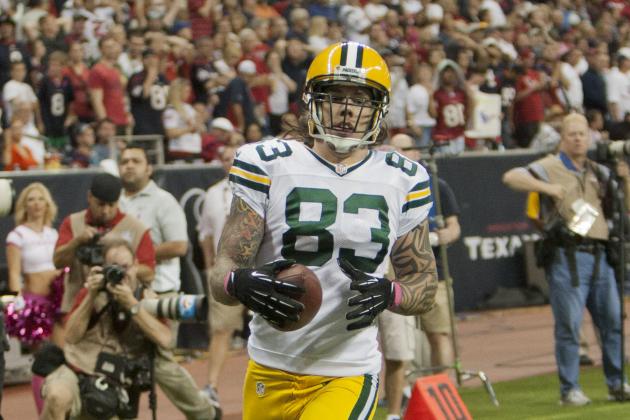 Bob Levey/Getty Images

1. Jared Cook, Tennessee Titans
There are few tight ends with the potential of Cook, but he has yet to reach that potential in the 2012 season.
With that said, Cook is still playing quality football, averaging four receptions and 50 yards per game. Now those numbers aren't spectacular, but what makes Cook such a solid waiver-wire addition is the fact that he can break any play for a huge gain.
The return of Kenny Britt to full strength is a little worrisome for Cook's fantasy value, but it could also open up the field for him to make huge plays down the seam. He may never become a top-tier player, but if you need help at tight end, Cook is the best addition this week.
2. Brandon Myers, Oakland Raiders
Myers is quietly having a productive season for the struggling Raiders in 2012. He's had at least five receptions in three of his five games and has been a popular target of Carson Palmer.
The only problem with Myers is that he has yet to score a touchdown this season. If he can become a better target in the red zone, he could become a must-start tight end rather quickly.
3. Tom Crabtree, Green Bay Packers
There is definitely some risk involved with picking up a player like Crabtree, especially since he is the No. 2 tight end on his own roster.
However, it appears as if Aaron Rodgers and the Packers are becoming more and more fed up with Jermichael Finley and his knack for dropping passes. Crabtree, on the other hand, is exactly what Green Bay loves in a player and could continue to see a good amount of playing time in the upcoming weeks.
There may be some games in which Crabtree puts up very little points, but he also has the potential to have games like last week in which he recorded 62 yards and a touchdown.
4. Dustin Keller, New York Jets
Now that Keller is completely healthy, he should return to being one of Mark Sanchez's favorite targets.
While that statement may scare away some individuals, just remember that Keller recorded 65 receptions, 815 yards and five touchdowns last season. There will certainly be some weeks when he misses in reaching his potential points, but there will likely be more weeks that he is outscoring his projected points.
5. Dwayne Allen, Indianapolis Colts
Despite the Colts coming off a horrible offensive performance, Allen still has plenty of potential as a waiver-wire pickup.
Indianapolis plays the Cleveland Browns this week and neither defense has much to brag about. Both teams could end up putting points on the board this week, and if that happens, Allen could certainly be in for a solid game.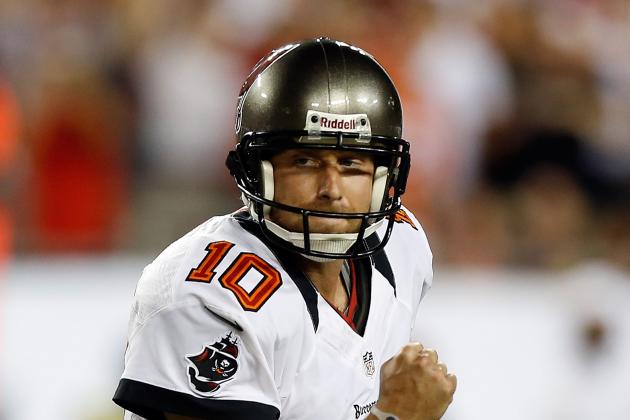 J. Meric/Getty Images

1. Connor Barth, Tampa Bay Buccaneers
The Bucs are coming off a 38-point performance in Week 6 and they get the New Orleans Saints this week.
This game has the makings of a shootout and Barth could be in for a huge week.
2. Phil Dawson, Cleveland Browns
With the Indianapolis Colts on the schedule for Week 7, the Browns have a good chance at recording their second win of the season.
Quarterback Brandon Weeden is looking confident and his offense is beginning to put up some points on a consistent basis. There is always the possibility that Cleveland has an awful game, but this is about as good of a matchup as you can get for Dawson and the Browns.
3. Robbie Gould, Chicago Bears
It's surprising that Gould is owned in less than half the leagues out there, especially considering the potency of the Bears offense.
This week the Bears get the Detroit Lions who have the ability to put up points in bunches. If this game turns into a shootout, look for Gould to have a solid fantasy week.
4. Rob Bironas, Tennessee Titans
Bironas has been a popular kicker in fantasy football for a number of years, but it seems the Titans' ineptitude on offense is finally scaring away owners. He's only owned in 41 percent of leagues, which is rather surprising.
With that said, the Titans get the joy of playing the Buffalo Bills in Week 7. Considering the Bills have allowed over 100 points the past three weeks, Bironas has a pretty good chance of putting up some points this week.
5. Shayne Graham, Houston Texans
The matchup for Graham isn't the best this week (the Texans play the Baltimore Ravens), but without Ray Lewis and Lardarius Webb, no one knows just how the Ravens defense will play.
Also, the Texans are coming off a brutal loss, and that could have them playing inspired football on offense this week. Watch out for a solid performance from Graham in Week 7.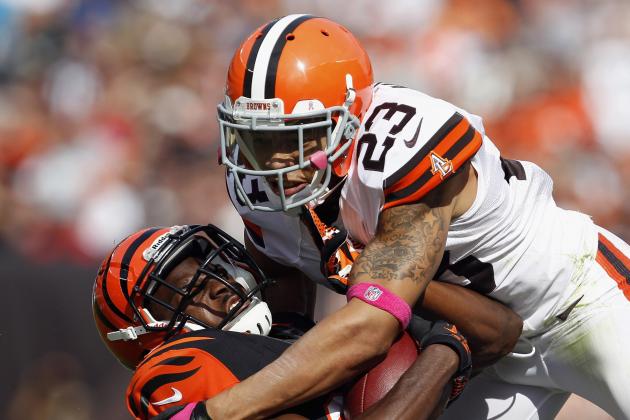 Matt Sullivan/Getty Images

1. Dallas Cowboys
While the Cowboys have a potentially difficult matchup against Cam Newton and the Carolina Panthers this week, they still are the top waiver-wire addition for Week 7 defenses.
As long as Dallas can get pressure on Newton, which they should be able to do, they should be able to rack up plenty of sacks and force plenty of turnovers.
2. Oakland Raiders
I never thought I'd have the Raiders defense as a waiver-wire addition, but that is just how bad the Jaguars offense is.
This entire game could be brutal to watch from an offensive standpoint, but at least it gives the Oakland defense some relevance in the world of fantasy football.
3. Cleveland Browns
I know it sounds crazy to pick up the Browns' defense this week, but the Indianapolis Colts are coming off a terrible performance and the Browns' confidence is the highest it's been this season.
With Joe Haden finally back, look for Cleveland to force Andrew Luck into having another difficult game on Sunday.
4. Tennessee Titans
While the Buffalo Bills certainly have the potential to put up some points on offense, they also have the potential to be absolutely horrid on that side of the ball.
As long as Ryan Fitzpatrick continues to make terrible throws, the Titans should have a big week on defense.
5. Jacksonville Jaguars
Like we stated earlier, the game between Jacksonville and Oakland is likely to be the ugliest game of the week. If you're really desperate for a defense, the Jaguars matchup is decent enough to where they could get you some points.