25 Players the Miami Dolphins Must Start Circling on Their 2013 NFL Draft Board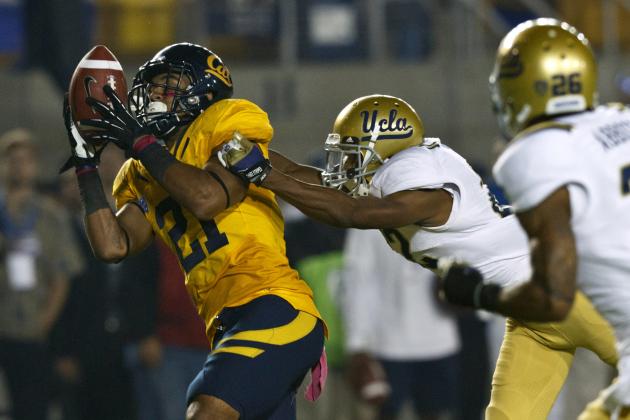 Jason O. Watson/Getty Images

The 2013 NFL draft will be an important one for the Miami Dolphins. Heading into their bye week, Miami stands at 3-3 and is tied for first place in the AFC East.
While this has exceeded expectations, there are still improvements to be made. On top of improvements at key positions, Miami also faces a few important players heading into free agency, with no guarantee that any of them will remain in South Florida.
With new players needed at key positions, and with players who might have to be replaced, what better way to spend the bye week than looking at some prospects the Miami Dolphins should consider for next April's draft?
I chose 25 prospects that the Dolphins ought to consider and start circling on their draft board. Why 25? Well part of it is to occupy as much of your time as humanly possible reading this, and partly out of sheer boredom since there's no game to preview this week
Not every player Miami (or the fans) would desire will be available, so it's best to have a backup plan at each draft position. I would recommend that Miami chooses the best player available at the positions of wide receiver, tight end, cornerback, safety, and guard with each pick. Most of the prospects on this list play those positions.
Now these numbers aren't ranking these players in any particular order, but it's a safe bet that the higher the number of these players, the higher the round they will go in.
So get comfortable with your tablet or laptop (seriously, get comfortable it's a long slideshow), and let's take a look at the 25 players Miami should have on its board.
Begin Slideshow

»
Matt Miller has Keenan Allen ranked as the top wide receiver in his class—and that can even be disputed.
Allen's size is exactly what Miami needs at the position, as he comes in at 6'3" and 210 lbs. His arms are long and can grab passes that to most wide receivers are a bit too high.
He's not a burner off the line, but once he catches the ball and makes defensive ends chase him, it becomes tough. Route-running could be a problem, as Cal's offense doesn't include a lot of precision that you see in the West Coast Offense that Miami runs. Yet he does have the quickness to get open even if his route isn't exact.
He seems like Miami's ideal fit for wide receiver, and the Dolphins wouldn't be making a mistake by drafting him. Him and Tannehill would make a great connection for many years to come.
Considered the second-best cornerback in the draft, Johnathan Banks has a lot of what any coach needs in a secondary.
Even before mentioning Sean Smith's impending free agency, the secondary is a unit where the Dolphins will need help. Based off his play this season as well as his injury problems, I would be surprised to see Richard Marshall back. Nolan Carroll has stepped it up in the last two games starting in place of Marshall, but hasn't yet shown the consistency to be a solid No. 2 option at corner, while Jimmy Wilson is better off playing the nickel-back position or at safety.
Odds are Miami will wait to the second round to draft a corner, but if they feel that the corners available are better than the wide receivers available, they might decide to think corner instead. This is where Banks comes in.
Banks only has three interceptions and three pass breakups this season, but a lot of that has to do with the fact that he's not only the best corner Mississippi State has, he's also their best player. SEC teams game plan around not throwing it in Banks' direction, a good indicator of his skill level.
Matt Miller has him dropping down to 22 to the San Diego Chargers, but if Miami isn't comfortable with the wide receivers available, he would be a fine option for a first round pick.
Then again with the way Miami is currently playing, they could likely pick in the 22nd slot anyway.
"Oh no, not another lineman in the first round! This team has come too far to go and screw it all up by drafting a lineman in Round 1!"
Now that I got that comment out of the way that I know everyone is going to leave, keep this in mind: Jake Long might not be here next season.
Long is likely going to demand a huge contract, and there will be teams willing to give it to him. While Miami has more than enough capspace to pay him the deal, it could turn into an albatross down the road. Long hasn't exactly been at his best this season, there's a good chance that nagging injuries are starting to affect his performance.
Now the good news is the Dolphins have a good replacement for Long already on the roster in Jonathan Martin. Martin has been playing right tackle this season, and while he has had his struggles, part of that comes from him playing a new position. His position in high school and college was left tackle, and he protected Andrew Luck's blindside in college. He even looked better when he played left tackle during the preseason than when he played right tackle.
But if Miami doesn't want to make that change and draft a right tackle later, Luke Joeckel might be a name to keep in mind.
He already has experience working with Ryan Tannehill, as he started every game of Tannehill's in his last two years at Texas A&M. He was also recruited by Dolphins offensive coordinator Mike Sherman and was coached by him for two years.
That familiarity has worked well for the Dolphins in regards to Sherman and Tannehill, and could possibly play a part in Joeckel becoming a Miami Dolphin if Jake Long decides to leave. It could also help speed up his development.
After all, it worked out well the last time Miami chose an Aggie number one overall. However it should be mentioned that Joeckel is considered one of the top prizes of the draft, as Matt Miller has him going to the New Orleans Saints at No. 7.
Barring a catastrophic collapse or shrewd trade, Miami won't be choosing that high in the draft.
If you're going to this Saturday's Florida State vs. Miami game, you will get a chance to see this force of nature in person, and what a sight it could be.
Currently Bleacher Report's own Matt Miller has the German-born Werner ranked second among defensive ends in the upcoming draft class, and has him going 10th to the Carolina Panthers in his last mock draft.
But I would be lying if I said I wasn't a little bit concerned. I am because while he registered five sacks in his first two games of the season against Murray State and Savannah State, he's only had one-and-a-half sacks since. The number of tackles he's registered has also gone down in each week as the offensive lines he has faced has gotten better.
But despite these trends, Werner is still earning high marks among draftniks. If the trend is devastating enough to drag down his draft value, he could be a steal for the Dolphins by the time they are on the clock.
Robert Woods is another top-rated receiver that Miami could pick up, but there are some concerns about him.
Woods is ranked as second-best prospect at the position, but his size isn't ideal as he comes in at 6'1" and 190 lbs. Woods however does bring speed, and was a former track star in high school, being selected to USA Today's All-USA Track and Field team in 2010.
So far this season, Woods has 36 catches for 360 yards and five touchdowns for the Men of Troy. These are good numbers, however his real test will come against Oregon on November 3rd. That game is not only must-see for Dolphins fans to get a gauge on how well this player can adapt to the NFL, but also for the Dolphins. A great game against the Ducks would raise Woods' stock.
Justin Hunter fits the exact profile the Dolphins will need to target at wide receiver in April's draft.
At 6'4" and 200 lbs, Hunter has the size Miami needs at the position, and is also a precise route runner with speed that makes him a bigger threat after he makes the catch.
He could also use his size to out-muscle any cornerback covering him, which we will no doubt see a preview of this Saturday when he faces off against Alabama's tough secondary.
For the season Hunter has gained 497 yards on 35 catches, scoring four touchdowns. For his career the young man has 68 receptions for 1,228 yards and 13 touchdowns.
Hunter does have a red flag when it comes to injuries, as he tore his ACL in the third game of last season, after grabbing 17 catches for 314 yards and two touchdowns. But this season he has shown the ability to bounce back from that injury very well, and by the end of the year could be an All-American.
Hunter is a true number one receiver, and if Miami has the opportunity, they should take him.
With the improvements made by Dolphins' safeties Chris Clemons and Reshad Jones this season, safety doesn't seem to be too glaring of a need for the Dolphins—at least not as bad as it looked earlier this season.
But a good safety can set the tone for the secondary, and if any other first-round options for Miami at wide receiver or cornerback are gone, Eric Reid would be a fine choice for the Dolphins.
If Reid is available in the second round, he'd be an even better choice.
Reid stands at 6'2" and 212 lbs, and hits big. Matt Miller has Reid going at No. 25 in his mock draft, and with the needs that other teams have, it could force Reid's stock to drop down (but I do wonder Texas' Kenny Vaccaro is ranked higher, especially after a terrible outing against Oklahoma).
This isn't exactly a need position for the Dolphins in the same way that wide receiver, tight end or cornerback are. But if all of their first-round options in those positions are gone by the time Miami is on the clock, grabbing Reid would give them a leader in the secondary.
If there aren't any first-round receivers available when Miami finds itself on the clock, drafting a tight end would be a welcome option.
Michael Egnew is turning into a bust, as seen based on the his playing time this season, or more appropriately, lack of playing time. While coach Joe Philbin has stated that Egnew is "making progress" (according to the Sun-Sentinel), it's still telling that the third-rounder out of Missouri is trapped behind Charles Clay on the depth chart.
Clay himself isn't having such a good year, meaning Miami's only reliable tight end is Anthony Fasano. While Fasano has been decent, the Dolphins could use a more dynamic tight end that can not only catch, but block as well. Here's where Notre Dame's Tyler Eifert comes into play on Miami's draft board.
Eifert has been a crucial part of Notre Dame's offense this season and a major reason why the Irish are undefeated. In five games he has pulled down 15 receptions for 246 yards and two touchdowns, while at the same time his blocking and presence on the field has helped Notre Dame's rushing attack, which currently has amassed 1,087 yards in the Irish's six games.
ESPN.com's Matt Fortuna named Eifert Notre Dame's mid-season offensive MVP, stating:
The Irish have had trouble getting their best weapon the ball, and yet he still is their top receiver after six games, with 246 receiving yards and two touchdowns on 15 catches. He came up big against Stanford, and even when he's not making catches, he is drawing the defense's attention and allowing others the chance to step up.
That presence is exactly what Miami will need as Ryan Tannehill continues to develop. When teamed up with fellow Notre Dame alum Anthony Fasano, Eifert has the potential to break out in this offense.
Some mocks have Eifert going in the late-first round, some have him going in the second. If he falls to the Dolphins second-round pick, it would be a tremendous steal to grab him. He has first-round talent, so if Miami finds themselves sneaking into the playoffs this year (a very good possibility), he will likely be available when Miami is on the clock.
Being a part of one of college football's most prolific offenses has it's benefits, and one of those benefits are huge stats.
How's this for a college stat line: 67 catches for 761 yards and eight touchdowns. West Virginia has only played in six games this season.
Austin's speed and ability to run after the catch is moving him up draft boards, but his size could be a red flag for the Dolphins if they choose to select him, as he only stands at 5'9" and 174 lbs.
But his skills and speed can't be denied.
I'd consider Austin if I were the Dolphins, but with some reservations, as his size makes him more ideal for the slot receiver role, and if Miami goes for a receiver in round one, he has to be a No. 1 option.
But if the Dolphins select Tyler Eifert in the first round, then Austin should definitely get some consideration if he's available for Miami in round two.
As the draft moves into the second round, Miami ought to start looking at more options in the secondary.
USC's T.J. McDonald would be a welcome addition at safety. In their first six games of the season, McDonald has given the Trojans 44 tackles, two pass deflections and an interception, and has been an integral part of their defense against the run.
McDonald has also excelled at covering tight ends, which for the Dolphins has been a big problem in the last four years.
If Miami chooses to draft a wide receiver in round one, round two would be a good place to start looking at secondary help. By going after a safety and a corner, Miami could revamp a secondary that has improved over the course of this season, but still needs help.
Cordarrelle Patterson hasn't been as prolific as his teammate Justin Hunter, but alongside Hunter has formed one of the top wide receiving duos in the country.
So far this season, Patterson has 23 catches for 315 yards and three touchdowns, and has also been used in Tennessee's running game as he's run for 214 yards and two touchdowns on 11 carries.
The 6'3", 215-lb. wide receiver is big, fast, strong and versatile, and if he chooses to stay in Knoxville will be the Volunteer's top receiver next year.
But if he chooses to leave alongside Hunter, he would likely go in the late-second round.
A possible reunion with Hunter with the Dolphins would make for two nice additions to Miami's receiving corps, and allow the Dolphins to move their receivers around to where they would have the best shot at succeeding.
Or if Hunter is already gone in the first round and Miami chooses to look elsewhere, picking Patterson in the second round would give them a receiver with the tools to be a No. 1 option.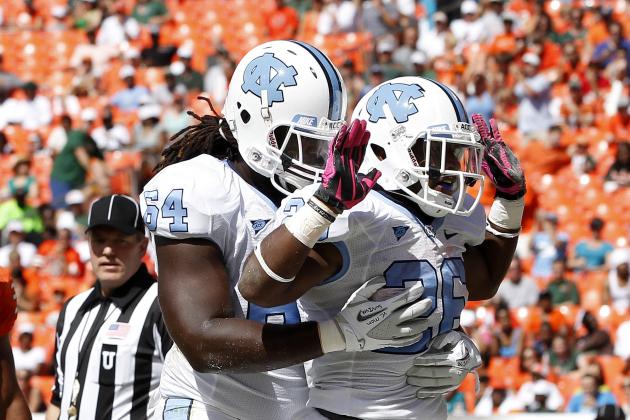 Joel Auerbach/Getty Images
um, no comment on the picture
It's no secret that Miami would like more help and depth along the offensive line, especially when it comes to the guard position.
John Jerry has improved in each game, but for every step forward he makes, he tends to take a step back. Miami's Week 6 game against St. Louis was a great example of that.
Miami has also been fortunate to avoid major injuries along the line, as an injury to either Jerry or Incognito could spell doom for the Dolphins. Let's knock on wood that it doesn't happen this season, and let's look forward to next season, when Miami should be looking at adding more depth to the line in rounds three down to seven.
Jonathan Cooper would be a great place to start. He was phenomenal against the Hurricanes in Week 7 of the college football season, as he didn't allow a sack and helped clear the way for the Tar Heels to run for 272 yards and two touchdowns. For his play he was named the ACC's offensive lineman of the week.
Cooper has been consistent all season, and in some mock drafts he is slated to go in the third round. With two picks in that round, Miami can afford to use one on the Carolina guard.
You know the draft is filled with wide receivers when a great one is likely to be available in the mid-to-late second round. This is the projection of Washington State's Marquess Wilson, who already holds the Washington State school record for receiving yards with 3,304 yards (and counting) in his three seasons in Pullman.
Wilson measures out at 6'4" and 185 lbs and is a big red-zone target due to his size, hands and concentration. He would also be a tremendous asset with run-blocking, and his route running works great for the West Coast Offense.
He would be a second-round steal for Miami, and a great pairing alongside Brian Hartline.
Kenny Stills is much like Marquess Wilson in the sense that in most years, he'd be a top receiver in the draft, but this season he's likely to go in Rounds 2 or 3.
So far this season Stills has caught 32 passes for 381 yards and three touchdowns while leading the Sooners to a 4-1 record. His career in Oklahoma has been prolific; in two and a half seasons with the Sooners, he's caught 154 passes for 2,016 yards and 16 touchdowns.
Stills stands at 6'1" and 190 lbs, and in high school ran a 4.4 40-yard dash according to rivals.com.
On day two of the draft, Stills would be an excellent option for Miami, especially if they find themselves looking elsewhere for a receiver in round one.
We all know that wide receiver is a huge need for the Miami Dolphins, and thus far there hasn't been one better than David Amerson. Check out the video and how easily he pulls down those receptions. Sure he only had 13 on the season, but notice how must of them came in double coverage...
What's that? Amerson is a cornerback you say? With hands like those and with the way he seemed to pick up on those routes, you could've fooled me into thinking he was a wide receiver.
Yes Amerson was great for NCState last season, as his 13 interceptions were an ACC record, and went along with his 59 tackles and five pass deflections. Teams smartened up this season when playing the Wolfpack, and because of that Amerson only has three interceptions. However to go along with those three interception, he also has 14 tackles and three pass deflections.
Amerson's leaping ability is explosive, and his size is one you don't often see in a cornerback that's 6'3" and 194 lbs. His size and skills would be great for the Dolphins because he could also be used as a safety, a position that he played in high school.
Amerson would fit in well in a Kevin Coyle defense, and in Round 2 is a must-pick for the Dolphins.
While Reshad Jones and Chris Clemons have been decent, Miami could use a big, hard hitting safety in their backfield that can give you big plays.
Enter Georgia's Shawn Williams. Williams comes in at 6'1" and 220 lbs and through the first six games of the 2012 season already has 41 tackles and two pass deflections.
Last season Williams had 72 tackles to go along with four interceptions and four pass deflections. His size is great, his hits are hard, and he has some speed as well.
Miami so far has done well with one Georgia safety, and an all-Bulldog safety set between Jones and Williams would be one of the hardest-hitting in the NFL.
So Mississippi State has a guard, who looks more like a tackle, but plays at guard, and is great at it.
Miami has a guard named John Jerry.
This isn't a tough draft pick to make, and likely it would be in the third round, which means that the fans shouldn't be groaning over "oh dear, we drafted ANOTHER lineman?"
Mississippi State's Gabe Jackson has been an important reason why the Bulldogs (doesn't it get confusing in the SEC with two different schools having the same nickname) have started the season undefeated.
At 6'4" 320 lbs, he's a monster of a man, but is very quick and agile and finishes his blocks very well. He'd be valuable to Miami for his ability to protect Tannehill's right side, but with his natural position being at left guard, he'd also be a fine replacement for Richie Incognito if the Dolphins ever decide to part with him.
If he's available in round three (which he should be), Miami should grab him right then and there.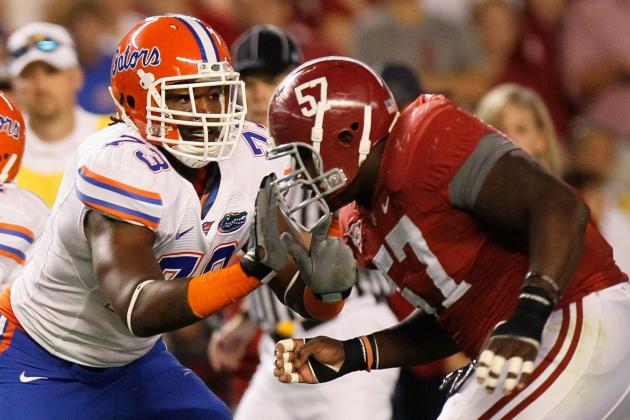 Kevin C. Cox/Getty Images

Now we get to the section where I focus A LOT on linemen.
We already looked at some, but in a position where Miami needs depth, everyone has to be looked at.
This includes Florida's tackle Xavier Nixon.
Nixon has played both left and right tackle at Florida, and at 6'6" and 314 lbs., it's easy to see why SEC defensive lineman have had problems getting past him on either side. Injuries have been the main gripe against Nixon, who in 35 games has 22 starts.
Nixon's injury history means that he continues to slide on draft boards, meaning there's a good chance he could be gift-wrapped to the Dolphins in Round 4.
Seantrel Henderson joins a long list of talented players who underachieved at the University of Miami that have first-round NFL talent, yet slips into the middle rounds.
Those players have a great tendency to do well in the pros, which is part of the reason why Miami hasn't been The U in a while: failure to get the most out of their talent.
Henderson has the skills to be a top tackle in the NFL, and the size is half the battle for defensive linemen to cut through as he's 6'8" 340 lbs.
He has had some controversy since he left USC for Miami after USC was slapped with two years of probation, as the 'Canes suspended Henderson last season for a violation of team rules. But for the most part Henderson has been a good kid who has had problems reaching his potential.
At any other school that would be a major issue. But at the University of Miami, which has had that problem in the last five years, that's the norm.
Henderson is only a junior, but I wouldn't rule out him jumping early for the draft despite the fact that one more season of college could turn him from a fourth rounder to a second or third rounder. But the Dolphins would (and should) take Henderson in round four when he would be available. He'd not only provide depth at the position, but also if Jake Long leaves, the Dolphins could shift Jonathan Martin to the left side (his natural position) while Henderson could man the right side.
Listen to the very first thing that ACC analyst Riley Skinner has to say about Conner Vernon:
"He's an articulate route-runner, and he has an inept ability to catch the ball in traffic."
What more could Ryan Tannehill want in a wide receiver? Alright I'll give you size, but Vernon comes in at 6'1" and 200 lbs, and can play bigger than that. He also has run a 4.53-second 40-yard dash, but I've had the pleasure of seeing this young man play in person (last season when Duke visited FIU), and he looked much faster than that.
He's already had a prolific collegiate career at Duke, setting the ACC all-time record for receptions in a career. Part of the reason why is he's Duke's main receiver.
Despite the accolades, Vernon is slated as a fifth-round pick, but he would be fantastic for a West Coast Offense. You will notice that he can line up on the outside as well as he can lineup anywhere else, making the Key Rat (Vernon is a Miami-native who was raised on Key Biscayne) a perfect addition to the Dolphins as a wide receiver, and a steal in Round 5.
Linebacker might not exactly be a priority for the Dolphins, but depth is needed at the position and should be addressed at some point in the draft.
Gators linebacker Jonathan Bostic would be a great pickup in round six that could actually contribute to an NFL team immediately, which you don't find very often in the later rounds.
At 6'1" and 246 lbs, Bostic's size is that of a linebacker, and one that could patrol the inside. Among current Gators, Bostic leads the team in his career with 169 tackles to go along with 12.5 tackles for a loss, 4.5 sacks, five pass deflections, three interceptions and a forced fumble.
Bostic in the 4-3 would be a great situation for him and the Dolphins, and at Round 6 is a bargain.
A nagging foot injury has been the reason why the 6'2", 240-lb. linebacker from Virginia Tech has seen his draft stock go down.
The injury forced him to sit out the 2011 season as well as one game in 2012, but he seems to have recovered well since coming back.
For the season Taylor has 41 tackles in six games for the Hokies. Taylor is a tackling machine with great upper body strength, yet he does lack some explosion.
With the size and skills he does possess, Taylor would be an early-round pick. Injuries have dragged his stock down, but he does have the talent to be a productive part of the defense on day one of training camp.
Joe Philbin and Mike Sherman both originally were members of the Green Bay Packers organization, an organization that has been set at quarterback since 1992, yet have drafted quite a few of them in the later rounds of the draft.
The reasons for this are plenty. One is you just never know what could happen on the field and you want to be prepared for the worst. That's where Pat Devlin would come into play next season (and why the Dolphins won't trade Matt Moore at the deadline). The other reason is that developing quarterbacks is somewhat like stashing draft picks for the future.
Green Bay has used their stashed quarterbacks to pick up effective players that have helped their team, and it's something that the Miami Dolphins will likely start doing. So if Miami chooses a quarterback in the late rounds next season, don't be too surprised.
Collin Klien would likely be the pick and should. The 6'5", 225-lb. Heisman candidate has been extraordinary for the currently undefeated Kansas State Wildcats, thrown for 1,074 yards and seven touchdowns, while rushing for another 510 yards and 10 touchdowns.
He's not quite an NFL-ready quarterback just yet, which is why he's projected to go in the seventh round. But he does have something in common with Ryan Tannehill other than competing in the Big XII; he's a former wide receiver.
If Miami chooses to take a flyer on him in the seventh round and develop him for a couple of years, it would be beneficial to the team's future. Best case scenario is he's worth a third or fourth round pick in 2016 to a quarterback-needy team. Worst case scenario he fills in for Tannehill well if and when he gets hurt (and if the Dolphins are able to flip Pat Devlin into something as well down the line).
Klein could even be used as a wide receiver or on trick plays if necessary as well. There's a lot of use Miami could get out of the Kansas State prospect.
Yes, we've gotten to the point where I'm recommending that the Dolphins look at kickers.
Why you ask? Because the Dolphins are 3-3 and could be 5-1. I'm sure I don't have to explain why to most of you, believe me, you've told me.
Even if Dan Carpenter regains his stroke this season (and redeems himself by hitting a last-second field goal to beat the Jets in The Meadowlands), Miami should start thinking towards the future with their kicker, or at the very least bring in competition.
I wouldn't go as far as to say draft a kicker, but actually I am with a seventh-round pick. The first suggestion: Florida State's Dustin Hopkins.
Take a look at that 55-yard kick he made last season to beat Clemson. That takes some nerves and some power. He would've hit that kick from 65-yards with how straight and how long that kick was. For the season he is kicking at 80 percent.
Hopkins isn't the only kicker the Dolphins should look at, and is one of three kickers who are actually projected as draft picks this season.
While Hopkins has been rated as the better prospect, Florida's Caleb Sturgis has been better throughout his career.
This season Sturgis is two-for-two in kicks of 50+ yards, and for the last two seasons he's hit 84.6 percent of his field goals. In his career he's hit seven field goals of 50+ yards.
Why did I choose to look at the two kickers from the state of Florida? Because they're used to the climate down here. If they can kick in Florida, they could kick for the Dolphins.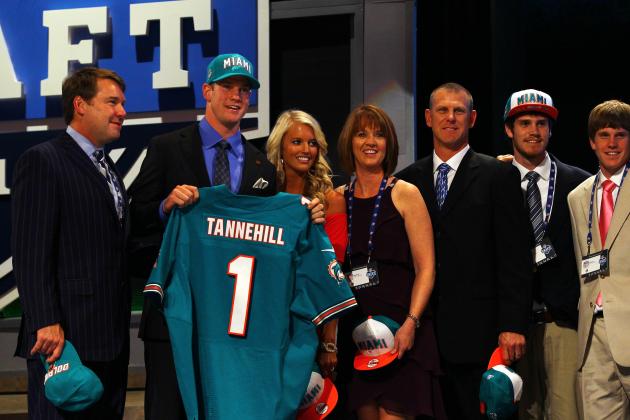 Al Bello/Getty Images

So how would I do the draft after looking extensively at all of these players?
Well first you have to take into account where Miami will be choosing. If you were to ask me, Miami will choose at No. 20 in this year's draft. You also have to take into account where the Colts and Bears are choosing since Miami owns the Colts second- and sixth-round picks as well as the Bears third round pick. Right now I'd take a guess that the Colts would draft sixth overall (number 38 in round two and 176 in round six) while the Bears would likely choose number 23 (we'll go with No. 86 in Round 3).
So here's how my draft would look for the Dolphins.
Round 1 (Pick No. 20): Tyler Eifert. Tight end, Notre Dame
Round 2 (Pick No. 38 from Indianapolis): David Amerson. Cornerback, North Carolina State
Round 2 (Pick No. 51): Marquess Wilson. Wide Receiver, Washington State
Round 3 (Pick No. 83): Shawn Williams. Safety, Georgia
Round 3 (Pick No. 86 from Chicago): Gabe Jackson. Guard, Mississippi State
Round 4 (Pick No. 115): Seantrel Henderson. Tackle, Miami
Round 5 (Pick No. 156): Conner Vernon. Wide Reciever, Duke
Round 6 (Pick 176 from Indianapolis): Bruce Taylor. Linebacker, Virginia Tech
Round 6 (Pick 191): Collin Klein. Quarterback, Kansas State
Round 7 (Pick 228): Calib Sturgis. Kicker, Florida
From this draft, the Dolphins would get a new seam threat at tight end, two new pieces to the secondary that would make a huge difference, a number one and number four wide receiver, depth along the offensive line and linebackers, a new kicker and a quarterback project.
But before we can get there, let's watch the Dolphins finish out the season, for so far, it's looking like a good one.