NFL Week 6: The Good, Bad and Ugly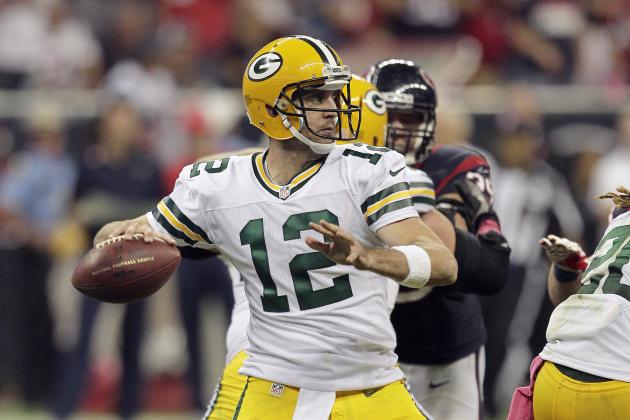 Bob Levey/Getty Images

If Aaron Rodgers wanted to make a statement against the Houston Texans, he succeeded. Rodgers picked apart the Texans' defense and torched them for six touchdown passes. In a word, he was simply brilliant!
Rodgers was nearly perfect against Houston. He finished the night with a 133.8 passer rating on 24-of-37 passing for 338 yards and those six TDs. Rodgers tied a Packers franchise record for most TD passes in a single game.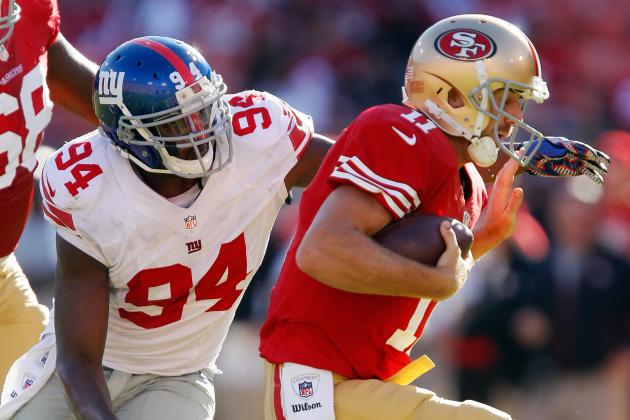 Brian Bahr/Getty Images

One week after torching the Buffalo Bills, Alex Smith did not look as good against another team from New York. The Giants forced Smith into throwing three interceptions and sacked him four times.
Smith was never able to get comfortable in the pocket and was harassed by the Giants' defense throughout the entire game. Smith also fumbled once in the game. This was a bad game for an offense that had scored 79 points in two prior weeks combined. Against the Giants, they only managed a single field goal.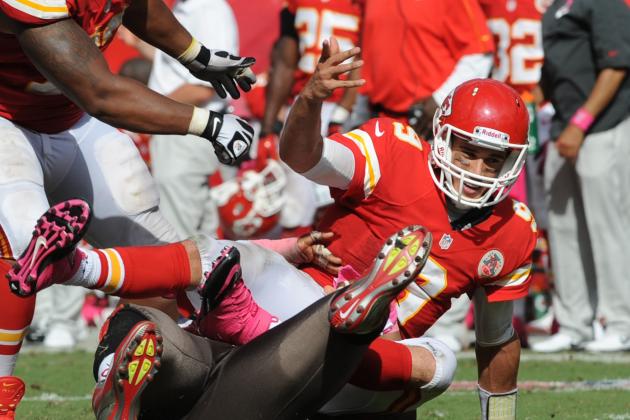 Al Messerschmidt/Getty Images

Apparently Brady Quinn is still not ready to be a starting quarterback in the NFL. Quinn was filling in for the injured Matt Cassel, who was out after suffering a concussion the previous week against the Baltimore Ravens.
Quinn had a subpar outing. He completed 22-of-38 passes for 180 yards and threw two interceptions. Quinn ended the game with a meager 48.1 passer rating. With a performance like that, fans in Kansas City might be nicer to Cassel the next time he sustains an injury.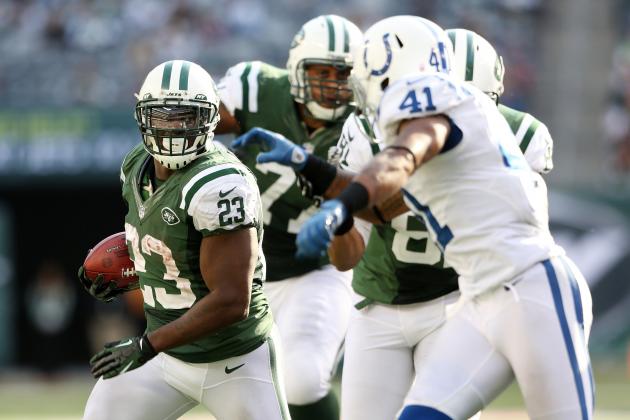 Nick Laham/Getty Images

Just when you thought the New York Jets could not run the ball, Shonn Greene proves everyone wrong. Greene torched the Indianapolis Colts for 161 rushing yards on 32 carries. Greene scored three touchdowns on runs of 10, four and two yards.
Greene had a long run of 21 yards and averaged 5.0 yards per carry. If the Jets can run the ball like this consistently, we might be able to call them ground and pound again.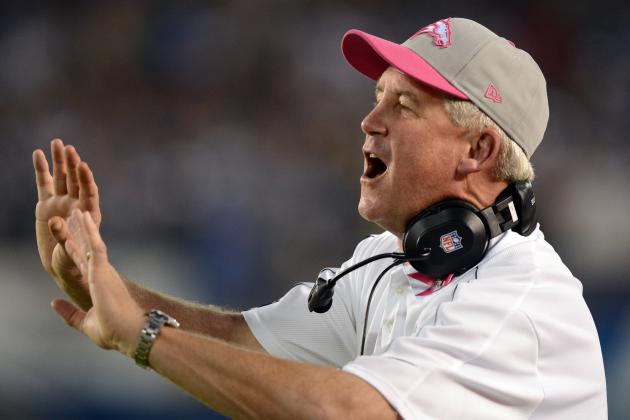 Harry How/Getty Images

The Denver Broncos pulled off an incredible comeback win on Monday Night Football. Why did they have to come back to win in the first place? Special teams.
In the first quarter, Trindon Holliday muffed a punt by the San Diego Chargers and gave the Chargers a first down at the Denver 17-yard line. The Chargers were held to a field goal, but on the ensuing kickoff, Omar Bolden fumbled the ball and two plays later, the Chargers scored on a 15-yard touchdown pass from Philip Rivers to Antonio Gates.
In a span of 40 seconds, the Broncos' special teams gave the Chargers a 10-0 lead. Fortunately for the Denver Broncos' special teams unit, Peyton Manning is their quarterback.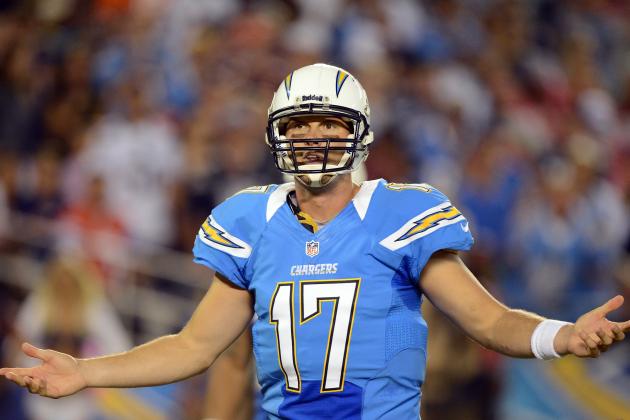 Harry How/Getty Images

Philip Rivers went from hero to goat in one half of football. Rivers had six turnovers in the game, throwing four interceptions and fumbling twice.
Three interceptions and one fumble occurred in the fourth quarter. The Chargers were trailing the Broncos 28-24 late in the game when Rivers forced a pass to Eddie Royal. Broncos safety Chris Harris intercepted his second pass of the game and returned it 46 yards for a touchdown.
Rivers had a horrible second half. His turnovers allowed the Broncos to come back to win the game, as two of them directly resulted in 14 points for Denver.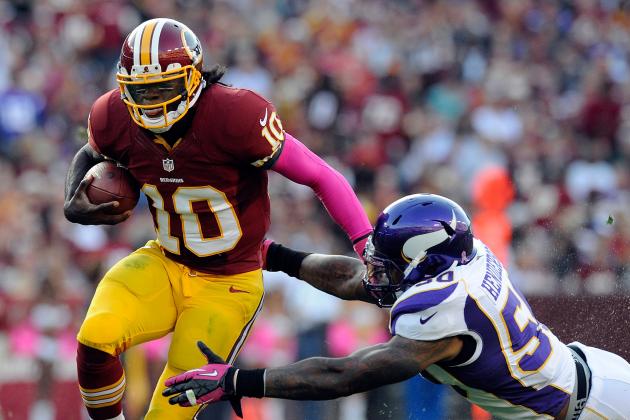 Patrick McDermott/Getty Images

Robert Griffin III dominated the Minnesota Vikings this week. Griffin did it both through the air and on the ground. He passed for 182 yards and one touchdown and then rushed for 138 yards on 13 carries for two touchdowns.
His second score was electrifying. Griffin sealed the win late in the game when he took a quarterback draw up the middle and broke to the outside, sprinting down the sideline 76 yards for a touchdown. He continues to fuel the Washington Redskins offense, and as we learned last week, as RG3 goes, so do the Redskins.
Didn't Griffin suffer a concussion last week? Incredible.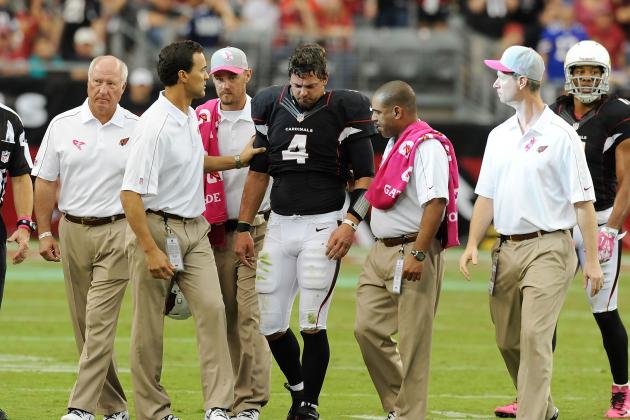 Norm Hall/Getty Images

Once again, Kevin Kolb was running for his life. This time the Buffalo Bills were chasing him around the backfield. Kolb was sacked another five times this week, making it a total of 22 sacks in his last three games. This week, he gave up a safety when he was sacked in the end zone early in the first quarter.
Kolb finished the game with a 64.3 passer rating. He completed 14-of-26 passes for a meager 128 yards and one interception before leaving the game with a rib and chest injury. It's clear that Kolb needs to get better protection, but he might do well getting rid of the ball quicker.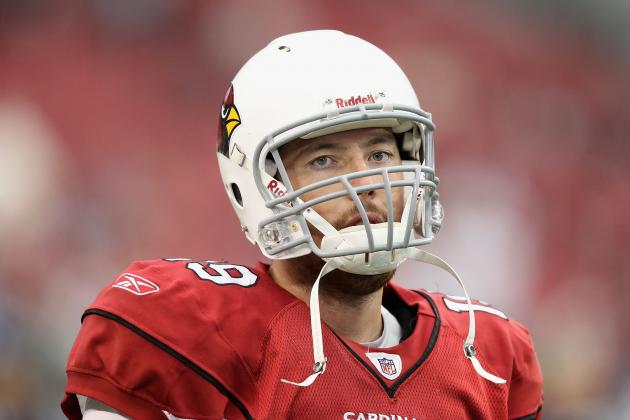 Christian Petersen/Getty Images

When Kevin Kolb left the game late in the fourth quarter against the Buffalo Bills, John Skelton came in to finish up.
Skelton's 6.2 passer rating on 2-of-10 passing is pretty bad, but that is not why he makes the ugly section this week.
Skelton makes the ugly section for his one interception. In overtime, while facing a 3rd-and-10 from his own 20-yard line, Skelton threw a horrible pass that sailed high over his intended receiver and was intercepted by Jairus Byrd. Byrd returned the ball to the Arizona 6-yard line, and that set up the game winning Rian Lindell field goal.
You can't simply can't turn the ball over deep in your own territory in overtime.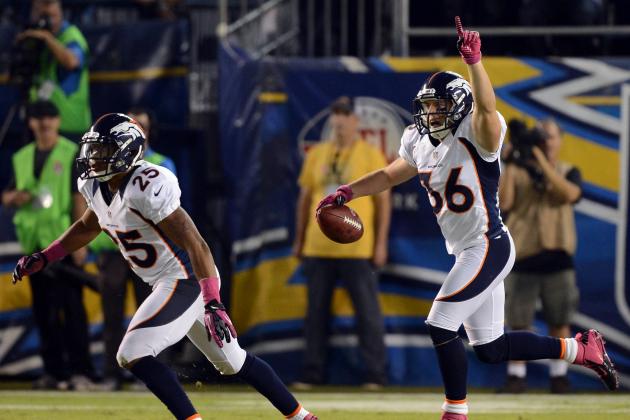 Harry How/Getty Images

Elvis Dumervil and Chris Harris came out in the second half of Monday Night Football and together they helped the Denver Broncos overcome a 24-point deficit.
Dumervil sacked Philip Rivers twice and forced two fumbles, one of which was returned 65 yards for a touchdown by Tony Carter. Dumervil finished with five tackles and one tackle for a loss. He also had one pass deflected and two quarterback hits.
Chris Harris chipped in with two interceptions and returned one 46 yards for a touchdown. That was the final score of the night, which capped 35 unanswered points scored by the Denver Broncos.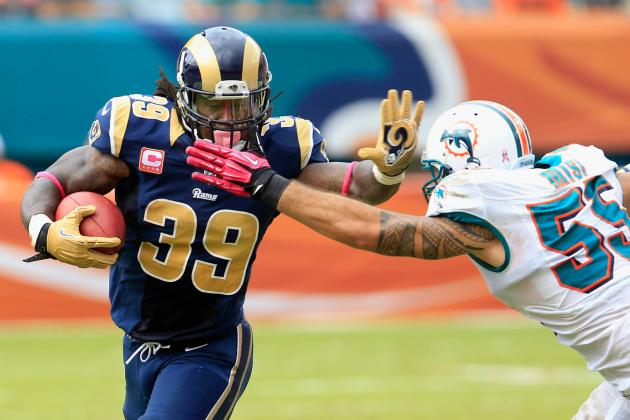 Chris Trotman/Getty Images

There is something wrong with how the St. Louis Rams lost to the Miami Dolphins. The Rams completely dominated the game except for where it matters most, the final score.
The Rams outgained the Dolphins 462-192 on offense and gained 10 more first downs. Yet they could not capitalize once they got in the red zone. The Rams lost the game when Greg Zuerlein's 66-yard field goal (a kick that would have been an NFL record by three yards) sailed wide left.
A loss like that could hurt a young team.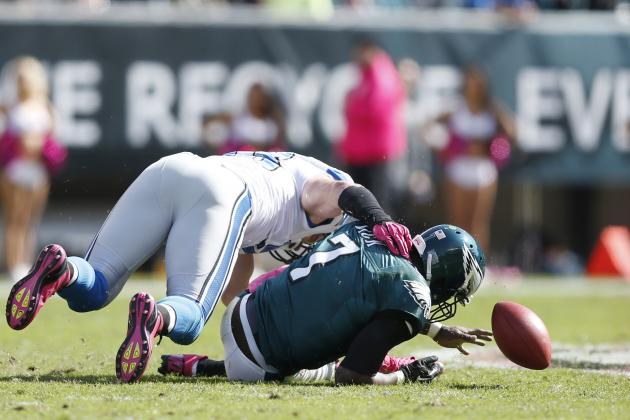 Joe Robbins/Getty Images

The turnover machine continues. Chalk up another two turnovers for quarterback Michael Vick.
Although Michael Vick did not lose any fumbles against the Detroit Lions, he did put the ball on the ground once when he could not handle a snap late in the first quarter.
This week, Vick threw two interceptions against the Lions, bringing his season total to eight. He has also lost five out of nine fumbles on the year. At this rate, Vick will finish the season with 21 interceptions and 13 lost fumbles. UGLY!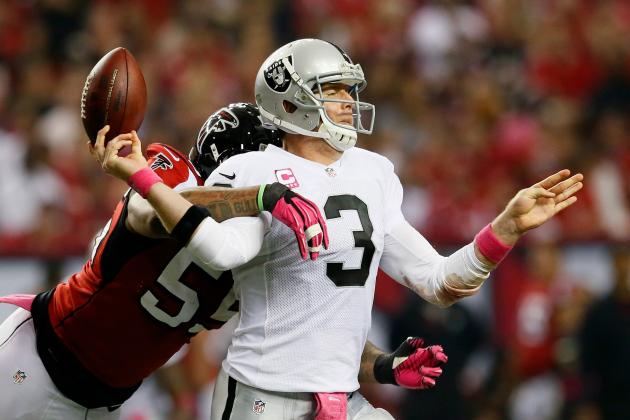 Kevin C. Cox/Getty Images

Raiders quarterback Carson Palmer is going to have nightmares of John Abraham for a little while. Abraham was a completely disruptive force in the Raiders' backfield. He finished the game with three sacks for a loss of 28 yards and a forced fumble.
Abraham was also a beast against the run, finishing the game with five tackles and three tackles for a loss.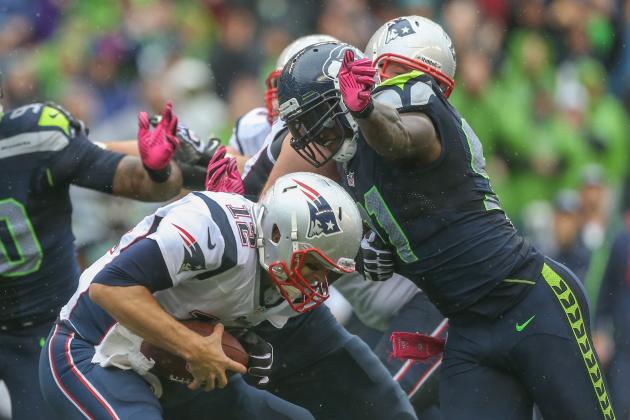 Otto Greule Jr/Getty Images

Tom Brady and the New England Patriots took their No. 1 ranked offense to Seattle to face Seattle's No. 1 defense and lost on the road. Although Brady threw for almost 400 yards, he was uncharacteristically inefficient inside the red zone.
Just before halftime, Brady was called for intentional grounding, which resulted in a 10-second runoff that prevented the Patriots from attempting a field goal. Later, in the fourth quarter with the Patriots leading 20-10 and facing a 3rd-and-1 from the Seattle 6-yard line, Brady threw his second interception of the game.
Brady finished with a 79.3 passer rating.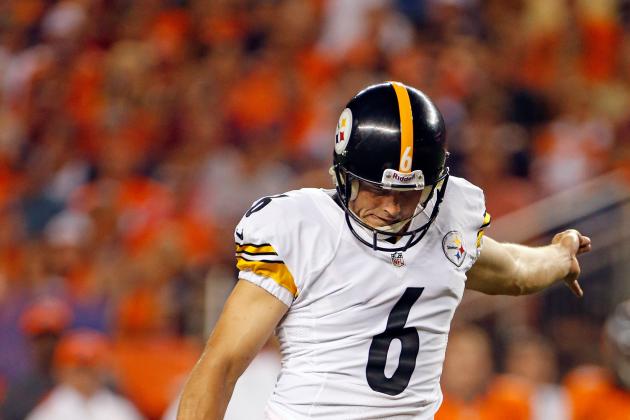 Doug Pensinger/Getty Images

The Pittsburgh Steelers allowed the Tennessee Titans to come back and tie the score at 23 with a little over four minutes to play on Thursday Night Football.
The Steelers took over at their own 11-yard line with 4:19 left in the game. They were putting together an impressive drive and were facing a 2nd-and-10 from the Tennessee 35-yard line when they took the ball out of quarterback Ben Roethlisberger's hands. Instead they handed off to Baron Batch for a loss of one yard.
After an incomplete pass, they elected to try a 54-yard field goal with a kicker, Shaun Suisham, who had a career long of 52 yards. The kick was short, and that gave Tennessee the ball back at their own 44-yard line. Four plays later, Rob Bironas connected on a 40-yard field goal to give the Titans a 26-23 victory.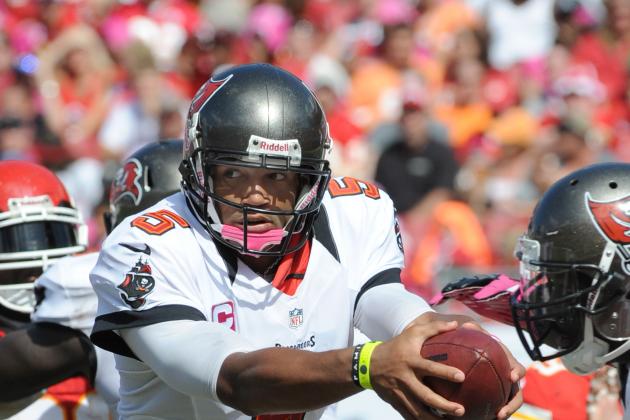 Al Messerschmidt/Getty Images

Coming off a bye week, Josh Freeman had an impressive performance against the Kansas City Chiefs.
Freeman threw for a season-high 328 yards. He threw a beautiful touchdown bomb to Mike Williams for 62 yards and tossed touchdown passes of 19 and 17 yards to Vincent Jackson as the Tampa Bay Buccaneers torched the Chiefs 38-10.
Freeman finished with an impressive 124.7 passer rating on 15-of-26 passing.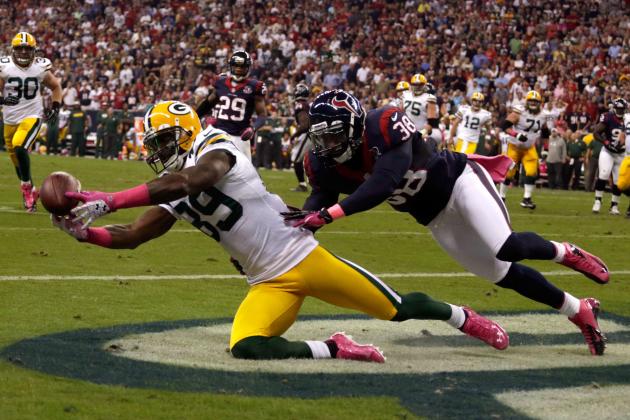 Scott Halleran/Getty Images

Playing their first game without linebacker Brian Cushing, the Houston Texans were pummeled. Cushing was placed on injured reserved after tearing a knee ligament against the New York Jets last week.
This week, the Texans gave up 427 total yards of offense to the Green Bay Packers and allowed quarterback Aaron Rodgers to throw six touchdown passes. J.J. Watt did manage to sack Rodgers twice, but those were the only two highlights from a defense that was widely considered the best in the league coming into the game.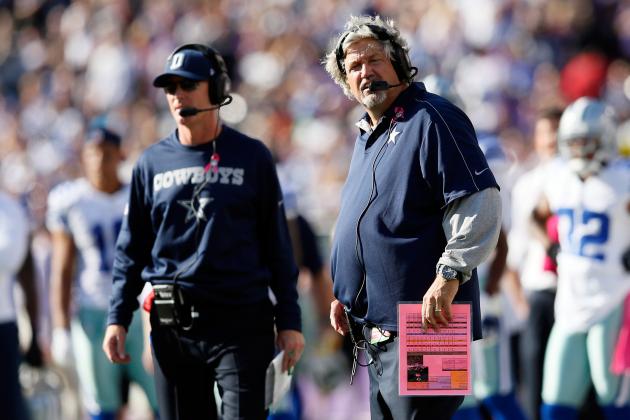 Rob Carr/Getty Images

How hard is it to call a timeout in the NFL, anyways?
Apparently if you are Jason Garrett, it's pretty dang hard. The Cowboys and their fans have to wonder why Garrett always has problems managing the clock in the final two minutes of a game.
This week, Dallas recovered an onside kick with under a minute to play in the game. After a 20-yard penalty by the Ravens, Dallas had the ball at the Baltimore 34-yard line with 26 seconds remaining. On the next play, Dez Bryant caught a one-yard pass, and the clock was ticking with 21 seconds left.
Instead of calling their final timeout and running another play or two, Garrett allowed the clock to go down to six seconds before calling the timeout. At that point, they were forced to settle for a 51-yard field goal attempt. Dan Bailey missed, and the Cowboys lost.
The Cowboys could have called a timeout immediately after the Dez Bryant catch and they would have had 20 seconds on the clock. That's plenty of time to throw the ball 10 yards down the middle of the field and come up to spike the ball and set up for a closer field goal try.
Instead, Garrett continues to be lost on the sidelines.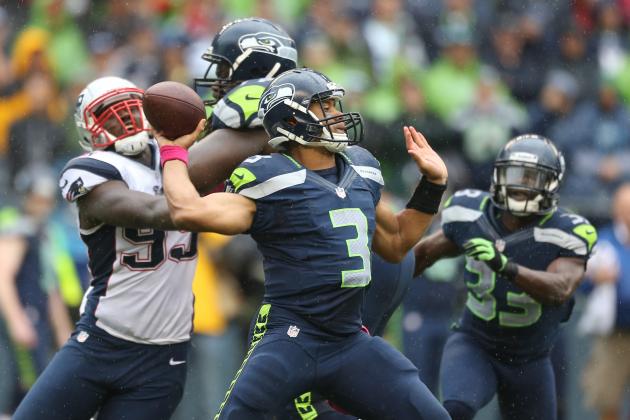 Otto Greule Jr/Getty Images

So far this season, Russell Wilson has defeated Tony Romo, Cam Newton, Aaron Rodgers and now Tom Brady. And this time, he didn't need the help of replacement officials.
The 5'11", 206-pound quarterback stood tall in the pocket and once again made big plays late in the game. This time he hit Sidney Rice with a 46-yard touchdown bomb to give the Seattle Seahawks a 24-23 win. Wilson threw three touchdown passes, two of them in the fourth quarter.
Wilson finished with a spectacular 133.7 passer rating, completing 16-of-27 throws for 293 yards with three touchdowns and no interceptions.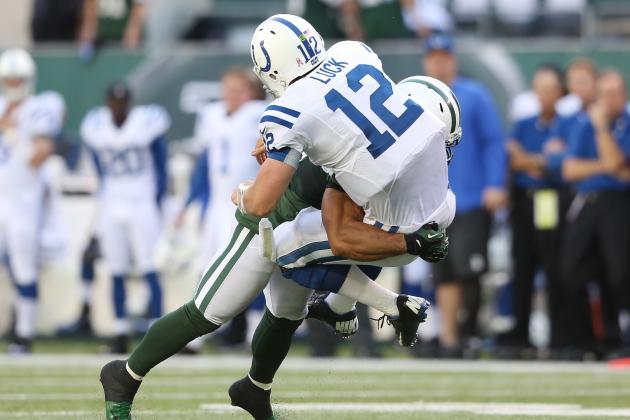 Nick Laham/Getty Images

Andrew Luck has played so well this season that sometimes you forget that he is only a rookie, and this week he made some rookie mistakes. Against the New York Jets, Luck could not get comfortable in the pocket.
Luck only completed 50 percent of his passes and tossed a pair of interceptions. He was sacked four times and finished the game with a 51.3 passer rating.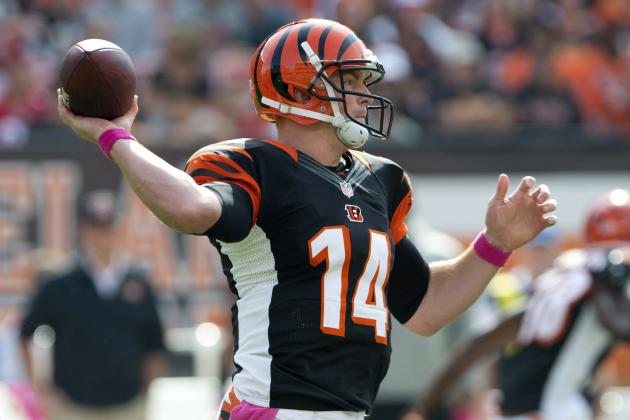 Jason Miller/Getty Images

In back-to-back weeks, Andy Dalton has been bad. Last week he tossed a pair of interceptions against the Miami Dolphins, and this week he threw three against the Cleveland Browns.
Dalton had a miserable fourth quarter against the Browns. He had three turnovers in the final quarter—two interceptions and a fumble. The first pick was returned 19 yards for a touchdown by Sheldon Brown. That gave the Browns a 34-17 lead and put the game out of reach.