Report Card Grades for Peyton Manning vs. Chargers on Monday Night Football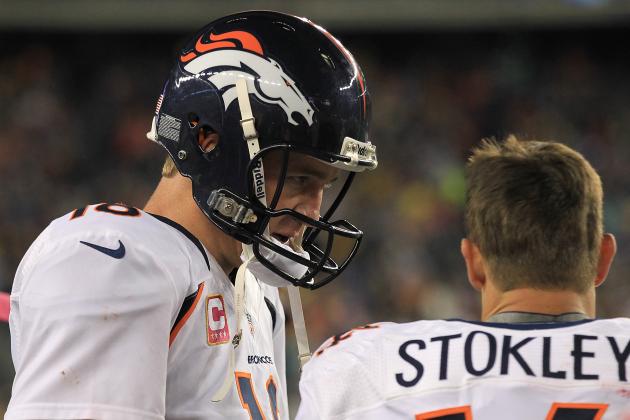 Jim Rogash/Getty Images

Peyton Manning was Peyton Manning on Monday Night Football in Week 6. He completed a high percentage of passes for his customary allotment of statistics in the Denver Broncos' win over the San Diego Chargers.
The Broncos offense was assisted in putting points on the scoreboard by its defense, which added 14 of its own on a 65-yard fumble return and a 46-yard pick-six.
The defense also managed to turn the Chargers' Philip Rivers over four times.
Here's how the Broncos quarterback graded out on Monday night.
Begin Slideshow

»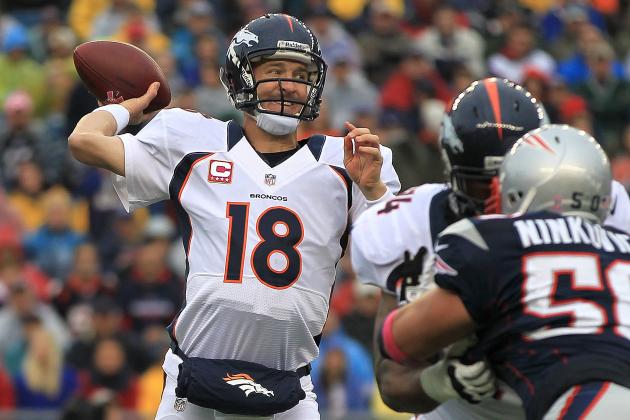 Jim Rogash/Getty Images

Manning threw an interception in the first half, but it's arguable that the pick was not his fault. He threw what appeared to be a ball for a curl on the right sideline, but the intended receiver never came back for the ball.
The Chargers' Quentin Jammer sure did, though.
Aside from that pick-six, Manning was 24-of-30 with 309 yards and three touchdowns.
Grade: A-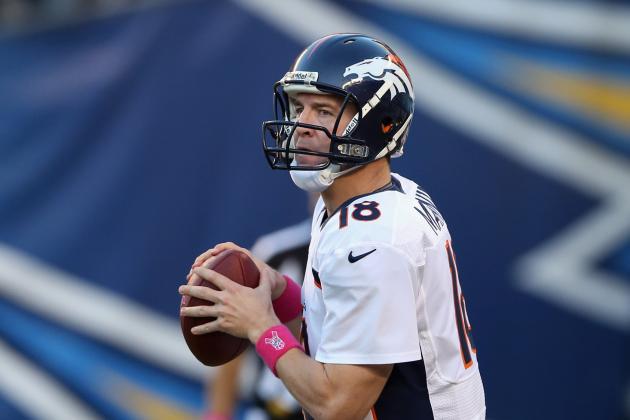 Jeff Gross/Getty Images

Manning made a couple of throws down the right sideline that addressed questions about his arm strength. One in particular was to a wide-open Eric Decker that could have been a touchdown if Decker hadn't slipped over his own feet after catching it.
Another was the spectacular touchdown pass to Brandon Stokley on the right side of the end zone.
He still had more zip going to his left side, but Manning was ready and willing to attack the Chargers defense on his right.
Grade: A-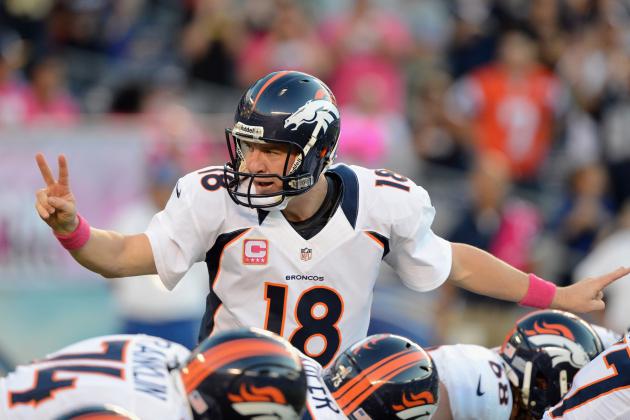 Harry How/Getty Images

Manning manipulated the Chargers defense from the line of scrimmage all night on Monday. His mind was never questioned as an NFL quarterback, with as many questions about his neck that there were.
He knew where to go with the football (which included handing it off) and executed the offense well all night.
Broncos fans have nothing to complain about in terms of Manning's decision-making.
Grade: A+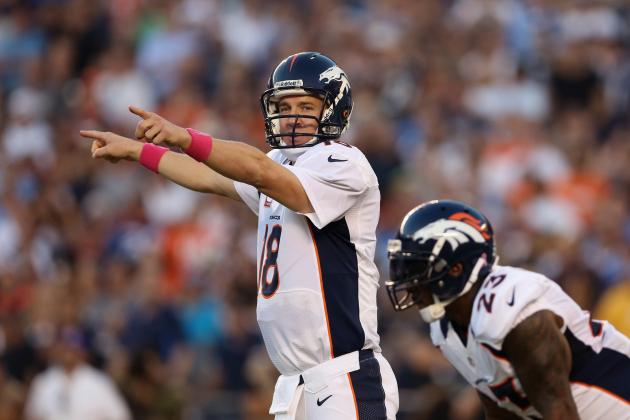 Jeff Gross/Getty Images

Going into the locker room at halftime, the Broncos were blanked 24-0.
Then, Manning led three touchdown drives and the Broncos defense came up big with two defensive scores.
This all happened on the road, folks.
Both sides of the ball for the Broncos were dynamic in the second half, giving Denver 35 straight points to close the game. The quarterback deserves a bit of the credit for his team's resiliency.
Grade: A+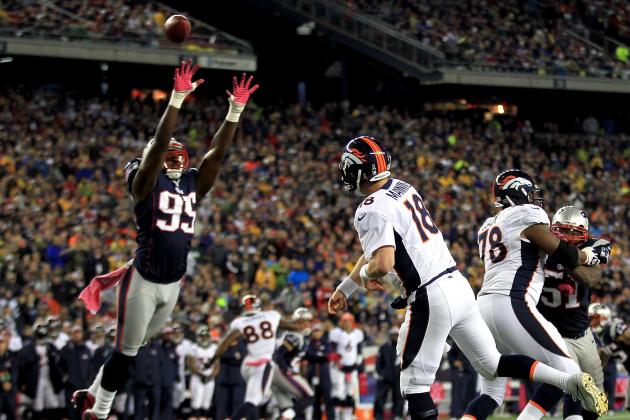 Jim Rogash/Getty Images

Manning's night as a pocket warrior can be summed up on one play.
The Chargers defense got pressure coming from the middle and left side of Manning's face. He shuffled his feet, evaded one would-be tackler, broke to his left, hopped over another Charger on the ground and flung a pass to the left sideline.
San Diego did not record a single sack.
Grade: A+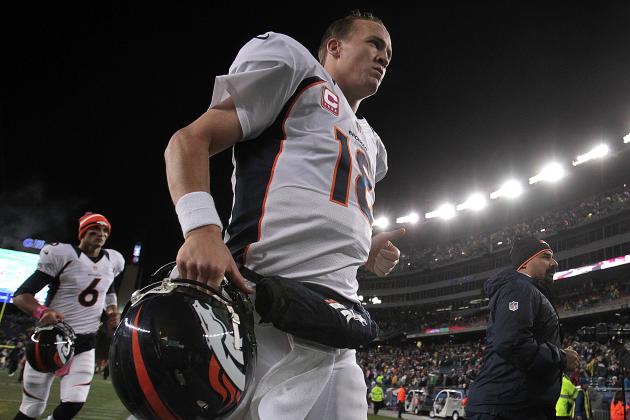 Jim Rogash/Getty Images

Manning was 13-of-14 passing in the second half of Monday's game.
The only ball he did not complete was batted at the line of scrimmage by Eric Weddle to a waiting Eric Decker, who knocked it down simply so Denver wouldn't lose yards.
Otherwise, Manning's completion percentage would have been a perfect 100.
All three of his touchdown passes came in the third and fourth quarters, and when the Broncos were down by one score, he dropped a dime to Brandon Stokley (who made a spectacular catch) in the end zone.
Grade: A+