Fantasy Football: The 10 Best Matchups for NFL Week 7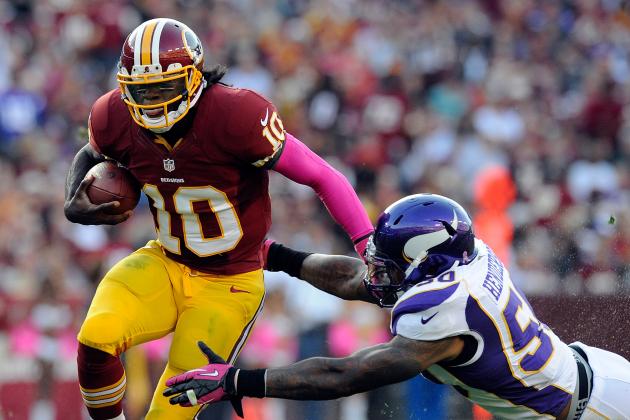 Patrick McDermott/Getty Images
RGIII gets the "Put the Team on Your Back" award in my book. Start him at all costs.
Week 6 is officially in the books. Don't expect Shonn Greene to go for 150 yards and three scores in Week 7, and don't expect Jordy Nelson to drop a buck 20 for two touchdowns this week either.
As the bye weeks are in full swing, fantasy football players need to be alert and willing to make the right moves and start the right players to keep their seasons going.
In the bye weeks, it's crucial to play the matchups. In the following slides are a few players that might prove worthy starters this week.
The matchups are juicy and the players talented. When it comes together you look like a genius in front of your league. When it fails, you get clowned on until you do something to redeem yourself.
Let's hope I can make a few of you look like geniuses this weekend. Make sure you pack your clown shoes just in case.
Begin Slideshow

»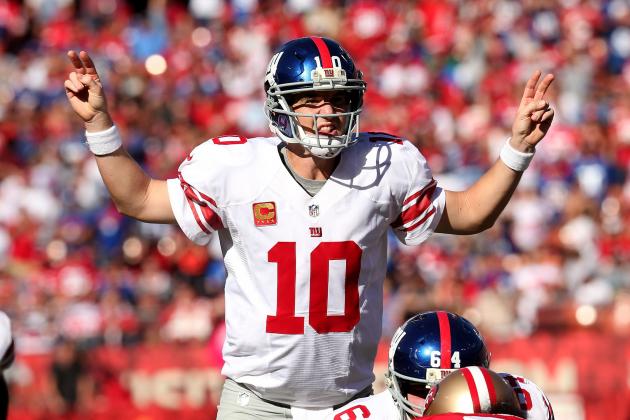 Stephen Dunn/Getty Images
He's no brother Peyton when it comes to hand signals and audibles, but there's no question that Eli Manning is elite anymore.
The obvious picks and flat-out must starts are the usual suspects. You can't bench Tom Brady, Aaron Rodgers, Drew Brees or the newcomer Robert Griffin III.
For those of you who likely drafted the first three in the first round, good call as usual. To the guy in your league that's likely still bragging about taking RGIII in the seventh or later round, right on man.
But wait. You're telling me we've got Eli Manning with a healthy Hakeem Nicks, Victor Cruz, Domenik Hixon and a resurgent Martellus Bennett against the worst pass defense in the league?
I'll take Manning for the Daily Double.
With Robert Griffin III keeping his team alive in every game so far, expect Manning to be throwing well into the fourth quarter. I don't think anyone expects a blow out, and this could be the first real shootout for RGIII.
I'd still start RGIII over Manning, if you have that luxury, because RGIII can and will get it done on the ground as well. That said, Manning will ball out in week 7 at home.
Washington's defense has given up the most yards and touchdowns through the air at 1,970 yards for 15 scores.
Eli Manning is going to have a field day against a depleted pass rush and atrocious secondary.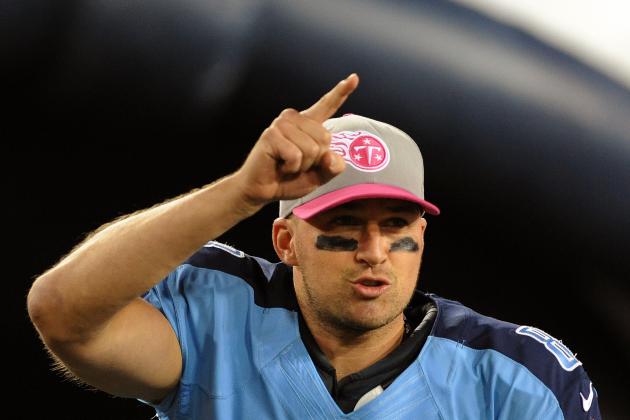 Al Messerschmidt/Getty Images
While they're not exactly No. 1, Matt Hasselbeck is QB1 for the Titans right now and this could be his swan song.
Let's take a look at a particularly juicy matchup between the Titans and Bills. Expect to witness a defensive comedy of errors, and potentially the highest-yielding fantasy matchup of the week. There will be plenty of points to be had in this one.
Of the two exactly average quarterbacks on display, Matt Hasselbeck should have the edge after the Titans defense looks to be turning the corner.
The Bills defense has allowed 1,538 yards through the air and 13 touchdowns. The Redskins, along with a few others, are tied for 15 touchdowns through the air, which is the most allowed so far this season. The Bills aren't far off and Hasselbeck will likely get them closer to the top after this week is over.
Hasselbeck could be in for a big day with Kenny Britt coming on line and Jared Cook rekindling some chemistry from last season.
Let's not forget that Hasselbeck, while certainly not elite, is a polished and poised veteran quarterback.
If you're playing the matchups, Hasselbeck could be a fantastic bye week filler. If he can get 14.80 points against the Steelers, there's no reason he can't put up 20.00 or more against the Bills.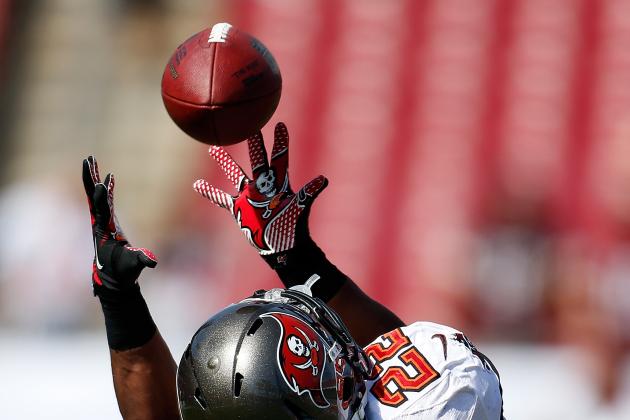 J. Meric/Getty Images
Expect Doug Martin to get 20-plus combined touches on the ground and through the air this week.
The New Orleans Saints might have finally won a game, but their run defense is still awful.
Statistically, they might not be the worst in the league anymore, but that's because of their bye week. The two teams ahead of them haven't taken a week off yet.
In five games, the Saints have allowed 862 yards on the ground and seven scores. Expect that trend to continue against the Buccaneers at Raymond James Stadium.
Doug Martin is getting the rock quite a bit for a rookie, and you have to believe he'll be a featured guy this week to exploit New Orleans defense.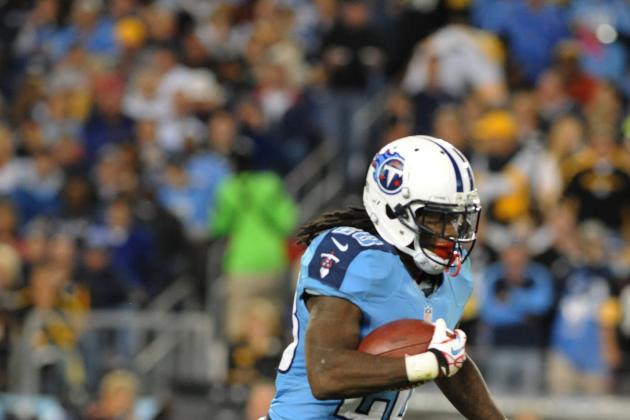 Al Messerschmidt/Getty Images
If I told you in August that Chris Johnson was going to be averaging 3.3 yards per carry going into week seven, you'd have laughed me out of existence. How's that first round pick feeling for ya?
I know what you're thinking, but if there was ever a matchup for Chris Johnson to be Chris Johnson, this is it.
The Buffalo Bills are statistically the worst run defense in the league. They've allowed the most yards and touchdowns on the ground of any team.
If Chris Johnson doesn't have a top-five running back game this week, drop him like the bum he is on the waiver wires. It's that simple.
So far, CJ2YPC has been a fantasy bust for the ages. He's due, and this is the matchup he needs to cash in on.
Raise your hand if you're riding the Cruz ship to the promised land this season.
Victor Cruz was a revelation last season, and continues to impress this season.
While Hakeem Nicks made his return to the lineup last week against the 49ers, Cruz has his biggest games when Nicks is healthy and lined up out wide.
Against a woeful Redskins secondary, Cruz should have a field day with defenses gravitating towards Nicks's more intimidating frame. Both receivers have the potential for huge games, but Cruz is the safe option as he's healthy and has been on fire this season.
Don't be surprised if Cruz and Nicks rack up 100 yards and a score each.
Get your salsa shoes ready because there's a Cruz ship headed toward an end zone near you.
Reggie Wayne absolutely blew up against the Packers in the game following news of head coach Chuck Pagano's cancer diagnosis.
He put in a truly Herculean effort in that game, but had a rather pedestrian showing last week in the drubbing against the Jets. He only caught five balls for 87 yards.
This week, the matchup is with him as he goes against the next best thing to the Redskins secondary, the Browns secondary.
The Browns gave A.J. Green 25.50 points last week. Their run defense is stout and Indy doesn't exactly have a game-changing running back.
The Colts have showed they're not afraid to put the ball in Andrew Luck's hands as he's attempted 221 passes in just five games this season. That's more than 44 pass attempts per game for the rookie.
Luck and Wayne have hit it off, and there's no reason to believe Luck won't go Wayne's way early and often this Sunday.
Even with Joe Haden back on the field, this matchup is too good to pass up.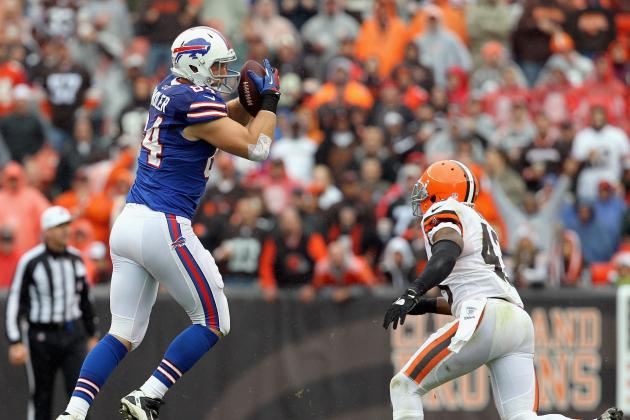 Matt Sullivan/Getty Images
Scott Chandler is a big target, and Ryan Fitzpatrick will be looking for him in the red zone this Sunday.
When Scott Chandler is on, he's on fire. He's primarily a red-zone target, but when it rains, it pours for Chandler.
Ryan Fitzpatrick is very hot and cold when targeting Chandler. This week's matchup against Tennessee, the league's worst defense against the tight end, is mouth-watering for Chandler owners.
Expect Fitzpatrick to target Chandler multiple times in the red zone and in the opposition's half. If Chandler is on his game, he could end up with a couple of scores.
Tight ends are quickly becoming integral parts of scoring offenses, and the Bills are no different. On a good day, Chandler can put up just as many if not more fantasy points than Rob Gronkowski or Jimmy Graham.
Every day isn't a good day for Chandler, but that's why we play the matchups.
Everyone channel their inner Gronk for me. Can you feel the adrenaline pumping? Don't you just want to smash something?
Rob Gronkowski hasn't had that multiple-TD game yet this season. In fact, he's only sitting on three scores through six weeks.
That just won't do for Gronk. Last season when the Patriots hosted the Jets, Gronk had two touchdowns on 113 yards.
Don't give up on him yet if you reached for him in the draft. Gronk still has plenty of fantasy candy to dole out. This week could be very fruitful for patient owners.
This one is too easy. Da Bears at home against the Lions is a no-brainer. Not that the Lions are bad, it's just the Bears are the Bears.
Matt Stafford better get comfortable with the ground and Shaun Hill better keep that arm warmed up. Heck, Kellen Moore might even get a few extra reps in practice this week.
Calvin Johnson is no doubt a transcendent wide receiver, but this Chicago defense is going to make him earn every bit this weekend.
Mikel LeShoure, or whoever the latest sideshow Detroit running back is, should wear extra padding this weekend.
Word on the street is Julius Peppers is hungry for some big game. Lion's on the menu.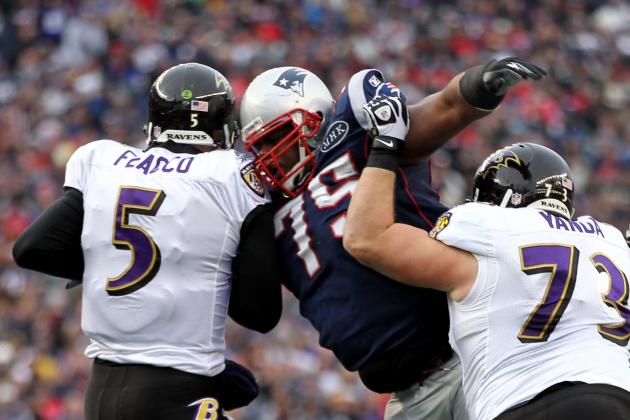 Jim Rogash/Getty Images
Vince Wilfork will swallow Mark Sanchez whole. Tebow Time will be upon us before we know it. Oh wait, that didn't work out for him in Denver agains the Patriots either.
Wait, what?
Yes, I'm picking the New England Patriots defense to uproot the middling Jets, Mark Sanchez and everything that they believe in.
Raise your hand if you think the Jets are actually as good as we saw last weekend. How about if you think Shonn Greene is a premiere back in the NFL? Put your hand down, Tim Tebow.
Bill Belichick has something nasty cooked up for his most hated rivals. By game's end on Sunday, everyone will be pulling a Dennis Green saying "the Jets are who we thought they were," except Belichick won't let them off the hook.
If the Jets are thinking to put the game on Shonn Greene's back again, they better think again. The Patriots have only allowed 496 yards and only two scores on the ground.
They did a good job of slowing the Seahawks run game on the road last week, holding Marshawn "Beast Mode" Lynch to 41 yards on 15 carries.
You wanna know how to make Mark Sanchez look like Mark Sanchez? Make him throw the ball.
That's exactly what Belichick has planned, and this opportunistic Patriots defense will have a Sunday feast at Gillette Stadium.