It has been five years since Kevin Garnett joined the Boston Celtics in a blockbuster trade that put the franchise in the upper echelon of the league. The Celtics's Big Three of Garnett, Paul Pierce and Ray Allen have always dominated the team's headlines, but now with Allen joining the rival Miami Heat, the team's leadership has lost a key voice. Paul Pierce is still the captain of the team, but this may be the year when a new voice needs to emerge.
Enter Rajon Rondo.
But wait, isn't Rondo too brash and cocky to be considered to be a leader? This is the guy who just recently explained in the cover story for Boston Common Magazine why he is the best point guard in the NBA:
"In some areas some guys might be better than me, but overall, if you lay it all out, I think I am the best."
"It's always the whole package," he says. "Some fans look at a point guard and say he had 26 points, seven assists, and eight rebounds, and they'll say he had a great game. But there is a lot of talent in the NBA, and eventually that talent catches up with you. The mental game is where it's at. I would say the game is 80 percent mental and 20 percent physical, for me at least. What separates great players from good ones is performing consistently. I can dominate the game in any number of ways, not just with the numbers."
"My definition of what a good point guard is might be different from what some others might think," he says. "I'll give you an example: If [head coach] Doc Rivers gets thrown out, I can run the team for the rest of the game. I know what plays to call, what sets to call, or when to call time outs. It's more than keeping track of the score. There is so much more going on that you take for granted on any given night, and there are only so many guys who can run a team when you don't have a coach. In that category I think I am the best at what I do."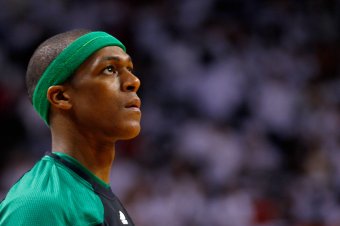 Mike Ehrmann/Getty Images
"The Celtics and their fans don't just want X number of wins and playoffs. We all want championships … and the banners prove that. For me it's a good thing. There is a lot more pressure in Boston to win than there is almost anywhere else. I love it. I feed off of it."
Is this the guy Celtics fans want captaining their team? Someone so audacious and arrogant? Motivating and shaping their young players, like promising rookie Jared Sullinger?
The simple answer is, of course they do. Rondo has been with the Celtics for over six seasons now and the team, believe it or not, has been molded in his image. No longer Pierce's or Garnett's, Rondo is what makes the Celtics who they are.
While Pierce has yet to hand down his official captain title, Rondo has already assumed the unofficial duties before the start of training camp, taking it upon himself to organize offseason team workouts in Los Angeles. Even Garnett agrees that its Rondo's time now, as he recently told Chris Forsberg of ESPN:
"I think you see a bit of a changing of the guard with Rondo becoming our leader. I think something that he's earned."
A three time All-Star, Rondo already has accomplished a number of individual accolades, but has never been seen as an individualistic player. He has shown time and time again that he puts the team first; the most notable instance was in Game 3 of the 2011 Eastern Conference Semifinals against the Heat, where Rondo willed his team to victory after dislocating his left elbow.
You can't fault Rondo for being so driven and confident, as his desire to win is infectious which the rest of the team feeds off of.
The literal title of captain is not necessary for Rondo at this juncture due to Paul Pierce's veteran presence. But Pierce should know that whenever he retires, he will be leaving the team in the capable hands of Rajon Rondo, the natural choice for team captain.