Minnesota Timberwolves: Top Training Camp Storylines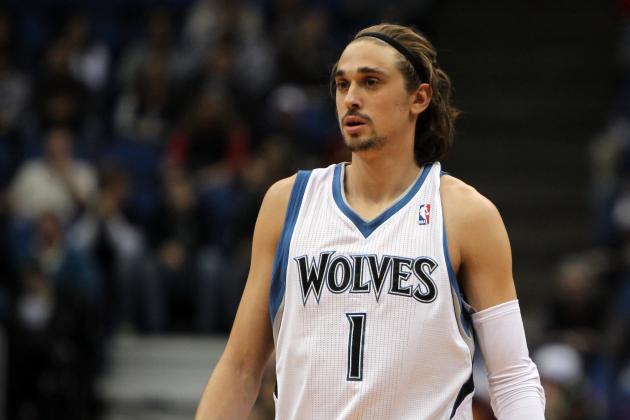 Brace Hemmelgarn-US PRESSWIRE

Training camp drama has simply not been a concern for the Timberwolves this season. That's not saying that they haven't had have their fair share of issues, but we definitely aren't seeing the usual horde of problems that we're all too familiar with.
Last season, the Timberwolves came into the season stocked with talent, and exited the season with absolutely no production to show for it. The Timberwolves had Michael Beasley, Anthony Randolph, Wesley Johnson—guys that were supposedly big-time contributors.
It has been said before, but the reason that the T-Wolves couldn't win all connected to the fact that the team wasn't playing like a team.
They don't have that problem this time. For the most part, the pieces all fit. Players are fitting in naturally with the team, and it has already begun to show early in the preseason.
All of that said, they still have several storylines that bear paying attention to.
Begin Slideshow

»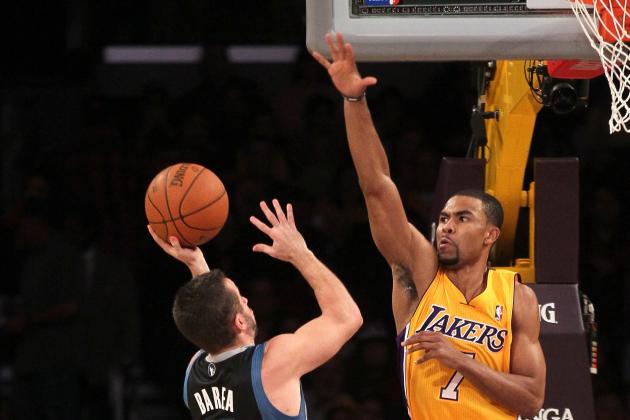 Stephen Dunn/Getty Images

Despite not being able to start the season with rookie phenomenon Ricky Rubio, the point guard position for the Timberwolves is by no means weak. it really is just a matter of picking the starter between J.J. Barea and Luke Ridnour.
Both of them could start—perhaps not to the level of Rubio, but they both have the ability to be passable starters.
Ridnour has only played in one game so far in the preseason, so he showed obvious rust. He went 2-4 on his field goals, and finished the night with five points and three assists. (Courtesy of NBA.com)
Barea has compiled similar stats over the preseason, but he has played in all three games. Against the Chicago Bulls, he played the same amount as Ridnour, but he went 1-7 from the field and only earned two assists.
Time will tell who head coach Rick Adelman chooses to be his starting point guard. They only need to hold down the fort until Rubio makes his likely return in December, it wouldn't come as a surprise to see them just split minutes.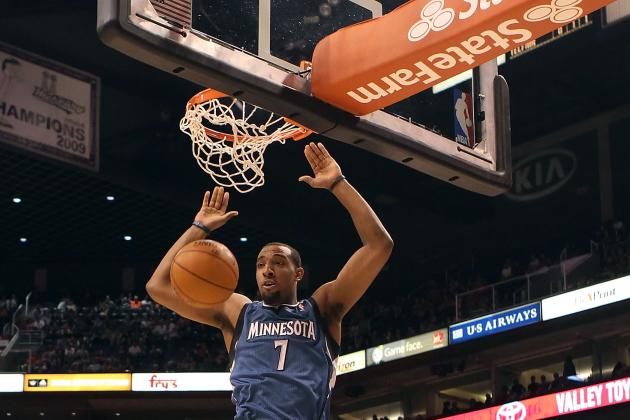 Christian Petersen/Getty Images

Derrick Williams has been one of the controversial players on the team since he was drafted in the 2011 NBA Draft.
Whether you're a fan of him after his up-and-down rookie campaign or you believe that he was just the latest in a long string of draft failures, the potential that he displayed from last season is still evident.
It has been debated whether or not he is going to play small forward or power forward. He played the 4 in college and experienced a ton of success. With the Timberwolves last season, he was a bit of a hybrid, switching between the forward positions.
Williams is a natural power forward, so it makes sense to place him behind Kevin Love in the depth chart. Of course, that means that he'd be competing with Dante Cunningham for the right to come off the bench behind Love, and Cunningham has shown severe signs of being a defensive monster for the Wolves so far in the preseason.
That leaves the small forward position, which Williams could also play. He lost 15 pounds this offseason to make himself into a quicker player in order to play the 3 spot, so we'll see how Adelman decides it.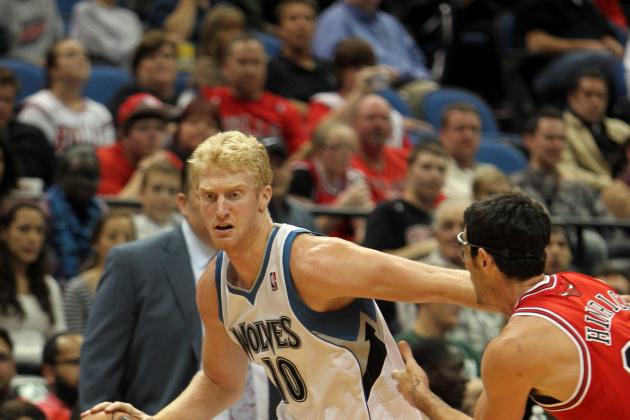 Brace Hemmelgarn-US PRESSWIRE

Chase Budinger has been a huge asset for the T-Wolves so far this season. Despite a poor night against the Chicago Bulls on Saturday, he has averaged 11.3 points per game (PPG) in the preseason so far.
All signs point to a fantastic bench player, but you have to wonder where he's going to fit in. As mentioned before, Williams could play either forward position—and the power forward position is stacked with both Cunningham and Lou Amundson.
It would be fine for Budinger to slide down to the shooting guard slot behind Brandon Roy, but Alexey Shved looked like a boss against the Bulls, finishing the night with 15 points and going 2-3 behind the 3-point line.
Time will tell if Shved can continue that success, but everybody knows that he was a monster scorer in Russia.
Basically, both of the spots that Budinger could thrive in are currently undergoing serious competition. He's going to have to prove during the rest of the preseason that he can play serious ball, because he's going to find himself spending far too much time on the bench otherwise.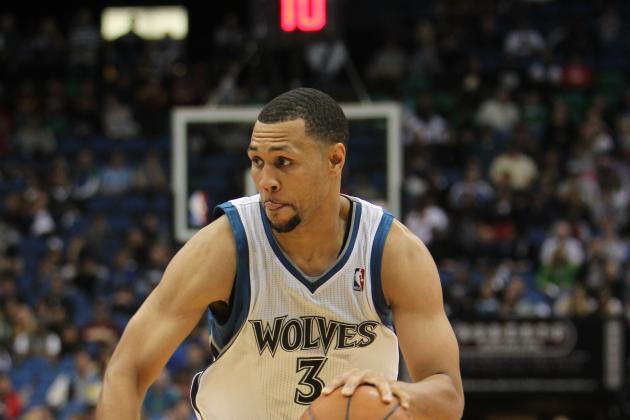 Brace Hemmelgarn-US PRESSWIRE

Brandon Roy's issue isn't really a storyline—it's more of something you really want to keep an eye on.
Roy's talent is undeniable, but so is the fact that he spent last season retired due to degenerative knees.
So far in the preseason he has proven why he is a three time all-star, even if we have only seen a glimpse of what he used to be.
He has put up some impressive numbers in the first three games of the preseason, averaging 10.7 PPG in just 19.7 minutes.
There's no question that he will be starting for the Wolves, so the only concern with the shooting guard position is the health of Roy.
If his knees can hold up, he'll quickly re-establish his dominance. If not, then Budinger and Shved are going to see some serious minutes.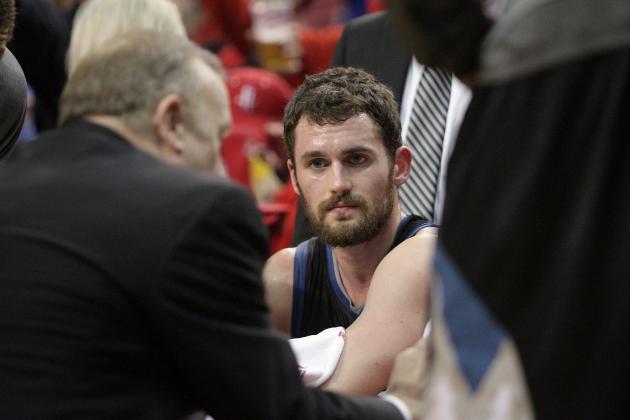 Troy Taormina-US PRESSWIRE

While there aren't any serious injury-related problems for the Wolves at the moment, it didn't go unnoticed that both Andrei Kirilenko and Love missed the game against the Chicago Bulls.
Fortunately, neither player has reported serious injuries.
Love's injury was borderline comedic—he couldn't play because of a sore elbow. What was the reason for the soreness? He hung his arm off of his bed all night, which was the culprit of the pain.
Kirilenko missed the game on Saturday due to a hamstring issue. He was reported to have practiced with the team on Monday, though, so it could be assumed that his hamstring isn't bothering him anymore.
As for Ridnour, he returned to play the Bulls on Saturday after missing the first two preseason games due to a stiff back/back spasms.
*Update: Kevin Love is going to miss the next 6-8 weeks with a fractured hand. That puts his return date in December, same as Ricky Rubio. Expect to see Dante Cunningham and Derrick Williams, as well as Lou Amundson splitting time at the power forward position until Love returns.