BYU vs. Notre Dame: 5 Cougars the Fighting Irish Need to Be Ready for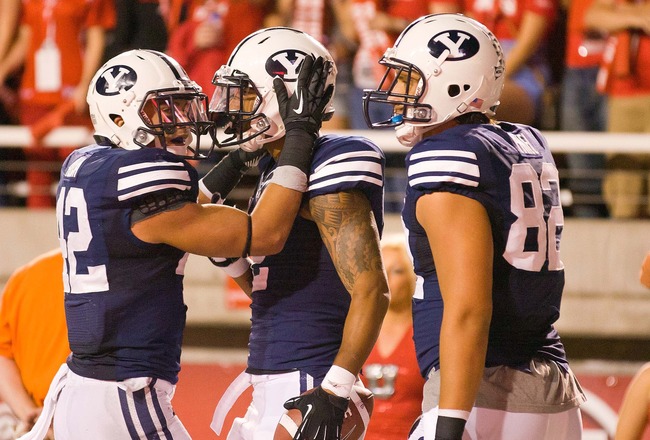 Russ Isabella-US PRESSWIRE
It seems like both BYU and Notre Dame are two programs that are heading in completely different directions. The Irish are undefeated and ranked in the Top Five of the latest BCS rankings, while the Cougars are 4-3 and have lost three of their last five games.
A matchup that was supposed to be a great contest on paper before the season started now looks like it will be another painless victory for the team out in South Bend. But before Irish fans go ahead and begin looking towards the big meeting against Oklahoma, the Cougars do have a few players that are capable of making things interesting this weekend.
Here are five players that Notre Dame must be aware of for the Week 8 matchup against BYU.
Riley Nelson, QB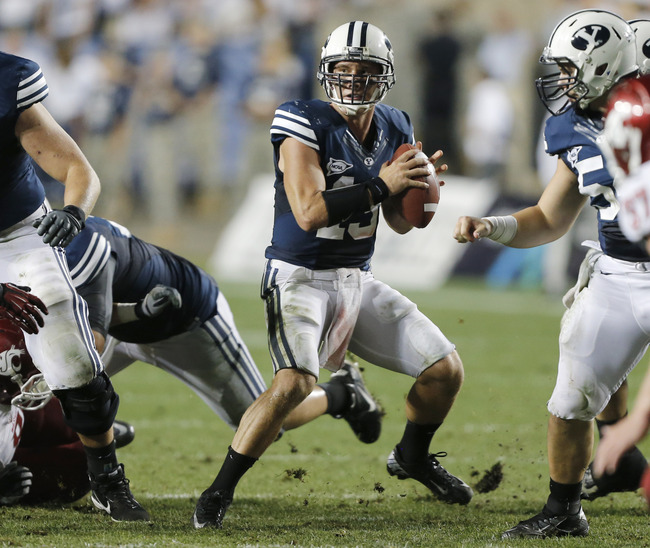 George Frey/Getty Images
According to Jay Drew of the Salt Lake Tribune, senior quarterback Riley Nelson will remain the starter for the Cougars this week. He certainly won't be the best quarterback this Notre Dame defense has faced all season, as he has accuracy issues and enjoys completing passes to the other team.
But despite his 16 career interceptions, he is averaging 32 passing attempts this year, which ranks in the Top 50 in the 2012 season.
With the amount of passes he throws, it is clear that he will test this Irish secondary, which is still considered a weakness on this football team. With three first-year starters in the defensive backfield, the Irish can struggle at times in pass-coverage.
Head coach Brian Kelly must take advantage of a horrible BYU offensive line by generating pressure and forcing Nelson into key mistakes.
Preston Hadley, CB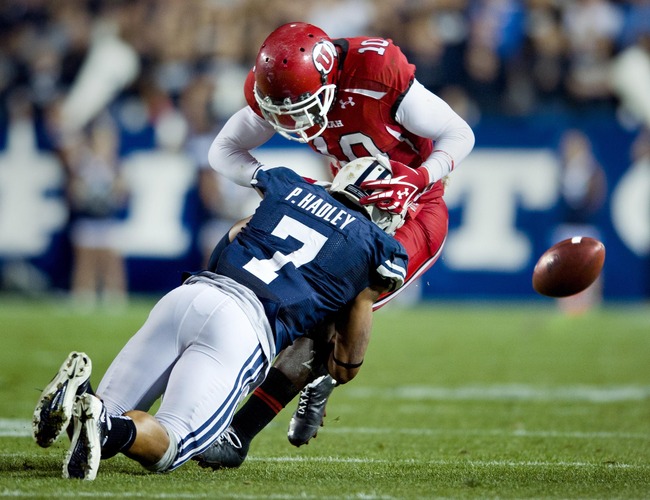 Douglas C. Pizac-US PRESSWIRE
Preston Hadley is the senior leader of this BYU defensive backfield, and he is second on the team with 38 tackles. There really isn't much that he can't do. He is a tackling machine, has broken up five passes and gotten an interception, and he even forced a fumble.
He is somebody that will show this Notre Dame offense multiple looks, as he is simply looking to make a play. Hadley is solid in coverage, but will blitz often and will make his presence felt in run support early and often, as he isn't afraid to get his hands dirty taking on running backs.
The senior is great at reading the quarterback and is a player that will make him pay for each and every mistake he makes.
Jamaal Williams, RB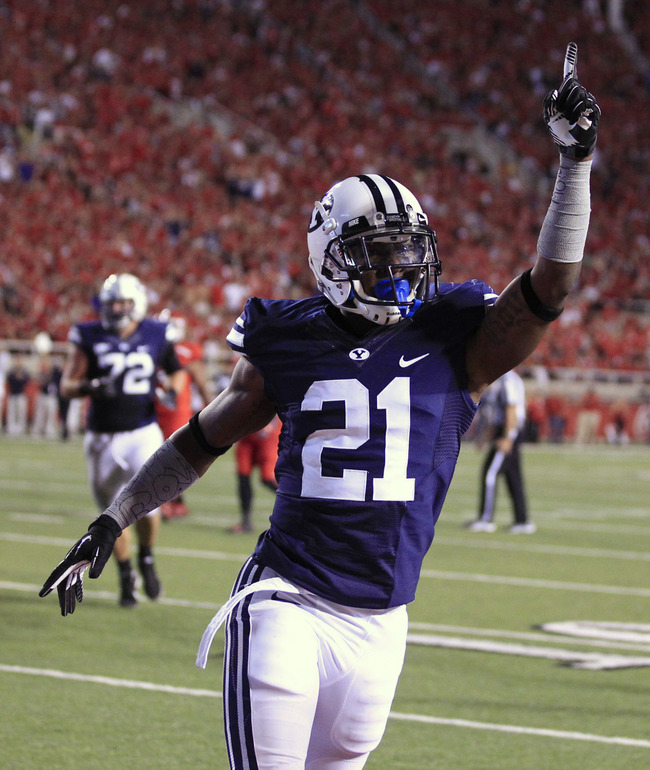 George Frey/Getty Images
Jamaal Williams is the son of an Olympic sprinter, and he carries a lot of those same traits. He is very fast and is capable of taking any play the distance for a touchdown. The freshman running back was slowly worked into the offense, but has seen an increased role the last three weeks, receiving at least 15 carries in each game.
With a recently increased workload, Williams now has 345 rushing yards, is averaging over five yards a carry and has scored five touchdowns. BYU also gets the youngster involved in the passing game as well, as he has racked up nine receptions in the last three contests.
You have to respect the speed and playmaking ability of Williams. The BYU offense may not score much, but getting Williams out in the open field could produce a spark for this unit if the Notre Dame defense isn't careful.
Kyle Van Noy, LB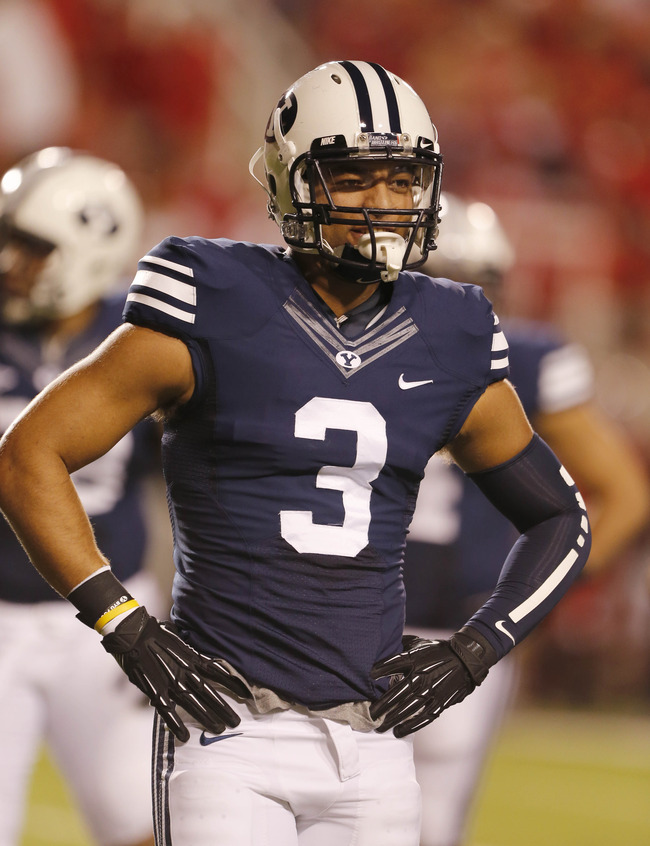 George Frey/Getty Images
BYU has a defense that is ranked fifth in the country, and it all starts with linebacker Kyle Van Noy. He is the playmaker on the defensive side of the ball that makes the whole thing work and makes the job easier for everyone else.
If NFL teams are looking for a true pass-rusher, you don't need to look much further than Noy. He leads the team with 11.5 tackles for loss and 7.5 sacks, and he has broken up five passes for good measure. Last season, he was the only player in the FBS to record a stat in every major defensive statistical category (tackle, tackle for loss, sack, interception, pass breakup, quarterback hurry, fumble recovery, forced fumble, blocked kick).
Noy has the size for the next level and could make things very difficult for whoever ends up playing quarterback for Notre Dame on Saturday.
Cody Hoffman, WR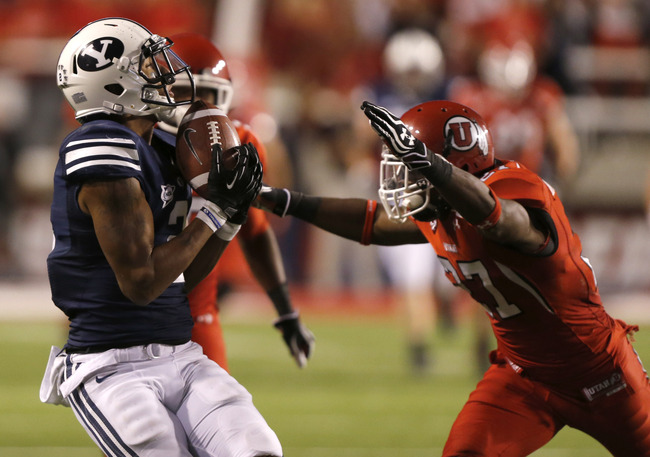 George Frey/Getty Images
Even though his quarterback isn't the most accurate in the world, wide receiver Cody Hoffman is still a solid player. In fact, the junior wide receiver may be the best this Notre Dame secondary will have faced so far this season.
At 6'4", 215 pounds, there isn't much this guy can't catch, and he uses his great route running and large body to create separation from defenders. He is well on pace to his best season yet, as he has racked up 41 receptions for 534 yards through the first seven games. He is also coming off two straight 100-yard receiving performances, including a 10-catch game against Oregon State last weekend.
Hoffman isn't going to burn anybody with his lack of speed, but the sure-handed wideout will be targeted quite a bit in this matchup and could hurt the young Irish secondary.
Keep Reading

Notre Dame Football: Like this team?