BCS Standings: 4 Teams That Will Be Moving Up Shortly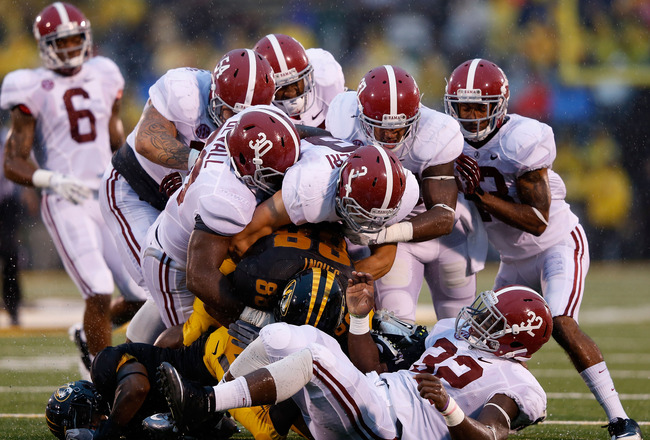 Alabama's stifling D is the main reason they're ranked #1 in the BCS standings.
Jamie Squire/Getty Images
Sunday's release of the first BCS standings was another reminder that this flawed system will finally be replaced with a four-team playoff in 2014. We now have only two more years of this nonsense. With that said, what teams are poised to climb the ranks in the weeks to come?
Alabama, as expected, found itself atop the initial rankings. This is despite having only one significant win so far, the opener against Michigan.
While I'm not denying that the Crimson Tide are good, do we really know how good? Their first real test doesn't come until October 27, when they host No. 12 Mississippi State.
Let's take a look at four teams that are all currently in the Top 25 that are ready to make a move, including one who has a great shot at overtaking the Tide for the No. 1 spot.
1. Oregon Ducks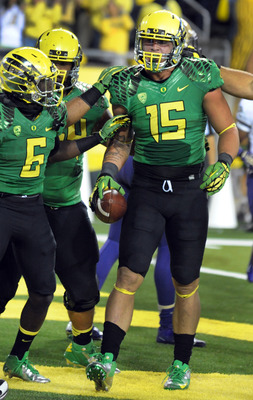 The Ducks unfortunately lose exposure because they're on the West Coast.
Steve Dykes/Getty Images
Oregon, currently No. 3 in the BCS, has looked as good as anyone in the nation. The Ducks have steamrolled their opponents, scoring at least 42 points in every game en route to a 6-0 start.
You could certainly make a case for them to be No. 1, at least as much as you can for Alabama. The Ducks have beaten two ranked teams, while the Tide have defeated only one.
Unfortunately for Oregon, part of the problem for them is location.
Pac-12 teams (besides USC) have always suffered from lack of coverage, simply because of what time their games are played at. The Ducks, for example, have a tough matchup this week as they travel to face the 5-1 Arizona State Sun Devils. Kickoff isn't until 9 p.m. ET, though.
Assuming the Ducks get through ASU and a home game the following week against Colorado, their November 3 matchup at USC looms large.
Expect the Ducks to move up to No. 2 in the BCS even before that game, meaning a decisive win against the Trojans could put them on top no matter what Alabama does.
2. Notre Dame Fighting Irish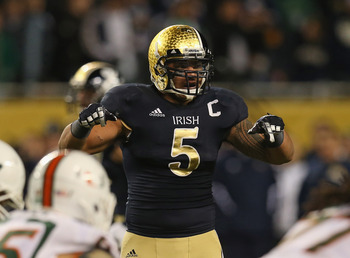 The Irish are ranked as high as they are because of their defense.
Jonathan Daniel/Getty Images
On the complete other end of the spectrum from Oregon is Notre Dame.
The Irish basically have their own TV network in NBC, which means plenty of college football fans have seen the re-emergence of this program. They're coming off an epic, yet controversial, win over No. 17 Stanford in overtime.
That marked the third top-20 team Notre Dame has beaten this year. The schedule doesn't get any easier, either. They can't look past BYU this week, as that matchup has trap game written all over it.
Assuming the Irish take care of business against the Cougars, their national title hopes will be on the line in Norman the following week.
A Notre Dame win versus No. 9 Oklahoma would certainly catapult them into the Top 3. Few teams, if any, could match what would be ND's fourth win against a ranked opponent.
3. Oregon State Beavers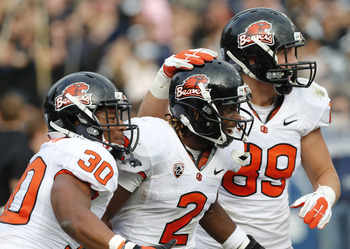 The Beavers have a good shot at being undefeated when they play Oregon.
George Frey/Getty Images
Few would have predicted the Oregon State Beavers would be ranked as high as No. 8 in the first BCS standings. Yet, two early-season wins against ranked teams in Wisconsin and UCLA have helped the Beavers earn a top-10 position.
With upcoming games at Washington and at home versus Arizona State, Oregon State has a solid chance of being 8-0 when they travel to Stanford on November 10.
If that holds true, they should be able to creep up a spot or two by the time that matchup rolls around. The Pac-12 is extremely competitive this year, which helps the lesser-known teams (like the Beavers) in the conference.
All eyes will be on the state of Oregon, and Corvallis specifically, come November 24. If the Ducks and Beavers are both undefeated coming into that game, it only ups the stakes in one of the best rivalries in college football.
4. Florida State Seminoles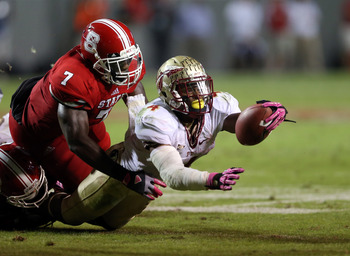 FSU suffered a heartbreaking, one-point loss to the Wolfpack.
Streeter Lecka/Getty Images
The first three teams we discussed are all currently undefeated. Many expected the same from Florida State, at least up until this point in the season. However, the Seminoles' upset loss at North Carolina State two weeks ago all but dashed any national title aspirations.
FSU, currently No. 14 in the BCS, also suffers from playing in the weaker ACC.
A one-loss team from the SEC, Big 12 or Pac-12 would still have an outside shot at making the title game.
FSU should be able to move up a few spots with wins against Miami this week and Virginia Tech on November 8. The Seminoles would love to ruin a perfect Florida Gators season when they square off on November 24.
All in all, the end of the college football season is full of marquee matchups. Plus, it reminds us that we're that much closer to the end of the BCS.
Keep Reading