Grading the Philadelphia 76ers' Current Two-Deep Depth Chart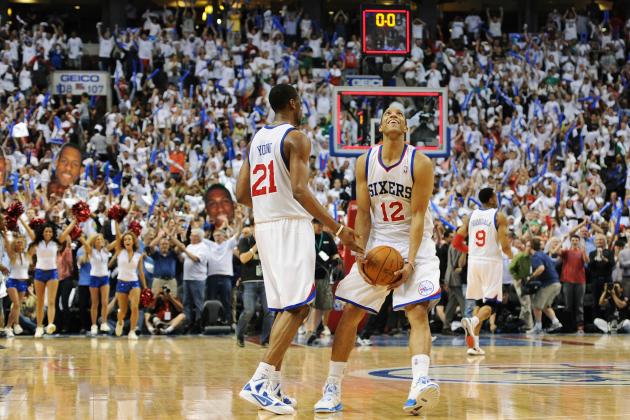 Drew Hallowell/Getty Images

The Philadelphia 76ers' are now three games into the preseason with a respectable 2-1 record and opening night is just around the corner.
With a newly revamped roster, they are due for a strong season. Philadelphia has always been a deep squad but it seems as though this year they are deeper than ever.
The Sixers are an extremely versatile team, meaning a number of guys have the ability to play multiple positions. Thus, you will see some guys appear a few times on the list.
There's certainly potential here, but as much as we hate to admit it, along with potential comes uncertainty.
Nevertheless, with a positive preseason thus far and along with regular season anticipation, let's take a preview and grade the Sixers at each position.
Note: Grades are determined by both expectations and preseason performance
Begin Slideshow

»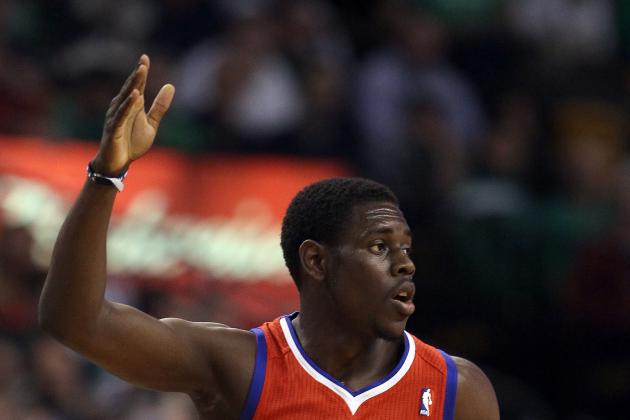 Elsa/Getty Images

Starter: Jrue Holiday
Backup: Malik Wayns
Obviously Holiday will be seeing the bulk of minutes here, and Evan Turner will most likely see more time at the point than Wayns. However for the sake of a depth chart we will keep it as this.
In their first preseason game against the Orlando Magic, Holiday played spectacular. He scored 27 points (12/14 from the field) in just 20 minutes of play--an evident sign of his scoring ability.
However it is also important to note that in their second game he shot 4/15 from the field, scoring just ten points. True, he did record nine assists, but Holiday must display an ability to remain consistent with his shot throughout the season if he wants to be deemed as a top point guard.
Holiday is the supposed point guard of the future and he certainly has the potential to be that guy. That being said, he needs to follow through with his capability consistently.
If he lives up to his ceiling, this grade could easily change to an A, but because we are still unsure of how he will exactly fare, he gets the tentative B+.
Oh yeah, and as for Wayns, say what you want about him, but he recorded nine points and eight assists against the Celtics. He could easily play the same degree of a role as Lavoy Allen did last year (as my heart rejoices for another local guy).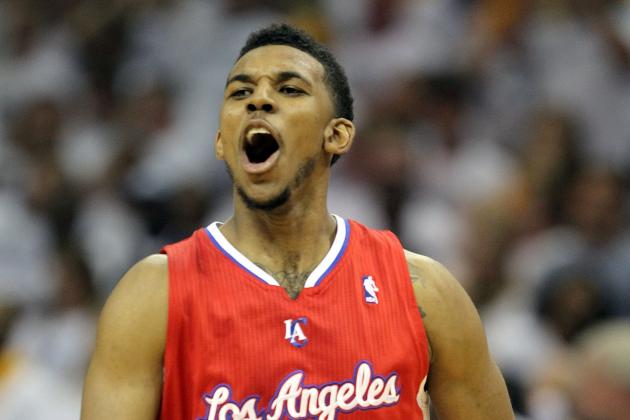 Andy Lyons/Getty Images

Starter: Nick Young
Backups: Jason Richardson, Dorell Wright
Philadelphia is absolutely loaded with shooters this year. It's still unclear as to who will start, but for the sake of the slide I put Young as the starter because of his outstanding preseason play.
Young went off against the Nets by dropping 21 points and Wright posted seven points and seven rebounds respectively last game.
As for Richardson, although he has not played as well, you know what you get with him because of his pedigree. He is an established three point shooter. As long as he is an NBA player, he won't lose that trait.
For their preseason play, this position easily deserves it's A and when you factor in their potential in the offense this year it just solidifies it even more.
But before we move on, let me just be clear here. It does not matter if they are most talented shooting guard in retrospect to the rest of the league. If that is all that was looked at then they would not receive an A. Instead, they have a great ability to specialize in three point shooting, providing a change of pace and spreading the floor.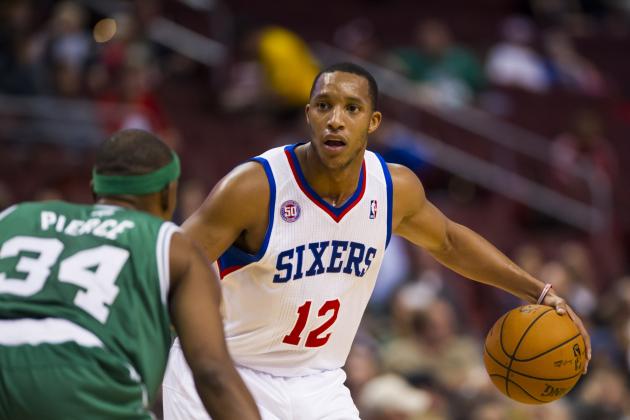 Howard Smith-US PRESSWIRE

Starter: Evan Turner
Backup: Thaddeus Young
Turner's situation can be classified the same way as Holiday's. He has the capability and potential to be the guy they want him to, it is just a matter of following through with it.
After a rough first game against the Magic, Turner has been a consistent force proving he can facilitate the offense with Holiday. Acknowledging this only reassures the fact that Turner will embrace his new role with Andre Iguodala out of the picture.
Young on the other hand is a great utility guy to change the pace off the bench. Young saw much more playing time at the 4 as opposed to the 3 last year, but expect to see a shift this season. After recording 15 points and six rebounds against Boston, Young continued to solidify his value as a consistent player.
Not only that, but he also continues to improve his mid-range game, a part of his game he has needed to fix for a while now.
Both of these guys are great players to have on a team, but when judging this position the majority of weight goes onto Turner. And while I believe he has the ability to be "A" material, it would be a bit foolish to say so this early, especially with nothing spectacular happening in the preseason.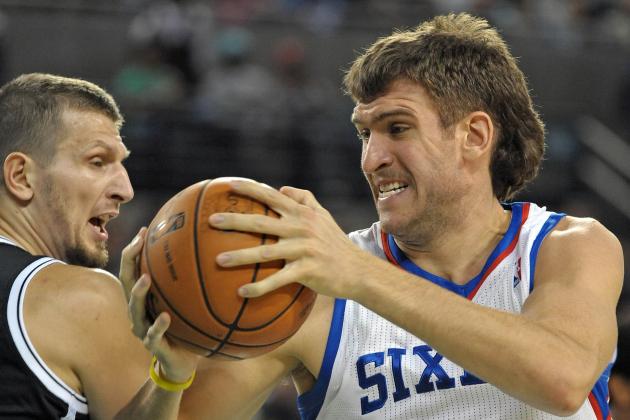 Eric Hartline-US PRESSWIRE

Starter: Spencer Hawes
Backups: Thaddeus Young, Lavoy Allen
This is the weakest spot for the Sixers on the surface, but arguably their deepest.
When looking at Hawes (I know it's hard. The mullet is very distracting, but bear with me), he has put together a solid preseason. He specifically put forth the production against the Celtics where he came off the bench and scored 17 points and hauled in eight rebounds in just 18 minutes of play.
After coming off an injury, it is something great to see. At the same time though, Hawes has been playing center and we have yet to see how he will fare playing next to Andrew Bynum at power forward.
As for Allen, he has had a quiet but solid preseason. In fact, he recorded eight rebounds in each of the first two games and in the last game grabbed five while scoring 11.
Last season he demonstrated in the playoffs he is a reliable defensive option and mid-range shooter. As long as he focuses on these two aspects, he will be a more than serviceable option for the Sixers off the bench.
Overall, they are definitely deep here and this is where the lineup really becomes expendable. What brings them down is also that principle of uncertainty.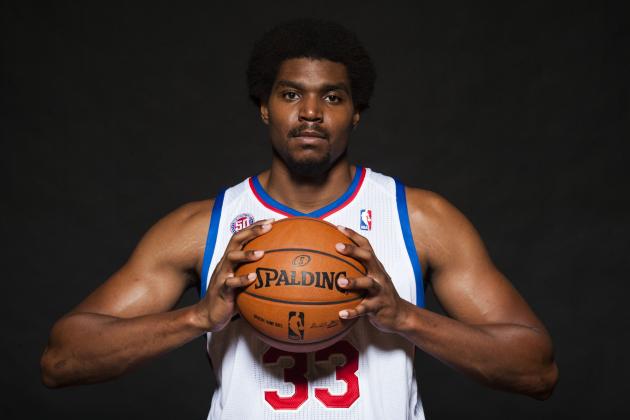 Howard Smith-US PRESSWIRE

Starter: Andrew Bynum
Backups: Spencer Hawes, Kwame Brown
YEEESSSS!!
Obviously everyone's favorite part to look at because it comes with relief (relief from years of grief for that matter).
Whether or not the idea that the Sixers are that much with better with Bynum has become trite, it is nonetheless true. They have the best center in the Eastern Conference by a landslide and the last time a team had the same advantage, they were guaranteed at least a four seed.
The only issue that comes here is Bynum being injury-prone. Assuming he stays healthy though, the Sixers have nothing to worry about here.