Projecting Minutes Per Game for LA Clippers 10-Man Rotation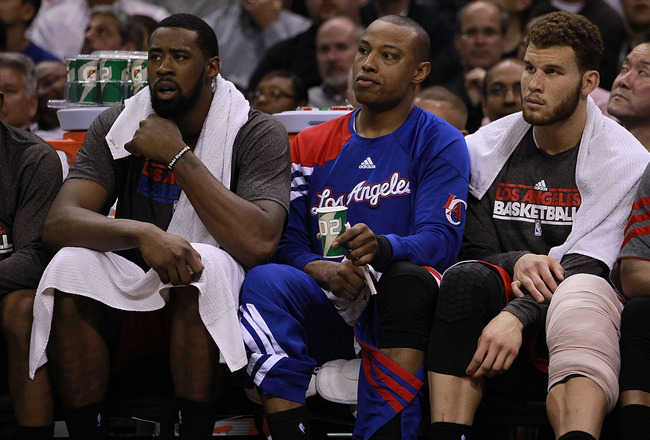 With the Clippers' new-found depth, will DeAndre Jordan, Caron Butler and Blake Griffin spend more time on the bench in 2012-13?
Ronald Martinez/Getty Images
One of the toughest challenges Los Angeles Clippers head coach Vinny Del Negro will face this season is how to divvy up the minutes on a roster suddenly brimming with depth.
Last season's productive starting five remains intact, but the team has added some weight to the second unit.
Lamar Odom and Jamal Crawford—recipients of two of the last three Sixth Man of the Year Awards—are now in the fold.
So is Grant Hill, another former star, who has come off the bench just 25 times in a career that is on the cusp of eclipsing the 1,000-game mark.
All three are used to logging significant minutes and will be craving major roles this season.
And let's not forget rising star Eric Bledsoe, who was an absolute revelation last postseason, is now entering his third season hungry for a greater piece of the playing-time pie.
With so many capable bodies available to him, how will VDN juggle the Clippers' minutes?
Let's break it down and predict the minutes for each player in the Clippers' projected 10-man rotation, beginning with the starters and finishing up with the reserves.
Chris Paul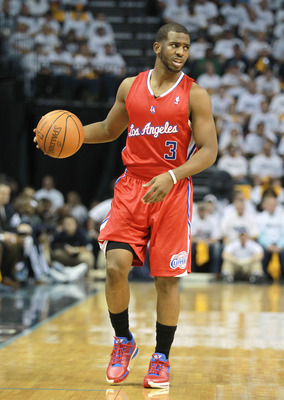 Andy Lyons/Getty Images
Projected Minutes: 37
This is a no-brainer. When you have an MVP-caliber player on your roster, you ride him as far as you can.
That said, the Clippers must look at the big picture and rest Paul enough for him to be at 100 percent heading into the playoffs.
Remember, Paul had offseason surgery on his thumb, so the Clips may be cautious with his minutes at the beginning of the season. Also, they have a backup point guard full of potential in Eric Bledsoe.
Blake Griffin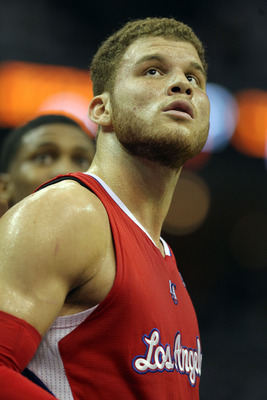 Andy Lyons/Getty Images
Projected Minutes: 37
Again, this is rather simple. Blake Griffin is one of the most explosive players in the league, and everyone is excited to see if he can tap more into his seemingly unlimited potential this season.
However, like Paul, Griffin also had surgery over the summer, undergoing a procedure to repair a torn meniscus in his left knee.
Griffin may be eased into the lineup early on to ensure he's fully recovered, and having a backup who is the only forward in the past eight seasons to be named the league's top sixth man is a great luxury to have.
Caron Butler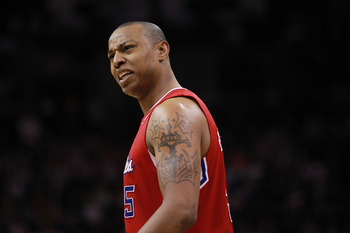 Ronald Martinez/Getty Images
Projected Minutes: 27
After averaging a career low in minutes per game in 2012, expect another drop in playing time for Caron Butler in 2013.
He is coming back from his own injury, a broken hand he suffered in the first round of the playoffs, and saw his numbers decline across the board last season.
The Clippers went out and signed not one, but two very capable backups in Grant Hill and Matt Barnes, suggesting that they too aren't sold on Butler regaining his All-Star form from a few seasons ago.
DeAndre Jordan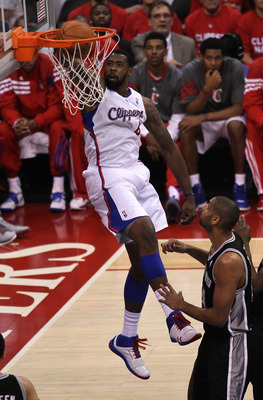 Jeff Gross/Getty Images
Projected Minutes: 27
DeAndre Jordan has seen his minutes increase each season in his career, but now he has reached a plateau.
After averaging a shade over 27 minutes per game a year ago, I believe he hovers in that same neighborhood again this year.
Unless DJ has made significant strides in his offensive game and foul shooting, I expect to see a lot of Blake Griffin and Lamar Odom at the 4-5 spots for the Clips.
Chauncey Billups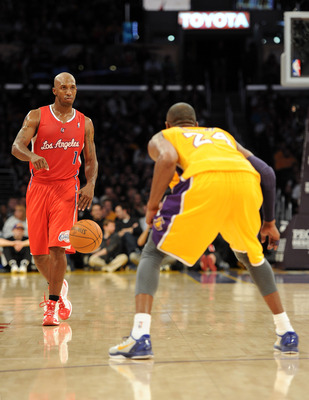 Harry How/Getty Images
Projected Minutes: 25
Yet another Clipper coming off of injury, Chauncey Billups has had the longest road to recovery.
At his advanced age, the Clippers will definitely want to limit the wear and tear on his body in order to keep him fresh for the playoffs.
It helps that they brought in Jamal Crawford to back him up and scooped up Willie Green for insurance as well.
Jamal Crawford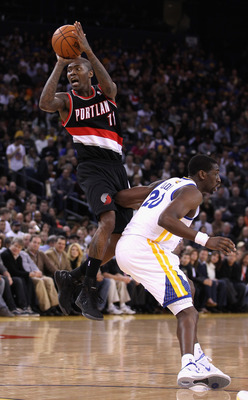 Ezra Shaw/Getty Images
Projected Minutes: 26
Jamal Crawford will take over for Mo Williams as the microwave scorer off the bench.
Even as the backup shooting guard on the depth chart, Crawford will get a lot of run as Chauncey Billups' minutes continue to decline.
Vinny Del Negro found some success playing three-guard lineups last season, so don't be shocked to see Crawford (L.A.'s biggest guard) getting some time as the nominal small forward in a small-ball lineup.
Lamar Odom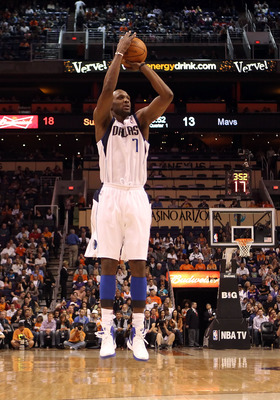 Christian Petersen/Getty Images
Projected Minutes: 25
Aside from last season, Lamar Odom has averaged at least 29.7 minutes a game every year of his career—even when behind Andrew Bynum and Pau Gasol on the Lakers.
Given that he's behind Blake Griffin and DeAndre Jordan, you might think Odom gets back up into the 30s in terms of minutes, but not so fast.
It still remains to be seen how much of last season's disaster was due to Odom's circumstances and how much was due to his regressing skills. I believe he can still be counted on for a solid 25 minutes a night.
Grant Hill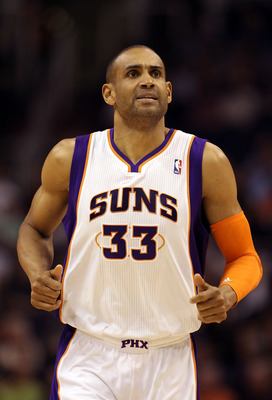 Christian Petersen/Getty Images
Projected Minutes: 18
This is the perfect role for Grant Hill. It became clear last season that the ageless Hill could no longer keep up his effectiveness playing starter's minutes.
Even though he averaged the lowest minutes per game of his career, Hill missed about a quarter of the season due to injury and put together the worst campaign of his career.
With the Clippers, Hill can transition into being an effective role player off the bench.
Perhaps he can regain his old efficiency with fresher legs and still have the energy to guard the other team's best perimeter scorer for short bursts.
And if it turns out that Grant is finally "over the hill," at least the Clippers have another competent small forward in Matt Barnes as an insurance policy.
Eric Bledsoe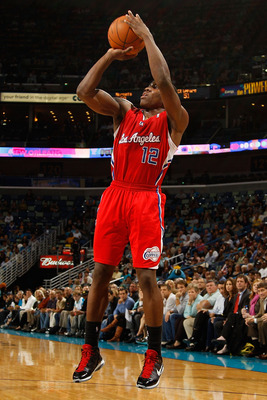 Chris Graythen/Getty Images
Projected Minutes: 11
You'd expect a big-time bump in minutes for a young player with tremendous upside coming off a great postseason.
But in the case of the Clippers, Eric Bledsoe remains entrenched as the backup to the best point guard in the NBA.
Perhaps the Clippers could throw both Bledsoe and Chris Paul out there together—and I'm sure we'll see that configuration on occasion—but that would take minutes away from established veteran stars like Chauncey Billups and Jamal Crawford.
It's going to be hard for Vinny Del Negro to find minutes for Bledsoe, but when Eric B. does get on the court, you know he'll make it exciting.
Ryan Hollins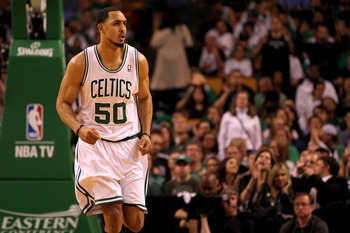 Jim Rogash/Getty Images
Projected Minutes: 7
The Clippers were size-deficient up front last season, with DeAndre Jordan being their only player taller than 6'9''.
Ryan Hollins gives the Clips a second legitimate seven-footer to throw at the Howards and Gasols of the world.
Clippers fans shouldn't expect anything big out of Hollins. For all we know, he might even lose the backup center job to Ronny Turiaf at some point during the season.
Expect to see mostly a three-man rotation up front with Hollins/Turiaf soaking up spare minutes as needed.
Keep Reading

Los Angeles Clippers: Like this team?