Why the New York Giants Will Win the NFC East
Jason O. Watson/Getty Images
The New York Giants defense surely deserves some credit this year.
The NFC East has long been touted as the toughest division in the National Football League. And rightfully so with the Dallas Cowboys, New York Giants, Philadelphia Eagles, and Washington Redskins all truly capable of taking the division. Despite an 0-2 record so far in the division, the New York Giants will take the NFC East title come December.
Begin Slideshow

»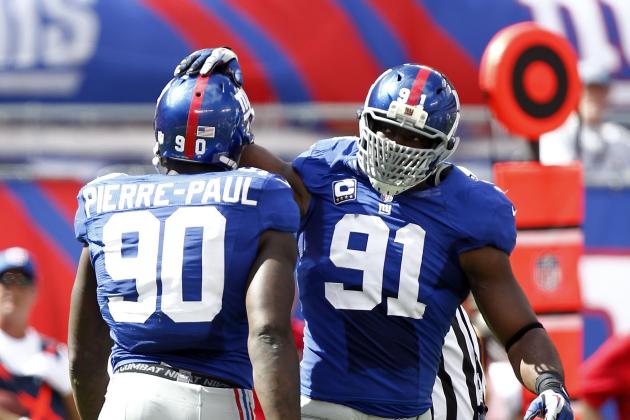 Jeff Zelevansky/Getty Images
Having these two bearing down on you can easily create some anxiety.
Everything you accomplish on defense stems from a strong defensive line.
Jason Pierre-Paul, Osi Umenyiora, and Justin Tuck have 151 career sacks between the three of them.
This defensive front, along with the likes of Linval Joseph and Rocky Bernard, create continual pressure on quarterbacks and clog up running lanes. Plus, they will be getting back Chris Canty very soon.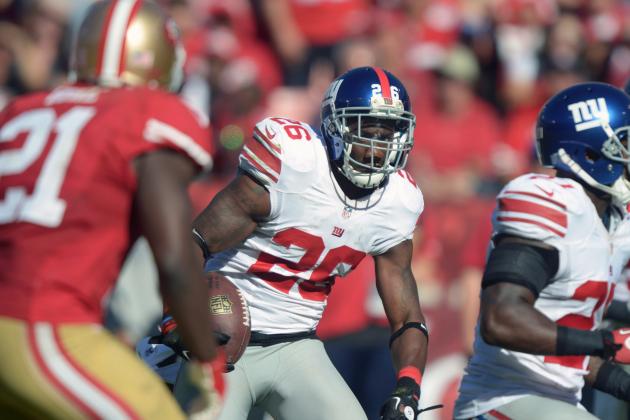 Kirby Lee-US PRESSWIRE
Antrel Rolle intercepted the previously accurate Alex Smith twice this past Sunday.
The defensive pressure created on the line has helped the Giants battle through injuries in their secondary to Michael Coe, Kenny Phillips, Terrell Thomas and Corey Webster.
Defensive Coordinator Perry Fewell is used to this sort of challenge though, as the Giants secondary just seems to never stay healthy for a full season.
Antrell Rolle has once again stepped up, and a healthy Prince Amukamara seems to be developing into the player they thought they were drafting last year. The Giants have 11 INTs this year, which ranks second in the NFL.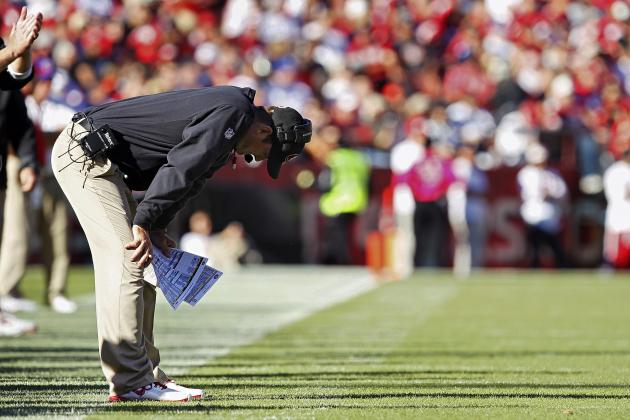 Brian Bahr/Getty Images
Jim Harbaugh knows the Giants have his number now.
Rookie David Wilson has been straight electric on kick returns this year. Every time he takes a kickoff it seems he is one missed shoe-string tackle away from going the distance. He ranks inside the top 10 for return average with 28.4 yards/return—it's only a matter of time till he breaks one off for a touchdown.
This gives them something they have not been accustomed to in recent years: great starting field position. Plus kicker Lawrence Tynes has made the most field goals out of any kicker in the NFL this year, only missing one from 54 yards and having one blocked.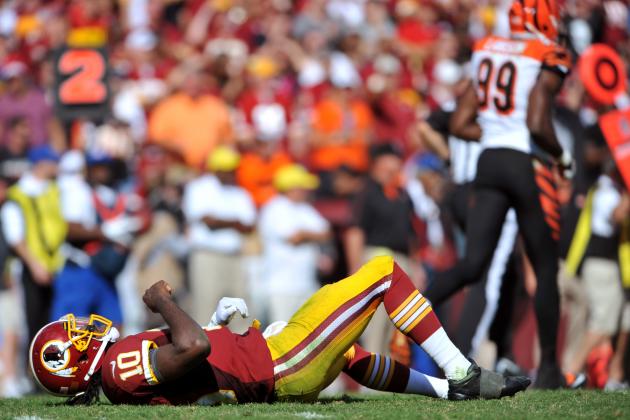 Larry French/Getty Images
RGIII could see a lot of time on his back this weekend facing a D-Line like none he has ever faced.
Sure, the Giants are 0-2 in the division right now, but they can change that this week against a Washington Redskins team whose rookie sensation Robert Griffin III has yet to play one of these hard-fought NFC East matchups.
The Redskins have had a very soft schedule to date, and this will be a gut check for RGIII (and possibly a wake-up call). The Eagles are obviously in disarray after firing Defensive Coordinator Juan Castillo this week. They also lead the NFL in turnovers. The Cowboys have looked sub-par since the season opener against the Giants, and continue to have offensive line issues.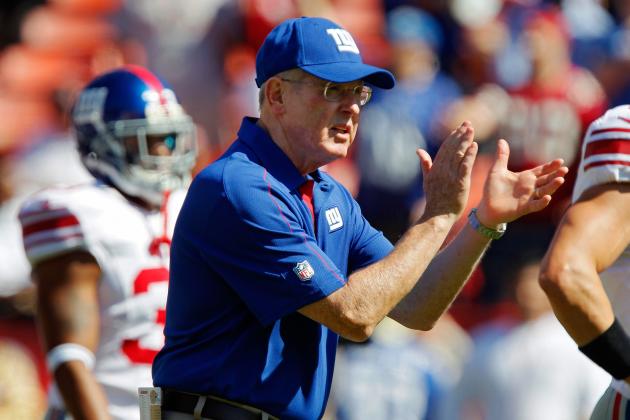 Brian Bahr/Getty Images

Two Super Bowl rings, two NFC East titles, a 78-56 record, five playoff appearances in nine seasons and an 8-3 playoff record are Head Coach Tom Coughlin's accolades while with the Giants.
There are no more rumblings of him losing the locker room and there are no sportswriters calling for his job. There is no doubt that he ranks up there with the best Giants coaches of all-time. He has proven he knows how to win with this franchise.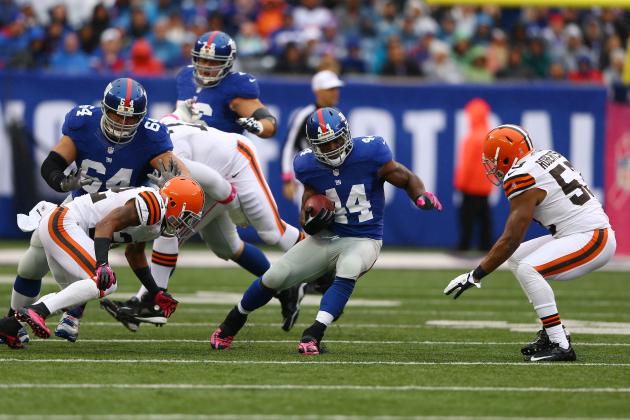 Al Bello/Getty Images
Bradshaw is exhibiting that quick cutting style of his this year.
Despite being slightly nicked up, Ahmad Bradshaw appears to be at the top of his game. He gashed the Cleveland Browns two Sundays ago for 200 rushing yards and then followed that up by torching the 49ers for 116 yards.
Ahmad was the first 100-yard rusher this season against the niners, and he's averaging 89.8 yards/game on the ground. And if his typical health issues crop up again later this year (the guy just can never seem to stay off the injury report), it seems David Wilson is determined on making good on his early season mistakes.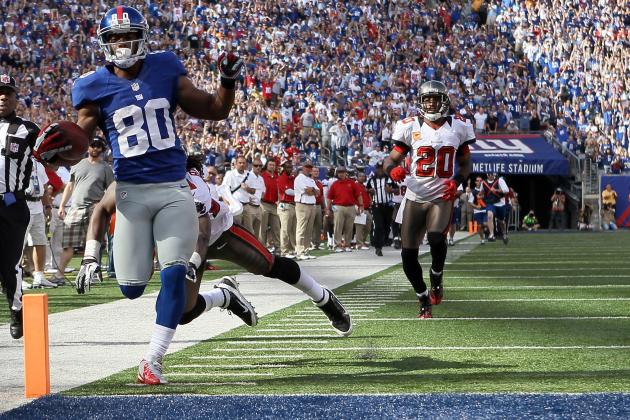 Elsa/Getty Images

Coming into the season one of the biggest questions surrounding the Giants was whether or not Victor Cruz could come close to repeating last year's breakout performance. Well, I'd say he's silenced any disbelievers.
With Hakeem Nicks battling a lingering foot injury, Cruz has stepped up and become Eli's go-to target. Cruz ranks third in the NFL in receptions, first in targets and second in touchdown receptions. He has cemented himself as one of the best wide receivers in the game.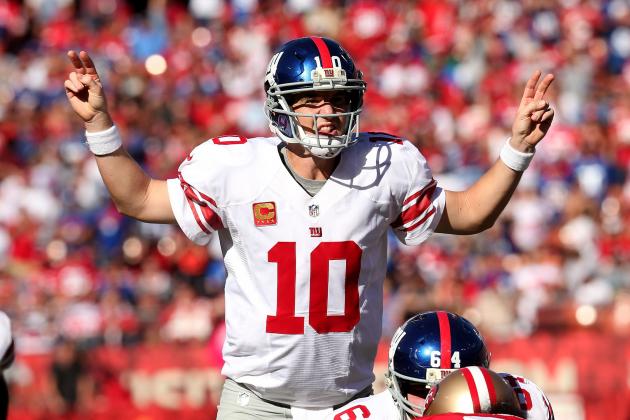 Stephen Dunn/Getty Images

Eli Manning and Offensive Coordinator Kevin Gilbride have grown the Giants offense into an elite one. Eli's ability to read defenses at the line of scrimmage may be rivaled only by his older brother Peyton. His two-minute drill is unmatched. He has the Giants offense averaging 29.7 points per game, which is third best in the league.
The key this year has been the offensive line—they have only given up 4 sacks (an NFL best). And even better, Eli has only thrown 5 INTs this year, showing that he is completely comfortable in the pocket to make sound passes.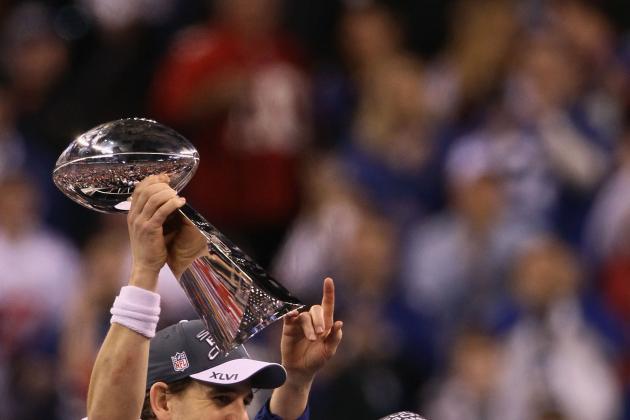 Win McNamee/Getty Images

Remember the Giants' huge victory over the Cowboys in the final game of the season last year to take the NFC East title? Well, it kicked off a huge roll for the Giants that led to another Super Bowl ring for Eli and crew.
They are playing like a cohesive unit right now and when they start getting key players back (Nicks, Phillips, Coe, et. al), look out for them to take the NFC East and make a deep playoff run.