3 NBA Rookies Who Will Struggle in Their 1st Years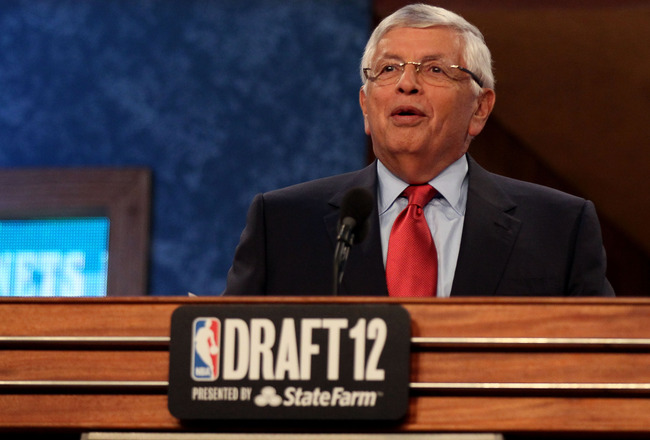 NBA Commissioner David Stern at the 2012 NBA Draft
Elsa/Getty Images
Every NBA rookie thinks he will become a star in the NBA, but the truth is that most of them will struggle in their first years. No longer the cream of the crop, the rookies will have to fight to prove themselves, and that is often difficult to do when facing the Kobes and LeBrons in the league.
A very small percentage of them will actually go on and become stars, and the vast majority will fade out, never actually living up to their hype.
Regardless of what type of player they'll go on to be down the road, every rookie will struggle as they adjust to playing professional ball.
Click ahead to see three of the rookies who will struggle in the 2012-2013 NBA season.
Fab Melo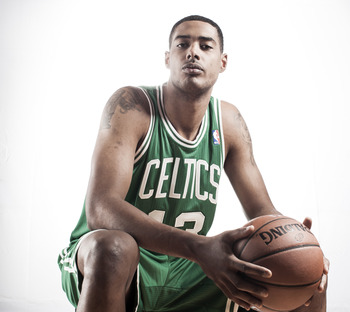 Fab Melo's NBA Rookie Photoshoot
Nick Laham/Getty Images
When Fab Melo was drafted by the Boston Celtics, many fans were confused about general manager Danny Ainge's decision in selecting him. After observing him in the summer league and in the preseason, it is understandable why they were.
After just a couple years in the United States, Melo quickly established himself as a potential star while at Syracuse. There, Melo used his height to his advantage, simply raising his hands and fighting for rebounds. But that will not be enough for the Celtics.
They need him in pick-and-roll situations and to prevent opposing players from getting to the basket.
Since he's been drafted, Melo hasn't shown the Celtics that he is ready to take on that responsibility.
While in Orlando for the summer league, he only averaged a dismal 1.8 points on 28.6 percent shooting from the field, as well as 4.8 rebounds and one block in five games.
The Celtics drafted Melo mainly for his defensive work. Though not the greatest, it was much better than his offensive ability, and the team clearly believed they could further develop it. But Melo struggled on both sides of the court and did not get any better during the preseason.
The season is just a couple weeks away and Melo has not played well or consistent enough to convince folks he is a legitimate NBA player. He can definitely be a star somewhere down the line, but unless he magically (and quickly) improves soon, it won't be this season.
Andre Drummond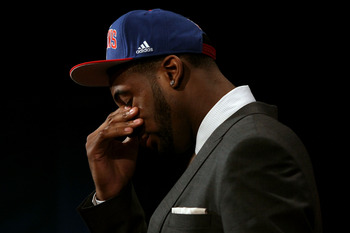 Andre Drummond during the 2012 NBA draft.
Elsa/Getty Images
Like many of the higher-drafted rookies, Andre Drummond is on a struggling team that badly needs to be revamped. The Detroit Pistons need him to provide a boost to the team, as they haven't been successful in quite some time. But that will be very difficult for the rookie to do.
Drummond wasn't a huge star while at UConn. The 6'11" center never fully used his size to his advantage, only averaging 10 points and 7.6 rebounds a game. Even worse, he only blocked 2.7 shots and made just under 30 percent of his free throws.
In his first taste of professional ball during the summer league, Drummond wasn't too impressive on the court, either.
In his article on Drummond on ESPN.com, Brian Windhorst commented on "how little Drummond actually knows about high-level basketball."
Windhorst's article may have been extra motivation for Drummond, because he was surprisingly better in the preseason.
In the exhibition game against Toronto, Drummond finished with 12 points, six rebounds and two blocks in his first game. He followed that up with a double-double against Milwaukee, scoring 19 points and grabbing 10 boards.
Clearly, he's made some strides in his game.
However, with his reputation as an inconsistent player both in high school and at UConn, will Drummond put in the same effort night after night in the NBA?
Only time will tell.
Austin Rivers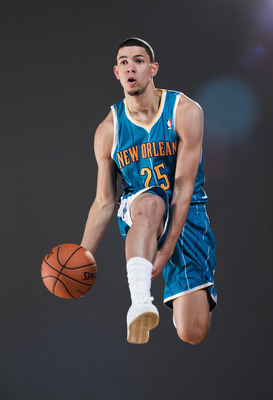 Austin Rivers at NBA rookie photoshoot.
Nick Laham/Getty Images
When former Duke point guard Austin Rivers declared he would enter the draft, many were concerned the young guard was jumping the gun. After all, Rivers had only spent one year under Coach K, which is hardly enough experience to play in the NBA.
Moreover, though Rivers was a great asset offensively and helped Duke win many of their games, he also had a lot of flaws to offset that.
Duke needed Rivers to be their point guard, but his shoot-first mentality is not the kind a floor general should have. He averaged a team-high 15.5 points per game, but averaged more turnovers (2.3) than assists (2.1). If he is to compete at the same level as the elite point guards in the league, Rivers needs to stop playing selfish basketball and instead play team basketball.
He needs Ubuntu, something his father, Boston Celtics coach Doc Rivers, often stresses with his own team.
In addition to his reluctance to pass the ball, Rivers is not the best defensive player. At Duke, he tended to focus more on his offensive moves rather than on guarding. He racked up an average of 3.4 boards a game, which is also fairly low for a guard.
Bigger players will exploit this and burn Rivers on the defensive end.
Though he said he couldn't wait to destroy 2011-2012 NBA MVP LeBron James, Rivers will soon be eating his words. He simply has too many minor but very problematic areas in his game to stand out next season.
Keep Reading