Projecting Each Utah Jazz Player's Minutes Per Game in 2012-13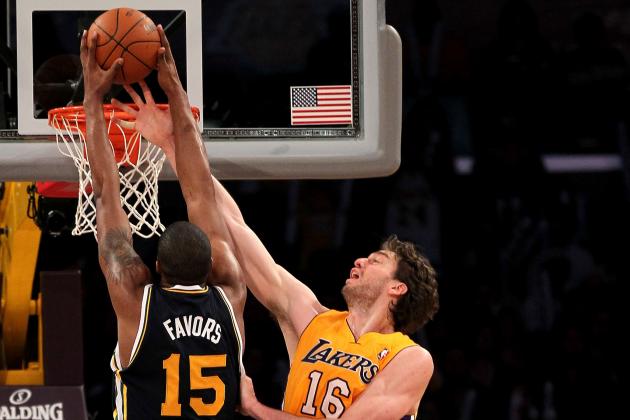 Stephen Dunn/Getty Images

If you want to incite a spirited debate among NBA fans, bringing up the topic of playing time distribution is probably not the way to go.
Though it's easy to get lost in a maze of statistics, filtering through mountains of data until your eyes are glazed over and your brain is the consistency of chocolate pudding, there is a fascinating storyline hidden within the minute distribution statistics for the Utah Jazz.
A new complement of players will compete with established veterans and promising-but-still-raw youngsters for minutes. When egos are thrown into the mix, it presents Jazz head coach Ty Corbin with quite the juggling act.
Can he maintain the precarious balance between optimal team efficiency and chemistry with everyone's happiness?
It will be a monumental task for certain, but if anyone can do it, it's a graduate of the Jerry Sloan School of Play Hard and Shut Up.
I will not include Raja Bell on this list, as he has not attended any team functions or practices since last year, and is near certain to never suit up for the Jazz again.
Assuming there are no catastrophic injuries, here is how I see the minutes being divvied out.
Begin Slideshow

»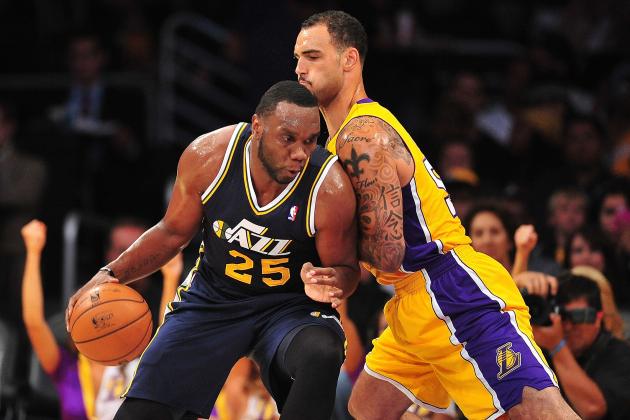 Gary A. Vasquez-US PRESSWIRE

Al Jefferson's minutes are probably the surest thing among all the Jazz players.
Jefferson has essentially defined who he is and who he will be in the NBA: a dominant low-post scorer and subpar defender. Though Jefferson has looked somewhat quicker and lighter than he did last year, it's hard to imagine he'll go from a below-average defender to a defensive stalwart in one season.
I see Jefferson's minutes just slightly down from where they were last year. Jefferson averaged 34 minutes per game in the 2011-2012 season, and I have him pegged at 32 for the upcoming year.
Al's aforementioned defensive shortcomings could get him subbed out in certain situations where a defensive stop is absolutely necessary. He could also see a bit longer of a breather due to the continuing development of young post players Derrick Favors and Enes Kanter.
I don't see Favors or Kanter eating into Al's minutes a significant amount, but the combination of all factors should see Jefferson's minutes dip just slightly below last year.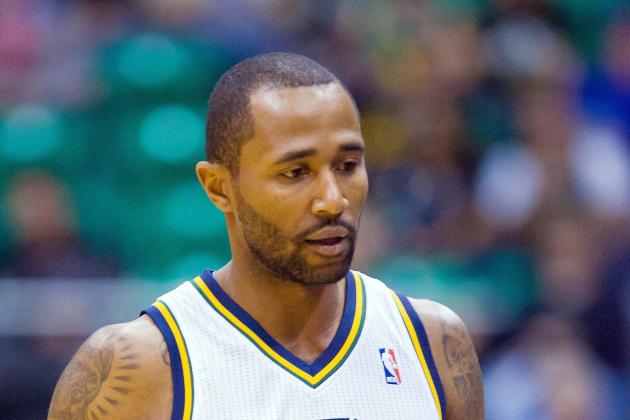 Russ Isabella-US PRESSWIRE

Williams' predecessor, Devin Harris, averaged 27 minutes per game last year, and usually had two solid backups in Earl Watson and Jamaal Tinsley to spell him.
Williams should average a few more minutes per game than Harris did because he's a better fit for this Utah offense. Williams is primarily an offensive player but can be a suitable distributor when necessary and has a much more reliable jump shot.
Williams also doesn't have as much of a solidified backup corps of point guards at his disposal. Utah still has Tinsley and Watson, but Watson has been battling injury issues since the end of last year.
There's also the possibility of combo guard Randy Foye and even Alec Burks getting some opportunities at point guard, so the rotation is far from set.
In addition to having the talent to warrant the minutes, Williams is by far the surest thing Utah has at point guard.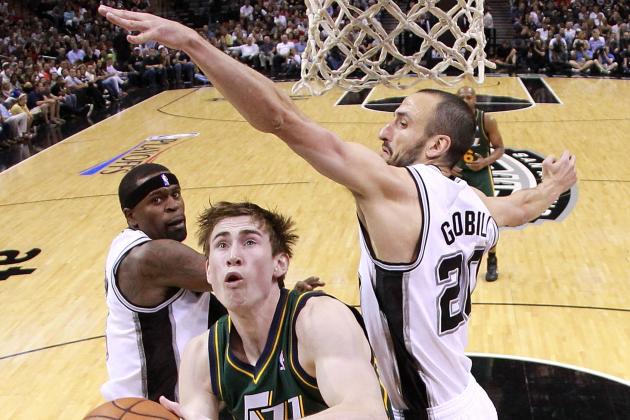 Ronald Martinez/Getty Images

A notable spike in playing time was likely a large factor in the improved confidence and subsequent stellar play of Gordon Hayward down the stretch last year.
Hayward's length, athleticism, willingness to play hard every play and improving shooting have all but guaranteed him a spot in the starting lineup. Hayward's versatility only increases the likelihood of him nabbing starter's minutes, as he could start at shooting guard or small forward.
Hayward averaged 30 minutes per game last year and should see somewhat of an increase this year, though perhaps not as big an increase as his play might have warranted.
The cavalcade of new talent gives Utah the luxury of significant depth, an asset the Jazz can parlay into having fresher legs on the floor than their opponents at all times.
32 minutes of fresh Hayward should be more valuable than 38 minutes of a tired Hayward, since the drop-off between Hayward and his backup is not as significant as last year.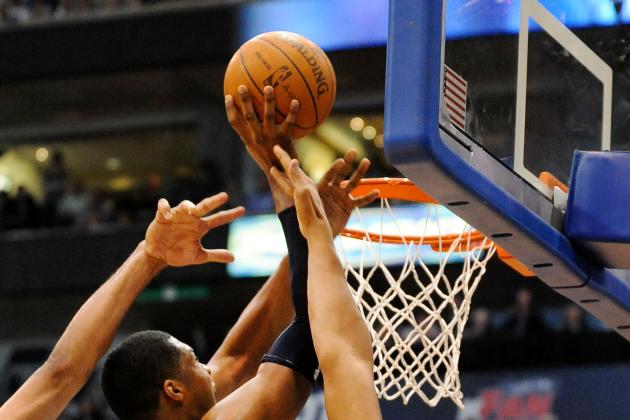 Steve Dykes/Getty Images

While a six-minute-per-game increase is nothing to sneeze at, it's probably not what Utah fans who have seen the many flashes of Favors' potential were hoping for.
While I see Favors starting for most of the season, the problem is his offensive game, and the relative lack of progression we've seen thus far.
Favors' outstanding defense and tremendous athleticism still warrants significant minutes, but, like Jefferson, he could see himself riding the pine in certain situations where his skill set doesn't fit Utah's objective.
If Favors can develop a go-to move and make his jump shot at least serviceable, he could end up leading the team in minutes.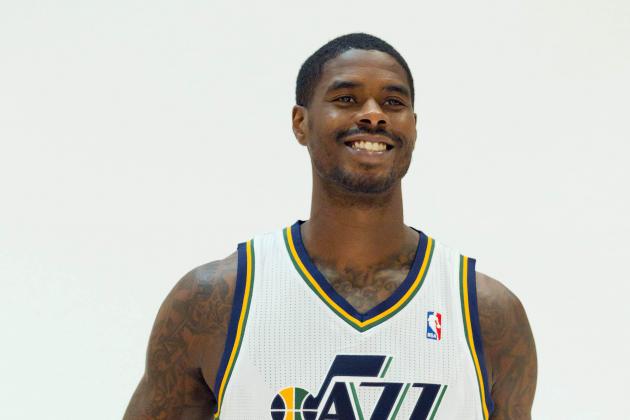 Russ Isabella-US PRESSWIRE

While initial reports of Utah's acquisition of the Bremerton, Washington native didn't exactly thrill Utah fans, he's very rapidly changing the tunes of Jazz nation, your humble writer included.
Even in the small sample size of three preseason games, it's blindingly obvious Williams is a much better fit with Utah than he was in Atlanta. The additional motion of Utah's offense and multiple opportunities for wide-open threes should lead to a career year for Williams.
Marvin Williams will likely be the starting small forward for Utah for the bulk of the 2012-13 campaign. His length and quickness also make him an invaluable asset for Utah in guarding division rival Kevin Durant.
With that being said, Williams will probably have the lowest minutes-per-game average of all the starters, due to so many players behind him that could possibly eat into his minutes.
If Utah decides to go big, they would likely play Paul Millsap at the 3 over Williams. If they go small, Alec Burks or Gordon Hayward would be the likely small forward, though Williams could see a few minutes at power forward in that situation as well.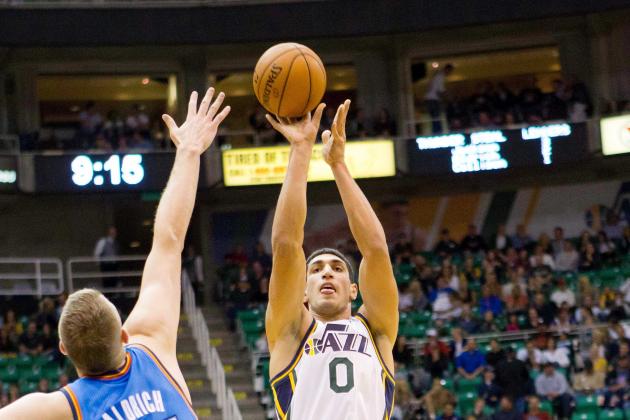 Russ Isabella-US PRESSWIRE

The larger-than-life Kanter should see a noted uptick in minutes due to his improved play and new-found athleticism.
Kanter dropped an astonishing 50 pounds in two months after he had ballooned up to 293 pounds (thanks to a trip to his native Turkey and a healthy dose of decadent Turkish food).
A rigorous diet and a monster workout helped Kanter shed a ton of weight and look like something from the cover of Muscle & Fitness. The new, lighter Kanter is also more athletic and is no longer as ground-bound as he was last year.
Despite his new-found skills, Kanter is still behind three borderline All-Star post players. His minutes will increase, but not by leaps and bounds.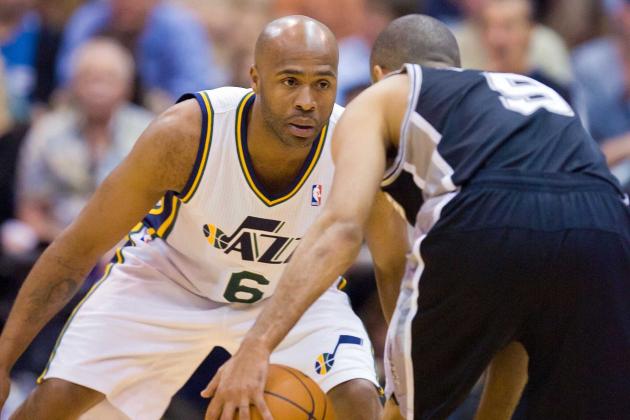 Russ Isabella-US PRESSWIRE

With Earl Watson still rehabbing an injured knee, Tinsley should fit in to the primary backup role. While Tinsley's minutes could greatly fluctuate if Coach Corbin decides to play Randy Foye or Alec Burks at point, he should average right around 16 minutes per game.
Tinsley resurrected his career in Utah last year after being plagued with scrapes with the law and character issues. By all accounts, Tinsley is completely repentant and is a model citizen for the Jazz, which in large part accounts for his spot as the primary backup point guard.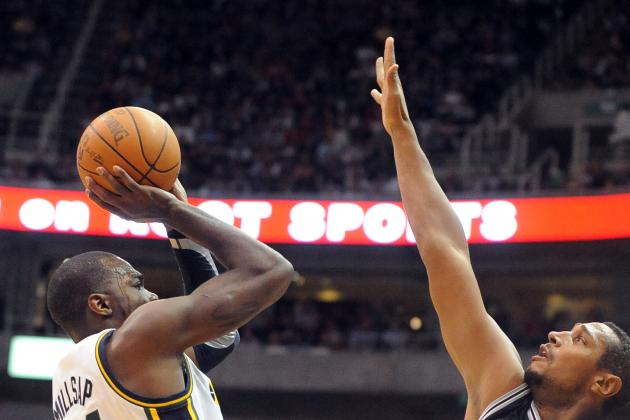 Steve Dykes/Getty Images

If Millsap gets the starting nod over Favors, they'll likely switch their minutes around. I believe Favors complements solidified starter Al Jefferson better than Millsap does, and will start for the Jazz by virtue of his defensive prowess.
That leaves Millsap to be the first man off the bench. Paul is as good of a team player as there is in the NBA, and will no doubt insert himself into sixth-man-of-the-year consideration if given the role.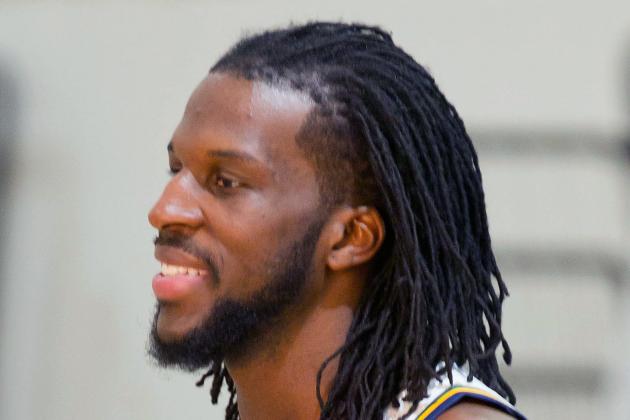 Russ Isabella-US PRESSWIRE

It hurts me to decrease DeMarre Carroll's minutes from last year, but I feel like I have no choice.
The arrival of Marvin Williams decreases the necessity of Carroll getting additional minutes. Also, if Utah wants to play Burks, Millsap or Hayward at small forward, those minutes will likely come at Carroll's expense.
It's a shame to take anything away from a player who works as hard as Carroll does, but his minutes last year may have been a tad bit inflated due to Carroll having to start nine games due to injury.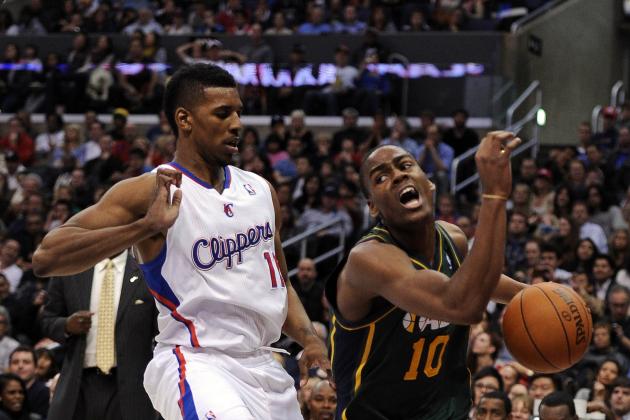 Harry How/Getty Images

Burks will fight, scratch and claw for every minute he can get. Inexplicably, Burks got very few minutes last year and hasn't seemed to get much more playing time thus far in the preseason, either.
Regardless, Burks' talent will shine through, and Coach Corbin will have no choice but to bump up the former Colorado Buffaloe's minutes.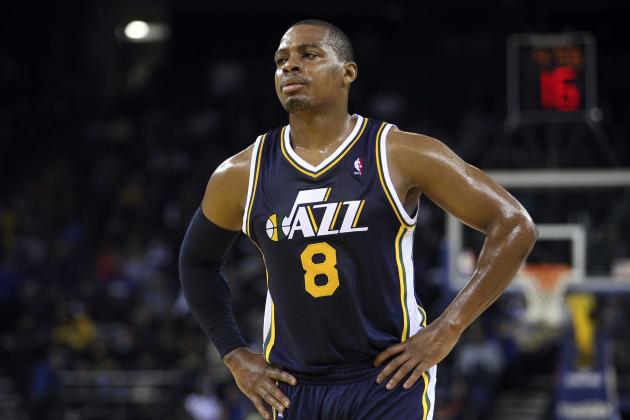 Kelley L Cox-US PRESSWIRE

After a dismal two-game preseason tilt, Randy Foye will look to correct his shooting funk and get back up to a respectable level.
Foye could, and probably will, come up big for the Jazz in big situations, but an established role with the team may not come until necessitated by injury.
It seems to be Alec Burks vs. Randy Foye for the majority of the backup shooting guard minutes.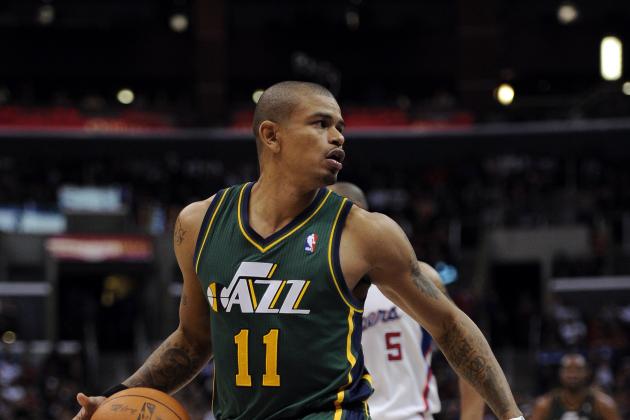 Harry How/Getty Images

Earl could be the odd guard out due to his ongoing injury. If Watson enters the fray well after a high-functioning rotation has been established, his minutes could be fairly sparse, as Ty Corbin would not want to drastically change the chemistry of the team.
Watson still brings toughness and veteran leadership to the table. While he had an abysmal shooting performance toward the end of last year, he still adds a lot of value to the team and will make a terrific third point guard and good backup if the need exists.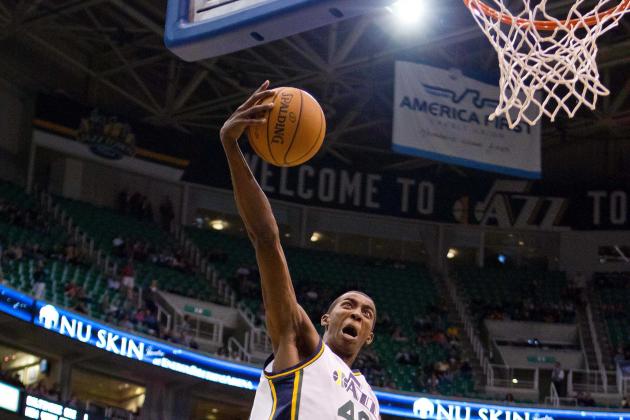 Russ Isabella-US PRESSWIRE

The high-flying Jeremy Evans is still very much a work in progress.
Evans' skills are still limited to snagging the occasional rebound, blocking shots and throwing down athletic dunks.
Other than dunks and point-blank shots, Evans' offensive game is extremely unpolished.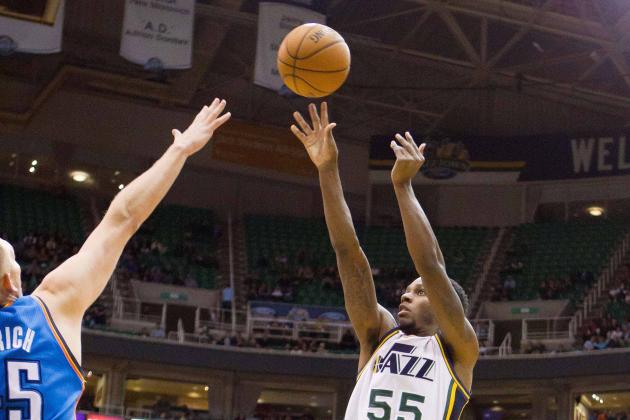 Russ Isabella-US PRESSWIRE

As a Tennessee Tech Purple Eagle, Murphy once scored a whopping 53 points in a game.
It's unlikely he'll even hit double digits in a game this season.
If Murphy stays with the Jazz the whole year and doesn't get assigned to Utah's D-League Affiliate, the Reno Bighorns, his playing time will likely restricted to mop-up duty only—unless a rash of injuries occurs or if his play far surpasses expectations.
Murphy knows his biggest obstacle will be transitioning from "the guy" at Tennessee Tech to a role player who is expected to play defense on the Utah Jazz. I have very high hopes for this young man—I actually think he'll catch on and be a rotation player within a few years.