Utah Jazz: Roster Preview, Predictions and Storylines to Watch in 2012-13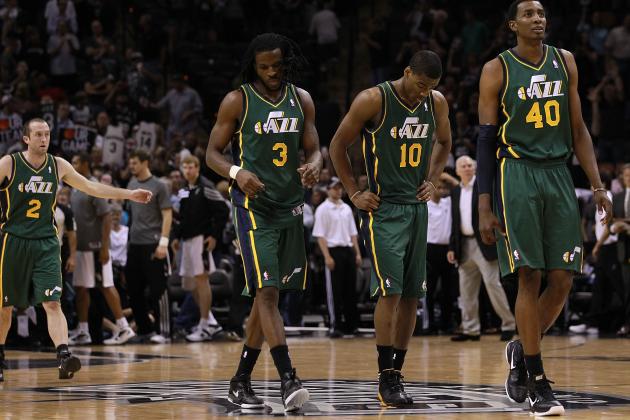 Ronald Martinez/Getty Images

After a massive overhaul during the 2010-11 season, the Utah Jazz spent the majority of the lockout-shortened 2011-12 campaign figuring out what they had with their roster and evaluating head coach Tyrone Corbin.
It worked out quite well, as the team was able to finish a respectable 36-30—nabbing a No. 8 seed in the competitive Western Conference and making it back to the postseason after a one-year hiatus.
However, the Jazz brass realized there was still plenty of work to do and spent the better part of the summer tinkering with the roster—cutting the fat and bringing in fresh blood following a sweep against the San Antonio Spurs in the first round.
It seems like they have done a quality job given the circumstances and dearth of talented free agents, but that all remains to be seen, and plenty of questions are waiting to be answered concerning this team.
Do the Jazz have what it takes to make a leap forward? Will the new additions mesh with coach Corbin and the up-and-comers in the lineup? Can Utah make it past the opening round of the playoffs?
Let's take a look at that and much more in the 2012-13 season preview for the Utah Jazz, which includes the offseason acquisitions and departures, a projected starting lineup and depth chart, strengths and weaknesses of the roster, a predicted outcome and much more.
Begin Slideshow

»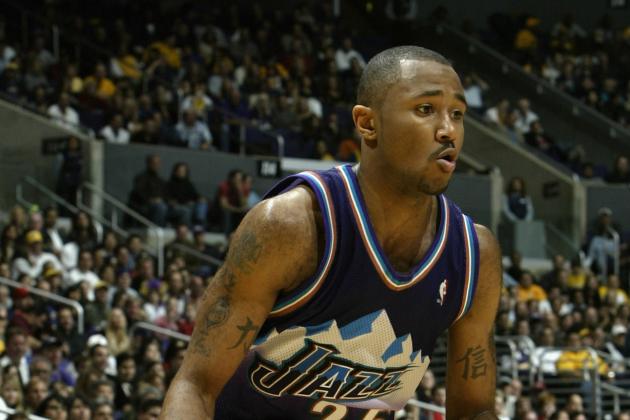 Stephen Dunn/Getty Images

Mo Williams (Trade with Los Angeles Clippers)
Marvin Williams (Trade with Atlanta Hawks)
Randy Foye (Free Agency)
GM Dennis Lindsey (Hired from San Antonio Spurs)
The Jazz's most important move of the summer didn't involve a player, but rather installing a new GM to help run the team.
Kevin O'Connor, Utah's GM since 1999, decided to step down, and the organization poached Dennis Lindsey from the San Antonio Spurs to fill the vacancy. Lindsey is widely regarded as one of the brightest young stars in the front office game.
The team's biggest player acquisition came in the form of a player they originally drafted back in 2003—Mo Williams. Utah had a $10.8 million trade exception burning a hole in its pocket and decided to bring Williams back into the mix after he fell out of favor with the Los Angeles Clippers. He's going to start at point guard now that Devin Harris has been shipped off.
Speaking of Harris, the Jazz flipped him for Marvin Williams, an underwhelming SF that hasn't lived up to expectations after being selected No. 2 overall back in 2005.
Perhaps a change of scenery will benefit Marvin Williams, who could be the Jazz's starter on opening day.
Finally, the Jazz acquired Foye, a serviceable guard that will provide veteran know-how, athleticism, accurate shooting and decent defense off the bench for a bargain price of $2.5 million.
These acquisitions might not help the Jazz win a championship, but it gives them a great nucleus that is a superstar away from contending.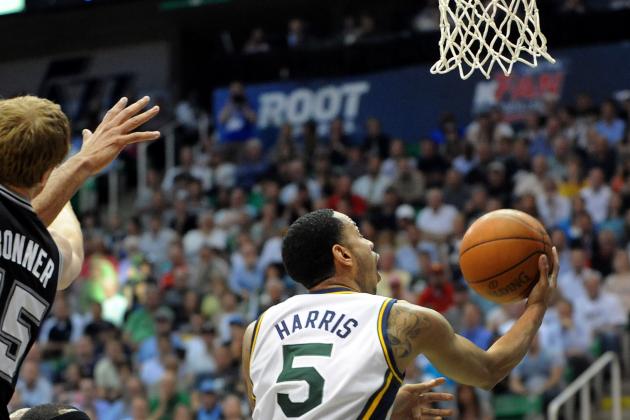 Steve Dykes/Getty Images

Devin Harris (Traded to Atlanta Hawks)
C.J. Miles (Free Agency)
Josh Howard (Free Agency)
Raja Bell (Pending)
Harris had one of his worst seasons of his young career in 2011-12, resulting in Coach Corbin electing to use some of the veterans in clutch situations down the stretch. He was never truly a fit within Utah's system and should benefit greatly by relocating to Atlanta as part of the Marvin Williams trade.
C.J. Miles was a longtime contributor to the Jazz, but the team brass found itself swamped with young and talented swingmen. They elected to let him walk in free agency, where he signed a deal with the Cleveland Cavaliers.
Josh Howard was also let go, as his talents were no longer needed on a team looking to get younger and allow its burgeoning wing players to get more playing time.
Raja Bell is highly likely to be on his way out, as he and coach Corbin do not see eye to eye. Considering Bell is on the books for $3.5 million this season, there is a great chance he is bought out before the 2012 season begins. If he's somehow still on the roster, he's probably never going to see the floor.
The Jazz were smart and calculating when they chose which free agents to let walk and which to re-sign, which makes the loss of Howard and Miles, plus the trade of Harris, smart and necessary moves to get better in the long run.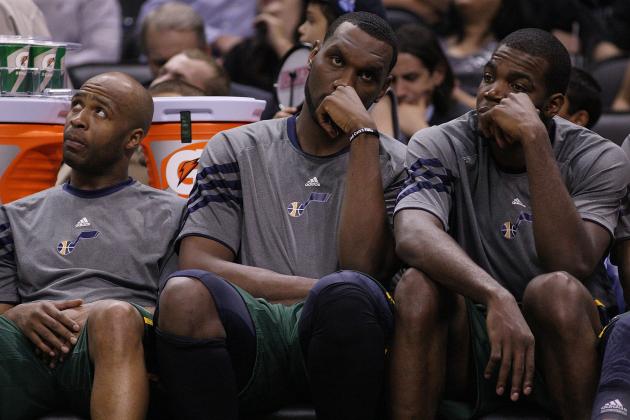 Ronald Martinez/Getty Images

The Jazz have a solid roster from top to bottom, filled with some grizzled, productive veterans and emerging young guns.
At the point, Mo Williams will get the nod, followed by Tinsley and Watson off the bench. All these players have experience running an offense and can be counted on to make this team go.
Gordon Hayward should start at the 2, as newly acquired Marvin Willliams is much better suited to play the 3. Second-year man Alec Burks and veteran Randy Foye will likely split minutes behind Hayward.
When Willams goes to the pine, DeMarre Carroll and Darnell Jackson are expected to see time, and this is—on paper—the weakest part of the lineup. Neither Carroll or Jackson are notable players, and this is a position that could see an upgrade in the near future.
The starting bigs are Derrick Favors and Al Jefferson, two relatively younger players that know how to score the basketball. A more in-shape Enes Kanter will play backup at the 5, while Millsap will be a big contributor off the pine as the sixth-man Jeremy Evans and Brian Butch round out the rest of the bench.
| | | | |
| --- | --- | --- | --- |
| Position | Starter | Bench | Reserve |
| Point Guard | Mo Williams | Jamaal Tinsley | Earl Watson |
| Shooting Guard | Gordon Hayward | Randy Foye | Alec Burks |
| Small Forward | Marvin Williams | DeMarre Carroll | Darnell Jackson |
| Power Forward | Derrick Favors | Paul Millsap | Jeremy Evans |
| Center | Al Jefferson | Enes Kanter | Brian Butch |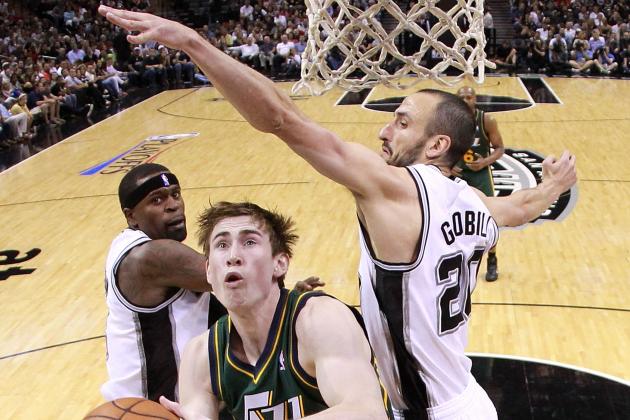 Ronald Martinez/Getty Images

The Jazz's strengths lie in their size—with Favors, Jefferson, Millsap and Canter all playing significant roles on the offensive and defensive ends of the floor. They can man up with most of the other powerhouse teams in the league and even have a chance to out-muscle some of the smaller units.
One of the team's biggest weaknesses last year was point guard play, and the brass immediately upgraded this summer by acquiring Mo Williams and ditching Harris. No longer will the Jazz have to deal with a pick-and-roll point guard trying to run a system that did not fit with players that did not work together.
Coach Corbin is also a blessing, as he seems to strike a chord with these younger players. As great as coach Jerry Sloan was throughout his career, it seemed his style no longer fit in the modern NBA. Corbin was able to bring an underpowered squad to a 7-1 finish and a surprise postseason berth last year. He should only get better in 2012-13.
With hard work, great post play, decent production from the point guard spot and solid coaching, the Jazz could be quite good this season.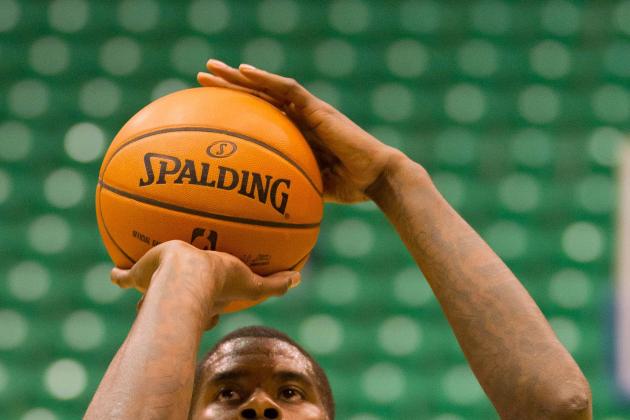 Russ Isabella-US PRESSWIRE

A problem that many of these small-market teams have right now is not possessing a go-to superstar. The Jazz aren't any different, and they currently haven't found a replacement for Deron Williams as a guy they can lean on to help them win games they have no business winning.
While the Jazz have cultivated a nice roster, they simply don't have someone to put the team on his shoulders and take over down the stretch. Should they eventually get this player, this group could become contenders, but right now, they are limited in their ability.
Another issue is youth and inexperience. Many of these Utah players are still feeling their way through the NBA and will have their struggles on certain nights. The only way to get better is to have growing pains, which the Jazz will likely have plenty of in 2012-13.
Until this group grows up a bit, there will be many times when things just don't go as planned.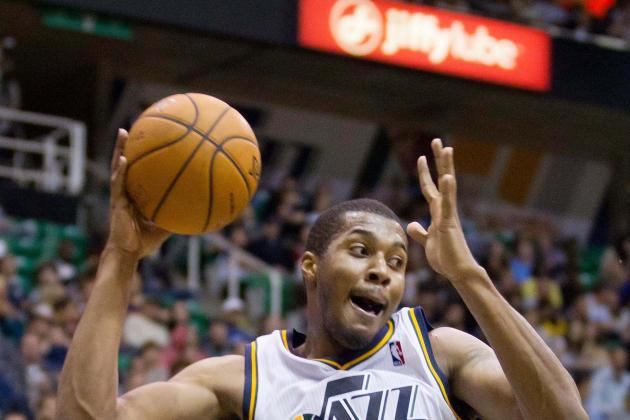 Russ Isabella-US PRESSWIRE

There isn't much drama coming out of Jazz camp, but there is still plenty to watch this upcoming season.
Perhaps nothing is more important than Gordon Hayward and Derrick Favors attempting to make "the leap." It's going to be their third seasons, and they are widely expected to start producing at an unprecedented level, both statistically and intangibly.
If they don't improve in 2012-13, it could mean they are nothing more than role players for the rest of their NBA careers.
The Jazz fans will also keep a close eye on how the Golden State Warriors fare, as they owe Utah a first-round pick. However, this selection is top-six protected, meaning fans around Salt Lake City want to see the Dubs bring in some W's.
Obviously, the biggest storyline surrounding this team is whether it'll be back in the lottery or playoffs, and we'll cover that shortly.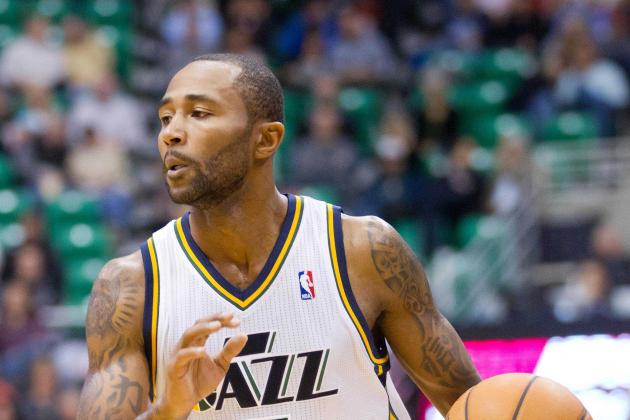 Russ Isabella-US PRESSWIRE

The Jazz are hoping that Mo Williams and Marvin Williams are solid upgrades to the starting lineup. Mo certainly should be, but Marvin has been an underachiever during his time in Atlanta and is the wild card here.
If they provide a significant boost, their presence should help make this team better in tangible ways—basically upping the winning percentage.
While the Jazz don't have the chops to hang with the four elite teams in the West (Lakers, Thunder, Clippers, Spurs), they will be competing for a playoff spot along with the Nuggets, Grizzlies, Mavericks, Rockets, Suns, Trail Blazers, Timberwolves and Warriors.
As you can see, after the top teams, the conference is stacked with hopeful organizations that all realistically have a chance to sneak into the playoffs as one of the bottom seeds.
That means Utah needs to get some good play out of its new additions as well as have its usual suspects play at a high level. Jefferson, Hayward, Millsap, Favors and even players like Burks and Kanter must step up.
This is a tough year in the NBA and the 82-game season will be a grind, so the Jazz will have to outlast the opposition.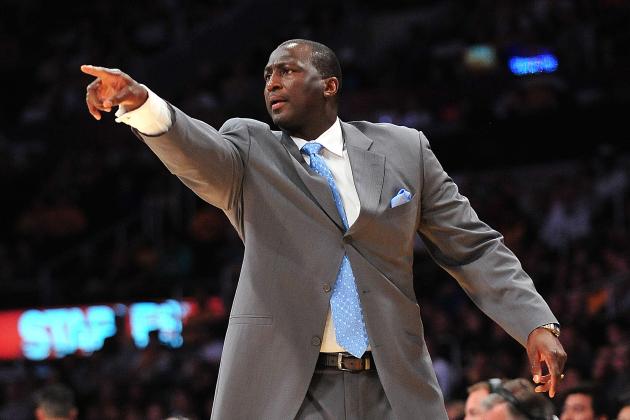 Gary A. Vasquez-US PRESSWIRE

Coach Corbin looks to be a great coach, but he's no longer the new guy in town. He has a full offseason and training camp almost behind him and a full season ahead. If he has any flaws, they will be exposed almost immediately.
There's also a chance for this team to collapse due to injury, as it doesn't have a star player that can pull it through the regular season. A major injury to any key rotation player will result in losses.
There's tight competition for a playoff spot in the West, and the Jazz cannot afford to get injured, lazy or complacent.
Gary A. Vasquez-US PRESSWIRE

44-38, fourth place in Northwest Division, eighth seed in Western Conference
The Jazz are once again headed towards a winning record and postseason appearance.
Unfortunately, it will once again be short-lived, as they are just going to sneak in as an eighth seed. This team doesn't have what it takes to earn much better, and it could only conceivably get as high as a sixth seed—which would take plenty of luck and injuries to the opposition.
Assuming Utah grits out this year and finishes at 44-38, it'll likely run into the Lakers or Thunder in the first round of the playoffs. There is just no way that either team is capable of losing a best-of-seven series to the Jazz.
It's great that Utah is consistently getting to the postseason, but it needs to acquire some stars before it gets stuck in a dangerous limbo of not being bad enough to bottom out and draft early in the lottery and not being good enough to get past the first round.
With so many free agents in the summer of 2013 on the roster (Jefferson, Millsap, Foye, Watson, Tinsley and Mo Williams), there is a chance that things get shaken up after this playoff failure.