The Denver Broncos may be 2-3 right now, but Peyton Manning and the offense will reach an explosive level sooner than later.
Prior to kickoff of the 2012 season, though, it was reasonably difficult to foresee how Manning would produce. After all, the veteran signal-caller had missed the entire 2011 NFL season and is 36 years old.
Include a new team with a new system and players and the odds were stacked against Manning entering the 2012 campaign. Although the Broncos are off to a slow start, Manning's impact has been impressive considering the circumstances of everything combined.
Still, Denver fans have nothing to be concerned with in October. Ahead, we decipher why the Broncos will gradually improve and really make strides during the second half of the season.
Manning's Consistency Thus Far
Aside from the road game versus the Atlanta Falcons in Week 2, Manning has been quite consistent in 2012.
The past three games have shown eight touchdown passes to zero picks and an average of 335 passing yards per contest—not to mention his 66.5 completion percentage in that span.
Manning has simply been dicing up defenses. Even the three-interception game against Atlanta saw a 64.9 completion percentage, and he nearly led Denver back in the waning minutes.
Through five games, six different players have double-digit receptions—four of which have two-plus touchdowns. In short, Manning is spreading the field quite well and utilizing all levels from checkdowns to the deep ball for keeping defenses off balance.
How will Denver's 2012 regular season finish?
Schedule Eases Up
All three of Denver's losses have come at the hands of the Falcons, Houston Texans and New England Patriots.
Those three teams combine for a record of 14-4 and the games were decided by a collective 22 points. That's an average of only 7.3 points difference in each loss.
After the bye in Week 7, though, Denver gets the New Orleans Saints at home and then plays at the Cincinnati Bengals and Carolina Panthers in consecutive weeks. All three are weak against the pass and aren't consistent at forcing turnovers, so the Broncos can very well win three straight to open the second half.
Other games outside of the AFC West include the Tampa Bay Buccaneers, Baltimore Ravens and Cleveland Browns. Again, three more winnable games because Baltimore and Cleveland are weaker than expected defensively, and the Bucs defense fails to stop the pass (ranked No. 31).
Manning possesses the ability to totally work these defenses through the air and his quick release will negate any pass rush. In turn, that will also keep defenders out of the box to open more running lanes.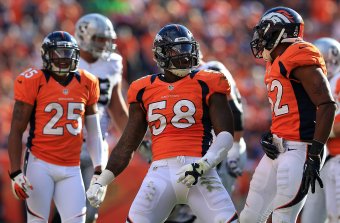 Doug Pensinger/Getty Images
Takes Pressure Off The Defense
It's not so much that the Broncos defense has been underachieving in 2012, but Denver certainly needs to improve at shutting opponents down.
As the schedule softens a bit compared to the first half of the season, Manning and the offense will control the ball more and score at will. This is imperative to help the defense because Denver currently ranks No. 21 against the run despite allowing only 3.8 rush yards per carry.
Sound running teams like the Pats and Texans just pummeled Denver in the trenches, though. New England compiled 251 on the ground while Houston smashed for 152. Unsurprisingly, the Broncos lost the time of possession battle in both games which also resulted in a loss.
As Manning begins to hit a rhythm and dice up opponents even more, this does two things for Denver's defense:
1. Consistent drives that put up points will get opponents on their heels, and
2. Force teams to pass more which plays into the Broncos' pass rush.
This is about controlling the game tempo. Denver does have the ability to stop the run, although it is better-suited to apply quarterback pressure and force interceptions. So with Manning simply putting up points more consistently, that just forces opponents to respond accordingly.
All Von Miller and co. must do is create one turnover and/or force a few punts. We'll then see Manning take over games with added possessions, and the defense will gain needed confidence.
Follow John Rozum on Twitter.