MLB Free Agents 2013: The Top 5 Starting Pitchers on the Market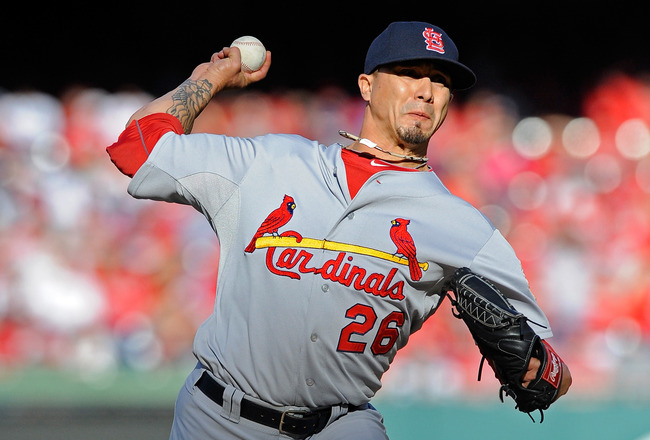 Patrick McDermott/Getty Images
The free-agent market for the 2013 season is jam-packed with well over 40 starting pitchers, with several others who have club options. Some will be picked up and others will be sharply declined, allowing even more pitchers to hit the open market.
There are several teams that are desperate for starting pitching. The Cubs, Yankees, Angels, Red Sox and many other large-market teams are looking to add depth to their starting rotation for 2013.
Smaller-market teams like the Blue Jays, A's, Rockies, Diamondbacks and Royals, who are looking to compete in 2013, will also be in the mix to try to land a top-of-the-rotation starter to improve their ballclub.
There are many starting pitchers to choose from this offseason, and here are the top five pitchers available once the free-agent market opens up for the 2013 season.
1. Zack Greinke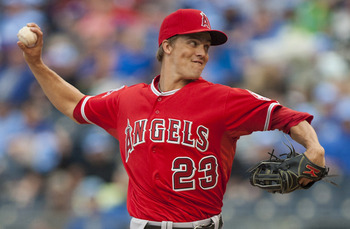 Tim Umphrey/Getty Images
Zach Greinke is without a doubt the best pitcher available entering free agency for the 2013 season. He is a former Cy Young Award winner and one of the top pitchers in baseball.
In 2012, Greinke finished the season with a record of 15-5 with a 3.48 ERA and threw for over 200 innings for the fourth time is his career. He also had 200 strikeouts and only 54 walks this season.
Looks for teams with big offenses like the Texas Rangers, Toronto Blue Jays and the Anaheim Angels to try to add to their pitching staff in hopes to make a playoff run in 2013.
Greinke will be an ace on most major league staffs. He would also be a quality addition to a team with a sound ace to give them an intimidating one-two punch at the top of their rotation.
2. Kyle Lohse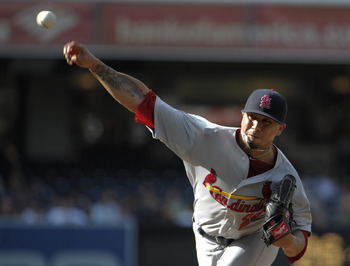 Denis Poroy/Getty Images
The 34-year-old Kyle Lohse is coming off the best season of his 11-year career. He won a World Series title in 2011 and is looking for another one here in 2012.
This year, Lohse ranked sixth in the NL in wins (16), seventh in innings pitched (211), fifth in ERA (2.86), fourth in WHIP (1.09) and first in winning percentage (.842).
A pitcher with tons of playoff experience is always a highly prized commodity, and it's something that will only add to Lohse's offseason value. He is 1-0 with a 2.13 ERA in two starts so far in the 2012 playoffs.
Lohse will most likely seek a three- to four-year deal on the open market. He made a little over $12 million in 2012 and will most likely command the same type of money, if not more, in 2013 and beyond.
It seems hard to believe that St. Louis will let him go, but if another team blows him away with an offer, it may be tough for the Cardinals to compete.
3. Jake Peavy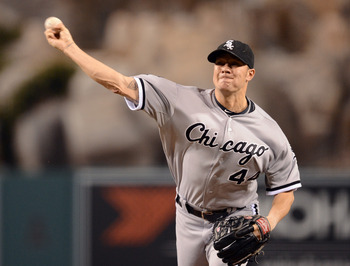 Harry How/Getty Images
The 31-year-old Jake Peavy is not a free agent yet, but at the end of the World Series, the Chicago White Sox will most likely decline his $22 million option, which is the largest club option of any pitcher going into 2013.
The White Sox have signaled to Peavy that they're unlikely to exercise their club option for 2013, Jon Heyman of CBSSports.com reports.
Chicago simply has too many holes to fill in their organization and won't be able to address them if Peavy is still on the payroll.
Peavy is coming off a quality 2012 season in which he finished fifth in the AL in innings pitched (219), eighth in strikeouts (194), ninth in ERA (3.37), third in WHIP (1.10) and third in complete games (four).
It will be interesting to see what his value will be on the open market. If he commands too much money, look for team to stray away from Peavy to start and then swoop in and try to make steal towards the start of spring training.
4. Brandon McCarthy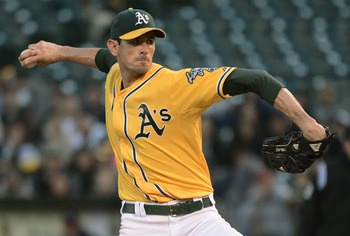 Thearon W. Henderson/Getty Images
The 6'7'' Brandon McCarthy had a decent year in which the Oakland Athletics made the playoffs for the first time in what seemed to be centuries.
Injuries kept him off the field, including season-ending brain surgery after a line drive off the bat of the Anaheim Angels' Erick Aybar hit him in the head on September 5.
Through 18 starts in 2012, McCarthy went 8-6 with a 3.24 ERA in 111 innings pitched.
McCarthy is a quality arm who will give depth to a number of starting rotations. The best part about him is that he will come remotely cheap, earning only $4.2 million in 2012.
The A's, Red Sox, Royals, Blue Jays, Cubs, Rockies and even the Phillies may sneak in for a look at McCarthy.
Cheap, quality starting pitching is always at a premium in the major leagues.
Anibal Sánchez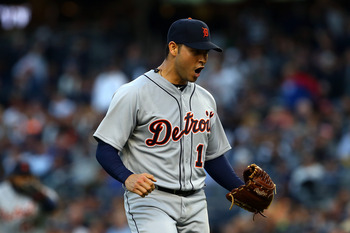 Alex Trautwig/Getty Images
Anibal Sánchez just recently pitched the most important game of his career this past Sunday—and it was a gem.
In Game 2 of the ALDS against the New York Yankees, Sánchez pitched seven shutout innings, allowing just three hits and striking out seven. The Tigers went on to win 3-0 and took a 2-0 lead in a best-of-seven series.
I will reiterate the importance of a pitcher with playoff experience. Add that to a pitcher who can give you over 195 innings of work during the season along with a quality strikeout-to-walk ratio and it gives you a very valuable starting pitcher who will be available this coming offseason.
Sánchez made $8 million in 2012. He will start the 2013 season at 29 and will most likely be looking for a four- to six-year deal averaging around $9-11 million per season.
If Sánchez can throw another gem in the playoffs, look for his stock to rise even higher as free agency approaches.
Keep Reading