Ivy League Football: Week 6 Conference Power Rankings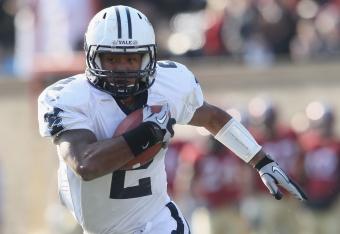 Elsa/Getty Images
While conference play kicks into full gear this weekend, the members of the Ancient Eight have started to see their identities as a squad slowly come to form.
Harvard remains the clear favorite in the Ivy League, but rising talents Princeton and Penn might just give them a run for their money.
Here are the Week 6 conference power rankings.
1. Harvard (5-0, 2-0) (Last Week's Ranking: 1)
A commanding 35-7 win over Bucknell this weekend puts the Crimson as the only undefeated team in the conference. Offensively, quarterback Colton Chapple has led the way and running back Treavor Scales is still a dominant threat. This week's match-up against Princeton might present a bigger challenge than expected.
2. Cornell (3-2, 1-1) (Last Week's Ranking: 3)
Even with Jeff Matthews's absence, the Big Red were able to escape with a win over Monmouth. Brown will be a much more difficult opponent to get past, but Cornell should still be considered a contender up until this point.
3. Princeton (3-2, 2-0) (Last Week's Ranking: 6)
Well, who would have thought the Tigers would make it into the Top 3? Princeton has been on an absolute tear in the past few weeks, adding a shutout victory over Brown on their belt. Their game against Harvard this weekend will be incredibly telling about their title shots.
4. Brown (3-2, 0-2) (Last Week's Ranking: 2)
Who should be the #2 team in the conference?
Don't let their conference record fool you. The Bears are definitely one of the better squads in the conference. Falling to Harvard was expected, but this weekend's loss to Princeton came out of left field. Brown will need to focus on beating Cornell this weekend to turn their season around.
5. Penn (2-3, 2-0) (Last Week's Ranking: 5)
The Quakers barely escaped with a 24-20 victory over Columbia to earn their second conference win of the season. They still have to face the bulk of the conference, but look towards another relatively easy match-up against Yale this weekend.
6. Dartmouth (3-2, 1-1) (Last Week's Ranking: 4)
Dartmouth has slowly started to struggle since falling to Penn. Despite a commanding victory over Yale, this weekend's loss to Sacred Heart revealed their blatant dependability on the run, a weakness that can be exposed in conference play.
7. Columbia (1-4, 0-2) (Last Week's Ranking: 8)
Columbia had their sights on their first conference win over Penn. And then they let it slip away. Either way, the Lions have showed promise in their offense and their defense has been relatively average for the Ivy League. They will not be an easy victory for anyone.
8. Yale (1-4, 0-2) (Last Week's Ranking: 7)
The Bulldogs have been terrible lately and it does not seem to be getting any better. They fell to Lafayette this weekend and have a hard time on both sides of the ball. Tyler Varga, however, continues to run well and Mordecai Cargill might be a solid complement, but things are starting to look dismal for this Yale squad.
This article is
What is the duplicate article?
Why is this article offensive?
Where is this article plagiarized from?
Why is this article poorly edited?