NFL Power Rankings Week 7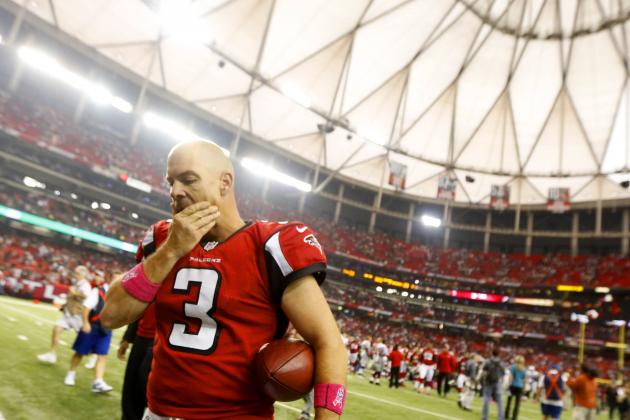 Josh D. Weiss-US PRESSWIRE

Week 6 in the NFL was a wild one. The last winless team was able to get their first win, one of two remaining undefeateds were toppled, and the now only undefeated team left had to rely on a 55-yard field goal just to beat the Raiders. Needless to say, this week's rankings are going to have some major changes from the last edition (last week's rankings are in parentheses on the right).
Begin Slideshow

»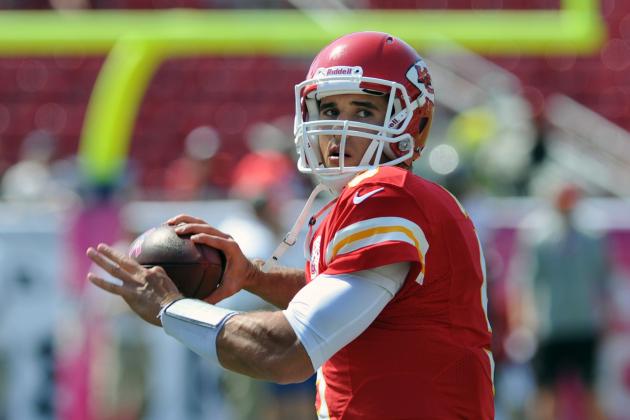 Al Messerschmidt/Getty Images

Yes, their starting quarterback did not play. Chiefs fans have been calling for his replacement anyway, and the results produced on Sunday were no different. Brady Quinn threw two interceptions (one was returned for a touchdown), Jamaal Charles averaged only 40 yards on the ground, and the defense allowed Josh Freeman to have his best game of the season. Tampa Bay's running game also gouged the Chief's defense as Doug Martin and LeGarrette Blount averaged 5.8 and 8.3 yards per carry, respectively.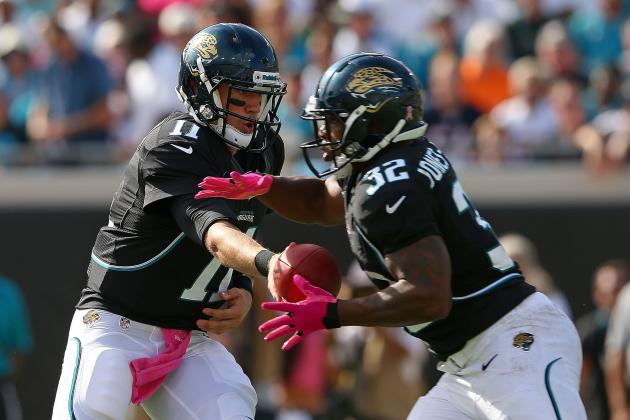 Mike Ehrmann/Getty Images

Yes, they are being punished on their bye week. You can not deny that after Week 6 both the Browns and Titans look capable of beating the Jaguars. Blaine Gabbert currently ranks 31st in the league in passing yards, less than 100 yards ahead of Jake Locker and Matt Hasselbeck. Think those numbers are skewed because some teams have not yet had a bye week? He is still over 300 yards behind Russell Wilson, who ranks 30th.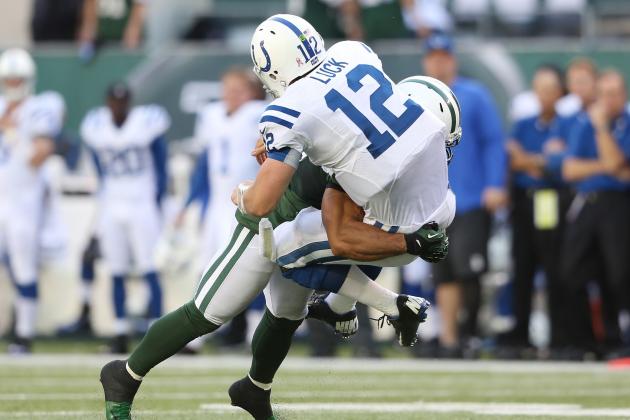 Nick Laham/Getty Images

Against a depleted Jets team, the Colts failed to do much of anything. They couldn't find the end zone, they couldn't keep the Jets out of the end zone (they scored five touchdowns), and they sure couldn't stop the Jets running game. One positive, they held Tim Tebow to just seven yards on four carries. Aside from that, they were run over for over 250 yards and three touchdowns.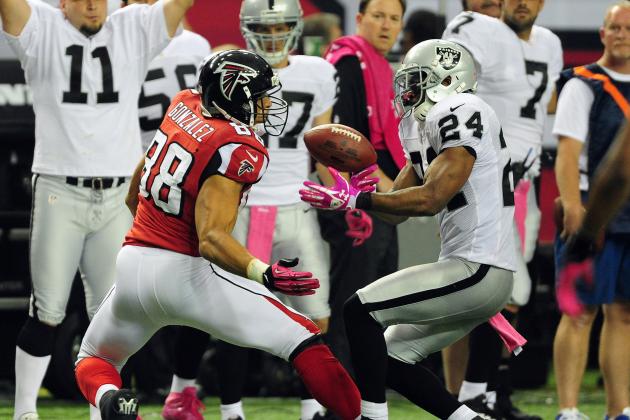 Scott Cunningham/Getty Images

Even though they finished on the wrong end of the scoreboard, the Raiders were impressive in almost beating Atlanta. They picked off Matt Ryan three times on the day, doubling his interception total for the season. They were also able to hold Michael Turner to just 33 yards on the ground. The offense wasn't quite impressive but did enough to keep them competitive. Carson Palmer threw a costly pick-six, and Atlanta ended up winning on a 55-yard field goal from Matt Bryant.
Matt Sullivan/Getty Images

Finally, the Browns put together a full four quarters of football. Joe Haden's return brought the energy back to the defense, as they intercepted Cincinnati quarterback Andy Dalton three times. The Browns' defense now has 10 interceptions on the season, seven of them in the two games Haden has played. Brandon Weeden also played well after a slow start, finishing with 231 yards and two touchdowns to get his first career NFL win on his 29th birthday.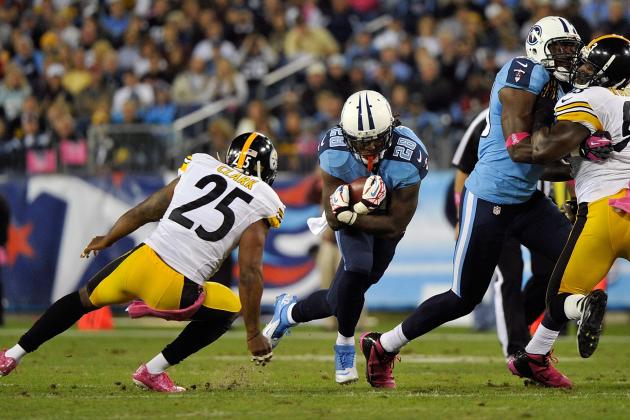 Frederick Breedon/Getty Images

They came close to giving the game away against the Steelers, but after a Shaun Suisham miss with 41 seconds left, they were able to march down the field for a game-winner of their own. Chris Johnson ran for 91 yards against the usually-stout Pittsburgh defense and added 23 yards on four receptions. It wasn't the most impressive overall performance, but the Titans found a way to win one most had pegged as a sure loss.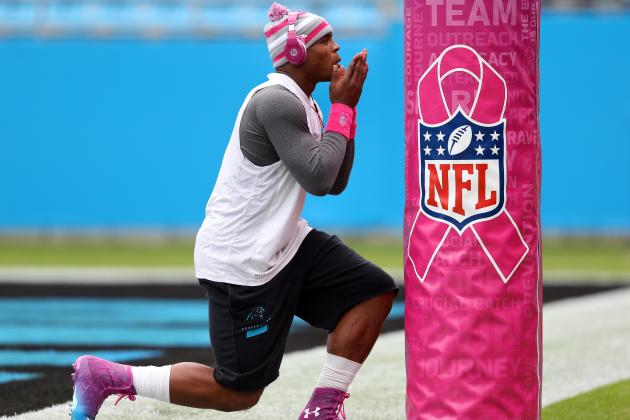 Streeter Lecka/Getty Images

With his team currently sitting at 1-4, Cam Newton's second season in the league is not going nearly as well as his first. So far in 2012 there has only been one game in which he threw more touchdowns than interceptions, he isn't running as successfully, and he is on pace for roughly 14 fewer total touchdowns than he had in 2012. If the Panthers are going to turn their season around after the bye week, they are going to need Newton to return to his rookie form.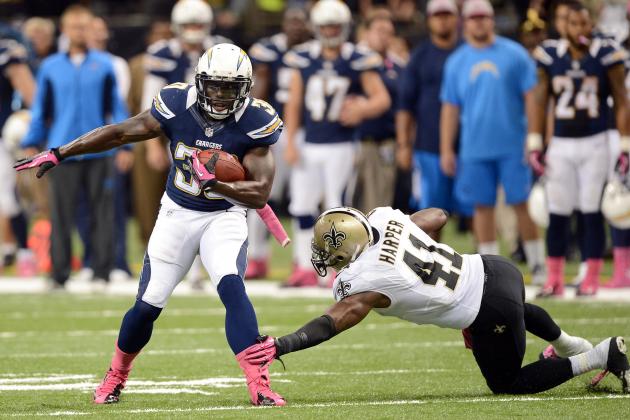 Harry How/Getty Images

It will be interesting to see how the Saints rebound from a poor start coming off the bye week. Their offense is obviously still among the best in the league with over 400 yards per game. The issue up to this point has been defense, where New Orleans is currently giving up 456 yards per game, the highest total in the league. If they can come up with a way to improve that side of the ball just a little, it will greatly improve their chances of turning this season around.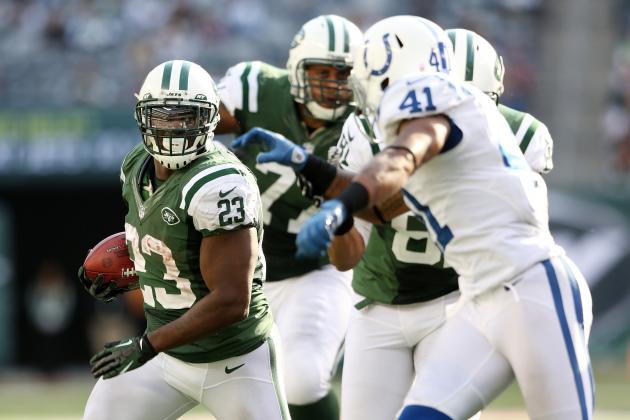 Nick Laham/Getty Images

Sure, the Jets were able to shake off a few injuries and have success against the Colts. The only problem is, it was against the Colts. Shonn Greene was able to roll all game, to the tune of 163 yards and three touchdowns. Questions still surround Mark Sanchez, who had to do little other than protect the football on Sunday. Will he be able to raise his game when it is all on his shoulders, or should the Jets start searching for a new QB?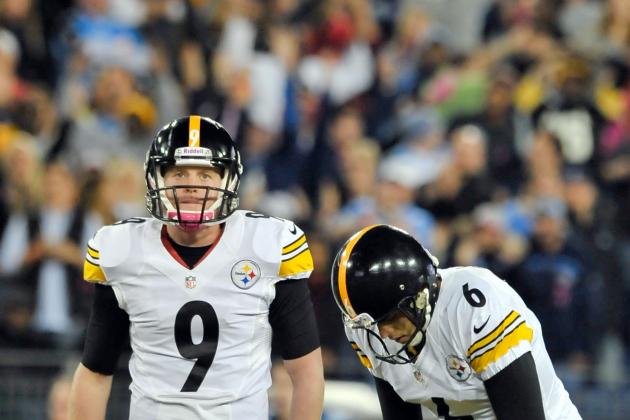 Jim Brown-US PRESSWIRE

In what was supposed to be an easy win against the Titans, the Steelers started slow and then were unable to finish. Rashard Mendenhall was ineffective before leaving the game due to injury, as his backups continued to expose a complete lack of depth at the position. Ben Roethlisberger managed to pass for 363 yards, but it was not enough for the Steelers.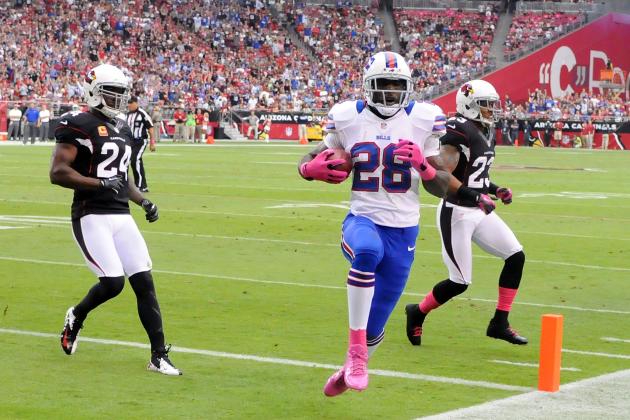 Norm Hall/Getty Images

CJ Spiller was able to manage 88 yards on just 12 attempts as the Bills were able to send Arizona to their second consecutive loss. Buffalo now sits at 3-3, the same record as every other team in the AFC East. The way they were able to bounce back to a bad loss against San Francisco was impressive, and with the struggles of the rest of the conference this season they may still challenge for a playoff spot.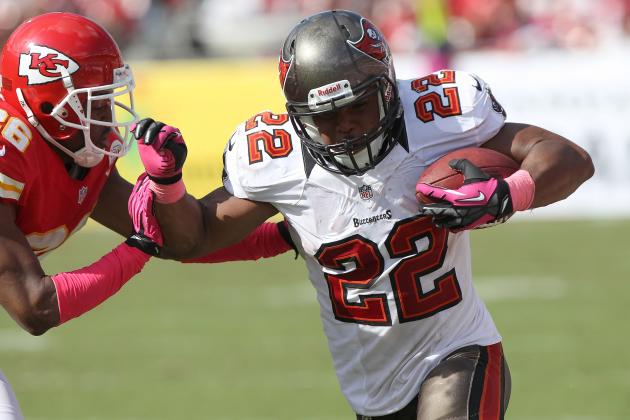 Kim Klement-US PRESSWIRE

Josh Freeman had his best game of the season and the Bucs running back duo made easy work of the Chiefs' defense. They also held Kansas City's offense, keeping dangerous running back Jamaal Charles in check and also returning a Brady Quinn interception for a touchdown. This could be the first step in turning the season around, or it may have merely been a product of who their opponent was.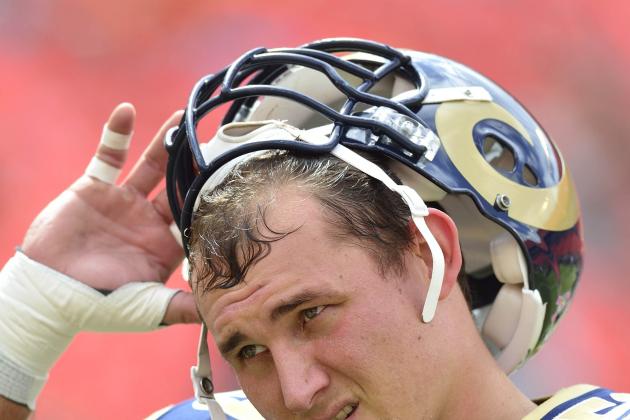 Steve Mitchell-US PRESSWIRE

After their big win over Arizona, the Rams had a long week to rest and prepare for the Miami Dolphins. The game turned out to be a huge letdown. Despite out-gaining the Dolphins 462 yards to 192, the Rams could not capitalize on their yardage total as they managed to put up just 14 points in the game. The defense once again played well, holding the Dolphins to just 19 yards rushing.
Tim Heitman-US PRESSWIRE

The Chargers simply choked on Monday night against the Broncos. There is no other way to explain it, not when a 24-0 halftime lead turns into a 35-24 loss. They did not do well defending against Peyton Manning, who was able to pass for 309 yards and three touchdowns.
They also did the one thing you cannot do when trying to maintain a lead, they turned the ball over. Philip Rivers threw four interceptions (one was returned for a touchdown), and Randy McMichael fumbled the ball (also returned for a touchdown), as the Chargers were on the wrong end of the biggest comeback of Peyton Manning's career.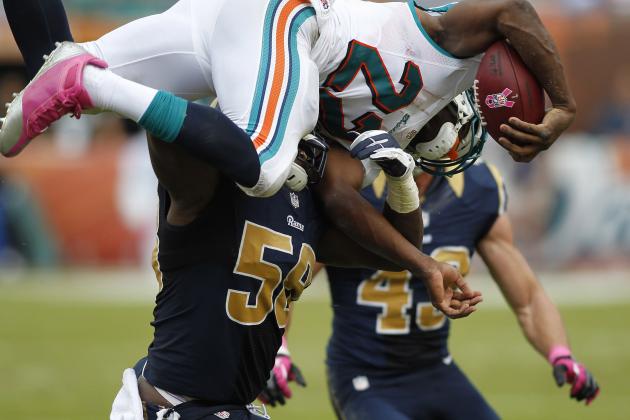 Robert Mayer-US PRESSWIRE

Statistically, the Dolphins did not play well at all against St. Louis. They were outgained 462 yards to 192 and running back Reggie Bush managed just 17 yards on 12 attempts. None of that mattered, however, as they were able to utilize the "bend-but-don't-break" defensive philosophy to near perfection, giving up just 14 points.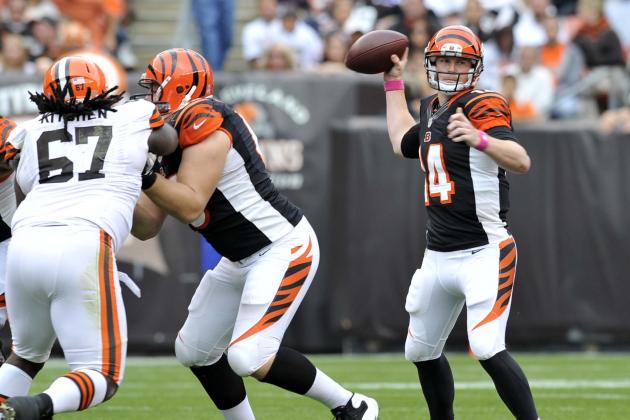 David Richard-US PRESSWIRE

In consecutive weeks the Bengals have lost to the Miami Dolphins and Cleveland Browns. This team was once expected to challenge for a division title, but now it appears they may have trouble just staying out of the AFC North basement. Andy Dalton may have finished with 381 passing yards, but many of those came in the fourth quarter when Cleveland was content to let him gain 8-12 yards at a time while the clock continued to run.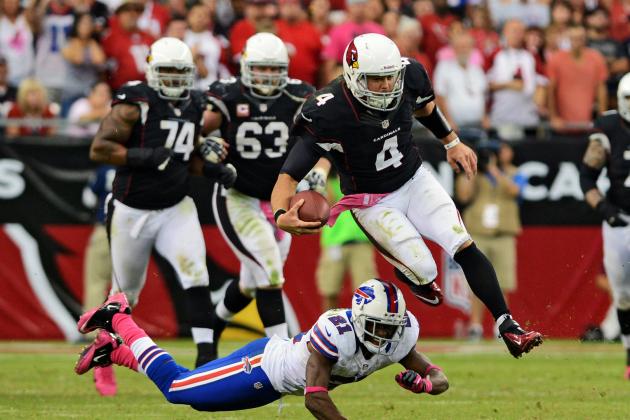 Jennifer Stewart-US PRESSWIRE

I'm not sure anyone fully bought into the Cardinals 4-0 start, and now it appears that they are who we originally thought they were. With two consecutive losses and an offensive line that has been among the league's worst, it is difficult to see them having much success in a tough defensive conference like the NFC West.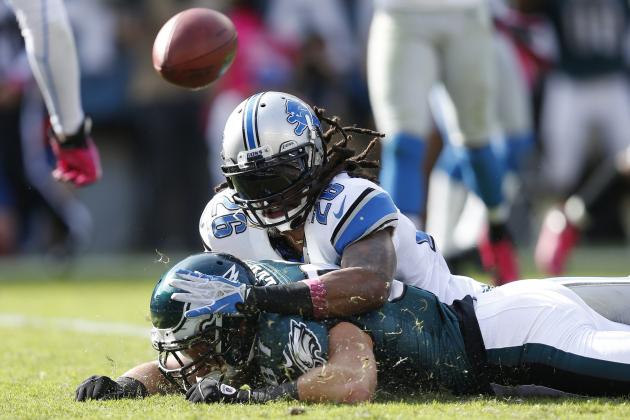 Joe Robbins/Getty Images

It took an overtime period to sort it all out, but at the end of the day the Lions got the win that they desperately needed against Philadelphia. Matthew Stafford wasn't great, but was able to pass for 311 yards. The defense was able to hold LeSean McCoy to just 22 yards rushing, an encouraging performance that may be a positive sign for things to come.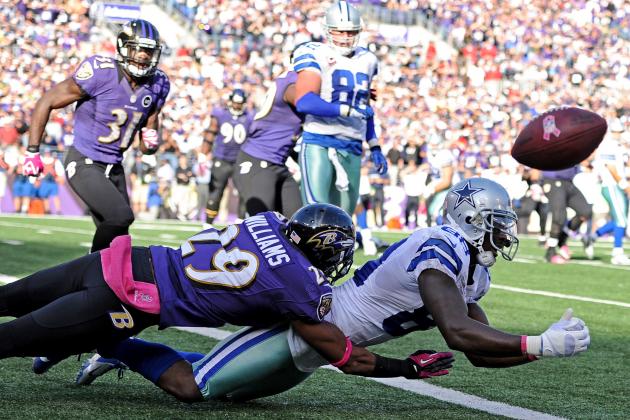 Patrick Smith/Getty Images

The two point conversion that would have tied the game and likely sent it to overtime went right through Dez Bryant's hands, but if that wasn't enough the Cowboys had to lose the game all over again. After recovering the onside kick, Dan Bailey missed a 51-yard field goal as the Cowboys lost by two. DeMarco Murray and Felix Jones ran well and Tony Romo played much better than his previous game, it just wasn't quite enough to beat the Ravens.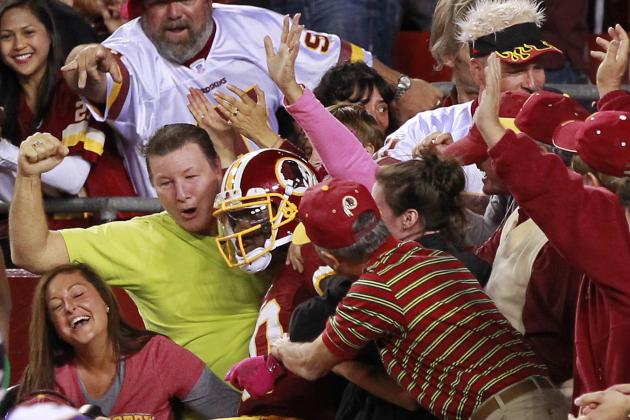 Geoff Burke-US PRESSWIRE

Robert Griffin III has been impressive in his rookie season, but Sunday's game was by far his best yet. Against Minnesota's tough defense he figured out a way to break them down, both rushing and passing for over 130 yards with three total touchdowns (including a 76-yard run that put the game away). The defense was also able to force Christian Ponder into three turnovers.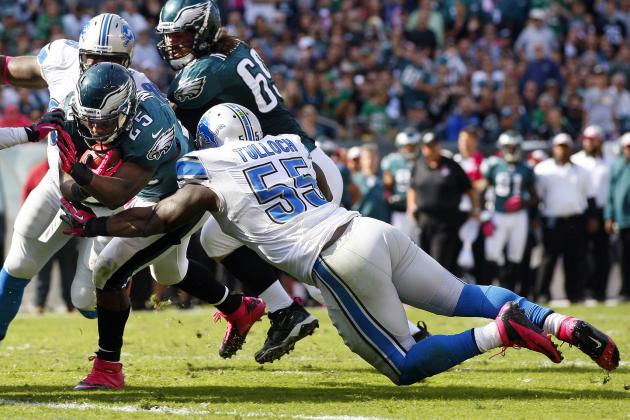 Rich Schultz/Getty Images

It may have been in overtime, but the Eagles fell to a Detroit team that has not played well in 2012. Michael Vick continues to turn the ball over, and you now have to question if the Eagles are capable of accomplishing their goals with him leading the offense. The pass defense was able to prevent Matthew Stafford from completing over half of his passes, but allowed 311 yards through the air. Running back LeSean McCoy was surprisingly ineffective, gaining just 22 yards on 14 carries.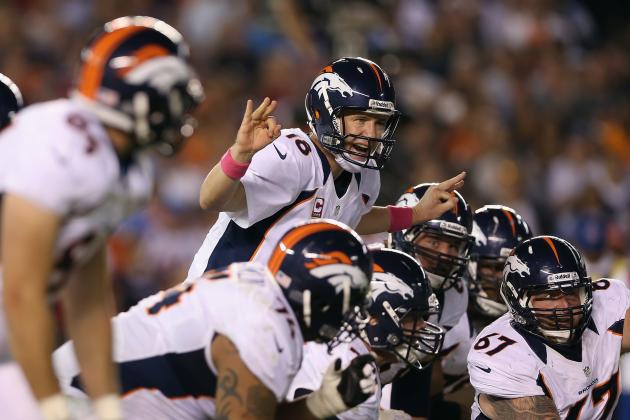 Jeff Gross/Getty Images

What a comeback by the Broncos. Down 24-0 at halftime and in danger of falling two games back in the division, Peyton Manning and company found a way to get it done.
Manning was on fire in the second half, connecting on all but one of his passes along with three touchdowns. The defense did their part as well, returning both a fumble and an interception for touchdowns. Manning is now second in the league in QB rating and passing yards, tied for second in touchdowns and fourth in completion percentage.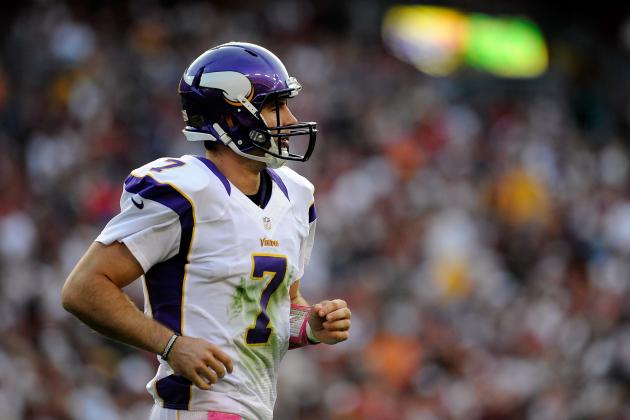 Patrick McDermott/Getty Images

The Vikings' biggest problem against Washington on Sunday wasn't RGIII, it was Christian Ponder. In what started out as a 9-0 lead for the Vikings, Ponder turned the ball over three times, allowing the Redskins to find themselves back in the game.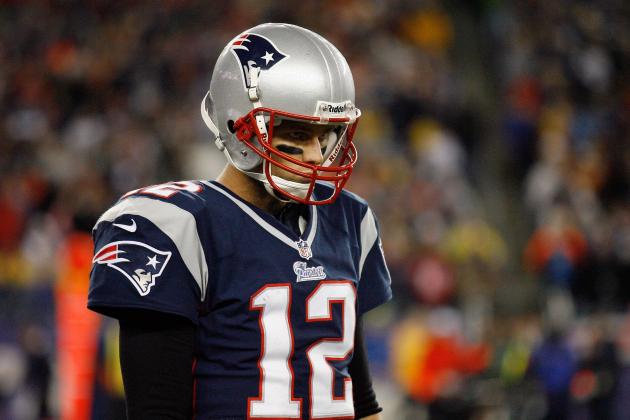 Stew Milne-US PRESSWIRE

The Patriots fell to the Seahawks and now sit in a four-way tie at 3-3 with the rest of the AFC East. They remain the best team in that division, but it needs to start showing in their record soon, or one of the other teams might see an opening and be motivated enough to take the division crown from them.
Tom Brady cannot throw the interceptions that he did on Sunday and allow teams to hang around, and the defense cannot keep giving up plays when they have an opportunity to make a game-winning stop.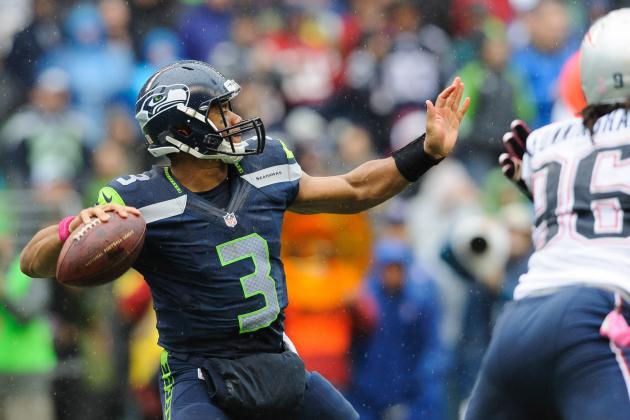 Steven Bisig-US PRESSWIRE

What a win this week by the Seahawks. It appeared the Patriots had a solid lead through most of the game, but a defense that has quickly become one of the best in the league was able force turnovers, and an offense that had previously been dormant was able to score 14 points in the final eight minutes for a big comeback win against New England.
Next up, they face the 49ers Thursday in a battle of NFC West co-leaders. If the Seahawks are able to pull off another win, they will be putting themselves in great position to compete for a playoff spot.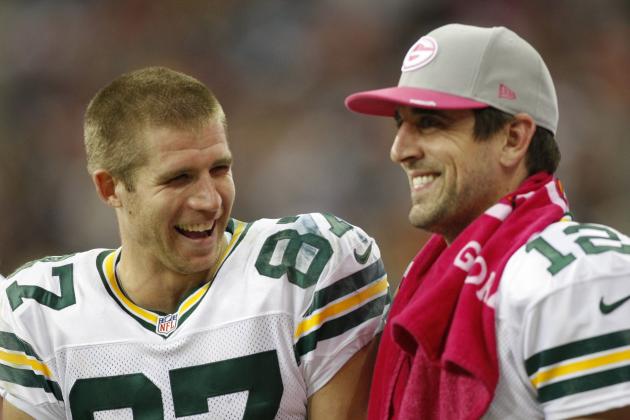 Brett Davis-US PRESSWIRE

Aaron Rodgers answered critics who questioned the slow start of the Packers' offense this season by going out and tying a franchise record against one of the best teams in the league. He threw for 338 yards and six touchdowns (three to Jordy Nelson) as the Packers blew out the previously undefeated Houston Texans.
It appears the Green Bay offense from 2011 may be back, and if that is the case, the rest of the league better watch out.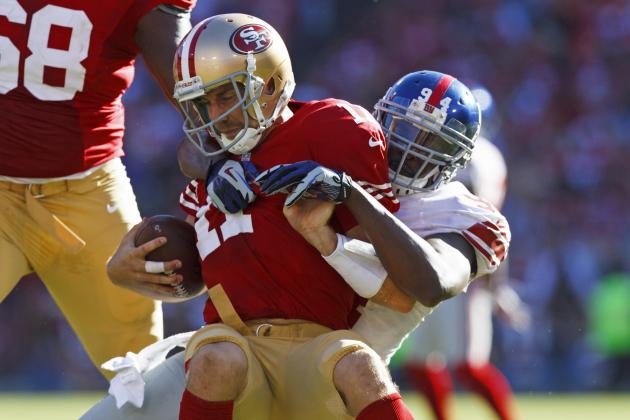 Jason O. Watson/Getty Images

The New York Giants continue to have their number, as the 49ers once again fell to the team they want so desperately to beat. They couldn't do it this week, as they were only able to put up three points.
Alex Smith threw three interceptions, and yet again I am going to question if he is the right guy at the quarterback position for this team. He has not yet proven that he can win a game when he has to use his arm, and I'm not sure he ever will.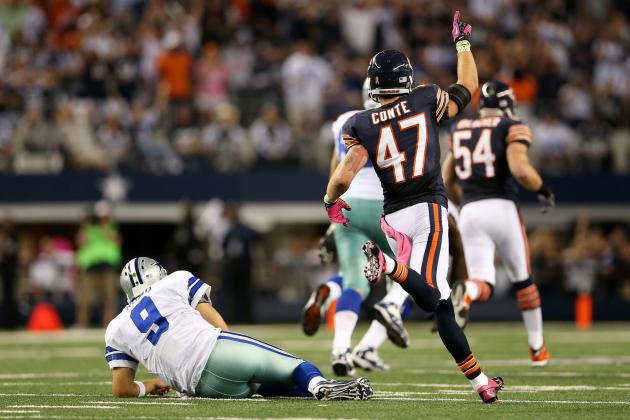 Ronald Martinez/Getty Images

Coming off of a bye, the Bears will try to keep their momentum on Monday night against the Lions. Heading into the game they only have one loss to the division rival Packers, and the defense has been playing extremely well.
Expect them to keep it up against Detroit, but don't expect Lance Briggs and Lance Tillman to score another pair of touchdowns.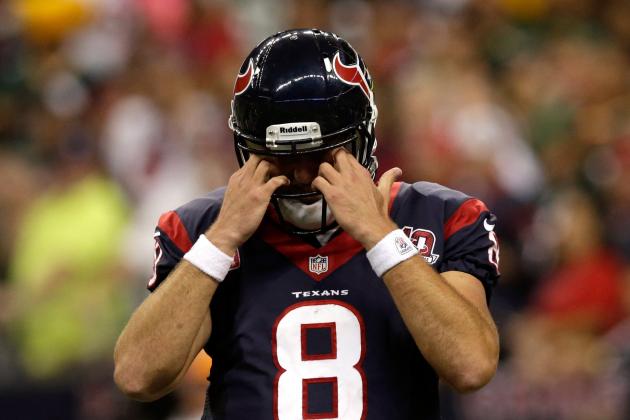 Scott Halleran/Getty Images

The Texans did not just lose their first game to Green Bay on Sunday, they got crushed. That defense that had been so great through the first five games of the season allowed Aaron Rodgers to pass for six touchdowns, while Matt Schaub and Arian Foster both struggled.
It will be interesting to see how this team bounces back. With a game against the Ravens coming up this week, we should know whether or not this team belongs among the best in the league soon.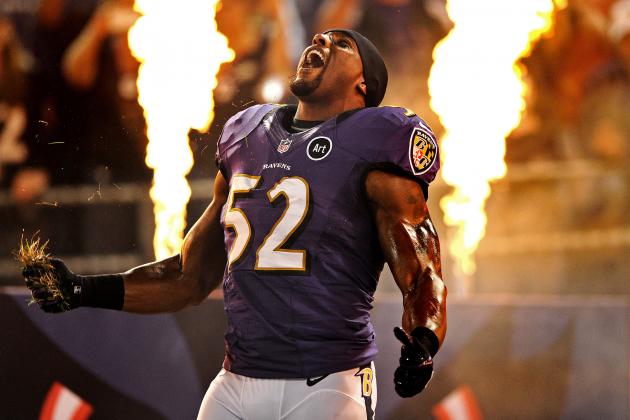 Patrick Smith/Getty Images

The Ravens once again found a way to win a close game, but they lost a key piece along the way. Linebacker Ray Lewis was injured over the course of the game and is out for the season. Whether they will be able to play as well without their defensive leader remains to be seen, but they aren't just going to roll over and give up on the season. Let's see if someone else can step up and fill in for the remainder of the year.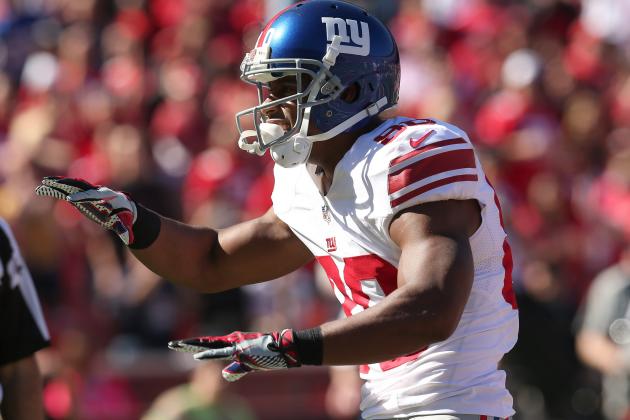 Stephen Dunn/Getty Images

In what was supposed to be a close game, the Giants came out and dominated San Francisco. The defense forced Alex Smith into more interceptions in one game than he had thrown in total since last Thanksgiving and were able to shut San Francisco out in the final three quarters.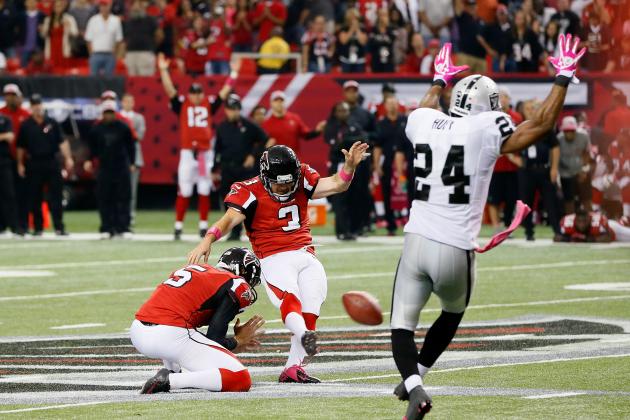 Kevin C. Cox/Getty Images

I thought about not giving the Falcons the top spot after coming so close to losing to the Raiders, but being able to win close games is a huge part of NFL success. The Falcons have now been able to come back on the last drive and win two of their last three games, most recently thanks to a 55-yard field goal from Matt Bryant.
As always, thank you for reading. Any feedback is appreciated, but remember if you are going to complain about where your team was ranked please have facts to support your argument.
I hope you enjoyed. You can follow me on Twitter @deg4.