Glover Teixeira vs. Rampage Jackson: Why This Fight Makes Sense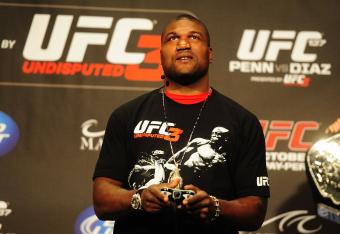 Mark J. Rebilas-US PRESSWIRE
For some months now, Glover Teixeira has been the most hyped fighter in the UFC. At UFC 153 on Saturday he proved why.
He stopped the otherwise unstoppable Fabio Maldonado at the end of the second round, leaving Maldonado's face a bloody mess.
We've been told that Glover is the hidden threat in the light heavyweight division. A man no one wants to fight. In turn, Mauricio Rua, Stephan Bonnar and Rashad Evans all turned down a fight against Teixeira.
However, one man is noted to have immediately jumped at the chance.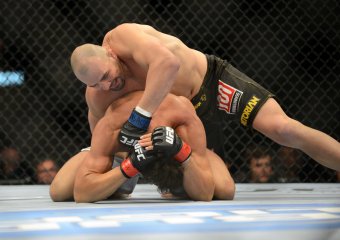 Ron Chenoy-US PRESSWIRE
Quinton "Rampage" Jackson has only one fight left on his contract, and he wants to go out with a bang.
He was originally due to face the Teixeira in Rio de Janeiro, Brazil this past weekend, however, an injury forced Maldonado to step in.
And now, after the dust has settled from that fight, both men are again vocalising their desires for a meeting between them.
"I'd like to fight Quinton Jackson; he's talking a load of crap about me. I never talked sh*t about him," Teixeira said after his fight (H/T ESPN).
"He's my idol; I loved that guy in Pride. He said I was talking bad about him, but I wasn't; he's talking bad about me. Step in the ring with me. I'll fight anyone."
Rampage was quick to respond, tweeting a plea to his boss to set up the fight:
Yo @danawhite set up that fight with Glover please! Lets give him what he wants..fans I won't let u down #fightofthenight

— Quinton Jackson (@Rampage4real) October 14, 2012
And his boss, answered in the affirmative:
@rampage4real sounds good bro

— Dana White (@

danawhite

) October 14, 2012
Critics of the match will say that it makes no sense for Teixeira to take a fight against a man coming off two losses and with one foot already out of the UFC.
Rampage may have been a legend in his heyday, but at this point in his career, he can hardly be considered the top-five opponent which would, rightly, land Teixeira a shot against light heavyweight champion Jon Jones.
However, there are many reasons why this fight does make sense.
Despite how his career has slipped of late, Rampage is still a massive draw in MMA. Having fought two relatively unknowns in Kyle Kingsbury and Maldonado, a fight against Rampage would get Teixeira massive amounts of exposure.
What's more, the former light heavyweight champion is still a big step up from both Kingsbury and Maldonado, a step in the right direction for the Brazilian's career.
But, despite all this, one of the more compelling reasons is that both men are two of the most exciting fighters in MMA. They both look for the finish and are comfortable swinging punches in the pocket to the satisfaction of bloodthirsty fans.
There are inherent dangers in this, however, for Teixeira more than Rampage. The latter is already looking to end his career, but if Teixeira lets himself get caught by a Rampage short hook, it could set back his title aspirations by years.
We saw Maldonado come close to knocking him out on Saturday. A single counter-strike had Teixeira on wobbly legs and almost put an end to all the hype. There's a chance that this could happen again, and it would not do to lose to Jackson as it would to say another top five like Rua.
Still, a win would reward Teixeira in his MMA career, and it would be a great fight and a great swan song for Rampage.
This article is
What is the duplicate article?
Why is this article offensive?
Where is this article plagiarized from?
Why is this article poorly edited?