25 Women Who Have Dated the Most Athletes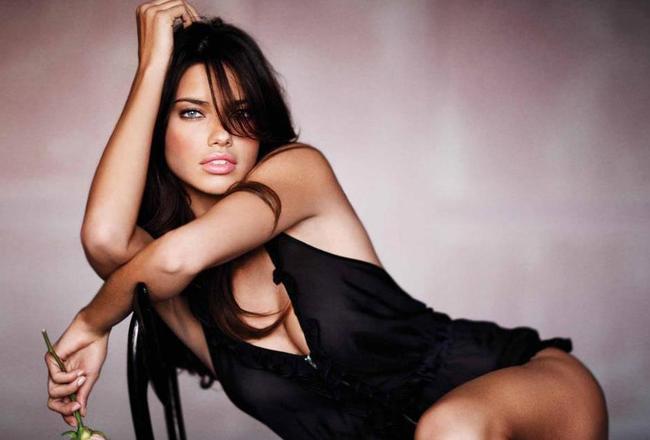 Image via Facebook.com/AdrianaLima

As if making piles of money playing sports for a living weren't amazing enough, so many professional athletes today are also A-List celebrities in their own right. Meaning they attract actresses, models and socialites like rapper DMX attracts the local authorities—which, for those of you who don't know, is often and with ease.
Some women get a taste of the WAG world and run fleeing for the hills, never to return again. Others come back once or twice, tops. While some others seem to be gluttons for punishment, tolerant of the wandering eye that is standard issue, and keep coming back for more—undeterred by the indignities that often come with the territory.
They must be hooked on the adrenaline. Let's take a look at 25 women who have dated more than one athlete and keep coming back for more.
25. Evelyn Lozada, Reality Television (2)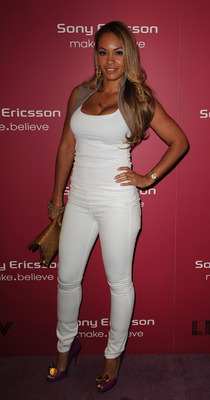 Gustavo Caballero/Getty Images
Basketball Wives star Evelyn Lozada had a very public breakup from Chad Johnson after the NFL wide receiver allegedly head-butted her during the course of an argument in August 2012; the pair had been married just over a month. She had a 10-year relationship with NBA player Antoine Walker before getting involved with Johnson.
Future WAG Status: Probable. Unless Lozada has sworn off athletes entirely, which I seriously doubt, I'd expect her to land another one at some point. Her entire "career" has been built on her involvement with athletes. If it ain't broke, ya know?
24. Hilary Rhoda, Model (2)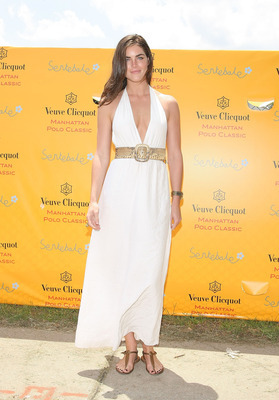 Michael Loccisano/Getty Images
Model Hilary Rhoda has appeared in the Sports Illustrated Swimsuit Issue three times since 2009—the very same year she dated Jets quarterback Mark Sanchez. She hooked up with (now) retired Rangers agitator Sean Avery after her fling with Sanchez, and the couple were together until 2011.
Future WAG Status: Definite. Rhoda has only dated two athletes to this point, but I'm sensing a pattern. Once the 25-year-old stunner has another lull in her schedule, expect to see her out on the town with an A-List athlete in LA or New York.
23. Allison Baver, Speed Skater (2)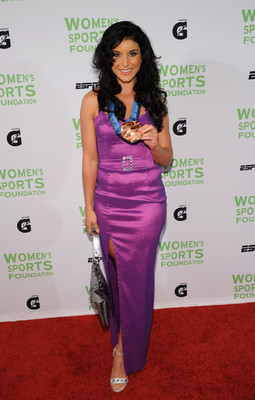 Image via Zimbio
American speed skater Allison Baver dated fellow Olympian Apolo Anton Ohno from 2004 until 2006—ending the dreams of the American Olympic Committee who hoped for future generation of speed skaters to be spawned. In February 2011, Baver reportedly had a fling with (now) Lakers big man Dwight Howard.
Future WAG Status: Questionable, at best. Baver is definitely in the twilight of her career as an athlete at age 32. She's more likely to settle down with a local Joe Schmo type than hook up with another A-List NBA player during All-Star weekend.
22. Joumana Samaha (Kidd), Aspiring Actress (3)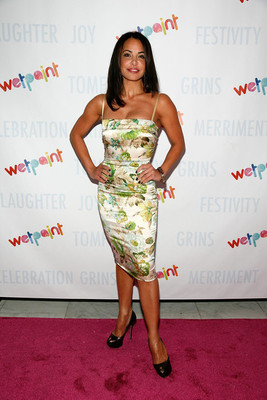 Image via Zimbio
Joumana Samaha filed for divorce from Knicks point guard Jason Kidd in 2007 after just over a decade of marriage. The split was less than amicable, with ugly accusations coming from both sides. She rebounded the same year, having flings with motocross rider Tyler Evans and bad boy tight end Jeremy Shockey.
Future WAG Status: In doubt. Joumana has completely fallen off the radar in recent years, despite working hard to establish herself as an actress. In a recent interview she expressed hesitation about dating a professional athlete again and admitted her love life was on the back burner for the time being.
21. Vanessa Williams, Actress (3)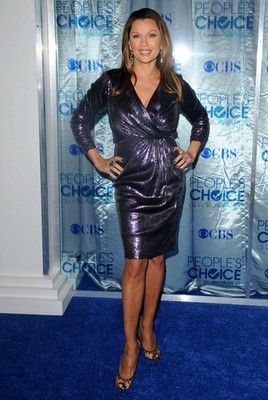 Image via Zimbio
Actress/singer/model Vanessa Williams got her start as a beauty queen and became the first African-American woman to win the Miss America crown in 1984. Her crown was ultimately stripped, but not before it earned her some admirers. She's been linked to NBA legend Michael Jordan, former bodybuilder Arnold Schwarzenegger and was married to retired NBA player Rick Fox.
Future WAG Status: Retired—probably. Williams' marriage to Fox ended in 2004, just months after The National Enquirer published photos of him with another woman. She dated motivational speaker Rob Mack in 2006 and has been a swingin' single ever since. Williams doesn't seem eager to dive back into the dating pool.
20. Lauren Pope, Glamour Model (3)
Neil Mockford/Getty Images
English glamour model Lauren Pope got her start as a DJ in 2007 and parlayed her notoriety into a successful career as a music producer and television personality. Early in her career as a model, she was romantically linked to footballers John Terry, Shaun Wright-Phillips and Peter Crouch (pre-Abbey Clancy).
Future WAG Status: Unknown. Pope's dating history surely indicates she has a weakness for men in shin guards, but she hasn't dated an athlete since 2009. Perhaps she's sworn them off, or maybe she's just in the midst of a dating slump. Time will tell.
19. Gabrielle Union, Actress (3)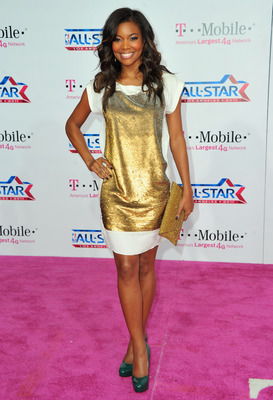 Alberto E. Rodriguez/Getty Images
Actress Gabrielle Union has been dating athletes almost continually since 2001. She was with former NFL running back Chris Howard from 2001 until 2006 and retired safety Darren Sharper from 2006 until 2007. Union and Miami Heat superstar Dwyane Wade have been together since 2008—although the timeline of their early relationship is a little fuzzy.
Future WAG Status: Definite. Union either prefers to date strictly athletes or her social circle allows her access to a great many of them. She has worked less each year since hooking up with Wade, which suggests these two might be getting ready to settle down and focus on the whole family thing. Even if it doesn't work out, Union won't stay single long—she never does.
18. Anna Kournikova, Retired Tennis (3)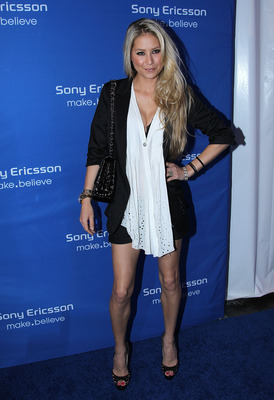 Mike Ehrmann/Getty Images
Russian beauty Anna Kournikova may not have accomplished much during her brief career as a professional tennis player, but she certainly managed to catch the eye of a few athletes during that time. Kournikova was linked to NHL stars Pavel Bure and Sergei Federov and Australian tennis player Mark Philippoussis before hooking up with singer Enrique Iglesias in 2002.
Future WAG Status: In doubt. Kournikova and Iglesias met on the set of one of his goofy music videos in 2002 and have been attached at the hip ever since. Perhaps she'll go back to familiar dating territory if things don't work out with Iglesias, but with a decade of lovey dovey PDA under their belt, it's hard to imagine these two…not together.
17. Jessica Simpson, Fashion Designer (3)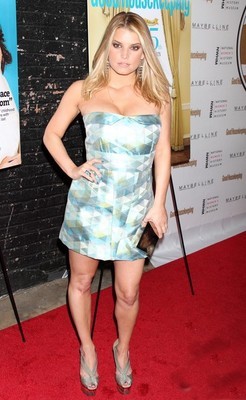 Image via Zimbio
Former singer Jessica Simpson is, without question, a "girly girl" and she has stuck mostly with singers in her dating life. But Simpson met former NFL tight end Eric Johnson in 2010, and the pair welcomed their first child in 2012 and are currently engaged. Prior to that Simpson had a high-profile romance with Cowboys quarterback Tony Romo and skateboarder/Jackass Bam Margera.
Future WAG Status: Definite…for now. Count on Simpson and Johnson keeping it together long enough to walk down the aisle—probably with reality TV cameras trailing them. But it's very hard to imagine these two together long term, and I can't see Simpson wanting to keep watch on the wandering eye that many athletes seem to possess.
16. Anara Atanes, Model (3)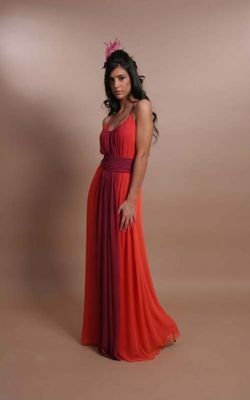 Image via LucyWho
Anara Atanes is an English model who only had eyes for English footballers early in her career. She was linked to Darren Bent in 2004, Kieran Richardson in 2006 and Jermaine Pennant in 2007. Atanes dated hip-hop mogul Jay Blaze from 2010 until 2011, which coincided with her foray into the music industry.
Future WAG Status: Questionable. If Atanes has her heart set on some kind of career as a recording artist, odds are she'll be on the lookout for a man that shares her passion/can further her career. But if she gets back to basics with the modeling, she could very well end up with yet another English footballer.
15. Serena Williams, Tennis (3)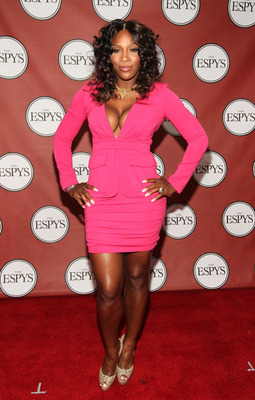 Christopher Polk/Getty Images
Serena Williams is one of the greatest female tennis players ever, and she's attracted the attention of a few fellow athletes as suitors over the years. She dated NBA player Corey Maggette very early in her career. More recently, Williams has also been linked to retired NFL wide receiver Keyshawn Johnson (2003) and Knicks forward Amar'e Stoudemire (2010).
Future WAG Status: Who knows? Having dated rappers, athletes, actors and directors, Williams doesn't have a predictable dating pattern. Although my guess is that fashion-obsessed Serena won't settle down with an athlete because she's more drawn toward men in the entertainment field, having dated rapper Common, director Brett Ratner, and actor Columbus Short.
14. Adrian Lima, Supermodel (3)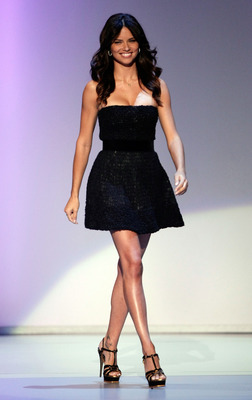 Kevin Winter/Getty Images
Super model Adriana Lima, Victoria's sexiest Angel, has been with Serbian basketball player Marko Jarić since 2006; the two married in 2009. But before the mother of two (seriously?!?) settled down with her husband, she was rumored to have been briefly involved with Yankees' Don Juan, Derek Jeter in 2006 and Patriots Prince Charming, Tom Brady in 2004.
Future WAG Status: Definite. Despite the obvious ocean between them (in terms of attractiveness), Lima and Jarić have been going strong for six years and just welcomed their second child in 2012. There's no reason to suspect any trouble in paradise for the couple or any evidence to suggest that they won't still be going strong six years from now.
13. Maria Sharapova, Tennis (3)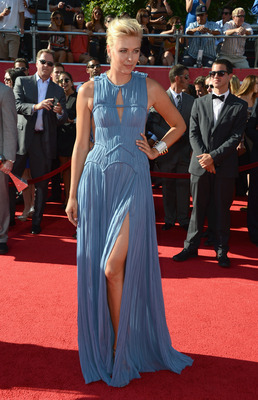 Frazer Harrison/Getty Images
In March 2012, Russian tennis goddess Maria Sharapova broke a whole lotta hearts when she announced her engagement to former Laker Sasha Vujačić. But those hearts were mended she announced the engagement was off in August 2012. Sharapova had been linked with Portuguese pretty boy (footballer) Cristiano Ronaldo early in her career and tennis dud Andy Roddick in 2005.
Future WAG Status: Up in the air. Sharapova's 2005 fling with singer Adam Levine is the only high-profile romance she's had with a non-athlete, suggesting she prefers like-minded boy toys. But she may be ready to navigate some uncharted waters after her sudden split from her fiancé, depending on the circumstances behind the breakup.
12. Elisabetta Canalis, Model/Actress (4)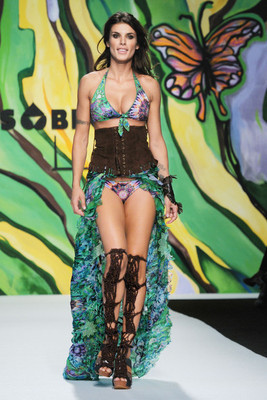 Image via Zimbio
Italian actress Ellisabetta Canalis became global celebrity over the course of her two-year relationship with mega movie star George Clooney, but she was a well known WAG before that. Canalis dated Italian footballer Christian Vieri from 2001-04, Ivorian footballer Didier Drogba in 2005, Italian motocross racer Valentino Rossi in 2007 and Brazilian football Reginaldo Ferreira da Silva in 2008.
The famously uncommitted Clooney pulled the plug on their coupling in 2011, and Canalis rebounded with semi-athlete Steve-O in 2012. Seriously not going to argue the Steve-O thing, but just want to point out that there is some amount of athleticism required for running from bees, bracing for rubber bullets and brawling with alligators.
Future WAG Status: Questionable. Elisabettta and her very own Jackass Steve-O may or may not still be together, but it's hard to imagine these two are destined for happily ever after. Which means she may been in the market for a family-minded footballer to settle down with in the next year or so.
11. Elisha Cuthbert, Actress (4)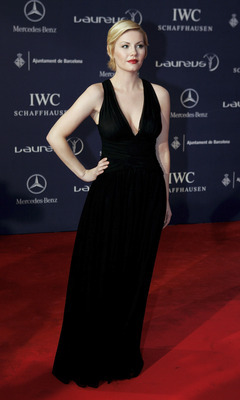 Bruno Vincent/Getty Images
It's a terrible world that would would make stunning blonde actress Elisha Cuthbert most recognizable as the "sloppy seconds" of retired Rangers agitator Sean Avery—no one mentioned to Avery that he was getting snowboarder Shuan White's sloppy seconds. Cuthbert has a thing for NHL players, having dated Avery from 2005-07, Mike Komisarek from 2007-08 and Dion Phaneuf from 2008 until present. The couple announced their engagement in September 2012.
Future WAG Status: Definite. One would think that two years with Sean Avery would have put her off hockey players forever, but homegirl is obviously hooked. Who knows if their marriage will last…or even if they'll make it down the aisle…but if it doesn't, count on Cuthbert to rebound with another ice-loving athlete.
10. Pamela Anderson, Actress (4)
Kevin Winter/Getty Images
Former Baywatch babe Pamela Anderson has been scoring high-profile man candy ever since hooking up with Charles in Charge himself, Scott Baio in 1990. Anderson's dating history is a who's who of Hollywood bad boys, Rock n' roll renegades and male modeling's most magnificent, but she had found time in her schedule for a few athletes (Kelly Slater, Jon Rose, Eddie Irvine and David Binn).
Future WAG Status: Never say never. Anderson may be creeping up on 50 (in five years), but she doesn't seem too eager to settle down again. Maybe she'll get back together with ex Tommy Lee, or perhaps she'll land in the arms of a longtime love, like surfer Kelly Slater again. Anderson may be a lot of things, but predictable isn't one of them.
9. Alyssa Milano, Actress (4)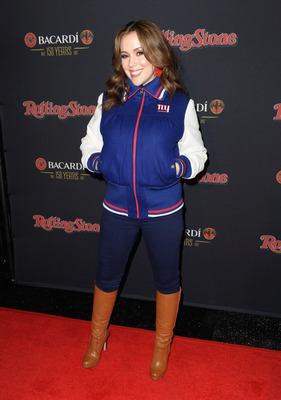 Gustavo Caballero/Getty Images
Actress Alyssa Milano was one of the biggest stars of the '80s and '90s, so it's no surprise that she's had plenty of high-profile romances over the years. She dated (now) retired NHL player Mayne McBean in 1990 before graduating to major league ball players a decade later. Milano dated Carl Pavano in 2003, Barry Zito in 2004 and Brad Penny in 2005 before settling down with talent agent David Bugliari in 2009.
Future WAG Status: In doubt. After a broken engagement to actor Scott Wolff in 1993 and a broken marriage to musician Cinjun Tate in 1999, Milano took her time before jumping into anything serious again. She and Bugliari welcomed their first child in 2011 and seem to be going strong, although their six-year age difference (she's 39, he's 33) could become an issue down the road.
8. Tyra Banks, Model/Mogul (4)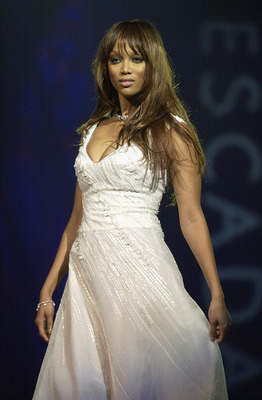 Jamie McDonald/Getty Images
Supermodel-turned-media mogul Tyra Banks hasn't made it down the aisle yet, but she's been moderately lucky in love over the years, with her share of high-profile boy toys. Her rumored affairs include college athlete-turned-actor Brian White, legendary NHL forward Mark Messier and retired NBA player Rick Fox.
Banks built something a bit more substantive with (now) retired NBA All-Star Chris Webber, who she dated from 2001-04, and Italian basketball player Giancarlo Maraccini, who she dated from 2005-06.
Future WAG Status: She'll be back. Ms. Tyra dated investment banker John Utendahl from 2007-11, but (presumably) pulled the plug when she realized she was doing fine financially on her own. She likes to be in the middle of the action and has a thing for athletes—I'd be stunned if she doesn't add to this list.
7. Gemma Atkinson, Actress (4)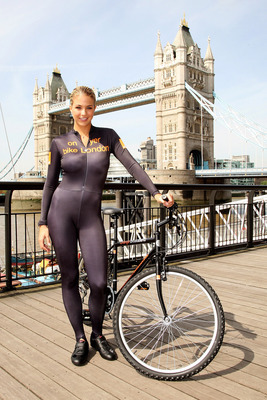 Getty Images/Getty Images
English beauty Gemma Atkinson got her start as a glamour model but has transitioned into a successful career as a movie actress and television personality. Over the years she's dated English footballers Alan Smith, Marcus Bent and Darren Bent, but her most famous fling was with Real Madrid's superstar forward Cristiano Ronaldo in 2007.
Future WAG Status: Retired. Atkinson gave up footballers the year she took up acting seriously (2007), which means she probably won't be backtracking into her old life. As long as her face is on the big screen, don't expect to see her on the arm of an athlete. Ronaldo's bronzed stickiness probably turned her off footballers forever.
6. Tara Reid, Under-Employed Actress (5)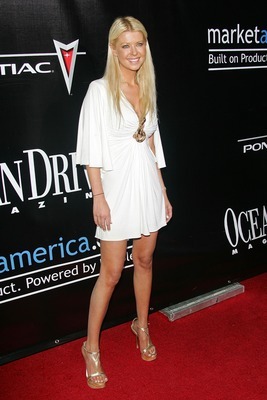 Evan Agostini/Getty Images
It's extremely hard to imagine today, but wactress Tara Reid was actually a pretty big deal about a decade ago. After starring in the surprise mega-hit American Pie in 1999, she went on to date some of the biggest names in movies, music and sports.
Reid dated NFL players Tom Brady (2002), Jeremy Shockey (2003) and Kyle Boller (2004) as well as (now) retired NHL legend Sergei Fedorov (2004-05) and Australian tennis player Mark Philippoussis (date unknown).
Future WAG Status: Out of commission. Reid's last relationship with an athlete was Sergei Fedorov in 2005 and since then she's dated strictly trash: reality television trash and Euro trash. There just aren't many, if any, professional athletes looking to fund the cigarette and plastic surgery addictions of a hard-living party girl in her late 30s.
5. Kim Kardashian, Reality Television (5)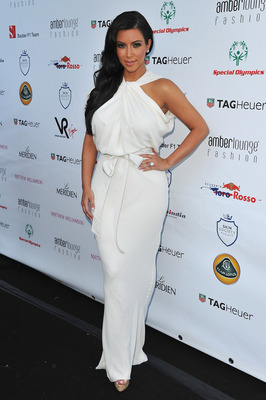 Pascal Le Segretain/Getty Images
Famous for being famous person Kim Kardashian rocketed to celebrity status after a sex tape she made with former boyfriend Ray J was accidentally leaked in 2007. She ditched Ray J the same year and only had eyes for athletes until hooking up with hip-hop's most misunderstood artist, Kanye West, in 2012.
Kim dated NFL running back Reggie Bush from 2007-10, had flings with footballer Cristiano Ronaldo and Cowboys wide receiver Miles Austin in 2010, and had a fling with Patriots safety Bret Lockett while she was fake-married to Nets forward Kris Humphries in 2011.
Future WAG Status: Questionable, but never say never. Things may seem to be sunshine and rainbows for Kanye and his biggest-bootied Kardashian, but Kanye is combustible and Kim is capricious. These two could last a lifetime or call it quits today…I guess we'll see.
4. Vanessa Perroncel, Model (6)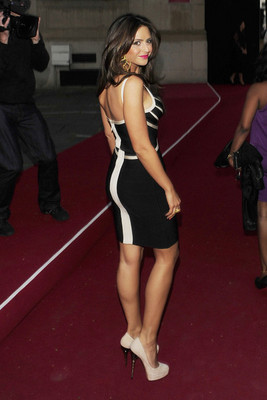 Image via Zimbio
The exact number of footballers that French model Vanessa Perroncel has dated, or been intimate with, is in dispute. She has a child with Chelsea left-back Wayne Bridge, but her rumored affairs with as many as five of his teammates lead to their split in 2007. Perroncel denies some of the rumors, but still they persist.
Future WAG Status: Questionable. Perroncel seems to have had her share of footballers and has moved on…for now. Perhaps she'll come back to what she knows eventually, but a week-long holiday on a yacht with bazillionaire Simon Cowell in 2012 suggests she may be looking for an even wealthier dating pool.
3. Danielle Lloyd O'Hara, Glamour Model (7)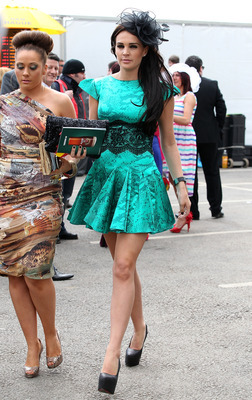 Danny Martindale/Getty Images
Glamour model Danielle (Lloyd) O'Hara is a former Miss England (2004) turned reality television star whose party-girl shenanigans made headlines in British tabloids for years before she finally settled down with footballer Jamie O'Hara in 2009. But she had to kiss an awful lot of footballer frogs before finding her prince.
Lloyd dated English Formula One race car driver Lewis Hamilton in 2002, retired footballer Teddy Sheringham in 2006-07, French footballer Armand Traoré in 2007, English footballers Marcus Bent and Jermain Defoe in 2007 and 2008, and Dutch footballer Ryan Babel in 2008.
Future WAG Status: Definite. Mr. and Mrs. O'Hara seem to be doing well, having welcomed their second child and walked down the aisle in 2012. But even if this all ends short of "until death do they part," Danielle has proved that she only has eyes for the athletically inclined.
2. Paris Hilton, Socialite (7)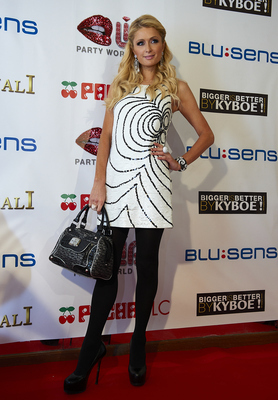 Manuel Queimadelos Alonso/Getty Images
Aging socialite Paris Hilton may be a high school dropout, but a complete lack of education, discernible talent, common sense, social grace and self awareness hasn't proved an obstacle when it comes to luring men into her gangly clutches. Perusing her full dating resume is a time-consuming exercise in endurance, so let's narrow the countless droves down to just athletes.
Hilton dated boxer Oscar De La Hoya in 2000, Bears linebacker Brian Urlacher in 2003, skateboarder Chad Muska from 2004-05, career backup quarterback Matt Leinart in 2006, NHL player José Théodore in 2006, tennis dud Andy Roddick in 2006 and meticulously manscaped footballer Cristiano Ronaldo in 2009.
Future WAG Status: Who knows, who cares. Hilton is unlikely to stop running through men at the world-record pace she's set over the years. So the odds are that she'll end up dating another dozen athletes before sealing the revolving door in her bedroom for good.
1. Imogen Thomas, Glamour Model (10)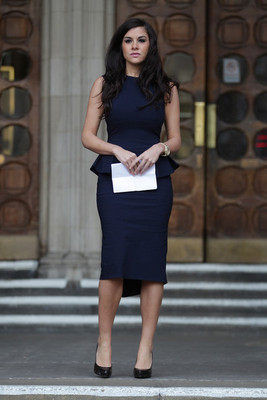 Image via Zimbio
Welsh glamour model Imogen Thomas can't give American socialite Paris Hilton a run for her money in terms of total numbers, but she has definitely bagged more athletes in her prime than Hilton. Prior to hooking up with Ivorian footballer Didier Drogba in 2005, Thomas had been linked to English footballer Lee Trundle, Mexican footballer Giovani dos Santos, Brazilian footballer Anderson Luís de Abreu Oliveira, Senegalese footballer Ibrahima Sonko, and Trinidad and Tobago footballer Dwight Yorke.
Since 2005, Thomas has been linked to Mexican footballer Nery Castillo, English footballers Danny Simpson and Jermain Defoe, and Welsh footballer Ryan Giggs. She's due to give birth to her first child in 2012; the father is current boyfriend non-athlete Adam Horsley.
Future WAG Status: Definite. Thomas may be doing the mom thing for the time being, but there's no way this 29-year-old future single mom is going cold turkey on her drug of choice—footballers.
And that's that! I'm not dating any athletes (currently), but you should still follow me on twitter: Follow @blamberr Thanks!
Keep Reading