UFC 154: Assembling a Game Plan That Will Allow Condit to Defeat GSP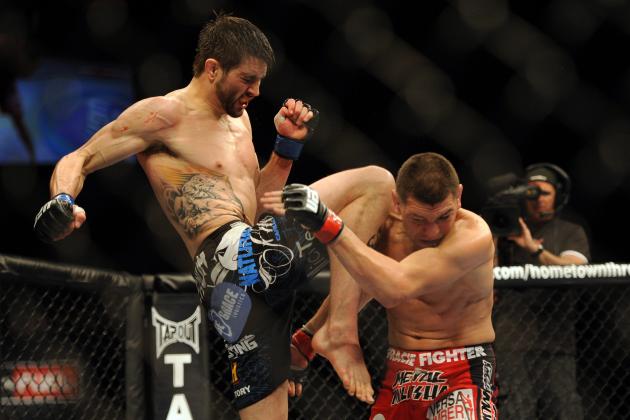 Kelvin Kuo-US PRESSWIRE

How soon we forget.
With recent wins by UFC superstars Anderson Silva and Jon Jones, the MMA community is abuzz with talks of a superfight between the two uber-athletes.
A showdown between the No. 1 and No. 2 fighters in the world is as tantalizing as a porterhouse steak just the way I like it—medium-rare—but let us not forget about the return of the Canadian wonder who once occupied our hearts and minds.
After nearly two years of inactivity, Georges "Rush" St. Pierre makes his return to the Octagon against interim welterweight champion Carlos Condit.
While Condit is a worthy opponent, this fight features two fighters who are clearly on different levels. Condit will have to be sensational, nay, perfect, to emerge victorious in this matchup, and I have assembled just the game plan for him to follow.
Carlos, I know you love Greg Jackson and his masterful game plans, but come my way and let me lead you to victory.
Click on, my eager title challenger.
Begin Slideshow

»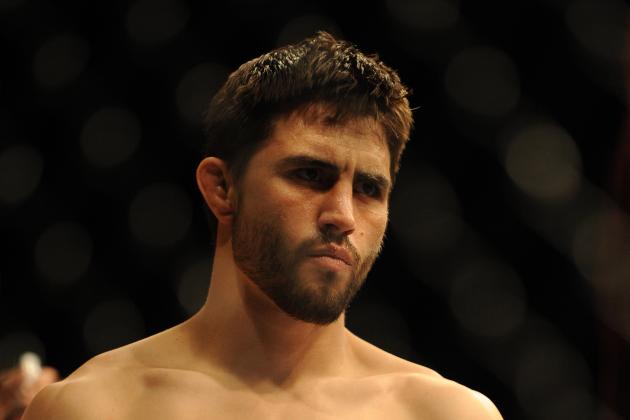 Kelvin Kuo-US PRESSWIRE

The battle for Carlos Condit began the moment he strapped that interim belt around his waist following his victory over Nick Diaz at UFC 143.
While Condit has been in some huge fights on monstrous stages in the past, nothing he has ever done compares to what lies ahead at UFC 154.
He has already defeated the likes of Diaz, Rory MacDonald, Dan Hardy and Dyon Hyun Kim, but GSP is an animal the likes of which Condit has never experienced.
Besides his otherworldly skill set, GSP is as focused and mentally prepared a fighter as we have in the UFC today. To compete with him, you must be on his level mentally and physically.

GSP will not break. He will not make irrational decisions inside or outside the Octagon, and he will not let his mind wander during a fight.
Condit must match this intensity and find the center within himself that breeds intense focus and a warrior's vision. If he is focused and truly prepared for what awaits him Nov. 17, the rest will be much easier.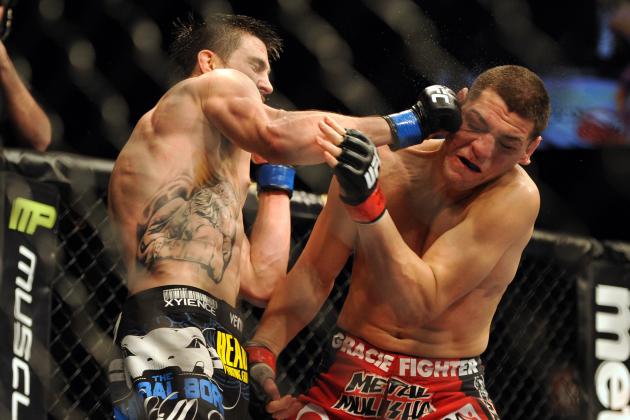 Kelvin Kuo-US PRESSWIRE

Matt Serra, for all his criticisms, stands out from every fighter in the world for one accomplishment: He has knocked out Georges St. Pierre.
While his UFC 69 victory is considered a fluke (largely because GSP avenged the loss in dominant fashion), Serra showed that GSP can be defeated, and an aggressive striking game can lead one to victory.
If there is one advantage Carlos Condit has in this fight, it is his power and varied striking attack. With a wiry 6'2" frame, Condit throws kicks, punches, knees and elbows with brutal force, and he can most definitely end GSP's night with a crisp shot to the champion's jaw.
Easy, right?
Try telling that to Dan Hardy, Josh Koscheck, Thiago Alves and all the other power punchers that fell to GSP's glory.
The key for Condit here is to be aggressive and to trust his striking abilities.
He is quite possibly the best striker in the welterweight division, and he has to seek out GSP's chin early and often. Do not give "Rush" time to settle in and find his groove; throw early and throw often in hopes of ending the fight early.
While this tactic may lead to GSP seeking a takedown, he will be most equipped to defend the champ's wrestling in these early stages of the fight.
Do not play patty-cake with GSP, Carlos. Go for the kill early, and you might just get it.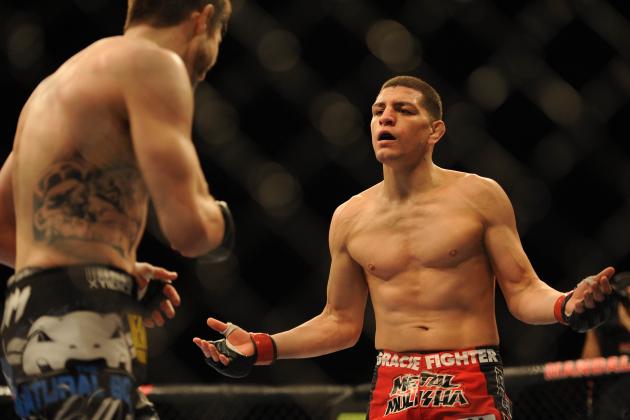 Kelvin Kuo-US PRESSWIRE

Maybe Carlos Condit throws everything at GSP in rounds one and two and magically avoids being put on his back, but GSP is still there in his face saying, "Come on, homie."
If that happens and GSP does indeed pull out some Nick Diaz-inspired taunting, I think I can safely say the MMA community can die happy.
However, if Condit's striking fails him and he has to fight a different fight against GSP, what should he do?
He needs to keep his range, pick his punches and fight a smart and balanced attack. Yes, this is exactly what you didn't want to hear, but it is the best course of action for Condit should he expect to emerge victorious.
Jake Shields landed 78 significant strikes on GSP's mug in their standup battle, and to think Condit cannot do better in a similar fight is downright ignorant.
Essentially, a repeat performance of his stick-and-move tactics against Nick Diaz would be in full effect, and Condit would surely anger fans and critics as he runs his way to victory.
Hey, when you're up against the best welterweight of all time, winning doesn't have to be pretty.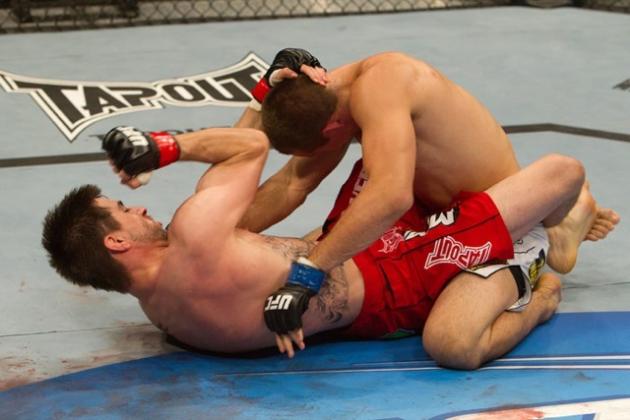 CREDIT: graciemag.com
If Condit loses his fight against GSP, one can all but guarantee it will be a product of his inability to match the champion's grappling prowess. Condit will log some serious minutes off his back in this matchup, and his success on the mat is a vital step on his path toward welterweight supremacy.
Once Condit hits the ground, he has to be active off his back. Stuffing the takedown in the first place is the best course of action, but reasonable minds know that is just really not an option against "Rush."
Off his back, if Condit can keep GSP guessing with elbows, punches and submission attempts, he may be able to freeze the champion just long enough to create some space, shrimp and get the hell out of Dodge.
While Condit could, in theory, submit GSP, the welterweight champion has not lost via tapout since UFC 50 (which was eight years ago), despite spending hours on the ground in his fights since then.
Yeah, he's pretty good at that whole "ground fighting" thing.
It would be sensational to see Condit pull off a submission in this fight, but GSP is the better wrestler and grappler, and this will kick that plan out the window.

Instead, Condit needs to be offensive off his back and use his attacks to help him stand back up where he has a much better chance at besting his adversary.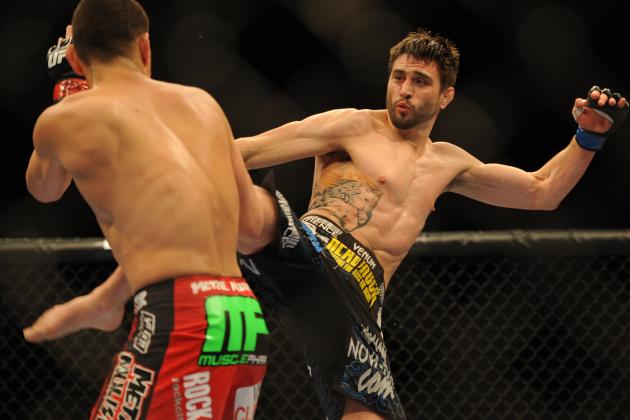 Kelvin Kuo-US PRESSWIRE

You can call me names and blast me for this comparison, but UFC 154's main event is very similar to Anderson Silva vs. Chael Sonnen.
I expect to see almost a carbon copy of Sonnen's UFC 117 performance from GSP in this fight, only "Rush" will not be sloppy with his submission defense.
For Condit then, the key to victory lies in the footage of Silva's UFC 148 victory over the gangster from West Linn, Ore.
After being battered on the ground in Round 1, Silva channeled his inner wrestler and displayed some impressive takedown defense that that left his opponent frustrated and wild in Round 2. One slip during an ill-advised spinning backfist later, Silva cemented his legacy and squashed the pest that was Sonnen.
Condit needs to do the same against GSP. Avoiding the ground at all costs is priority No. 1, but that is a task that has proved impossible for many welterweights before him, just as it had proved impossible for Silva until that defining round.
If Condit can avoid GSP's takedowns for just one round and force GSP into a momentary brawl, his iron chin and steel fists will reign supreme.
He needs to be absolutely perfect, but Carlos Condit can win this fight. The game plan is laid, now it is up to him to execute.