Bleacher Report's 2012 Midseason College Football All-American List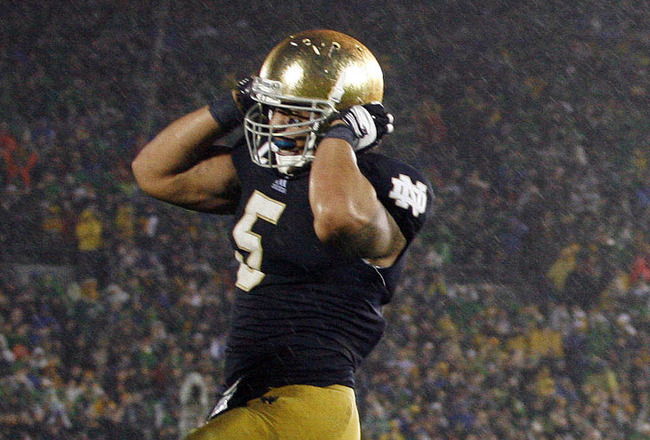 Brian Spurlock-US PRESSWIRE
We're midway through the 2012 season, and it's time to review which players make our midseason college football All-American list.
These guys have taken their football midterms, and they've all gotten As. They stand out as the best of the best at each position.
If only college football had an all-star game. Can you imagine a team that featured players like Manti Te'o, Geno Smith and DeAndre Hopkins on the same sideline?
So, who made the midseason All-American list? Read on.
QB: Geno Smtih, West Virginia
Michael C. Johnson-US PRESSWIRE
Geno Smith didn't have a great game against Texas Tech last week, but his overall numbers speak for themselves.
He has 2,271 yards passing (No. 2 FBS), a QB rating of 180.8 (No. 1 FBS), 25 touchdowns (No. 1 FBS) and no interceptions (No. 1 FBS).
His performances against Baylor (656 yards, 8 TDs) and Texas (268 yards, 4 TDs) were phenomenal, even if they were against suspect defenses.
Smith remains the front runner for the Heisman, and who knows if anybody is going to catch him.
RB: Kenjon Barner, Oregon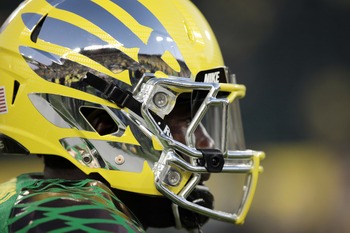 Scott Olmos-US PRESSWIRE
Can anybody stop Kenjon Barner?
Barner has 727 yards and nine touchdowns through six games, and his stats would probably be even more impressive if he didn't have to share snaps with De'Anthony Thomas.
Either way, stopping this quack attack is going to be a nightmare for any defense coordinator, as well as the poor Oregon Duck who has to do all of those push-ups every time Barner finds the end zone...
RB: Stefphon Jefferson, Nevada
Ron Chenoy-US PRESSWIRE
Nevada's pistol offense requires an elite running back, and Stefphon Jefferson more than fits the bill.
Jefferson leads the FBS in rushing yards (1,140) and touchdowns (14). On top of that, he has 139 yards receiving and an additional touchdown through the air.
If he keeps up this pace, Jefferson will have 1,954 yards rushing and 24 touchdowns by the end of the regular season. He just may have a chance at breaking the 2,000-yard-rushing mark when you throw a bowl game in there too.
WR: Stedman Bailey, West Virginia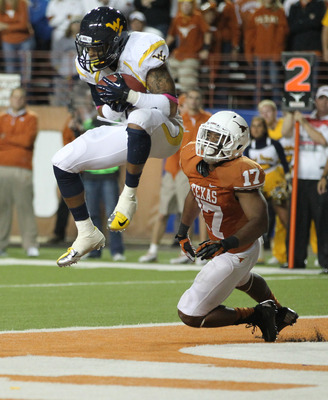 Tim Heitman-US PRESSWIRE
West Virginia's Stedman Bailey has 14 touchdown catches, five more than anyone else in the country.
Enough said, but I will say more.
Bailey does have the best quarterback in the nation throwing to him in Geno Smith, but Bailey makes so many of those difficult catches look easy. No wide receiver can claim the year that Bailey has had so far.
WR: Terrance Williams, Baylor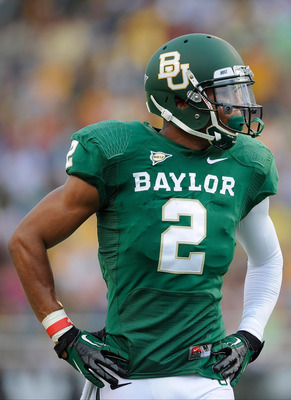 Jerome Miron-US PRESSWIRE
The 6'2", 205-pound Terrance Williams has made the transition from RGIII to Nick Florence much smoother than it could have been.
Williams has 830 yards and eight touchdowns through only five games. At this pace, he'll have almost 2,000 yards receiving and 19 touchdowns by the end of the year.
That's just insane.
And let's face it: Baylor needs players like Williams to score a lot of points, as the Bears defense can't stop anybody.
WR: DeAndre Hopkins, Clemson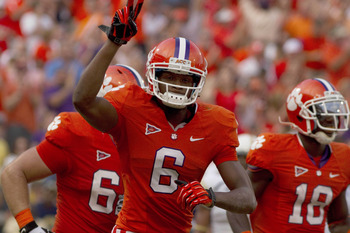 Joshua S. Kelly-US PRESSWIRE
DeAndre Hopkins needed to step up his game as Sammy Watkins got himself suspended for the first two games of the season.
And step up he did.
Hopkins is second in the FBS with 777 yards, and he already has eight touchdown grabs to his name. This allowed the Tigers to keep up their high-octane passing attack while Watkins was held off the field.
TE: Zach Ertz, Stanford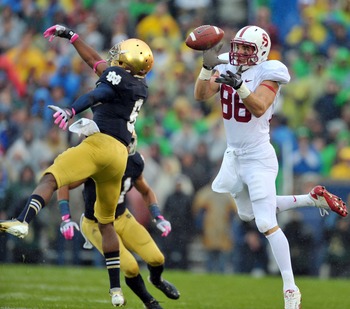 Matt Cashore-US PRESSWIRE
There really aren't many stellar tight ends this season, but Zach Ertz has certainly helped Stanford adjust to the post-Andrew Luck era.
His stats don't really blow you out of the water (371 yards, two touchdowns), but he steps up to make the play whenever needed. He has the most reliable pair of hands for a big man this year in the FBS.
OT: D.J. Fluker, Alabama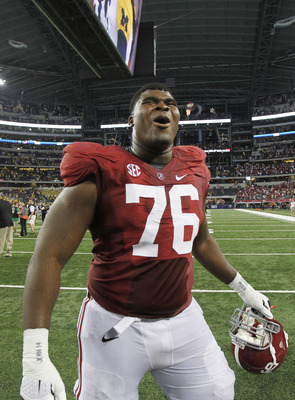 Tim Heitman-US PRESSWIRE
While the Crimson Tide lost an awful lot of talent to the NFL from their national championship season, the offensive line has stayed pretty much intact.
Take D.J. Fluker. He started all 13 games last season and helped give A.J. McCarron all the time in the world to compete passes against the likes of LSU.
The 6'6", 335-pound junior is a force to be reckoned with, and most teams just don't have what it takes to get past him.
OT: Luke Joeckel, Texas A&M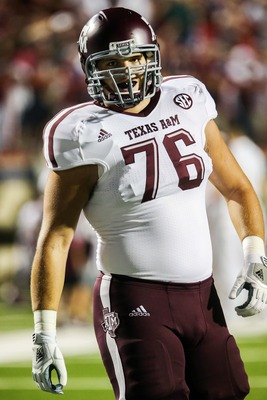 Kevin Jairaj-US PRESSWIRE
Johnny Manziel is getting a lot of attention at Texas A&M for his phenomenal freshman start, but Manziel's success wouldn't be possible without Luke Joeckel watching his back.
Such is life as an offensive tackle.
At 6'6" and 310 pounds, Joeckel makes sure that Manziel has room to run and time to throw each and every down.
OG: Jonathan Cooper, North Carolina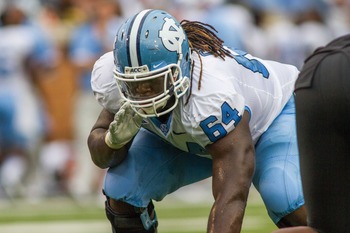 Jeremy Brevard-US PRESSWIRE
Have you noticed that North Carolina has quietly put together some impressive wins in the ACC over teams like Virginia Tech and Miami (Fla.)?
Jonathan Cooper is one of the great secrets in college football. The 6'3", 310-pound senior is key in opening up North Carolina's running game and getting the job done for the Tar Heels.
OG: Chance Warmack, Alabama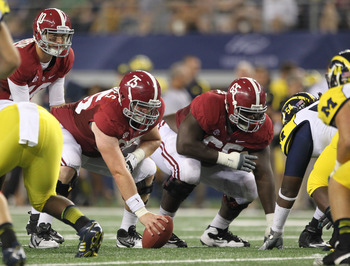 Matthew Emmons-US PRESSWIRE
The 6'2", 322-pound Chance Warmack doesn't get pushed around very easily. In fact, he's usually the one doing the pushing.
Just ask the Michigan defensive line. Or anyone else the Crimson Tide have faced so far this season.
He's part of the secret to Alabama's impressive running and passing games.
C: Barrett Jones, Alabama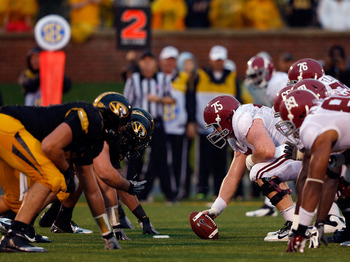 Jamie Squire/Getty Images
One of Alabama's secrets to success is winning in the trenches, and Barrett Jones is the leader of what may be the finest offensive line in the FBS.
Jones has played four of the five positions on the offensive line and was just moved to center this season. He's terrific at opening up holes for the run as well as keeping defensive linemen at bay while his quarterback makes the throw.
It's hard to quantify how much Jones does for this Alabama team, but let's just say that the Crimson Tide have an absolute beast hiking the ball each down.
DE: Jadeveon Clowney, South Carolina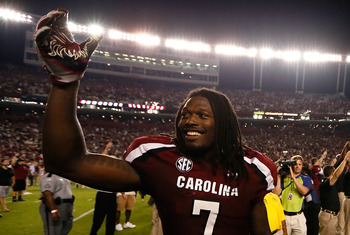 Kevin C. Cox/Getty Images
Jadeveon Clowney has certainly lived up to his status as the No. 1 recruit of the class of 2011.
So far, the true sophomore has picked up 31 tackles, 12 tackles for loss and 6.5 sacks in 2012. He's quick and disruptive off the edge and a nightmare for an offensive lineman.
Clowney has brought the South Carolina defensive line up to SEC-elite status, and that's no small praise.
DE: Damontre Moore, Texas A&M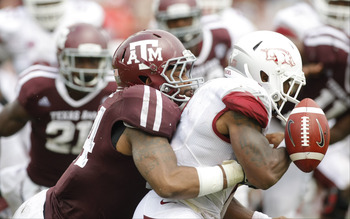 Brett Davis-US PRESSWIRE
Any coach in the SEC will tell you that the key to success in this conference is a solid defensive line.
Damontre Moore is as solid as it gets at defensive end.
Moore already has 52 tackles, 15 tackles for loss, 8.5 sacks, a forced fumble and even an extra point block to his name. That all adds up to an SEC-quality defensive end.
I guess that's one more headache for the poor SEC quarterbacks, as they'll have to run for their lives from Moore.
DT: Star Lotulelei, Utah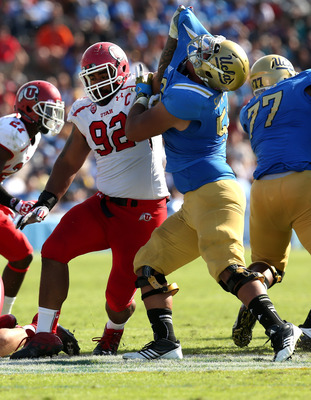 Stephen Dunn/Getty Images
Star Lotulelei's parents must have known what kind of defensive tackle he was going to be when they named him.
The big 6'4", 320-pound senior makes it almost impossible for anybody to run up the middle on the Utes. He has 24 tackles, six of those for loss, two sacks and two forced fumbles.
Just a word of advice for running backs out there: Go around, don't try to go through.
DT: Johnathan Hankins, Ohio State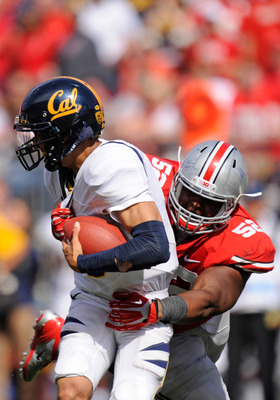 Jamie Sabau/Getty Images
At 6'3" and 322 pounds, Johnathan Hankins is an immovable object that can sure move when he needs to.
With 33 tackles on the season, including three for loss, Hankins is great at plugging up the middle so that nothing can get through.
"Big Hank" is a vocal leader of the Ohio State defense, and he's one of the key reasons why the Buckeyes remain unbeaten.
LB: Manti Te'o, Notre Dame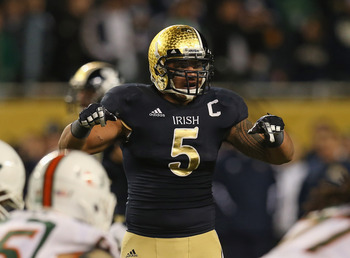 Jonathan Daniel/Getty Images
There's nobody at any position in the FBS playing more inspired football than Notre Dame's Manti Te'o.
After losing his girlfriend to a battle with leukemia, Te'o has stepped up his already formidable game for her.
Te'o's skills are a nightmare for any offensive coordinator. He has three interceptions, 59 tackles (two for loss) and six passes broken up.
He was also a key leader in the impressive goal-line stand against Stanford that kept Notre Dame's undefeated season alive.
LB: Jarvis Jones, Georgia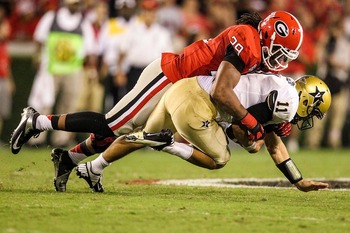 Daniel Shirey-US PRESSWIRE
If you're going to run anywhere near Jarvis Jones, you better hold onto the football.
Jones has forced three fumbles so far this season. That, along with his 9.5 tackles for loss and 5.5 sacks, shows how versatile and dangerous Jones is.
I bet USC is really kicking itself for letting Jones get away.
LB: Kyle Van Noy, BYU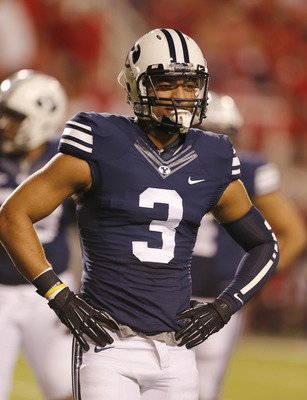 George Frey/Getty Images
Kyle Van Noy is disruptive at just about every level of what the offense tries to do.
Van Noy has 7.5 sacks, three forced fumbles, five pass break-ups and eight quarterback hurries. He's a constant presence in the opposing team's backfield, and whenever BYU needs a big play you can count on Van Noy to be right in the middle of it.
CB: Johnthan Banks, Mississippi State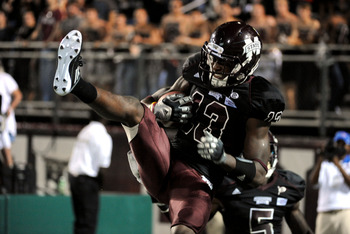 Chuck Cook-US PRESSWIRE
Johnthan Banks excels at making the big plays that get the job done.
Take his performance against Tennessee. The Bulldog offense was sputtering; the team needed a spark to get things going.
Banks took it upon himself to strip the football and recover the fumble to give his offense the ball and some momentum. That was a huge turning point in that game.
Never mind his three interceptions and 25 tackles to go along with that.
CB: Dee Milliner, Alabama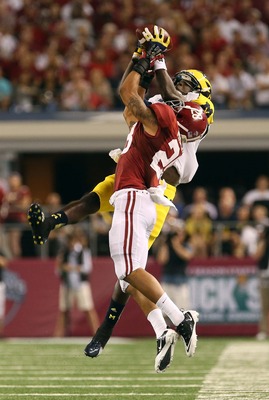 Kevin Jairaj-US PRESSWIRE
With so much of last year's national championship squad and No. 1 scoring defense gone to the NFL, the Crimson Tide has turned to the next generation of leaders to step up.
Dee Milliner has certainly been up to the challenge.
Milliner has two picks and 12 passes defensed so far in 2012. That makes quarterbacks think twice about sending the ball to his side of the field.
S: Phillip Thomas, Fresno State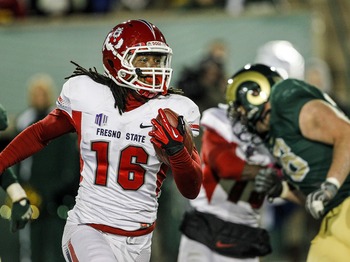 Troy Babbitt-US PRESSWIRE
Quarterbacks have to cringe when they throw to anywhere near Phillip Thomas. After all, Thomas leads the FBS with six interceptions, and two of those picks were returned for touchdowns.
And who says that the defense can't put points on the board?
Throw in two sacks and five tackles for loss, and you have a safety that can make a play anywhere on the field.
S: Matt Elam, Florida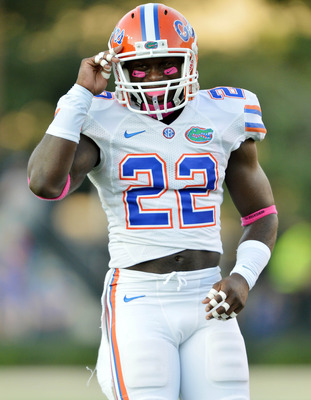 Don McPeak-US PRESSWIRE
Matt Elam does a bit of everything, just as a good safety should.
Need a pass broken up? He's got three.
Need someone to force a fumble? He did that against LSU.
Need someone to make a play? He's got 33 tackles, including three of them for loss and one sack.
K: Mike Meyer, Iowa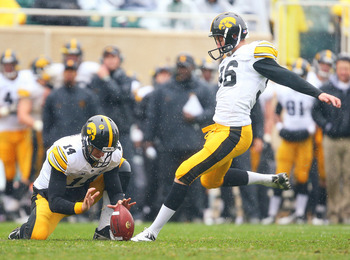 Mike Carter-US PRESSWIRE
It seems that fans don't appreciate their field-goal kickers until they need them most.
Mike Meyer came up big for Iowa by making two big field goals against Michigan State: one to keep them in the game in the first overtime and the second one to win it in the second overtime.
Meyer is 14-for-15 in field goals all season, with his only miss coming from 40 yards against Northern Illinois in the first game of the season. He's also a perfect 12-for-12 in extra points, which is another seemingly routine thing that can loom large when somebody misses one.
His long this season is from 50 yards out.
P: Ryan Allen, Louisiana Tech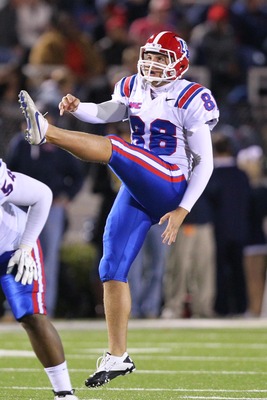 Nelson Chenault-US PRESSWIRE
When Ryan Allen punts, offenses better be ready to have to start well into their own territory.
Allen averages 47.8 yards per punt. He has a punt for 54 yards or longer in every single game he's played in this season, including a monstrous 71-yarder against Texas A&M.
PR: Marcus Murphy, Missouri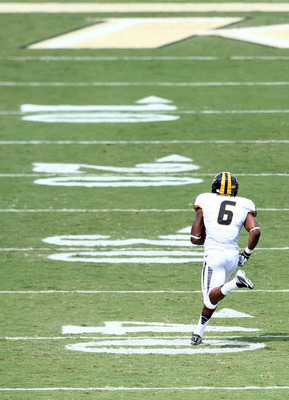 Douglas Jones-US PRESSWIRE
Marcus Murphy not only has the remarkable accomplishment of returning three punts for touchdowns, he also has done something that most may have thought to be impossible:
Murphy scored a touchdown on a punt return against No. 1 Alabama.
That's surely something he can brag about to his grandchildren years down the road.
KR: Dri Archer, Kent State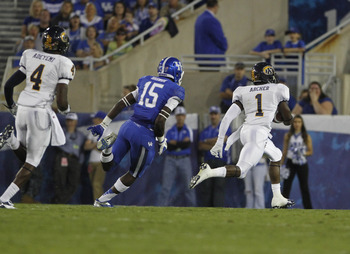 Mark Zerof-US PRESSWIRE
It's a feather in any kick returner's cap to return a kick for a touchdown.
Dri Archer already has three this season alone, and his long is from 99 yards out.
Opposing kickers would do well just to kick the ball through the back of the end zone instead of anywhere near Archer. It is better to place your opponent on the 25 rather than give up a quick six points.
Keep Reading