The Notre Dame Fighting Irish need to keep 4-star outside linebacker recruit Alex Anzalone committed to their 2013 class, and that means they may have to out-pitch the likes of the Florida Gators.
Anzalone has a history of decommitting, he was once committed to the Ohio State Buckeyes, and Mike Farrell of Rivals.com is reporting that another flip, this time to Florida, could be possible:
Mike Farrell, National/Mid-Atlantic: For me it's linebacker Alex Anzalone because of his recent visit to Florida. Anzalone has already flipped from Ohio State to Notre Dame, and now there is a lot of talk that another flip could be coming. He's being very quiet about everything, so where there's smoke there could be fire. Notre Dame fans have to be a bit worried.
Anzalone has been a big part of Brian Kelly's 2013 recruiting class, and one could argue that outside of 5-star linebacker Jaylon Smith, he is the most important defender currently committed to the Irish. He's got excellent size at 6'3'', 229 pounds and he's the sixth ranked player at his position according to Rivals, first ranked player in the state of Pennsylvania
How do the Fighting Irish keep him from flipping to the Gators? They have two distinct advantages: The play of their defensive front seven, and proximity.
Frederick Breedon/Getty Images
Florida is attracting a

to

n of attention in the world of college football right now, mainly because of their hot start. The Ga

to

rs are 6-0 on the season, an impressive 5-0 in the SEC and are currently ranked as the No. 2 overall team in the
AP Poll
. Florida is already a huge recruiting draw for elite talent, so now that they have the record

to

back it up, this makes them a very viable option for recruits.
That said, Notre Dame is just as big as a draw as Florida, and they too find themselves undefeated at 6-0, currently ranked No.5 in the AP Poll. The Fighting Irish have just as much potential as the Gators do, especially with the way their defense has been playing.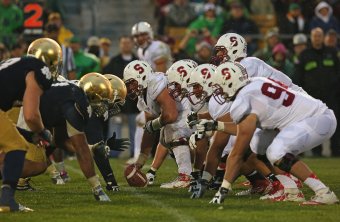 Jonathan Daniel/Getty Images
The Irish are currently ranked second in the nation in points against, only giving up 8.7 points per game, and much of their success has

to

be attributed

to

the very aggressive and

do

minant

play of their defensive front seven. With Smith and

Anzalone

aboard for 2013, the front seven should be just as impressive or even better moving forward, and that's exactly
what
Kelly and the Irish have

to

be telling the 4-star recruit.
He could have the chance to be part of a dominant defense at Notre Dame, and playing with a defender the caliber of Smith will only help Anzalone. Offenses are going to have to key in on Smith, which means Anzalone will have the freedom and space to make some big plays for Notre Dame. Florida's 2013 class is great as well, but Will Muschamp doesn't have a linebacker like Smith.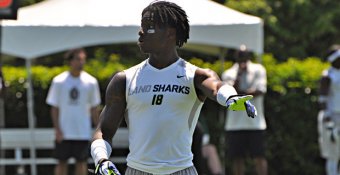 Notre Dame also needs to remind Anzalone of their proximity to Wyomissing, Pennsylvania, which could end up sealing the deal.
Remember, he had committed to Ohio State previously, so there seems to be a Midwest preference. Notre Dame is much closer to Anzalone's hometown than Florida, so if proximity plays any part in the linebackers' decision making process, Kelly would be smart to remind him of that fact.
Will Anzalone stay committed to Notre Dame?
Florida may be getting some attention, for good reason, but Notre Dame has a very strong recruiting pitch that should be able to keep Anzalone committed.
They are closer to home, and his potential impact for the Irish can be huge, especially with a talented player like Smith also on board.
If the Irish remind Anzalone of those two simple facts, they should be able to prevent the 4-star linebacker from flipping.