New York Jets vs. New England Patriots: 3 Key Matchups in First-Place Battle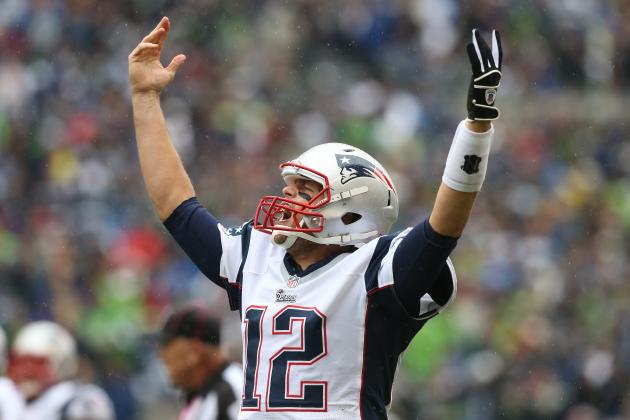 Otto Greule Jr/Getty Images
Tom Brady will have a far more enjoyable day against the Jets if they cannot bring pressure.
The Jets and Patriots are both an even 3-3—along with Miami and Buffalo—and will meet for the first time of the 2012 season this Sunday. For two teams with the same record, they have looked drastically different through the first six weeks of the season.
Seemingly everybody thinks the Jets are one of the worst teams in the league. Whenever I see them at the bottom of person X's power rankings, I laugh.
I guess it's just the cool thing to do.
Are they a playoff team? Probably not—but a bottom-five? They've bested the teams they are "supposed" to beat (Buffalo, Miami, Indianapolis) and lost to three quality ones (Pittsburgh, San Francisco, Houston).
New England is one of the best 3-3 teams in recent memory—or at least I think so. Their lost to Seattle was very un-Patriotic, but weird things seem to be the norm when eastern teams travel west.
Somehow, these two teams are now exactly the same through the first six weeks. The winner of the Week 7 game in Foxborough will rest atop the AFC East.
Here's an early look at three matchups that will play a large role in deciding the outcome.
Begin Slideshow

»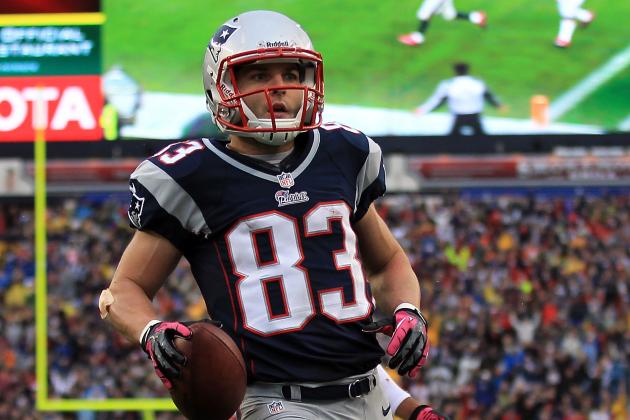 Jim Rogash/Getty Images
Discussion of Wes Welker's removal from the NE offense seem kind of silly now.
The injury to Darrelle Revis has been a major setback for the Jets defensively, but New England may highlight the deficiency more than any other team has done thus far.
New York has benefited from the fact that Antonio Cromartie would be the number one cornerback on probably half of the teams in the NFL. The problem with Cromartie, however, is that he can be great against tall, vertically oriented receivers, but consistently struggles against smaller, slot guys working in-routes.
Obviously, there is nobody who better exemplifies the latter group than Wes Welker.
In the past, the Jets have used Revis, one of the few defensive backs equally capable of going short or long, to guard Welker.
Will anyone on New York's active roster have Welker duty for the duration?
Kyle Wilson can be capable against shifty wide outs, but Welker will rip off huge gains on the three or four lapses per game that Wilson seems contractually obligated to give.
The Jets could run a Cover-2 with all their linebackers underneath, but Welker's too good to be blind to its holes.
Their best bet may come from safety LaRon Landry.
Look for him to deliver his trademarked wallops—penalized or not—when Welker goes over the middle. If Rex Ryan cannot devise a way to keep Welker under 100 yards, New York will be in trouble.
New England is 14-5 since 2009 in games in which Welker hits the century mark.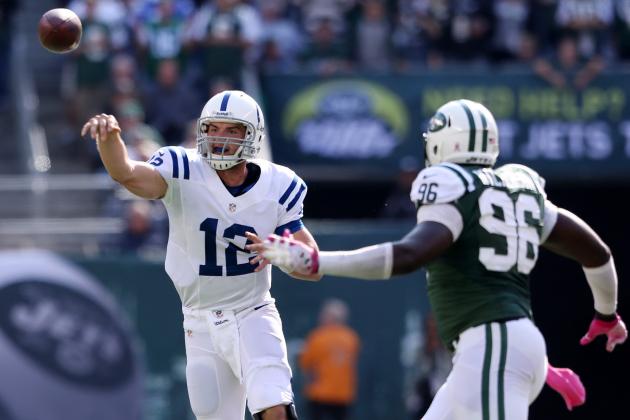 Nick Laham/Getty Images
Muhammad Wilkerson has not been much closer than this to opposing QBs.
The outcome of this battle could be the difference between a competitive, four-quarter game and a December 6, 2010 beat down.
Tom Brady is nearly unstoppable with ample time.
When blitzes fall flat? Forget it.
Unfortunately, almost all of New York's forced efforts to generate pressure have been unsuccessful—only Oakland and Jacksonville have fewer sacks—and nobody on New York has hit the quarterback more than three times.
Brady is not the only player who benefits from continual failed blitzes. Rex Ryan has always been about creating chaos, but this only works so long as the chaos impacts the other team.
The Pats have had great success running out of the gun or pass formations. With linebackers and ends standing up and moving every which way, draw plays have been particularly difficult for New York to handle.
Tackles are missed, and "pass rush specialists" like Aaron Maybin are so focused on getting pressure, they don't even realize the ball leaves the quarterback's hands.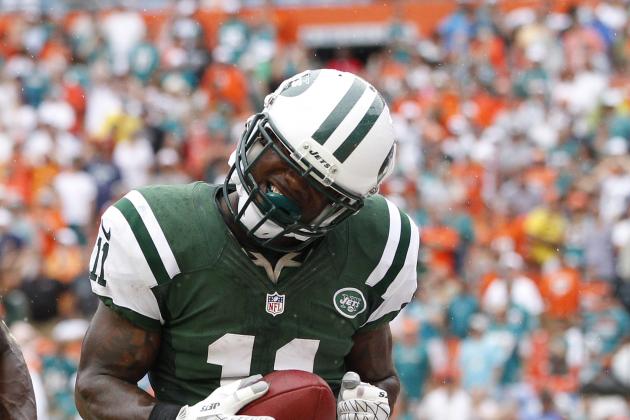 Joel Auerbach/Getty Images
Is Jeremy Kerley really New York's biggest threat?
Most matchups that get highlighted in articles like this one are about one team's strength against that of another.
Well, that's not the case here.
For New England's secondary, consistency is, well, secondary. Secondary to what? I am not sure.
They have the talent, but youth in their defense, lots of time with the lead, have led to countless blown coverages and big plays for the opposing offense. Case and point: Their game with Seattle.
Luckily for them, the New York Jets wideouts are harmless. Welker has outgained the entire Jets' remaining receivers.
New England has the league's fifth-worst pass defense; New York has the league's third-worst pass offense. It's the ultimate "something has got to give" game.
The question is, which unit will make the other look good?