Anderson Silva: Why a Potential Fight with Jon Jones Doesn't Need to Happen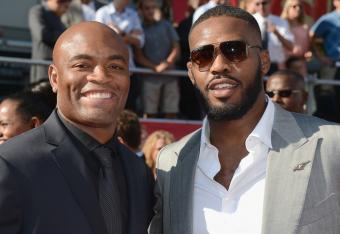 Frazer Harrison/Getty Images
Anderson Silva extended his UFC record unbeaten streak to 16 consecutive victories when he defeated Stephan Bonnar on Saturday night. Silva stepped up to face Bonnar to save the UFC 153 fight card, taking the fight on short notice and fighting at light heavyweight in the process. Immediately following the fight and perhaps even before the fight, the question for Anderson Silva was: Well, what's next?

There are three fights that fans are clamoring for Silva to take in the very near future. In Silva's weight division, you have the fast-rising and undefeated Chris Weidman. Weidman, who extended his unbeaten record to 9-0 by knocking out Mark Munoz in July, has been campaigning for the fight against Silva, but those requests have been falling on deaf ears.

Silva addressed the Weidman issue during the UFC 153 post-fight press conference:
"Let me tell you this. I think all athletes in this division will get their opportunity of going for the title. I don't have any intention of fighting with him. I think he still has a lot to do in the UFC. I'm in a comfortable position and I'm no longer a child, I'm 37 years old. He's a kid, he's starting and obviously this might happen, but I have two fights on my contract and I think one of them will be with (Georges) St-Pierre and I don't really have an intention of fighting him because I'm not a fool, I'm already an oldie, you know?"
Which brings us to fight No. 2, UFC welterweight champion Georges St-Pierre. Ah, the proverbial superfight between two of the top pound-for-pound fighters in the history of the sport. As Silva indicated, he's eager to face St-Pierre, but what about the welterweight champion? What's his take?

St-Pierre recently spoke to MMAWeekly's Damon Martin about a possible Silva fight, and he stepped around the question:
"I'm not focusing on that, I'm not speculating, I'm thinking about (Carlos) Condit right now, that's what I should do."
St-Pierre will face interim UFC welterweight champion Condit in the main event at UFC 154, which will take place on November 17 from the Bell Centre in Montreal, Quebec, Canada.
While the Silva vs. St-Pierre fight sounds great on paper, if St-Pierre defeats Condit and unifies the welterweight titles, the fight with Silva will almost be impossible to make. At this point, there are just too many talented fighters in that division looking for a shot at gold to deny them that opportunity.
To put together a fight between Silva and St-Pierre and deny those fighters a title-shot opportunity would be silly and short-sighted. The division is stacked with Martin Kampmann, Johny Hendricks, Nick Diaz, Demain Maia, a resurgent Jon Fitch and even perhaps Rory MacDonald.

However, if St-Pierre loses to Condit and is title-less on the night of November 17, the Silva fight becomes almost a no-brainer. That is unless the UFC and the fans still want to see St-Pierre face the man that briefly became his arch-enemy, the currently suspended Nick Diaz.

That brings us to fight No. 3, the one that would probably break records for UFC attendance, gate, pay-per-view and fighter purses—the superfight against UFC light-heavyweight champion Jon Jones.

Neither fighter seems interested in this fight at all, but one person who is interested is UFC president Dana White, who said after the fight, "I know my man says 'No, no, no.' But the amount of money that would be offered for that fight, I guarantee you I will make Anderson Silva say, 'Yes, yes, yes.'"

Addressing the money issue, Silva said, "Since I started training martial arts, I never thought about the money. I think everything I was able to get was because I did it with pleasure and love. When I started, there was no money in this and I didn't fight for money. Obviously, the money is important. We all need money, but I don't fight for the money."

The implication there is that no amount of money would sway Silva. That may be true, or it may be a ploy to raise his asking price. Only Silva knows that, but big picture perhaps the aging SIlva is looking at his legacy. To go down in UFC history as the greatest fighter to ever step into the Octagon would be a point of pride, and a fight against Jones would be a huge risk for Silva.

As a fan, the fights between St-Pierre and Jones are obviously the most interesting, but the reality is that they are mostly curiosities, there to satisfy our desire to see two of the best ever face off inside the Octagon. Would they sate our hunger or leave us wanting more?

Would I watch theses superfights? No doubt about it. But they don't need to happen. In fact, I would say they shouldn't happen, because sometimes it's better to leave things out there in the realm of "what if." It leaves us with endless debate, and it prevents us from being let down if our expectations about how these fights will look are left unrealized.

Silva versus Jones is our white whale—I say leave it that way.

This article is
What is the duplicate article?
Why is this article offensive?
Where is this article plagiarized from?
Why is this article poorly edited?