Kyle Rudolph and the NFL's Top Young Tight Ends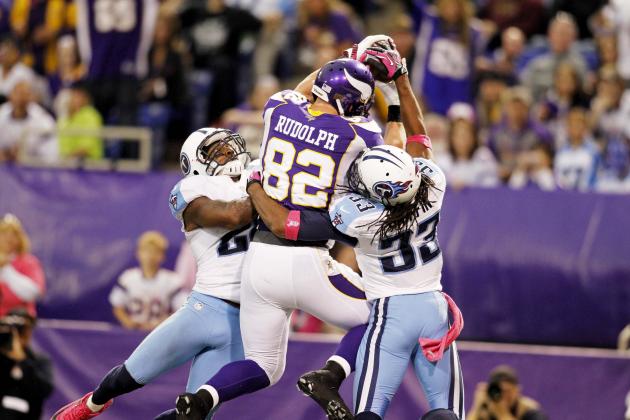 Bruce Kluckhohn-US PRESSWIRE

The NFL is a pass-happy league, and the assortment of young immense tight end talent is helping many quarterbacks.
After epic 2011 seasons, Rob Gronkowski and Jimmy Graham are dealing with some growing pains that typically come after legendary campaigns.
Those two are still probably the best tight ends in the game, but a faction of other youthful tight ends have staked their claims as elite receiving targets.
Kyle Ruldoph, anyone?
Let's take a look at the game's most prolific tight end options, guys who have youth and vast potential on their side.
Begin Slideshow

»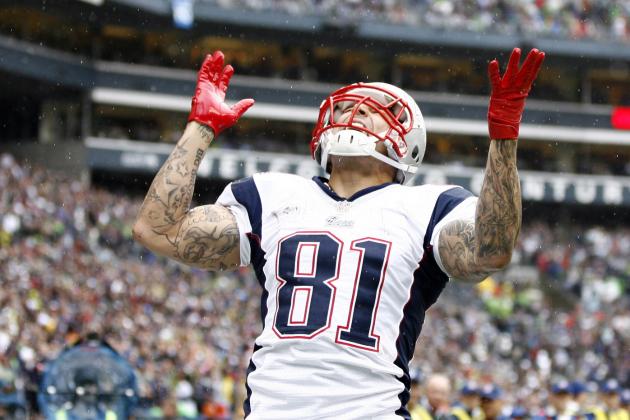 Joe Nicholson-US PRESSWIRE

You know how every small slot receiver is compared to Wes Welker? Pretty soon, every ultra versatile fullback tight end hybrid will be compared to Aaron Hernandez.
The Patriots have a way of setting trends, don't they?
Actually, guys like James Casey and Delanie Walker already are.
At 6'1'' and 245 pounds, Hernandez is "undersized" compared to the prototypical tight end. But his deceptive lateral agility and speed make him a valued commodity in New England's offense.
He can run the football, catch swing passes and amass good chunks of YAC. He's deadly in the slot against linebackers or nickel corners and can even play out wide.
The 22-year-old Florida alum returned from an ankle injury against the Seattle Seahawks and caught six passes for 30 yards with a touchdown catch.
He's easily one of the premier youthful tight ends in football.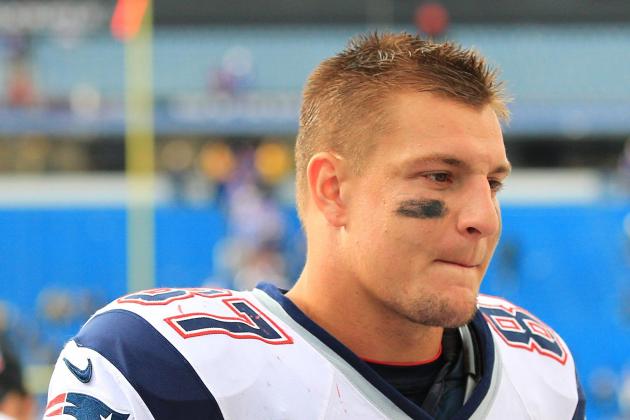 Kevin Hoffman-US PRESSWIRE

Gronkowski hasn't been, well, Gronkowski to start the 2012 season, but his 2011 masterpiece can't be forgotten.
To be fair, it can't be easy to rekindle the magic of a 1,327-yard, 17-touchdown performance, and the Gronk certainly hasn't been a thorough disappointment to start the year.
He has 29 receptions for 356 yards and three touchdowns through six games, and that's with opposing defenses zeroing in on him on every play.
At 23 years old, the mammoth 6'6'', 265-pound Gronkowski is one of, if not the best tight end in the game.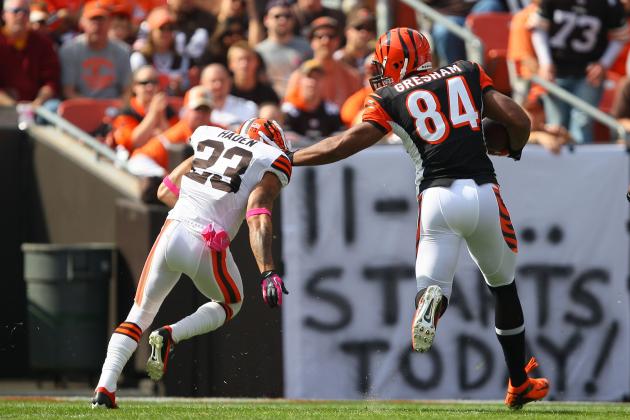 US PRESSWIRE

Gresham is finally living up to the hype that made him a first-round selection in 2010.
Another physical specimen, the 6'5'', 260-pound Oklahoma alum has 25 grabs for 302 yards and two scores, and he scored a tremendous 55-yard TD against the Cleveland Browns in Week 6.
Superior athletic ability and surprising speed make Gresham have upside that's through the roof.
It won't be easy to get targets with A.J. Green the clear focal point in the Bengals offense, but Gresham has the talent to be an elite tight end in today's NFL.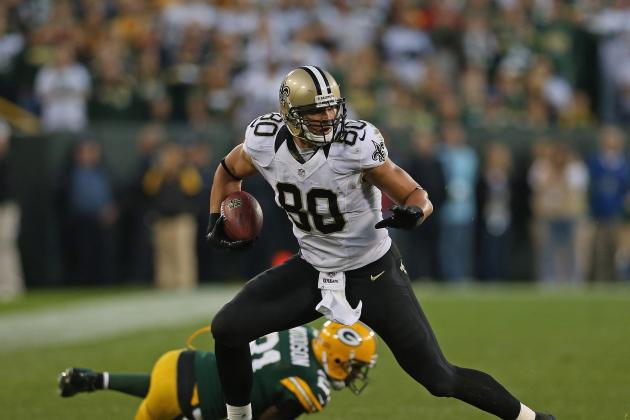 Jonathan Daniel/Getty Images

Graham was the only tight end that rivaled Gronkowski's amazing 2011, and the former University of Miami basketball player was one of the trendiest fantasy football picks this summer.
At 6'7'' and 265 pounds, Graham runs like a 6'2'', 210-pound wide receiver and has enormous hands that engulf the football.
Unfortunately, the tremendously gifted tight end has dealt with a nagging ankle injury this season, and it's hampered his ability to produce the way he did a year ago.
Through five games, Graham has 25 catches for 252 yards with three touchdowns. His team had a bye week in Week 6, so maybe the extended layoff will lead to a 100 percent healthy Graham in Week 7.
Still, he's easily a freakishly frightening matchup for any defender.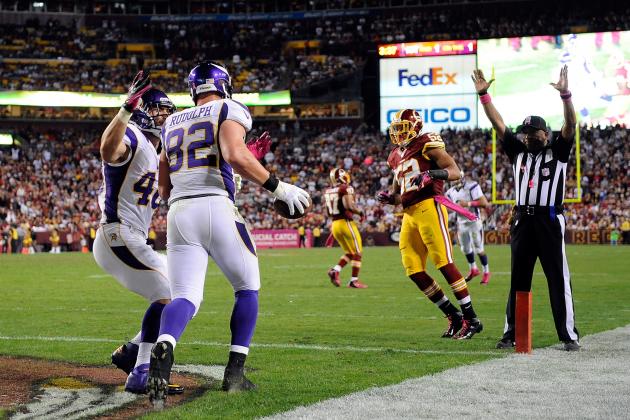 Patrick McDermott/Getty Images

When Rudolph entered the NFL last season, everyone knew it'd just be a matter of time before he turned his potential to production.
At 6'6'' and 260 pounds, the Notre Dame grad is an extremely swift runner and has gargantuan hands to reel in passes anywhere in his vicinity.
He had a modest 26-catch, 249-yard, three-touchdown effort as a rookie, but through six games this year, he has 25 grabs for 225 yards and five scores.
Rudolph and Percy Harvin have led a surprisingly effective Minnesota Vikings' passing offense.
At 22, the future is exceptionally bright for Mr. Rudolph.