Aaron Rodgers and the 5 Greatest Passing Performances in Packers History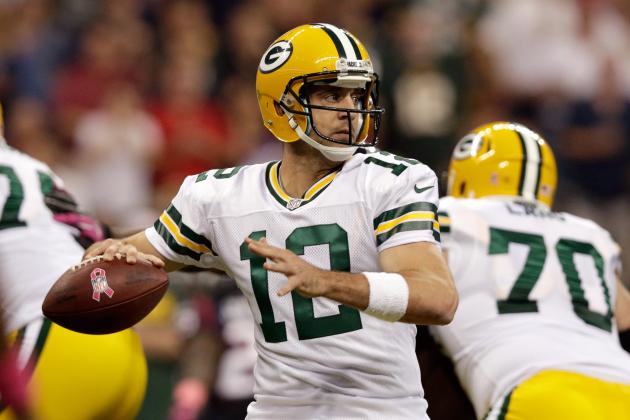 Scott Halleran/Getty Images

What can you say about Aaron Rodgers of the Green Bay Packers, last year's NFL MVP. After Sunday night's performance against the Houston Texans, Rodgers has thrust himself into being a legitimate candidate to win the same award this year.
After all, Rodgers threw six touchdown passes, without a pick, for 338 yards. Those stunning numbers has also made Rodgers the top rated quarterback in the NFL, as he now has 16 touchdown passes compared to four interceptions for 1,637 yards and a quarterback rating of 105.4
It makes perfect sense in the overall scheme of things in the NFL, as Rodgers is the top rated quarterback in NFL history with a mark of 104.2. He has now thrown 148 touchdown passes, compared to just 42 picks, for 19,003 yards in his career.
Rodgers also broke the all-time record for quarterback rating last season, as he had a 122.5 rating.
Add to that, Rodgers is also the top-rated quarterback in NFL postseason history as well.
He's thrown 15 touchdown passes against only four picks for 1,781 yards, and has a career QB rating of 105.5 in the postseason. Rodgers was also the MVP of Super Bowl XLV, when he threw three touchdown passes and no interceptions for 304 yards.
Bottom line, Rodgers tied the franchise record of touchdown passes (six) in a game. That's quite a feat if one looks back on the long and storied history of the Packers.
I'm going to list five other quarterbacks that have also left their mark in the Green Bay record book with their passing performances.
This slideshow will only look at quarterbacks since the Vince Lombardi-era began in Green Bay, though it's worth noting the Packers did have a couple of pretty good quarterbacks before then, including Hall of Famer Arnie Herber and Cecil Isbell, who once threw five touchdown passes in a game.
Okay, here we go...
Begin Slideshow

»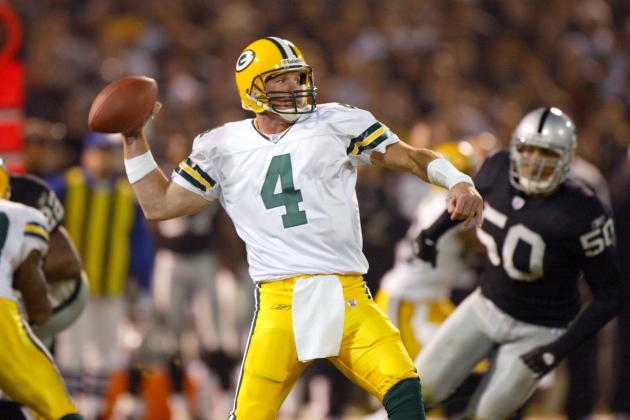 Jed Jacobsohn/Getty Images

Brett Favre holds a number of marks in terms of single-game performances in the 16 seasons he played with the team. He threw five touchdown passes in a game three times and threw four touchdown passes in a game a whopping 16 times.
A couple of games stick out in the regular season.
One was when he played on a badly sprained ankle against the Chicago Bears at Lambeau Field in 1995 and threw five touchdown passes, 336 yards and zero picks in a 35-28 victory over Da Bears.
The other was in 2003 on a Monday night game against the Raiders in Oakland, just a day after his dad Irvin had died. Favre played with a heavy heart, but he also played the best game of his career that surreal evening. He threw for 399 yards, four touchdown passes and no interceptions in a 41-7 thrashing of the Silver and Black.
Favre was not as awesome in the postseason, as he only had a 12-10 record as a Packer. That being said, if not for Desmond Howard's performance in Super Bowl XXXI, the Mississippi gunslinger played well enough to garner the MVP award that day, as the Packers defeated the New England Patriots 35-21.
Favre threw two touchdown passes in that game and ran in for another to get his first and only Super Bowl title.
Overall in two Super Bowls for the Packers, Favre threw five touchdown passes compared to one interception.
Favre was the NFL's MVP for three consecutive seasons (1995-1997), but never won a passing title as a Green Bay quarterback.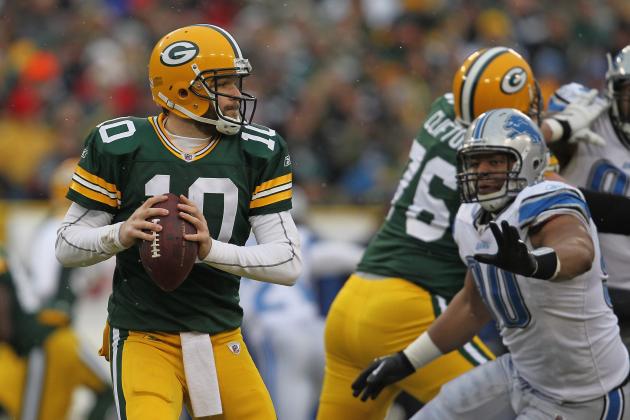 Jonathan Daniel/Getty Images

Matt Flynn made himself quite a big payday on New Year's Day this year, as he threw six touchdown passes and one pick in a 480-yard effort against the Detroit Lions at Lambeau Field.
It was a shootout-type of game, as his opponent at quarterback, Matthew Stafford, threw for 520 yards and five touchdown passes in a 45-41 win by the Packers.
Flynn broke the all-time record for touchdown passes and passing yards for the Packers that day. Aaron Rodgers just tied the touchdown mark on Sunday night, but Flynn still owns the yardage record.
Rodgers didn't play the last regular-season game because head coach Mike McCarthy was resting several players for the playoffs.
Flynn made that start pay off, as he ended up signing a three-year deal worth $19 million, with $10 million of that guaranteed with the Seattle Seahawks this year.
Ironically, Flynn was beaten out for the starting quarterback job in Seattle by rookie Russell Wilson, formerly of the Wisconsin Badgers.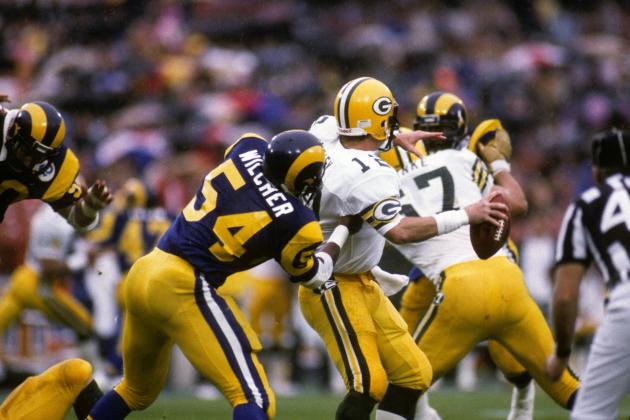 George Rose/Getty Images

Lynn Dickey had himself a few very good single-game performances with the Packers. In fact, Dickey threw five touchdown passes twice, once against the Saints in 1981, and once against the Oilers in 1983.
Dickey's best game may have been in the postseason however, as he threw for four touchdown and 260 yards in a 41-16 blowout of the St. Louis Cardinals at Lambeau Field in the 1982 postseason.
He followed that up by throwing for 332 yards against the Cowboys the next week, but he also threw a key interception that was returned for a touchdown in the 37-26 loss in Dallas.
Dickey is fourth in franchise history with 133 touchdown passes, behind Brett Favre (442), Bart Starr (152) and Aaron Rodgers (148).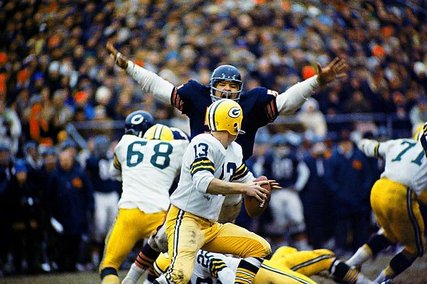 If Don Horn could have played every game like it was the last game of the season, who knows how many records he would have broken as a Green Bay quarterback.
First, in 1968, Horn's second year with the Packers, Zeke Bratkowski got the start at quarterback in the last game of the season against the Bears in Chicago. However, Bratkowski was injured in the game and Horn came to the rescue.
Horn rallied the Packers and threw two touchdown passes as the Packers beat the Bears 28-27. Horn also had a 142.4 quarterback rating that day.
But that was nothing.
The following year, also on the last day of the season, Horn got the start against the St. Louis Cardinals at Lambeau Field. Horn delivered again that day, throwing for 410 yards and five touchdown passes in a 45-28 victory by the Packers.
Jonathan Daniel/Getty Images

Last, but certainly not least, are the exploits of Bart Starr. Starr was what you would call a "money" quarterback. The bigger the game, the better he played.
Starr led the Packers to five NFL championships in seven years, including the first two Super Bowls, in which Starr was named MVP in each game.
Starr also won three passing titles (1962, 1964 and 1966).
Obviously, Starr was outstanding in the two Super Bowl victories, but his best game preceded the first Super Bowl.
It was the 1966 NFL Championship Game against the Dallas Cowboys. The winner of that game would go on to Super Bowl I.
In that game, Starr threw for 304 yards, four touchdown passes and no interceptions.
1966 was a special season for Starr, as he was not only the MVP of Super Bowl I, but also the NFL's MVP that year as well.
Starr was 9-1 for his career in the postseason, and threw 15 touchdown passes against three little picks. Like I said, Starr was a "money" quarterback. He was also a winner.