After writing an article about 10 of the worst dives in football history a couple of weeks ago, which you can check out here, it got me thinking.
There's no two ways about it: players who blatantly dive are cheating to gain their team an advantage.
Diving should be treated in the same way as a horrendous tackle that injures an opponent.
When that happens, and it's a straight red card instead of two bookings, a player is banned for three games.
If a player dives to get his team an advantage, whether it's to earn a free-kick or a penalty, sometimes his opponent is sent off.
In my eyes, that's bringing the game into disrepute.
It can cost clubs their place in the next round of a cup competition. It can be the difference between staying up and being relegated. Sometimes, something like that can cost a manager his job.
I understand that in the modern game, a player can be traveling so fast that even the slightest contact can knock him over and that's fine.
What isn't fine is players that go looking to be fouled and then make the most of minimal contact.
One of the worst offenders in the English Premier League was former Chelsea striker, Didier Drogba.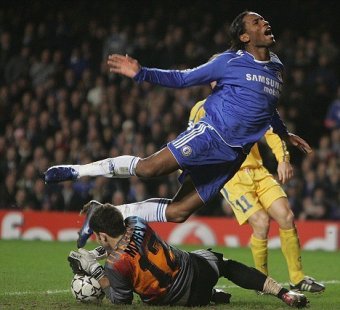 For a player that was so powerful and strong, it seemed like he'd get blown over by a breeze if he felt his team could get an advantage.
Drogba's diving antics are often the reason why he isn't held in the same high regard as other top strikers of the last decade.
It isn't just Drogba though.
Over the last 15 years or so, there's been a culture developing within football that it's OK to dive, because the only thing that happens to anyone who gets caught is that they'll get booked.
I don't agree that it's just "foreign" players who are guilty of diving and I strongly disagree with the comments made by ex-England striker Michael Owen at the Leaders in Football conference last week.
Owen was speaking with Ben Smith and David Ornstein of BBC Sport last week, in an interview that you can read here, and among his comments, he said:
It's worse than it was 10 years ago with the foreign influence of players coming from South America, Spain and Italy.
Later on in the same interview, Owen did go on to say that nowadays, English players are just as guilty of it.
It doesn't come with your background, or where you're from.
The problem is that diving has become such a problem in football over the last 15 years that kids growing up see their idols like Luis Suarez, Gareth Bale and Danny Welbeck diving, and they think it's OK.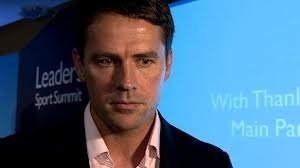 It isn't: diving is cheating and the football authorities, whether it's the national FA, UEFA or FIFA have to clamp down on this epidemic.
But what punishment should these cheats receive if they're caught?
It's simple.
If any football player has both his feet off the ground when he makes a tackle, he gets a three-game ban.
If any player is caught cheating (i.e. diving), they should get the same ban.
Sure, it's going to be difficult to implement these bans and determine whether or not players are diving, so that's where technology comes in.
Are you seriously telling me that in this day and age that we can't use the hundreds of different camera angles at each game to tell whether or not someone has cheated?
It may take 10-15 seconds to check it out, but that's it.
Something that's as quick as that isn't going to interrupt the flow of a game and it's one way to out these cheats who are ruining the game we all love.
Even if it's not something that can be done during a game, handing out retrospective bans is another way to stamp it out.
The only way we're ever going to be able to manage diving in football is by naming and shaming the guilty parties.
Football clubs, as well as national and international football authorities, have a responsibility to get these cheats sorted out. Otherwise, this problem will only get worse and the game will suffer.
That's something that none of us want to see.