10 Most Important College Football Freshmen for Week 8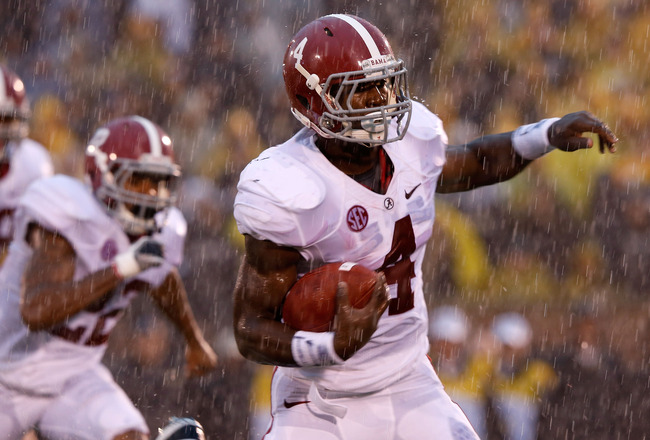 Jamie Squire/Getty Images
With players becoming athletic freaks over the years, we are seeing more and more young guys step onto the field much earlier. Back in the days, you wouldn't dare to put a kid straight out of high school on the football field, but nowadays, it is a normal thing to do and is something we are seeing a lot more often.
These rookie college football players are not only becoming starters for many clubs around the country, but are taking on roles as the key players that lead their respective teams to success. Many squads simply wouldn't be where they are at in the rankings if it weren't for players stepping up their first year on campus.
And with the college football schedule getting more and more difficult, it is more crucial than ever that some of these youngsters continue to perform at a high level.
With Week 8 of the college football season quickly approaching, here are 10 freshmen that must step up and have a big game in order for their team to win.
Mike Evans, WR, Texas A&M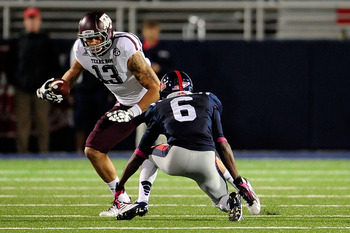 Stacy Revere/Getty Images
Week 8 Opponent: vs. LSU
While everyone believed that Ryan Swope was going to be the top receiver on this Aggies team, it is freshman receiver Mike Evans that has made the biggest impact. The 6'5", 218-pound receiver leads the team with 36 receptions for 549 yards and two touchdowns.
Due to his massive size and great route running skills, Evans is a true test to handle for even the best defensive backs in college football. He is coming off of two straight 100-yard receiving performances and will need another big day if the Aggies are going to upset the LSU Tigers this weekend.
Rushel Shell, RB, Pittsburgh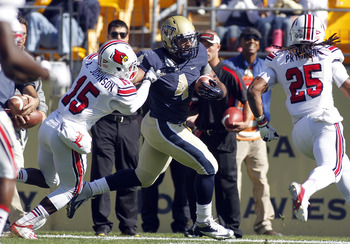 Justin K. Aller/Getty Images
Week 8 Opponent: At Buffalo
You would think that beating Buffalo this weekend wouldn't be difficult for Pittsburgh, but this is the same team that lost to Youngstown State in the season opener. And with a 2-4 start to the season, the Panthers are in serious danger of missing a bowl game for the first time since 2007.
It is clear that Ray Graham is a shell of what he once was, so it is up to freshman Rushel Shell to get the ball rolling for this offense. The former 4-star recruit has the perfect combination of size and speed and also has great hands for somebody coming out of the backfield.
Shell must have a big day if Pittsburgh would like to keep its slim bowl dreams alive in 2012.
Stefon Diggs, WR, Maryland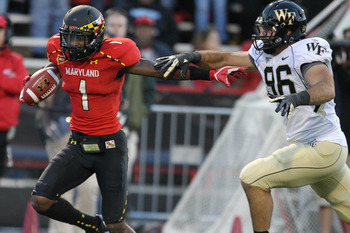 Mitch Stringer-US PRESSWIRE
Week 8 Opponent: vs. North Carolina State
After looking like one of the worst teams in the country early on, Maryland is showing signs of life lately, as the Terrapins have knocked off both Wake Forest and Virginia. But while the team has improved to 4-2, the offense is still one of the worst in the nation, and that's not good when playing against a NC State team that is averaging 280 yards in the air.
The Wolf Pack will find ways to put points on the board, especially having an extra week to prepare. Wide receiver Stefon Diggs has to have a big day for Maryland, both on offense and on special teams if an upset is to take place. The freshman receiver is the top playmaker for this team and is a threat to score every time the ball is in his hands.
D.J. Foster, RB, Arizona State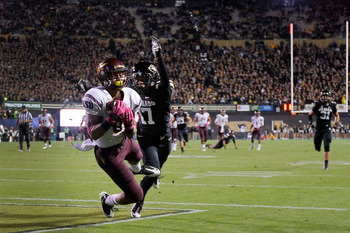 Doug Pensinger/Getty Images
Week 8 Opponent: vs. Oregon
Arizona State has the best defense in the Pac-12, but let's be serious, it is going to take some solid offensive performances from Arizona State to win this game as well.
Running back D.J. Foster has made plays all over the field for Arizona State, averaging six yards a rush, hauling in nearly 300 receiving yards and scoring four touchdowns. The speedy and versatile playmaker actually turned down Oregon to attend Arizona State, and he will need a fantastic performance to match what the Ducks are doing.
It will be tough, but if Foster can continue producing at a high level, this game could be closer than you think.
Devonte Fields, DE, TCU
Jerome Miron-US PRESSWIRE
Week 8 Opponent: vs. Texas Tech
Texas Tech showed last week that it is one of the better defensive units in the country, but don't sleep on this TCU squad. The Horned Frogs are actually second in the Big 12 in total yards allowed, and the 24 percent conversion rate on third down is the best in the conference.
A lot of that success has to do with Devonte Fields, who currently leads the Big 12 with 6.5 sacks and leads the team with 11.5 tackles for loss. He is one of the more productive pass-rushers in all of college football and has become a player that all offensive lines must be aware of.
If Fields is able to rattle quarterback Seth Doege, TCU could improve to 6-1 and improve the Horned Frogs chances of winning the Big 12 this year.
Shaq Thompson, S, Washington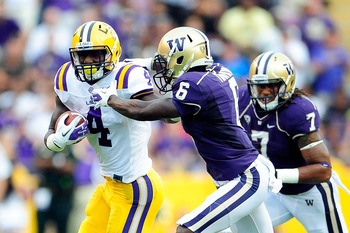 Stacy Revere/Getty Images
Week 8 Opponent: At Arizona
Shaq Thompson was one of the top safeties from the 2012 class and been used a lot as the starting nickleback for the Huskies. He currently has 20 tackles and 3.5 tackles for loss on the season and is getting more and more playing time as the weeks go by.
The athletic safety, who isn't afraid to get his hands dirty in run support, will certainly see a lot of playing time against Arizona this weekend. The Wildcats are currently the fifth-best passing team in the country and are averaging over 30 points per contest.
Thompson's instincts and cover skills will come in handy against this offensive powerhouse.
Karl Joseph, S, West Virginia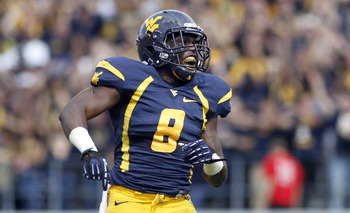 Justin K. Aller/Getty Images
Week 8 Opponent: vs. Kansas State
Karl Joseph plays the safety position for West Virginia, but has the mentality of a linebacker considering he played the position throughout his high school career. Despite being a true freshman, Joseph is second on the team in tackles with 43 and has broken up four passes. He is a player that the coaching staff cannot stop raving about and is somebody that can help the defense in many different ways.
With a tricky quarterback such as Collin Klein on tap for this Mountaineers defense, players such as Joseph must do what they can to limit his big runs. He must stay disciplined in the backfield, but also be able to cut off his running lanes and force the senior quarterback to throw the ball more than he would like.
T.J. Yeldon, RB, Alabama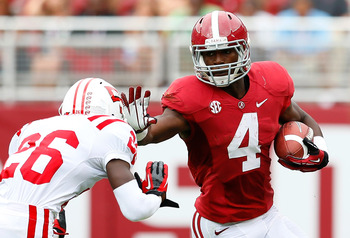 Kevin C. Cox/Getty Images
Week 8 Opponent: At Tennessee
Alabama will take to the road for the second straight week and play a Tennessee football team that is capable of pulling off an upset. What makes things a little scary for the Crimson Tide is that quarterback A.J. McCarron did suffer a knee injury last weekend, but according to al.com, he will practice and should be fine to play in the SEC matchup.
Still, a knee injury to a starting quarterback doesn't sound good, which likely means a heavy dose of the running game. True freshman T.J. Yeldon has exploded onto the scene, averaging over six yards a carry and producing three plays of over 20 yards.
Even though McCarron will likely not miss any time, I'm sure Nick Saban will be real careful with the junior signal-caller.
Put the ball into the belly of the playmaker!
Duke Johnson, RB, Miami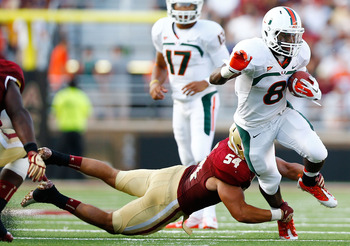 Jared Wickerham/Getty Images
Week 8 Opponent: vs. Florida State
Miami has to be an upset team after losing two straight games, including a home game to North Carolina last weekend. But all of that disappointment will be forgotten this week if the Hurricanes can find a way to knock off the highly-ranked Florida State Seminoles.
The only way Miami is going to do something like that is if running back Duke Johnson touches the ball a lot. Florida State has a terrific defense, which will make it hard for Miami to produce points, but Johnson is a home run hitter that can take it the distance. He has touchdowns running the ball, catching and on special teams and has six plays of over 20 yards.
This is a rivalry that has been decided by single-digits in 10 of the last 11 meetings. The only way this year's contest is going to remain close is if Johnson gets his hands on the football early and often.
Johnny Manziel, QB, Texas A&M
Stacy Revere/Getty Images
Week 8 Opponent: vs. LSU
With the way the Tigers offense has performed all year, there is little doubt that the Texas A&M defense can keep this contest close.
The real question is, can Johnny Manziel continue his playmaking ways and figure out how to pull off an upset?
The freshman quarterback is completing 67 percent of his passes, has rushed for 676 yards and produced 24 total touchdowns in the first six games. However, he will have to have the game of his life if the Aggies are going to pull off one of the bigger upsets of the college football season.
This could get interesting.
Keep Reading