Live Report: TNA Bound for Glory 2012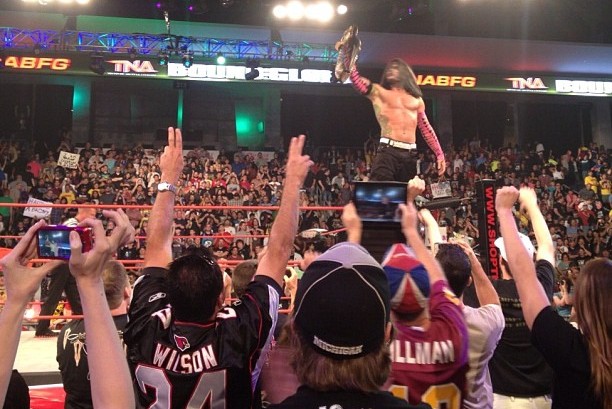 Credit: ImpactWrestling.com
TNA presented their biggest pay-per-view event of the year—and some would call it the biggest in their history—on Sunday night. Bound For Glory took place on October 14 in Phoenix, Ariz., in front of a near-packed house at the Grand Canyon University Arena.
I was lucky enough to be in attendance at the event, and want to share my personal perspective on the event for you. This won't be filled with the same insightful analysis you've come to expect out of me—although that will be present. The live event experience is very different than the television viewing experience, and it does change your perspective on an event.
So read on for personal perspective, professional analysis and some great fun as I take my very own look back at TNA's Bound For Glory 2012.
Begin Slideshow

»
In case you missed it, here are the results of the event.
Rob Van Dam pinned Zema Ion following a Five-Star Frog Splash to win the X-Division Championship in 8:05.
Samoa Joe forced Magnus to submit in 9:10 with a rear-naked choke to retain the Television Championship.
James Storm pinned Bobby Roode in 17:25 of a Street Fight after a Last Call Superkick. King Mo was the special enforcer.
Joey Ryan pinned Al Snow in 8:25 after Matt Morgan interfered.
Chavo Guerrero, Jr. and Hernandez defeated Christopher Daniels and Kazarian and A.J. Styles and Kurt Angle to capture the World Tag Team Championships in 15:35 when Hernandez put Daniels down with a Border Toss and Chavo pinned him following a Frog Splash.
Tara pinned Miss Tessmacher in 6:10 with a Widow's Peak to win the Knockouts Championship. After the match Tara introduced her "Hollywood Boyfriend" to be Jessie Godderz of Big Brother fame.
Aces and Eights defeated Bully Ray and Sting in 10:30 when Bully Ray was pinned after the "VP" of Aces and Eights put him through a table with a modified spine buster. Hulk Hogan joined Sting and Bully Ray to unmask "VP" who was revealed to be Devon.
Jeff Hardy pinned Austin Aries with a Swanton Bomb in 23:10 to win the World Championship.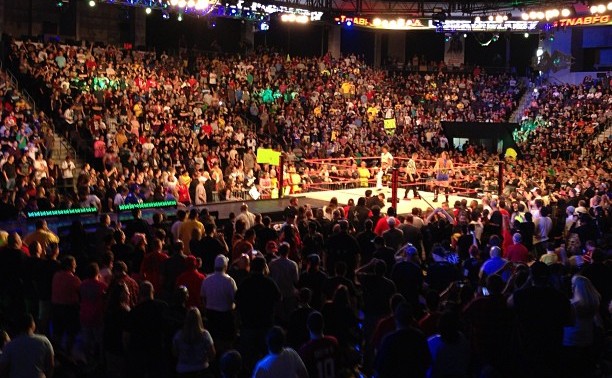 Credit: ImpactWrestling.com
TNA made a calculated risk when they selected Phoenix for such a landmark event in their history. Phoenix, historically, is a pro-WWE town that struggles to draw for any form of independent wrestling.
TNA's previous two state-side pay-per-view outings outside of their Orlando, Fla., home were Philadelphia and Arlington, areas rich in wrestling history. They are also successful areas for independent wrestling, a trait that usually leads to success for TNA.
Phoenix offered neither of those characteristics.
But I am proud to say that the city of choice gave TNA all that they asked for and more. I personally spoke to several fans who drove out from Los Angeles, Texas, Utah and New Mexico, showing that TNA has a loyal west coast fan base that will support the product.
The former WWE stars definitely drew a big reaction. Rob Van Dam was the perfect choice to kick things off, as fans were chanting his name outside the arena before the doors opened. Outside of Van Dam; Al Snow, Kurt Angle, Sting (though not WWE), Bully Ray, Hulk Hogan and Jeff Hardy all got a great reaction.
However, there were several "homegrown" talents that received equal reactions. Samoa Joe was very over with the crowd, as was AJ Styles. And Austin Aries couldn't have drawn a heel reaction if he had to.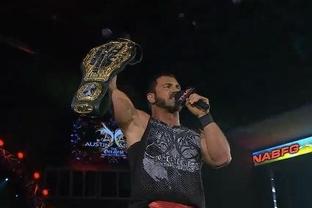 Credit: ImpactWrestling.com
TNA promoted a pre-show for Spike TV that was misleading to some. At different times, the company promoted "matches" as part of the pre-show, leading many fans to expect live matches during the hour before the pay-per-view started.
This was obviously not the case.
In the arena, we saw very little during the pre-show. We saw one promo on the big screen, and had an in-arena only promo by Austin Aries (pictured). It struck me as a promo designed to introduce Aries to the crowd. It was immediately apparent that an introduction wasn't needed, as Aries drew a positive reaction from the crowd and that reaction wouldn't go away.
He tried to get fans behind Jeff Hardy, even telling the crowd to "chant Jeff Hardy's name all you want," but it just lead to more chants for Aries himself.
I do think the pre-show was a major miss for TNA. They had an hour of television time and several name talents that didn't appear on the card. It would have been very easy to book Mickie James vs. Gail Kim (or James and ODB vs. Kim and Madison Rayne) along with Mr. Anderson vs. Robbie E, Gunner or Kid Kash for the pre-show.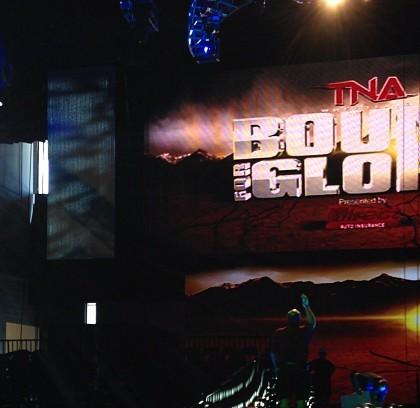 Credit: ImpactWrestling.com
WWE is known for constructing giant sets with many LED features. TNA went in a completely different direction, which was a smart move on their part.
TNA took advantage of the GCU Arena's three pre-existing LED screens, including the 15' by 35' screen located above the entrance. The digital ribbon that surrounds three sides of the arena was a great touch, something you don't usually see as TNA tends to use older arenas.
The ramp to the ring was another great touch from TNA here. The wrestlers made their entrance with fans seated on either side, and stayed on an equal level with the ring their entire way out.
I was concerned with the amount of fighting we'd see on the ramp, but the company limited it to three matches—the top three—and it worked. Any more would have felt overdone.
One thing about the ramp that might not have been apparent on television was that it was slightly higher than the ring apron. I was concerned that it could be a safety issue, but it only came into play during the main event. Austin Aries attempted to clothesline Jeff Hardy from the ramp into the ring, and his foot got caught on the ramp's edge, causing him to take a nasty bump.
The arena opened just over a year ago, and it received a lot of media coverage locally. Being familiar with its features, I was not surprised by TNA's selection of this venue. Based on the atmosphere created during the show, I expect the company will return to the GCU Arena for a future pay-per-view event.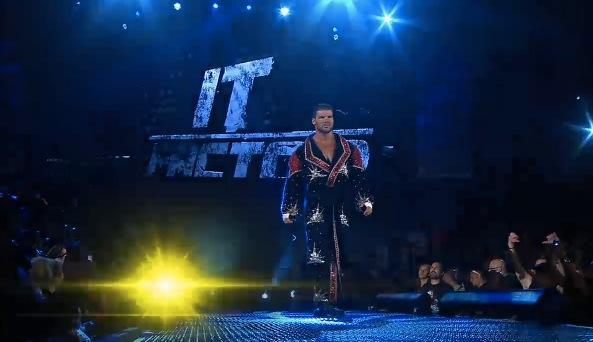 Credit: ImpactWrestling.com
In the arena, each match had its own personality for the crowd.
Rob Van Dam vs. Zema Ion
Rob Van Dam and Zema Ion provided a hot opener. Ion wasn't well known, but he was immediately given the heel treatment because he was facing Rob Van Dam. The crowd was 100 percent behind Van Dam from the moment he walked out and when won the match they responded in a big way.
Samoa Joe vs. Magnus
Television champion Samoa Joe had the entire building behind him, and you could see the pleasure on his face as we chanted "Joe's Gonna Kill You" towards Magnus.
James Storm vs. Bobby Roode
Bobby Roode and James Storm each got a big reaction from the crowd, as did their match. The hardcore elements were obvious crowd pleasers, even if I personally feel thumbtacks are a little cliché in 2012.
I was initially surprised at how early this match went on, but it made sense with the Aces and Eights vs. Sting and Bully Ray being a no-disqualification match. The only man who got a surprisingly poor reaction was King Mo. The live audience didn't seem to care about him, his MMA career or his role in the match.
Al Snow vs. Joey Ryan
Despite Ryan's claim of a "hometown advantage," the crowd was completely behind Snow. Matt Morgan got a good reaction as well. Joey Ryan did manage to draw some heat, but the live crowd treated this like a nostalgia match for Snow.
Tag Team Championship Triple Threat
All three teams got a good reaction. Christopher Daniels and Kazarian are so good in their heel role, and Daniels even got an "Appletini" chant from the crowd. Kurt Angle's entrance was met with a big pop, but AJ Styles actually topped that. This match was spot-heavy, which was welcomed after the two matches before it.
The title change got a decent reaction, but it was the Eddie Guerrero mention by Chavo Guerrero, Jr. that really got the people behind the new champs.
Tara vs. Miss Tessmacher
Both women got solid reactions from the crowd, including Tessmacher. Tara's WWE past is obvious to even a casual fan, but not all of them will remember Tessmacher's run in the WWE. Tessmacher's offense was a hit with the fans, but the reveal of Jesse Godderz as Tara's "Hollywood Boyfriend" was a total flop live.
Aces and Eights vs. Sting and Bully Ray
The crowd was obviously hot for Sting, and Bully Ray was treated as a face as well. Aces and Eighths was a tough sell locally, but since they had no identity, it's hard to expect the crowd to get into them. Joseph Park breaking free and tackling the Aces and Eights member got a great reaction, though.
Obviously Hulk Hogan got a tremendous pop, but my immediate reaction was that it wasn't as loud as what I heard for AJ Styles. It was still a fun nostalgia moment for the fans.
There was very little reaction for Devon's reveal. The crowd delivered a very entertaining moment in chanting "This Is Awkward" as Hogan, Sting and Ray stood in the ring as Aces and Eights made their exit through the crowd.
Jeff Hardy vs. Austin Aries
Thanks to this crowd, Jeff Hardy now knows what it feels like to be John Cena. I would say the crowd was 60 percent behind Aries and 40percent behind Hardy, but women and children cheer louder than everyone else.
Aries's entrance reaction was louder than Hardy's, and inside the arena you could not hear Jeremy Borash's introductions over the Aries chants from the crowd.
I did speak to a few fans around me who weren't as familiar with Austin Aries, but they were fans of his after the match. Lost in the title change was the stellar performance he delivered. If TNA crowns someone the MVP of the card, it would have to go to Austin Aries.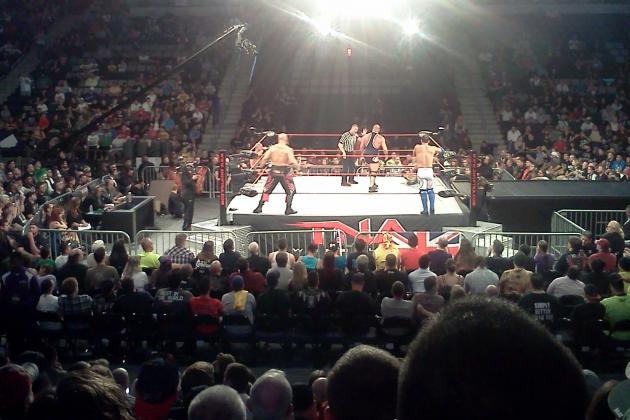 Credit: Greg DeMarco/411Mania
As I have yet to see the event on television, I am open to the fact that my opinion is skewed in a positive way by the live experience. Sitting in center of the stands opposite the hard camera, I had a great view of every single aspect of the event. They are memories I'll always have, especially considering they were shared with my 6-year-old son.
I will take the time to review the event on a pay-per-view replay later in the week, and will likely have a better basis for review. But just a few hours removed from the event, TNA receives high marks from me. It was one of their best efforts of the year, and featured a few matches that should receive match of the year consideration (Austin Aries vs. Jeff Hardy and the Triple Threat Tag Team Match).
I have heard from several friends and colleagues who watched the event on pay-per-view and noted that it fell short of feeling like "TNA's WrestleMania." It's the company's third pay-per-view of 2012 outside of their Orlando home, and it met the "big show" expectation live.
There simply is no substitute for live wrestling, and being there live allows Bound For Glory to receive two thumbs up from me.
You Decide: Did you attend the event live? Do you think it was the "big event" TNA was hoping for?
Share your thoughts in the comments below!
Greg DeMarco is a wrestling fan of over 28 years and has also worked on the independent circuit as a promoter, announcer, character and booker. More of his work can be found at 411Mania. Greg also hosts a weekly radio show found at www.blogtalkradio.com/gregdemarco and streaming worldwide each weekend at www.vocnation.com.