Manchester United: Top 10 Goals of the Season so Far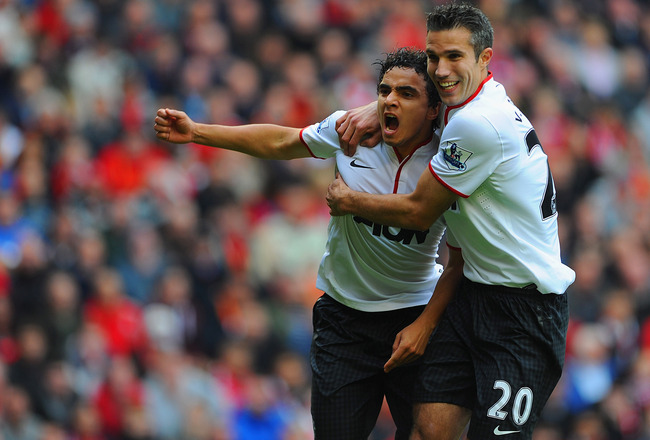 Michael Regan/Getty Images
To pick ten of the best goals from the 22 scored this season from Manchester United may sound like a premature concept, but make no mistake, the Red Devils have already punctured the next in multiple highlight reel-worthy moments.
It wont come as much of a surprise to see three Robin van Persie efforts crack the list, but the fact that sporadic goalscorer Tom Cleverley is featured twice for his two stunners against Newcastle, may.
Defenders Alex Buttner, Jonny Evans and Rafael make the cut, as does a rather fine strike from Brazilian Anderson.
But without any further ado, here are Manchester United's ten best goals of the season so far.
10. Tom Cleverley vs. Newcastle (Sep. 26)
The young English central midfielder Tom Cleverley kicks off our top ten, with a neat curler into the bottom corner past a helpless Robert Elliot.
The perfect first touch and instant control allowed him the balance to shape his body in such a way to put a dream-like spin on the finish, despite his view of the goal being blocked by a Newcastle defender.
9. Jonny Evans vs. Newcastle (Oct. 7)
Manchester United fans will know just how rare it is for their team to score directly from a corner, which makes this powerful Jonny Evans effort all the more worthy.
A towering header that punctured Steve Harper's net, the somewhat surprising scorer didn't render this goal any less emphatic.
8. Tom Cleverley vs. Newcastle (Oct. 7)
"What a goal! What a goal!"
This pearler from a mile out from that man Tom Cleverley would feature a little higher up the list, if he'd actually meant it!
But as the enthusiastic fan in the video quite rightly points out, "I don't care if it was a cross..."
7. Robin Van Persie vs. Southampton (Sep. 2)
The first of three Robin van Persie goals at St. Mary's Stadium, this strike may not have been the one that broke Southampton fans' hearts, but it is a deserving entry at No. 7 on this list.
A fine raking ball from Antonio Valencia picked out the Dutchman perfectly, who then chested past a fallen Nathaniel Clyne, before volleying into the opposite corner—sublime.
6. Anderson vs. Newcastle (Sep. 26)
The man who has scored only eight goals in nearly 150 appearances for Manchester United makes sixth on the list for a rasping effort in the Capital One Cup against, you guessed it, Newcastle.
Holding the opposition player off with brutish strength, Anderson's powerful finish left Elliot with little chance, as it deflected in off the post.
5. Alex Buttner vs. Wigan (Sep. 15)
Dutch defender Alex Buttner scored a cracker at Old Trafford on his debut for Manchester United, showing strength and skill to run past a host of Wigan players before finishing from a near-impossible angle.
United fans haven't seen much of Buttner since his impressive first match in red, but considering this effort, the future is certainly bright for the left-back.
4. Robin Van Persie vs. CFR Cluj (Oct. 2)
Robin van Persie's delicate flick, seen 0.47 into the video, makes the list at No. 4.
The exquisite finish was positively Ruud van Nistelrooy-esque, but credit must be given to Wayne Rooney for the assist, which picked out the advancing Dutchman with uncanny accuracy.
3. Rafael vs. Liverpool (Sep. 23)
Brazilian right-back Rafael's vital equaliser at Anfield begins our top three countdown.
Receiving a chested down lay-off from Shinji Kagawa in little space, his half-volley past a diving Pepe Reina sent the away fans into delirium, tying the score at 1-1 despite his team having been overrun by Liverpool up until that point in the game.
2. Nick Powell vs. Wigan (Sep. 15)
New-boy Nick Powell had only been on the pitch for ten minutes before he introduced himself in fine style to the Old Trafford faithful.
His nonchalant dummy and rasping shot showing why he may just be the future of United's central midfield, and a possible eventual successor to Paul Scholes.
1. Robin Van Persie vs. Fulham (Aug. 25)
But the very best goal from a Manchester United player this season has to have been Robin van Persie's stunning strike against Fulham in August.
His first for the club, the swiveling volley was the type of goal only the Dutchman could've scored and immediately calmed fears that the £24 million paid for his services was wasted.
What do you think has been United's goal of the season so far? How would your top ten list look?
Follow @MaxTowle
Keep Reading

Manchester United: Like this team?