Denver Broncos vs. San Diego Chargers: Live Score, Highlights and Analysis
Harry How/Getty Images
After trailing all game long, the Denver Broncos managed to pull off a massive Monday night comeback in the second half, scoring 35 unanswered points to finish the San Diego Chargers 35-24.
Despite an initial slow start to the game, in which the Chargers led 24-0 at halftime, Peyton Manning drove his team to the end zone time after time, obliterating San Diego's secondary for 309 yards and three TD passes. Philip Rivers, on the other hand, had a completely different performance.
In what will easily be considered his worst performance ever, Rivers threw four interceptions in a complete meltdown by the Chargers. Once again, the Chargers let a game slip after taking an early lead. This loss marked the second consecutive week that San Diego allowed its opponent to steal the game late, as the New Orleans Saints pulled off their own comeback last week against the Chargers.
Broncos are 5th team in NFL history to overcome 24-pt halftime deficit and win. Ties for biggest comeback in team history.

— Patrick Smyth (@psmyth12) October 16, 2012
That's it folks. The Denver Broncos pull off the massive comeback to beat the San Diego Chargers 35-24.
Elvis Dumervil adds a bit of lime to that salted wound by knocking the ball out of Rivers' hand. The Chargers have completely given up. What a performance by the Broncos. Bravo!
Von Miller rubs salt in the wound with that last sack on Philip Rivers. A little more than a minute left before San Diego gets put out of its misery.
That has to be the end. Chris Harris returns Rivers' fourth interception for a TD.
The Broncos now lead the Chargers 35-24 with 2:05 remaining.
Chargers have failed to complete game-tying or game-winning scoring drive at end of game in past nine attempts. Here comes chance No. 10.

— Michael Gehlken (@UTgehlken) October 16, 2012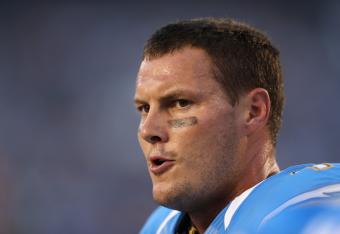 This is it. Philip Rivers gets the ball and has 3:52 to put the ball in the end zone. He wanted Manning on Monday night, and this is crunch time.
Still a lot of time left, but that interception by Rivers is a gamebreaker. You can't turn the ball over to Peyton Manning in the fourth quarter.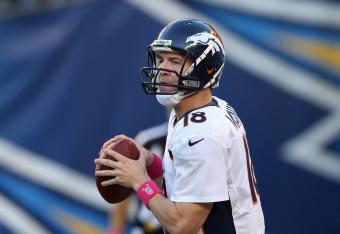 Peyton Manning beats Marcus Gilchrist with a 21-yard TD pass to Brandon Stokley in the corner of the end zone.
Denver now leads San Diego 28-24 with 9:03 remaining. For the first time in this game, the Chargers find themselves behind.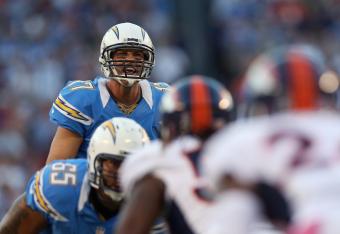 Great play by Tony Carter on the interception. He watched that ball all the way as it left Rivers' hand. Ball looked a bit underthrown but Rivers had Robert Meachem open. You could argue he forced that one, but I think he was trying to make a play.
Just 11 times in NFL history has a team down 24 at halftime come back to win ... Would you bet against it happening a 12th time tonight?

— UTKevinAcee (@UTKevinAcee) October 16, 2012
What an athletic play by Peyton Manning! Even with pressure right up in his face, he gets out of trouble and delivers a great pass.
And just one play later he hits Eric Decker for the TD.
San Diego now leads 24-21 with 13:33 left in the game.
That's the end of the third quarter.
San Diego leads Denver 24-14. We have a game on our hands folks!
Jon Gruden makes a great point on that last timeout by Denver. Peyton Manning saw a blitz coming as Eric Weddle and Donald Butler frantically inched forward and back.
Peyton has the ball and he's just 10 points from the comeback:
#Chargers are looking tentative. Three and out. #Broncos on own 44. Monday Night crew soon to cue up Peyton comeback graphic.

— Tom Krasovic (@UTkrasovic) October 16, 2012
So much for home field advantage:
So many Broncos fans here. Chants of "DE-FENSE" ringing out as Chargers have the ball.

— Gray Caldwell (@gray_dbdotcom) October 16, 2012
Guess I was wrong. Officials say that the fumble returned for a TD stands.
Broncos are coming back. San Diego leads 24-14 with 4:41 remaining in the third quarter.
Hmmm...I don't know about that last fumble. Looked to me like Rivers' arm was moving forward as that ball got knocked out.
We'll wait and see what the official call is.
Chargers were holding their breath on the sideline as that ball skidded right in front of them. Randy McMichael coughs it up after the catch but Ronnie Brown is there to swallow it up.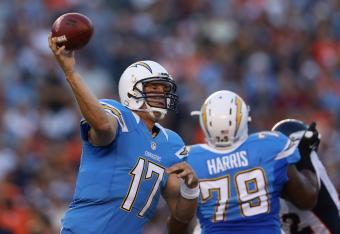 San Diego is charging right back after that TD drive by Denver. Chargers have a nice balance going between the run and pass.
There it is!
Touchdown Broncos
Denver is right back in this one with a TD pass from Manning to Demaryius Thomas. San Diego still leads 24-7 with 10:56 left in the third quarter.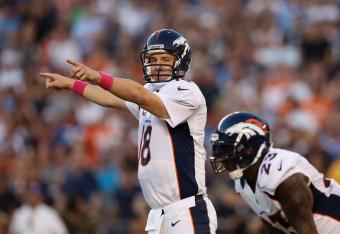 If there was ever a guy to lead a comeback, it would have to be Peyton Manning. Denver is rolling on their first drive after halftime.
Halftime
Chargers are up 24-0 over the Broncos
Touchdown Chargers
Philip Rivers hits Antonio Gates in the end zone to put San Diego up 24-0 with the extra point as halftime is just seconds away.
By the way, a big event is scheduled for halftime tonight. It's being called the "KPMG Chip4Charity"
If @mickelsonhat hits the target at 100 yards, KPMG will donate $1 million to First Book literacy program. #DENvsSD

— San Diego Chargers (@chargers) October 16, 2012
This article is
What is the duplicate article?
Why is this article offensive?
Where is this article plagiarized from?
Why is this article poorly edited?