Every NFL Team's Odds of Winning Super Bowl XLVII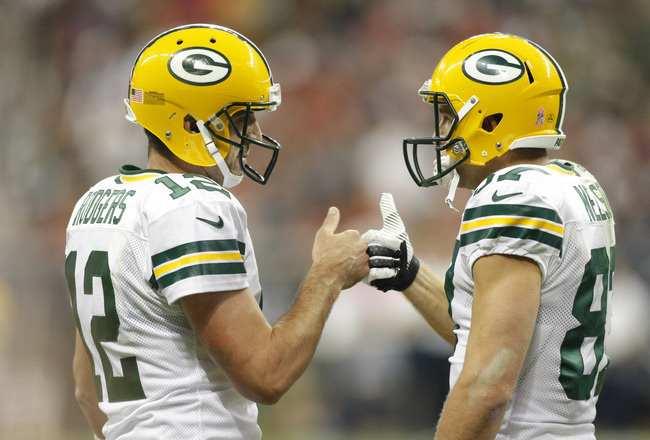 Brett Davis-US PRESSWIRE
The Denver Broncos' epic second-half comeback was a fitting end to a wacky Week 6 that will spawn some serious Super Bowl odds shifts.
Three of the NFL's elite—arguably the top three contenders entering this weekend's games—suffered unexpected blows.
First, the Baltimore Ravens lost Ray Lewis and Lardarius Webb to season-ending injuries, which could prove catastrophic to their championship push.
Meanwhile, the San Francisco 49ers and Houston Texans were both manhandled at home, which suggests the field is far more open than it initially appeared.
Now that the landscape has changed, how do each team's Super Bowl odds stack up?
Here's a look.
32. Cleveland Browns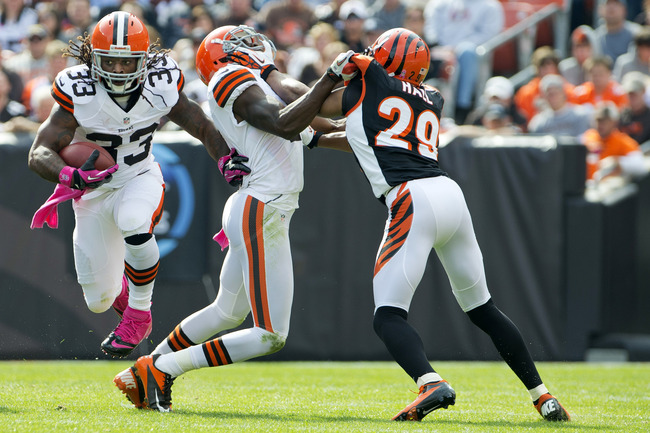 Jason Miller/Getty Images
Cleveland has a rich nucleus of young talent that could eventually catapult it into Super Bowl contention, but not in the immediate future. Brandon Weeden, Trent Richardson and Josh Gordon are the foundation of that nucleus, and they helped propel Cleveland to its first win of the season on Sunday.
A Super Bowl is pipe dream for this 1-5 squad.
Odds: 500 to 1
31. Jacksonville Jaguars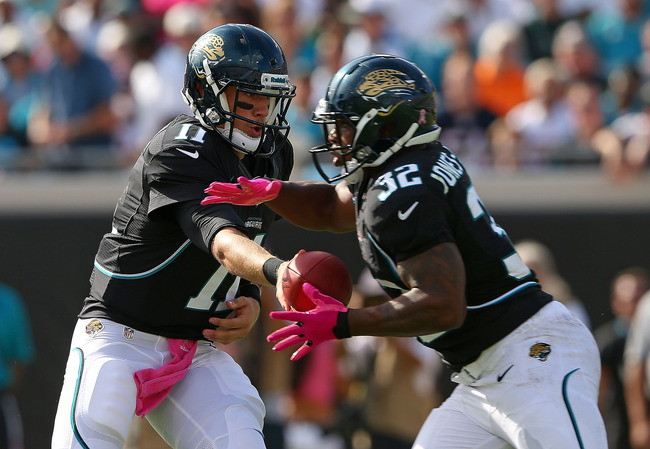 Mike Ehrmann/Getty Images
Different year, same ole Jaguars.
Well, actually, this is one of the worst teams Jacksonville has fielded in years. It ranks dead last in passing offense and 23rd in rushing offense—which has been its bread 'n' butter dating back to the days of Fred Taylor.
Things don't look any better on the other side of the ball, where the Jaguars are surrendering 27.6 points per game and 424 yards per game. And, oh yeah, they only have a league-worst three sacks.
Injuries have plagued this team early, but even when fully healthy, it's eons away from contention.
Odds: 500 to 1
30. Kansas City Chiefs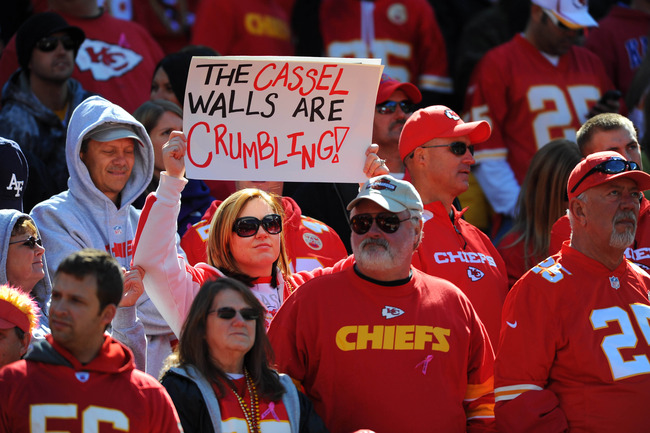 Denny Medley-US PRESSWIRE
Prior to Sunday's blowout loss to the Tampa Bay Bucs, there was faint but lingering hope the Chiefs could turn things around.
Kansas City certainly isn't at a loss for offensive weapons, and its offensive line is enjoying a respectable season. Plus, the Chiefs defeated the Saints in New Orleans in Week 3 and lost to the Baltimore Ravens by only three points in Week 5.
However, Sunday's 28 point loss to the Buccaneers squandered whatever hope remained.
Matt Cassel's nine interceptions and 66.2 quarterback rating have killed the Chiefs (who now have a league-worst -15 turnover differential), and Brady Quinn looked even worse in relief on Sunday.
On top of its quarterback troubles, Kansas City's once-promising defense has been steamrolled for 30.5 points per game.
Odds: 500 to 1
29. Oakland Raiders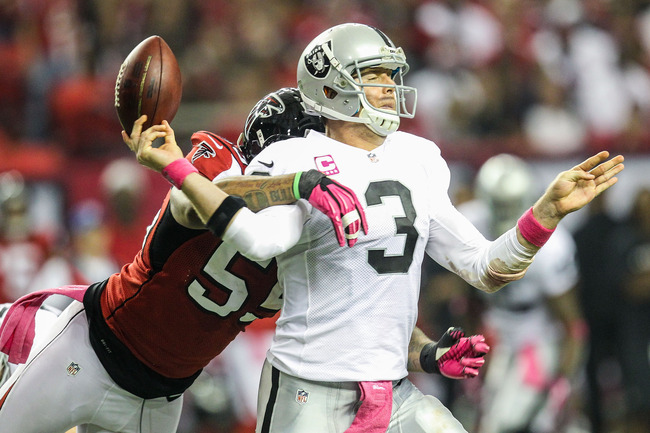 Daniel Shirey-US PRESSWIRE
Within the last three minutes of Sunday's loss, Carson Palmer threw a pick-six, and the Raiders defense let the Falcons offense march 43 yards in 34 seconds—which set up Matt Bryant's game-winning 55-yard field goal.
It's difficult to gauge this Oakland team considering it defeated the Pittsburgh Steelers, nearly handed Atlanta its first loss of the season, but also lost to the Denver Broncos and Miami Dolphins by a combined 53 points.
Such inconsistency not only eliminates the Raiders from Super Bowl contention—it has them on track to a bottom-10 finish.
Odds: 300 to 1
28. St. Louis Rams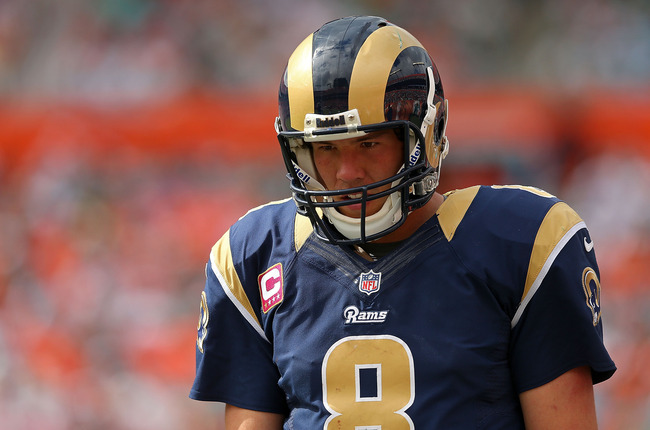 Mike Ehrmann/Getty Images
Without Danny Amendola, Sam Bradford is left to rely on a wide receiver corps headlined by Brandon Gibson and Chris Givens. And, the Rams aren't getting the stellar production they've come to expect from Steven Jackson, who's averaging just 3.6 yards per carry.
So, even though St. Louis currently boasts a top 10 defense, is this team capable of overcoming a multi-score deficit? Can it consistently put more than 20 points on the board without Amendola?
Plus, look at the Rams' upcoming schedule: vs. Green Bay, vs. New England, and at San Francisco. Barring any shocking upsets, St. Louis will fall to 3-6 and descend toward the cellar dwellers of the NFL standings.
Odds: 300 to 1
27. Arizona Cardinals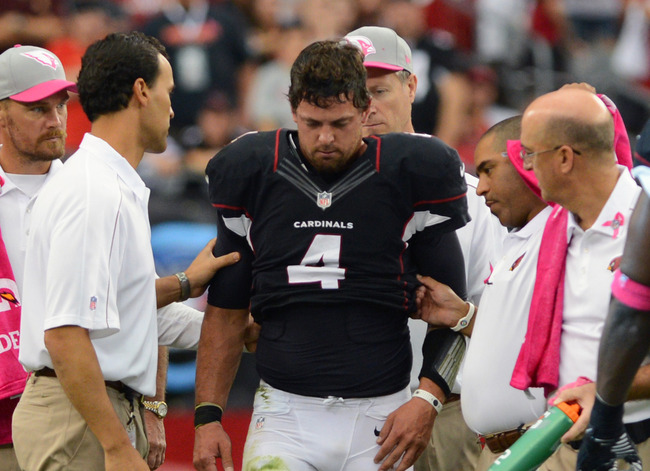 Jennifer Stewart-US PRESSWIRE
At the conclusion of this season, we're going to reflect back and wonder how the Arizona Cardinals ever managed to start 4-0.
The Cardinals have a historically horrendous offensive line that has already yielded 77 quarterback hurries and 28 sacks. It doesn't matter who's playing quarterback, nobody—and no offense, for that matter—can possibly thrive with such terrible protection.
To make matters worse, injuries to Beanie Wells and Ryan Williams force Arizona to rely on the likes of LaRod Stephens-Howling and William Powell to carry its rushing attack.
Granted, the Cardinals defense is excelling, but this offense simply lacks adequate firepower to keep up with formidable opponents. And Arizona's next four opponents—Vikings, Packers, 49ers, Falcons—happen to be some of the league's most formidable squads.
Odds: 250 to 1
26. Tennessee Titans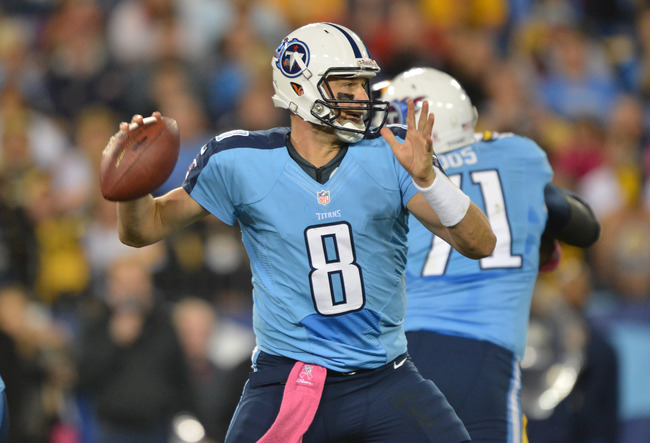 Don McPeak-US PRESSWIRE
The Titans picked up an impressive win over the Steelers last Thursday, but don't be fooled: this team isn't going anywhere.
Remember, Pittsburgh was absolutely ravaged by injuries. It entered the game without Troy Polamalu and LaMarr Woodley, and then lost Isaac Redman, Mike Pouncey and Marcus Gilbert.
Props to Tennessee for capitalizing, but this team still ranks dead last in rushing offense, 29th in passing defense and 24th in rushing defense.
Wide receivers Kendall Wright, Kenny Britt and Nate Washington have dropped 12 combined passes, and the Titans have registered only eight sacks this season—fourth fewest in the league.
There's talent on this Titans team, but for whatever reason, they're just not putting it all together.
Odds: 225 to 1
25. Indianapolis Colts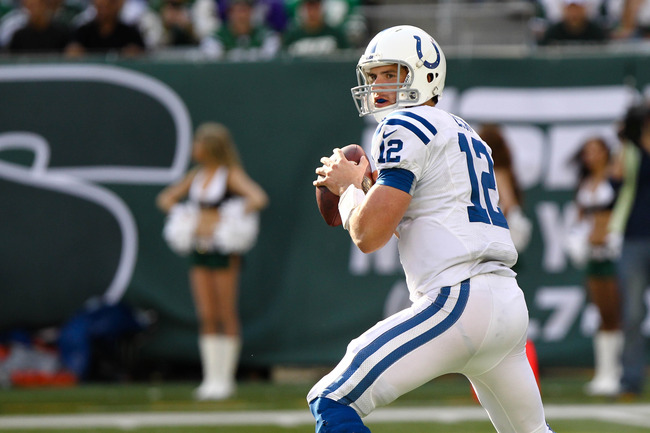 Debby Wong-US PRESSWIRE
Andrew Luck has shown flashes of brilliance in the infancy of his NFL career, but any Super Bowl aspirations for him and the Colts should be put on hold.
Although Indy managed to overcome the loss of Chuck Pagano in Week 5, don't underestimate how much his absence will hurt long-term. Losing a head coach midseason is devastating, and the Colts subsequently looked completely out of sync in their 26-point loss to the Jets on Sunday.
This is a pesky team that's tough to beat at home and has a very favorable schedule ahead. The Colts could potentially make a Wild Card push in such a weak conference, but they'll need better play from their 26th ranked rushing offense and 29th rushing defense.
Overcoming the loss of Pagano will be Indy's biggest obstacle, however.
Odds: 225 to 1
24. Carolina Panthers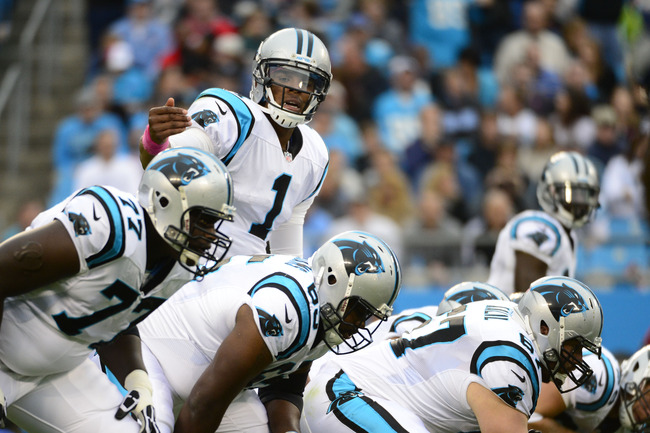 US PRESSWIRE
Three of Carolina's losses were decided by fewer than seven points, so perhaps this team isn't as bad as its 1-4 record suggests.
However, the Panthers live and die by Cam Newton, and his maddening inconsistency has them struggling to remain afloat.
In Weeks 3 and 5, he amassed this combined stat line: 28-of-59, 383 yards, 0 touchdowns, 3 interceptions. But, in Weeks 1, 2 and 4, he posted these numbers: 52-of-77, 771 yards, 4 touchdowns, 2 interceptions.
Not everything falls on Newton's shoulders, though. The Panthers defense ranks 23rd in the league, and they aren't getting adequate contributions from DeAngelo Williams and Jonathan Stewart.
Still, if Carolina can get consistent play from Newton, then a turnaround in a struggling division is certainly feasible.
Odds: 200 to 1
23. Tampa Bay Buccaneers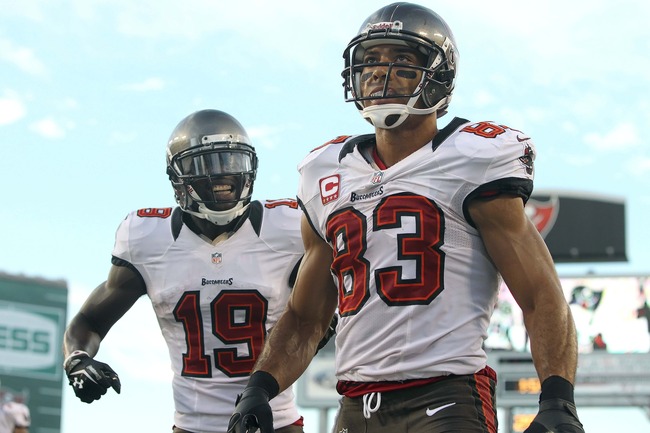 Kim Klement-US PRESSWIRE
The Buccaneers are an intriguing team hovering well below the national radar.
All three of Tampa Bay's losses came at the hands of solid teams—Giants, Cowboys, Redskins—and all three games were decided by seven or fewer points.
Don't put too much stock into the Bucs' 28-point shellacking of the Chiefs, but it's hard to ignore such a dominant effort. Tampa Bay showcased impressive firepower and explosiveness, and its defense completely thwarted everything Kansas City tried.
On paper, the Buccaneers offense has playoff potential, but their defense—specifically their pass rush—needs to elevate its game in order for Tampa Bay to make a run.
If the Bucs defeat the Saints on Sunday, then they might be worth a look as a serious dark horse.
Odds: 160 to 1
22. Buffalo Bills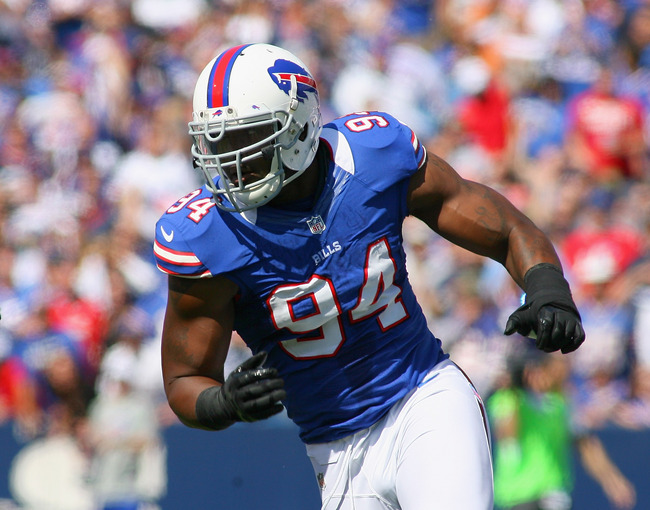 Rick Stewart/Getty Images
The Bills rebounded from back-to-back blowouts to capture a much-needed Week 6 win, which puts them back at .500 and hence on par with the rest of the AFC East.
Perhaps this will spark a turnaround, but don't get your hopes up.
Buffalo's three wins, which came against the Chiefs, Browns and Cardinals, aren't exactly impressive. Meanwhile, its three losses came against the Jets, Patriots and 49ers, and the average margin of defeat in those games was 28.6 points.
The "defense wins championships" mantra may have lost some credence in this high-scoring era, but no team yielding 32 points per game has a legitimate shot at a Super Bowl.
Odds: 150 to 1
21. Cincinnati Bengals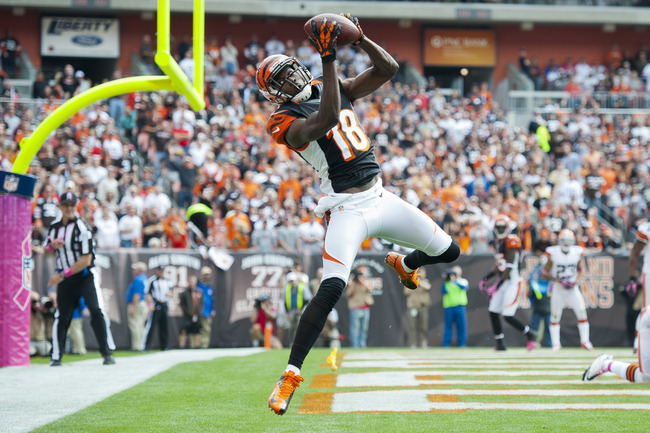 Jason Miller/Getty Images
Whatever Super Bowl hopes the Bengals had entering the season are dwindling rapidly.
Cincinnati lost to the Miami Dolphins at home in Week 5 and then fell to the Cleveland Browns on Sunday. After a 3-1 start, the Bengals have fallen to .500 as they prepare for a three-game stretch that includes the Steelers, Broncos and Giants.
A.J. Green and Andy Dalton continue growing into a prolific tandem, but the Bengals rushing attack has sputtered, and Armon Binns and Andrew Hawkins aren't intimidating opposing defenses.
Cincy's defense has also taken a major step back from last season, when it ranked seventh in the league. The Bengals currently rank 17th against the pass and 20th against the run, and they are surrendering more than 27 points per game.
With the injury bug biting the Ravens and Steelers, a window has opened for the Bengals to reemerge as contenders, but they'll need to elevate their play significantly to do so.
Odds: 100 to 1
20. Miami Dolphins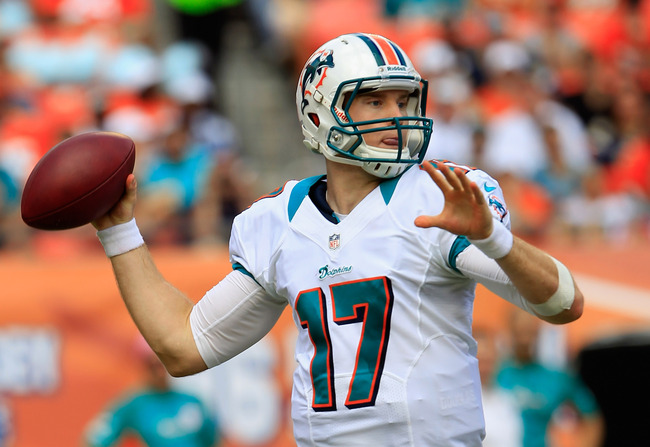 Chris Trotman/Getty Images
The Dolphins have a Super Bowl-caliber front seven, but the same can't be said for any other unit.
Miami is still starving for help at wide receiver despite Brian Hartline's emergence, and Reggie Bush has struggled since he suffered a knee injury in Week 3. Save Reshad Jones, its secondary is wildly inconsistent, as is its offensive line.
Following their Week 7 bye, the Dolphins embark on a five-game stretch that features only one opponent (Seattle Seahawks) with a record above .500. So, despite their shortcomings, the Dolphins have an outside shot at capturing eight or nine wins, which might secure them a playoff berth in the AFC.
Odds: 70 to 1
19. New York Jets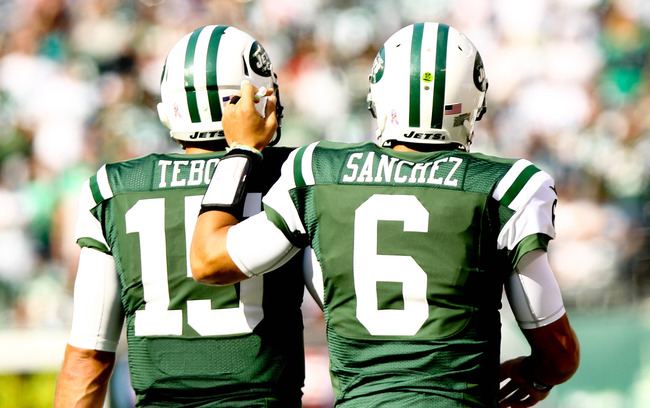 Debby Wong-US PRESSWIRE
After a pair of putrid performances, the Jets came back to life on Sunday and dropped 35 points on the Colts.
But, let's not jump to any conclusions.
Mark Sanchez threw for just 82 yards, Shonn Greene's performance was an aberration, and the Jets have yet to defeat an opponent with a record above .500.
Until New York proves it can take down a top-flight team—next week's tilt with the Patriots would be an opportune time—it's hard to view the Jets as a legitimate threat.
Plus, can the Jets realistically make a run without Santonio Holmes and Darrelle Revis?
Odds: 70 to 1
18. New Orleans Saints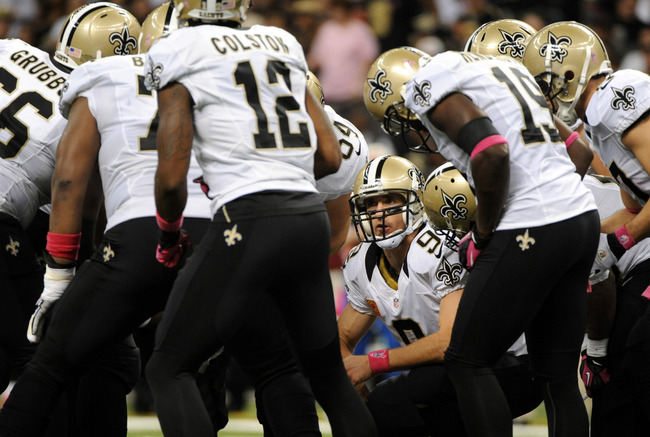 Chuck Cook -US PRESSWIRE
The Saints salvaged their season by defeating the San Diego Chargers in Week 5, but should you still believe Drew Brees & Co. will turn things around?
New Orleans obviously has the firepower to outscore any team; however, there are two factors that will impede its chances at recovering for a Super Bowl run: defense and schedule.
This defense, to put it nicely, is atrocious. It can't stop anybody or anything. The Saints are allowing 30.8 points per game (third highest in the NFL), and they rank 26th against the pass and 31st against the run.
Even if the defense majestically turned things around, New Orleans has a brutal schedule ahead that includes bouts with the Broncos, Eagles, Falcons, 49ers, Giants and Cowboys.
If there's one team you can't rule out of anything, it's the Saints. But, their slow start has severely lowered their chances of making the playoffs, let alone the Super Bowl.
Odds: 50 to 1
17. Detroit Lions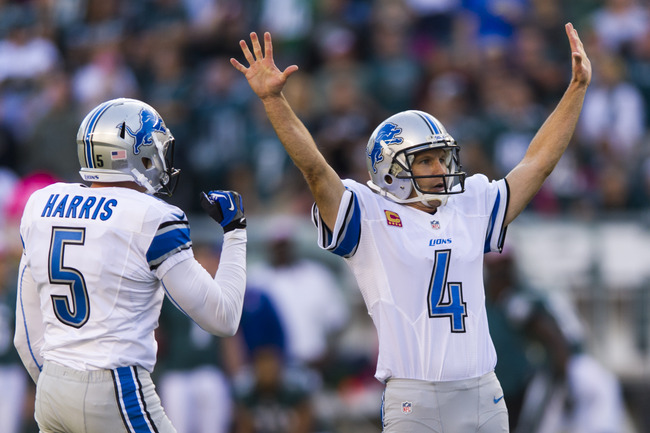 Howard Smith-US PRESSWIRE
A comeback win in hostile territory might've been just what the Lions needed to shake their early-season struggles.
Matthew Stafford was brilliant in the fourth quarter, Mikel Leshoure invigorated Detroit's rushing attack and its pass rush terrorized Michael Vick.
This was by no means a perfect game, though. The Lions committed 16 penalties for 132 yards and didn't show up until the fourth quarter.
Penalties are a recurring issues for this team, which is now the third most penalized in the NFL. At this rate, penalties alone could prevent Detroit from making a playoff run—but when the Lions are clicking, they're dangerous regardless.
Next week's Monday night showdown with the Chicago Bears is a huge game for the Lions. A win would bring them back to .500 and generate a huge confidence boost heading into a winnable three-game stretch.
Odds: 50 to 1
16. Minnesota Vikings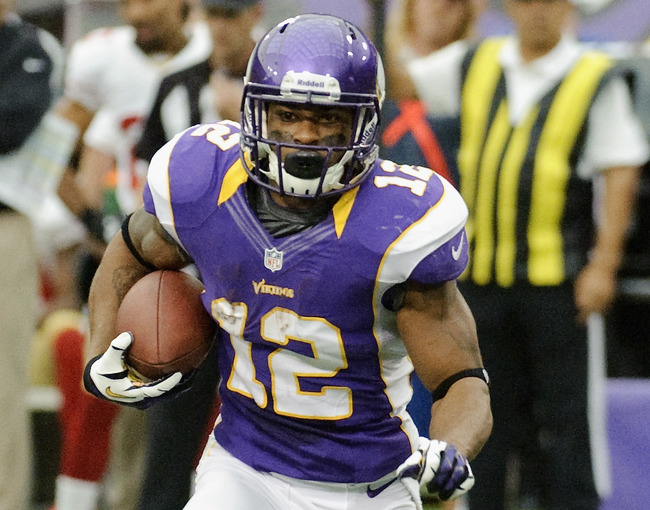 Hannah Foslien/Getty Images
With a promising offensive nucleus and stout defense, the Vikings' Super Bowl window will be open for years.
But, is it big enough for them to crawl through this year?
Any team that takes down the San Francisco 49ers is doing something right, and despite the Detroit Lions' erratic play, Minnesota deserves respect for defeating them on the road as well.
Opponents are averaging fewer than 100 rushing yards and 220 passing yards per game against the Vikings, and Adrian Peterson has hardly lost a step from his ACL tear.
However, the Vikings came back down to earth in last week's loss to the Redskins, which casts some doubt about their playoff potential.
Minnesota has a very winnable home game against the Cardinals on Sunday, but things get tricky after that. It has to travel to Seattle and Houston, host the Lions, and face the Bears and Packers twice.
The Vikings' hot start gives them some much-needed insurance heading into the second half of the season, but don't expect them to keep it up against such stiff competition.
Odds: 45 to 1
15. Washington Redskins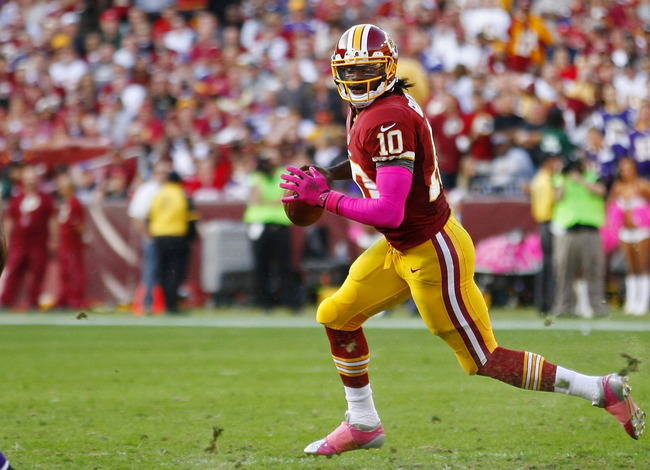 Geoff Burke-US PRESSWIRE
When you have a player as explosive as Robert Griffin III, anything is possible.
Literally.
RG3 can single-handedly swing a game in Washington's favor on any given play. That's exactly what he did on Sunday when he tore off a 72-yard game-sealing touchdown scamper late in the fourth quarter.
But, one man can only do so much.
The Redskins rank dead last in pass defense, giving up 328.3 passing yards per game. A pass-happy team like the Green Bay Packers or New England Patriots can get away with that, but Griffin is only averaging 228 passing yards per game.
Sunday's game against the Giants will be a telling test for the 'Skins. If they can escape New York with a win, then Washington will gain some credence as a potential contender.
Just keep in mind, a rookie quarterback has never won a Super Bowl.
Odds: 40 to 1
14. Philadelphia Eagles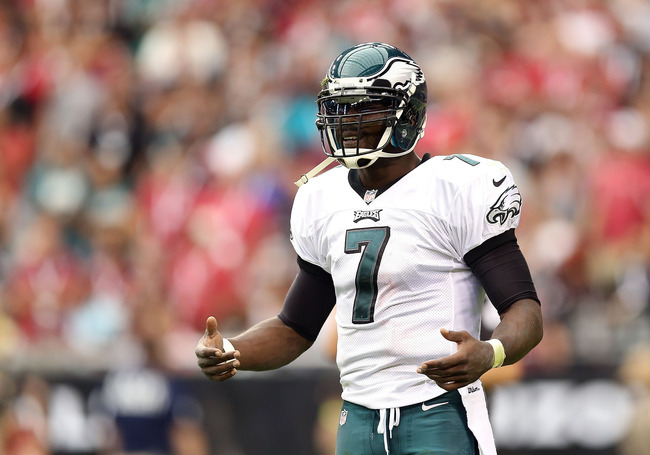 Christian Petersen/Getty Images
On one hand, the Philadelphia Eagles could easily be 5-1. Philly lost to the Pittsburgh Steelers by just two points in Week 5 and surrendered a late lead to the Detroit Lions, who won by three points in overtime.
But, on the other hand, the Eagles could easily be 0-6. Philadelphia hasn't won a game by more than two points. It defeated the Browns and Ravens by one point, and snuck by the Giants by two points.
Whichever way you look at it, the Eagles enter their Week 7 bye with a 3-3 record, and they have some serious work to do. In fact, Andy Reid said he plans to "tear things apart" this week.
Reid better find ways to curb Michael Vick's chronic turnover issues—he has eight interceptions and three fumbles on the season—or another uber-talented Eagles team will fall by the wayside.
If you believe in Reid, Vick and the pure talent of this team, now is the time to roll the dice on it.
Odds: 40 to 1
13. Dallas Cowboys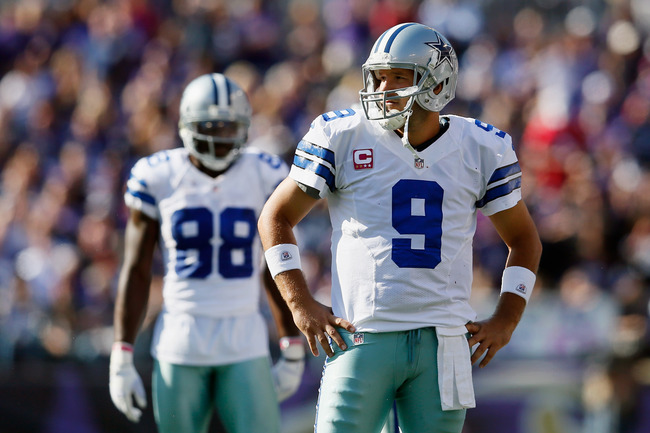 Rob Carr/Getty Images
The Dallas Cowboys are another team oozing with talent that just can't get its act together.
But, like the Eagles, the Cowboys are still right in the thick of things. At 2-3, Dallas is only two games behind the New York Giants for first place in the NFC East. With a win against the Panthers on Sunday, the Cowboys could enter their Week 8 matchup with the Giants with a chance to tie for first place.
Statistics suggests the Cowboys are a top-flight team. They boast the league's sixth-best passing offense and top-ranked pass defense.
However, Dallas' problems extend far beyond the stat sheet. This team struggles in crunch time and its personalities (lookin' at you, Dez Bryant and Jerry Jones) create a sideshow.
There's no doubt the Cowboys have Super Bowl talent, but can they put it all together? Or, will this team fall into a long line of disappointing Dallas squads?
Odds: 35 to 1
12. San Diego Chargers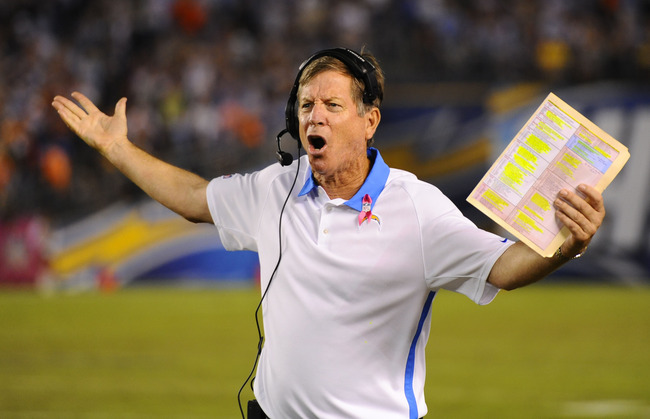 Christopher Hanewinckel-US PRESSWIRE
Monday night's epic collapse epitomized Norv Turner's tenure with the San Diego Chargers.
Somewhere, Marty Schottenheimer is smiling.
Anyway, the Chargers are now tied with the Broncos for first place in the AFC West at 3-3. Although those three losses came at the hands of quality opponents—Broncos, Saints, Falcons—those three wins did not—Chiefs, Titans, Raiders.
At times—such as the first half of Monday night's game and first three quarters of last week's loss to the Saints—San Diego looks like a viable contender, but it can't close games out. It's not time to rule the Chargers out yet, but this was a historically demoralizing loss.
And, so long as Norv Turner is coaching this team, you might want to think twice about investing in it.
Odds: 35 to 1
11. Seattle Seahawks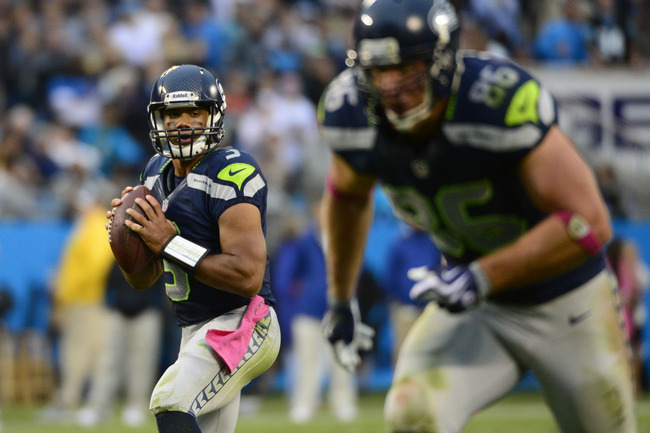 US PRESSWIRE
There's something mystical about this Seahawks team.
Somehow, someway, it finds ways to win games (even if it receives a helping hand from the referees every once in a while).
Because the Seahawks are mostly anonymous—set aside Beast Mode, of course—it's not generating much notoriety. Part of this is due to the team's geographic location, but perhaps people don't view the 'Hawks as a serious contender.
After all, Russell Wilson is averaging just 169.7 passing yards per game and Seattle is averaging only 20 points per game. But, you can't ignore a team that has defeated the Patriots, Packers and Cowboys, and boasts one of the most physical and efficient defenses in the NFL.
The Seahawks have their biggest test of the season this Thursday night when they face the 49ers in San Francisco. If Russell Wilson can pull out another unlikely win, then it's time to start treating this team like a legitimate contender.
Odds: 32 to 1
10. Pittsburgh Steelers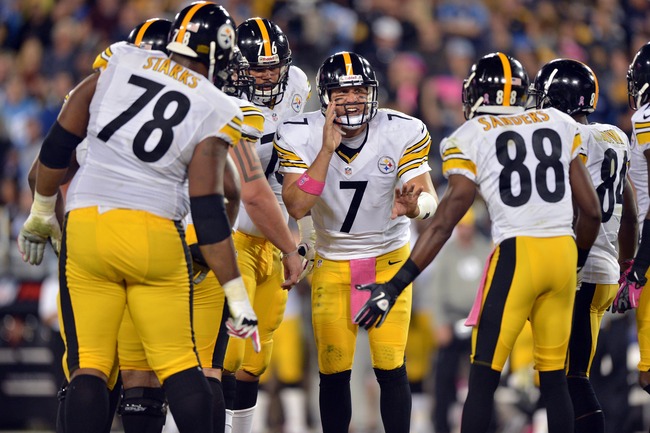 Don McPeak-US PRESSWIRE
Don't sleep on the Steelers.
We've yet to see this team at full capacity, yet it ranks seventh in passing offense, fourth in passing defense and 10th in rushing defense.
Considering Troy Polamalu and first-round pick David DeCastro haven't played yet, and James Harrison and Rashard Mendenhall both returned two weeks ago, those figures are very impressive.
Pittsburgh should only get better as the year wears on. Once the Steelers are fully healthy, they could easily emerge as a top contender in a weakening AFC.
If you're looking for a dark-horse team to jump on, then this is your best bet.
Odds: 25 to 1
9. Chicago Bears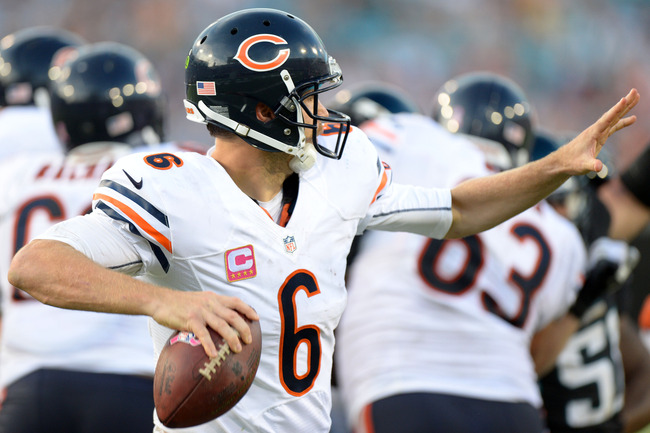 Jake Roth-US PRESSWIRE
So, the Bears blew out the Colts, Rams and Jaguars.
It's comforting to see a contender take care of business against inferior teams—especially so handedly—but Chicago still has plenty to prove.
Yeah, the Bears beat the Cowboys in Week 4, but let's not forget that: A) Tony Romo served the Bears that game on a platter with five interceptions, and B) The Cowboys don't look like a playoff team right now.
Chicago plays three prime-time games in the next five weeks including a tilt with Detroit next Monday. A win against the Lions would help validate the Bears as contenders, but does anybody really trust Jay Cutler with their money?
Odds: 15 to 1
8. New York Giants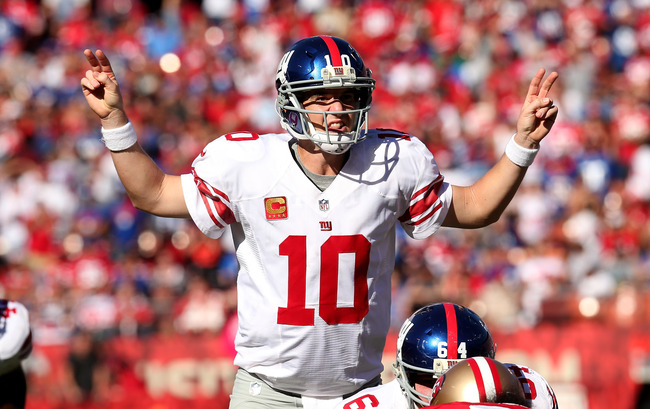 Stephen Dunn/Getty Images
On Sunday, the Giants did what no team has done since Week 2 of last season: defeat the San Francisco 49ers in a regular-season home game.
It's an extremely impressive feat, but few teams define erraticism like the New York Giants.
New York could beat an undefeated team on the road and follow it up by losing to a winless team at home. Despite their uncanny inconsistency, the Giants offense has played like a well-oiled machine that can drive through any defense.
Although their defense hasn't been up to par, defensive tackle Chris Canty could make his 2012 debut this week and safety Kenny Phillips may return from injury as well.
The Giants are the clear favorites to win the NFC East, and they look like a threat to repeat as Super Bowl champs. However, New York is volatile, so its odds are bound to fluctuate throughout the course of the season.
Odds: 11 to 1
7. Baltimore Ravens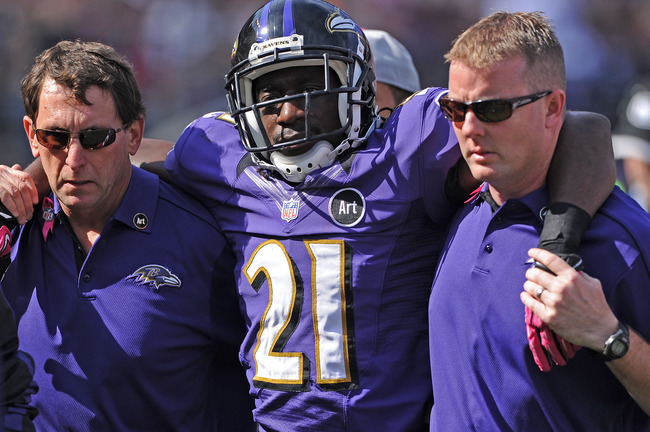 Patrick Smith/Getty Images
Everybody is talking about how much the Baltimore Ravens will miss Ray Lewis—and for good reason. But, losing cornerback Lardarius Webb to a season-ending ACL tear is actually just as devastating (if not more) for Baltimore's Super Bowl aspirations.
Webb has been so dominant that teams essentially stopped throwing at him. According to Pro Football Focus, he was thrown at only 24 times this season and allowed only 11 receptions.
Losing Lewis and Webb is especially devastating because this Ravens defense isn't on par with those of years past. It's yielding 260.2 passing yards and 136.5 rushing yards per game (22nd and 26th in the NFL, respectively).
Now, for the first time in, well, ever, the Ravens will have to lean on their offense. Baltimore is averaging a respectable 23.6 points per game, and Torrey Smith, Dennis Pitta and Jacoby Jones have helped expand Joe Flacco's arsenal.
But, even if the Ravens' offense is sufficient, is this defense capable of holding its own?
Odds: 10 to 1
6. Denver Broncos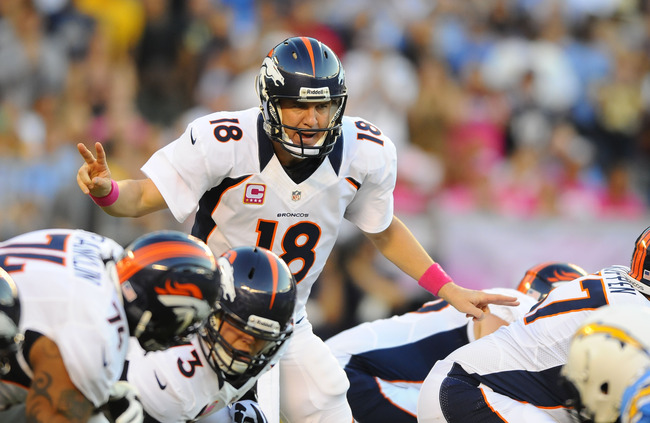 Christopher Hanewinckel-US PRESSWIRE
The sheriff is officially back in town.
Peyton Manning finally looked like Peyton Manning as the Broncos overcame a 24-point halftime deficit to defeat the San Diego Chargers on Monday night. He was nearly flawless, completing 24-of-30 passes for 301 yards, three touchdowns and one interception.
Denver's defense was equally as impressive, forcing six turnovers and holding San Diego to a modest 308 yards of total offense.
When the Broncos are firing on all cylinders—as they were in the second half of this game—they look like a Super Bowl contender.
If Denver can maintain this level of play, then it'll capture the AFC West crown. And, given how wide open the AFC is right now, this team could most definitely make a championship run.
Odds: 10 to 1
5. Atlanta Falcons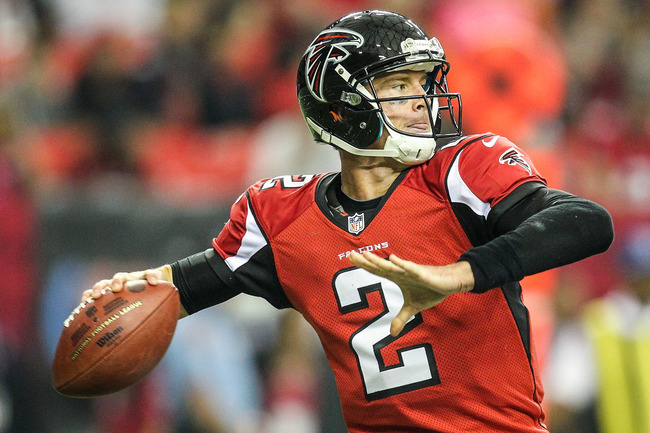 Daniel Shirey-US PRESSWIRE
The Falcons are the only remaining unbeaten team in the NFL, but they are certainly not the league's best team.
For starters, four of Atlanta's wins were decided be seven or fewer points. It defeated the Carolina Panthers by two points, Oakland Raiders by three points and Washington Redskins—who lost Robert Griffin III midway through the game—by seven points. And these were all home games.
Although Matt Ryan and his wideouts are enjoying spectacular seasons, the Falcons are yielding 143.8 rushing yards per game and are generating only 86.5 rushing yards on offense.
Atlanta is a sure-fire Super Bowl contender—there's no doubt about that.
But, don't be fooled by the facade.
This team has plenty to prove, and it's not as good as its record suggests.
Odds: 7.5 to 1
4. New England Patriots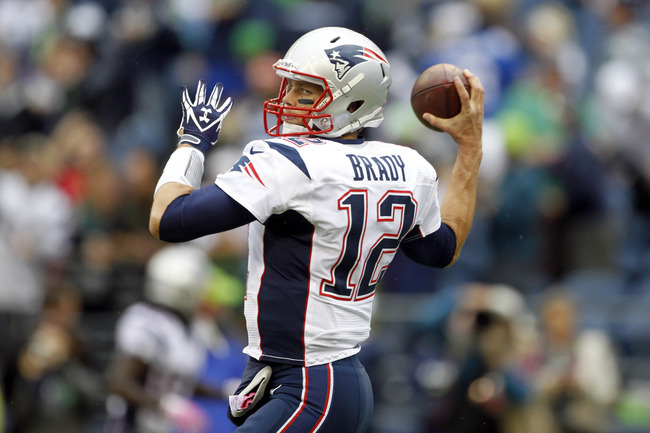 Joe Nicholson-US PRESSWIRE
It's easy to make excuses for the New England Patriots.
Two of their three losses came on the road against non-conference opponents, both of which boast some of the best home-field advantages in the NFL. And, that third loss was a one-point heartbreaker on the road against a fellow contender (Baltimore Ravens).
Although it's still hard to defend the Patriots for losing to the Cardinals and Seahawks, New England still has to be considered a Super Bowl favorite. Aaron Hernandez's return gives defenses another matchup nightmare, and Stevan Ridley and Brandon Bolden give the Pats the best rushing attack they've had in years.
And, not only is the AFC weakening, but New England doesn't play a team with a record above .500 until Week 14.
Odds: 6.5 to 1
3. Houston Texans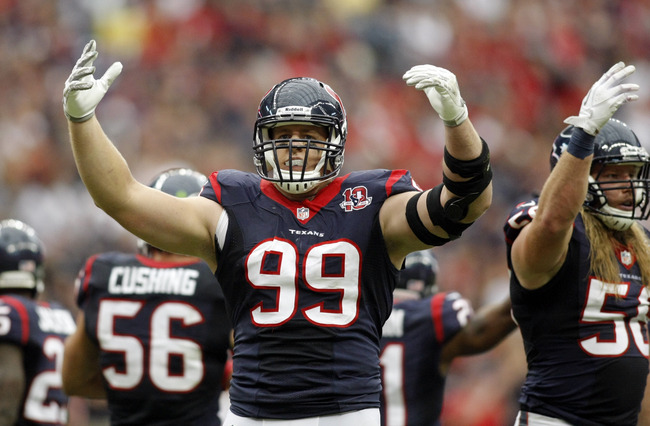 Brett Davis-US PRESSWIRE
Maybe the Texans aren't that good.
Just sayin'.
Which of their five wins was so impressive? A six-point win in Denver is respectable, but the Broncos look like an entirely different team now than they did three weeks ago. Other than that, Houston doesn't have much to brag about. In fact, it's yet to defeat a team with a record above .500.
The Texans only have a top 10 rushing attack because they have registered a league-high 546 rushing attempts. Arian Foster is averaging a pedestrian 3.8 yards per carry and he has 21 more carries than anybody else in the NFL.
Also worth noting: Andre Johnson has more than three receptions in only two games.
It's hard to debate Houston's defensive dominance, though it looked suspect on Sunday night and is now without Brian Cushing and Tim Jamison for the remainder of the season.
All this being said, don't overreact to one game.
Just keep all of this in mind before jumping on the Texans bandwagon.
Odds: 5.5 to 1
2. Green Bay Packers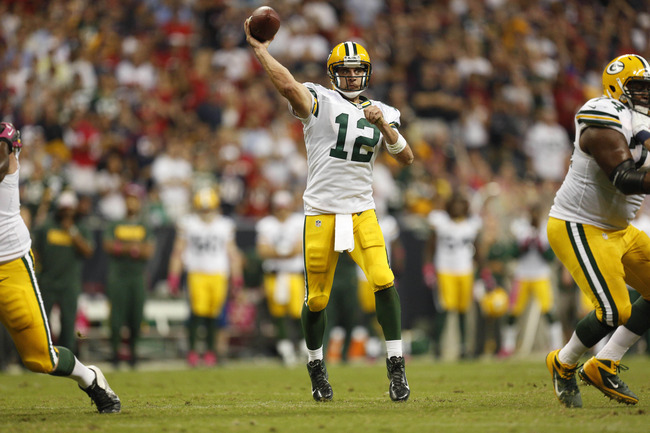 Thomas Campbell-US PRESSWIRE
So much for the "what's wrong with the Packers" talk.
Was it actually warranted in the first place?
Were it not for the "GoldenGate" scandal in Week 3, the Packers would be 4-2. The Pack also had the misfortune of facing an emotionally-charged Colts team in Week 5.
Plus, Greg Jennings has only appeared in three games, and Green Bay did beat the Chicago Bears and New Orleans Saints.
Everything fell into place for the Packers on Sunday night. They embarrassed the Texans on both sides of the ball and looked a whole lot like the team that steamrolled its way to a Super Bowl in 2011.
Even though Green Bay is only 3-3, it's clearly better than that, and its odds should reflect so.
Odds: 5 to 1
1. San Francisco 49ers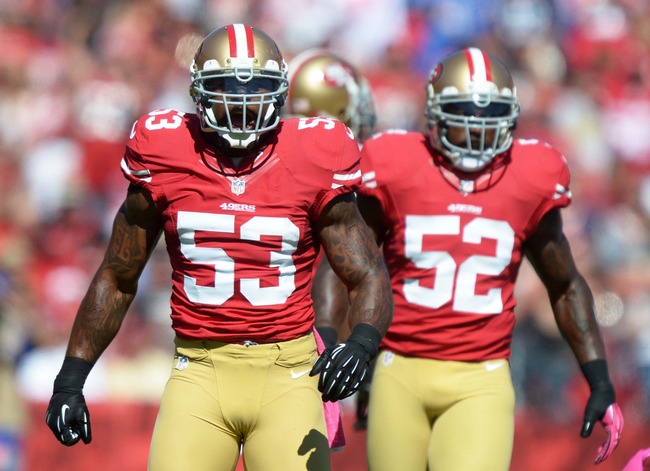 Kirby Lee-US PRESSWIRE
Don't let one loss fool you into believing the 49ers aren't the team to beat.
San Francisco's defense still poses a terrifying matchup for any offense, its rushing attack is the best in the NFL, and Colin Kaepernick has added an entirely new, dangerous dimension to the playbook.
The Niners are not invincible—they're bound to have off games just as the Packers, Texans and Patriots have this season.
But, come playoff time, San Fran just might be unbeatable in Candlestick Park, where it has now lost only three games since Week 14 of the 2010 season.
Odds: 4 to 1
Keep Reading