Ranking the NBA's Best Signature Shoes for 2012-13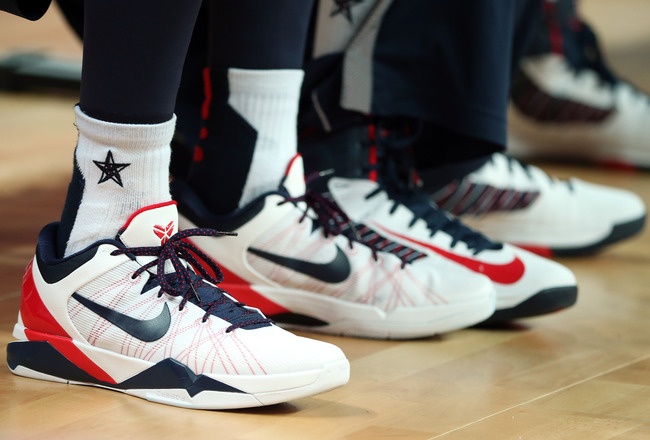 A lineup of some gold medal winning shoes from the 2012 USA Olympic basketball team.
Christian Petersen/Getty Images
Some NBA players are recognized by their signature headbands, elbow sleeves or Power Balance bracelets. Their most important pieces of equipment, however, are their shoes.
Whether you're a high school star aiming to look like the pros you admire, a YMCA scrub looking for more ankle support or comedian Daniel Tosh rocking the "sick kicks for the ladies," the latest signature shoes of NBA superstars may have the look for you.
Even though most of these shoes will put a significant dent in your wallet, simply admiring them aesthetically, or from the standpoint of how much money they earn these athletes in endorsements, is just as much fun.
Getting paid to wear shoes? Sign me up.
Honorable Mention: Russell Westbrook's Future with Jordan Brand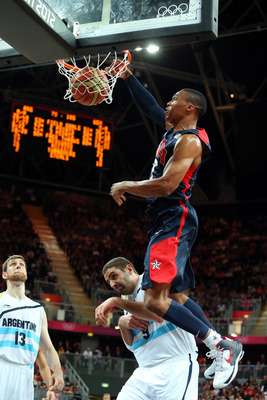 Christian Petersen/Getty Images
If you haven't heard the news already, Russell Westbrook of the Oklahoma City Thunder recently signed a contract with Nike's Jordan Brand (via Lance Madden of Forbes.com).
Westbrook will essentially fill the void left by the Miami Heat's Dwyane Wade, who signed an endorsement deal elsewhere (we'll get to that).
As far as up-and-coming stars are concerned, Westbrook receives more grief for the holes in his game than any NBA player we've probably ever seen. Fans are quick to point out Westbrook's negatives, which is a shame given the 23-year-old point guard's many positives.
Westbrook can certainly continue to shake off the haters now that he's signed a deal with Jordan Brand.
Only elite NBA talents get the opportunity to receive that honor. Additionally, to Westbrook's knowledge, Jordan still hand-picks the players he wants to represent the brand, according to an article by Kevin Arnovitz of ESPN.
You have to assume that it's only a matter of time before Westbrook gets his own signature shoe from this new deal.
Of course, a player with hops like Westbrook can make any shoe look impressive.
10. John Wall's Reebok ZigEscape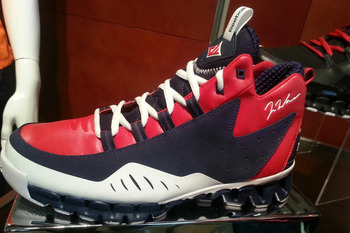 Photo courtesy: solecollector.com
Poor Reebok; they simply can't measure up to the star power of Nike and Adidas in the land of endorsements.
For me, the highlight of Reebok's endorsement career has to go to Garth Algar (Dana Carvey) in this clip from the movie Wayne's World. That's classic comedy right there.
Anecdote aside, these signature shoes are just bizarre. The "Zig" theme has its own niche, but you're more likely to see the design associated with running shoes, not basketball shoes.
John Wall's third signature shoe isn't much different from years past, but they're sure to have a following among Washington Wizards fans (especially if the team can exceed expectations this season).
It's not a terrible design, but the unique zig-zag pattern may be a turn off for buyers.
If you want to see more colors and pictures, go here.
9. Carmelo Anthony's Air Jordan Melo M9
Jeff Zelevansky/Getty Images
For the ninth spot on the list, we'll choose the Air Jordan Melo M9.
Carmelo Anthony's new signature shoe will be an upgrade from the previous M8 model, but it won't be available for purchase until 2013, according to sneakernews.com. (For a plethora of pictures of the new model, click the link).
Anthony will have a new "teammate" this season on Jordan Brand, now that Westbrook signed on in place of Dwyane Wade.
I bet he wishes that new teammate was actually on the Knicks, though, instead of Raymond Felton and Jason Kidd, who will man the point guard spot this season.
Sure Anthony's shoes are nice, but will they actually help the Knicks go further than the first round of the playoffs during 2012-13? We'll have to wait and see.
8. Amar'e Stoudemire's Nike Air Max Hyperposite
Amar'e Stoudemire's Nike Air Max Hyperposite shoes for the 2012-13 season throw in some blue coloring to bring the Knicks' theme full-circle, but with the primarily orange/black design, these sneaks remind me of Halloween Oreos (which is most definitely a positive).
With a majority of Halloween colors, these shoes are right on time for the start of the NBA season in late October.
All kidding aside, Stoudemire's signature kicks are sure to be popular with the New York faithful (that is, if Stoudemire's teammate, Carmelo Anthony, doesn't manage to steal business with his own signature shoe).
It's a shame Nike decided not to add a fire extinguisher logo, or at least some red coloring to remind fans exactly whose product they're buying (sorry, I had to).
7. Kevin Durant's Nike KD V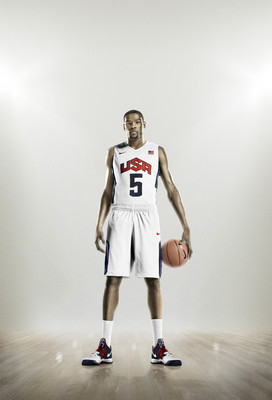 Handout/Getty Images
To get a glimpse of the new Nike KD V sneakers, see this link from theshoegame.com.
I have to be honest here, I'm not a big fan of the newest installment from the Durant shoe line. They simply appear to be way too similar to LeBron James' signature shoe (stay tuned).
In addition to the similarity to LeBron's kicks, the Nike KD V's are a step backward from the Nike Zoom KD IV. The previous model was sleek and streamlined (much like Durant's game on the court).
Again, I'm not sure why Nike would want to make two models so similar.
Especially when you consider that the two are friendly rivals and arguably the NBA's two best players.
6. LeBron James' Nike LeBron X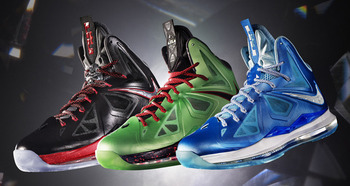 Photo courtesy: Nike.com
Again, the similarities between the Nike LeBron X and the Nike KD V are quite noticeable. Both designs have the mountainous tongue of the shoe cascading upward, creating a unique look.
From my point of view, these shoes could be misconstrued as alien spaceship concept art for a new Ridley Scott film.
With a base model price of $180, which could run all the way up to $270 according to Ben Golliver of CBS Sports, you may wish a spacecraft was included in the price.
Nevertheless, as the best player on the planet, and one of the most marketable NBA stars (whether for popularity or infamy), LeBron James should be able to wear whatever he chooses.
5. Kobe Bryant's Nike Zoom Kobe VII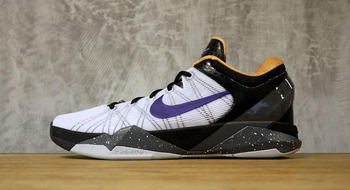 Photo courtesy: kicksonfire.com
Kobe Bryant's signature shoes have set themselves apart via the low-top design at the ankle, which few basketball sneakers seem to embrace these days.
I've always felt that low-top basketball shoes offer more comfort, but you're just one bad ankle injury away from making a 180-degree turn on that philosophy.
Bryant's shoes are simple, yet eye-catching at the same time. Unfortunately, because the color scheme of Bryant's shoes are predominantly the Los Angeles Lakers' colors (for obvious reasons), fans who love to hate the Lakers probably won't be in the market for these shoes.
Of course, Laker haters probably won't be buying Kobe's signature kicks anyhow.
These shoes will be released November 2, and the retail price is $140, according to Kevin Poux of kicksonfire.com.
Not quite the steep price associated with LeBron James' shoes, but the Nike Zoom Kobe VII's are not cheap, either.
4. Dwyane Wade's WADE Way of Wade (Li-Ning)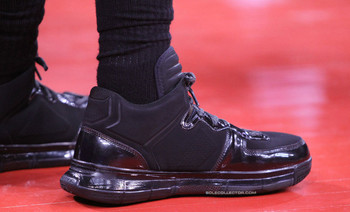 Photo credit: Li-Ning/Getty Images/Sole Collector
Russell Westbrook's spot on the Jordan Brand team was opened up by Dwyane Wade, who left Jordan Brand to sign a lucrative contract with Chinese sportswear company Li-Ning.
As part of the deal, according to Juan Martinez of Examiner.com, Li-Ning will create a separate entity within the company called WADE. The separate entity will be similar to the relationship between Nike and Jordan Brand.
In addition to a lucrative salary with Li-Ning, Wade will reportedly receive an equity stake in the company, according to Martinez's article.
The shoe itself, the Way of Wade, isn't flashy. However, that's its biggest charm, at least in my opinion.
Sometimes all the bells, whistles and colors screaming "Look at me!" become too much. Nobody likes the guy who seems to show up at every pickup game wearing $200 signature sneakers, only to stink up the joint with his play.
The simplistic black color will let Wade's game do the talking for him.
Additionally, according to Martinez's article, Wade's sneaks will retail at $125. Still not nearly as cheap as Stephon Marbury's $15 sneakers, but significantly lower than other signature kicks on the market.
3. Chris Paul's Jordan CP3 VI
Alright, so that promotional video didn't exactly give you the best glimpse of the actual product—but it sure was cool, right?
If you want to see additional images of Chris Paul's Jordan CP3 VIs, then visit this Nike link.
Nike advertises the new signature Paul shoes as having "the most cutting-edge materials for maximum breathability and minimum weight."
Now, "breathability" isn't technically a word, but it sure sounds like it will make your feet happy.
If they're good enough for the best point guard in the NBA, it's safe to say they'll satisfy casual NBA fans.
Get 'em while they last, Clippers fans, because Paul's time in L.A. may be dwindling, as he enters a contract year.
2. Blake Griffin's Nike Zoom Hyperdunk Supreme "Galaxy"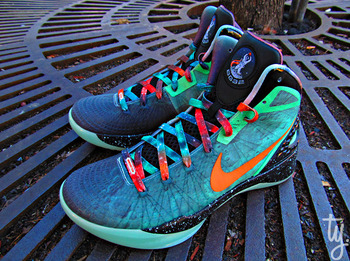 Photo credit: kicksonfire.com
At first glance, Blake Griffin's signature Hyperdunk kicks look like an homage to Ryan Stiles' famous (or perhaps infamous) big blue shoes from the show Whose Line is it Anyway?
Of course, the painfully blue 2011 Griffin model bore a closer resemblance.
Upon closer inspection, however, the "Galaxy" portion of the name rings true. The space-themed lunar-surface design is more than appropriate for a guy like Griffin, who doesn't appear hindered by gravitational pull.
Griffin's ability to jump out of the gym is well documented. He's a frequent visitor to SportsCenter's Top 10 for his highlight dunks.
If only Griffin could improve his abysmal free-throw shooting...
1. Derrick Rose's Adidas D Rose 3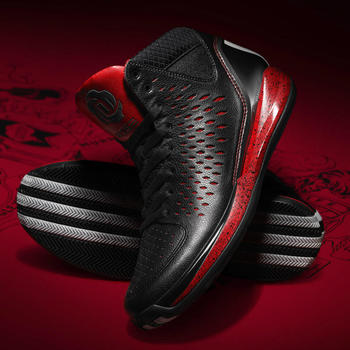 Photo credit: drosehoops.com
Aesthetically, I'm a huge fan of Derrick Rose's new Adidas Logo (h/t Lance Madden of Forbes.com). According to Madden's article, however, there's a great deal of purpose in the design, other than simply looking cool.
Via Madden's article:
Each leaf of the rose on the new logo represents Rose in a unique way. The three leaves, or rose petals, represent each of his older brothers. The No. 1 in the middle not only signifies his jersey number, but also his mother.

"The D Rose 3 Signature Collection is special to me because I worked side-by-side with Adidas on everything from materials to fit to colors to make it the best we've done yet," Rose said in a statement through Adidas. "I love the new logo that calls out the most important things to me: my family, basketball and the city of Chicago."
Clearly this design means a lot to Rose through the family values it represents, and the shoes create a happy medium for the logo itself.
Unfortunately, Rose is recovering from surgery to repair an ACL tear, and may miss the entire 2012-13 season, according to a staff report by Sporting News. So there's an outside chance the NBA community won't see these shoes in action.
Whether you're a Chicago Bulls fan or not, the possibility that Rose could miss the entire season is a negative for the NBA.
Rose won't be available for the Bulls until the end of the season (if he's available at all), but at least his signature kicks are in the running for best in the league, right? Yeah, you're right; that's not the best glass-is-half-full outlook.
Keep Reading