Projecting Each San Antonio Spurs Player's Minutes Per Game in 2012-13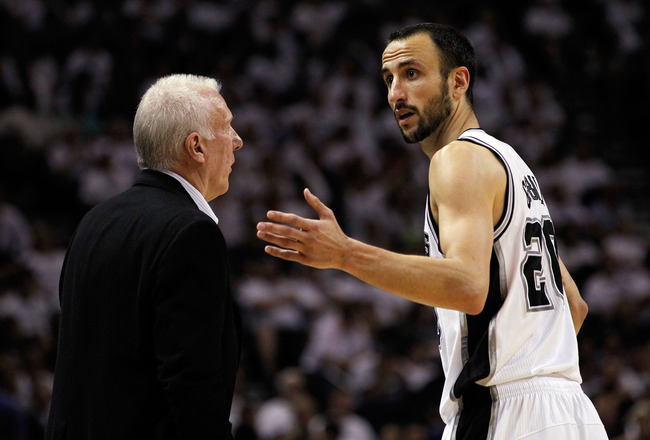 Tom Pennington/Getty Images
The San Antonio Spurs are making their final additions to the roster, preparing themselves for another exciting season. The roster remained almost identical to last year's with the slight difference being James Anderson's replacement by rookie Nando De Colo.
Like last year, the Spurs remain incredibly deep, with a solid starting unit as well as a strong bench to provide the necessary support.
Coach Gregg Popovich likes to allocate his minutes to both starters and reserves more equally than most coaches, so each Spur will likely be given a shot to leave an impact.
But how much of a shot will each player get? And how will the "Big Three's" minutes be affected by their inevitable age?
Here's a prediction of each player's playing time for the upcoming season.
Tony Parker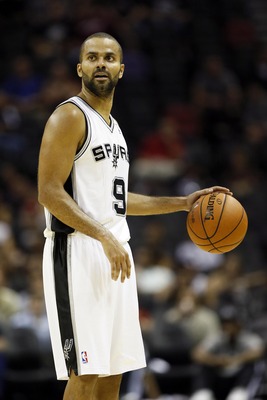 Soobum Im-US PRESSWIRE
2012-13 Projected Minutes Per Game: 33.1
There won't be any question as to which Spur grasps the most playing time in 2012-13, as starting point guard, Tony Parker should undoubtedly once again finish with the highest mark.
Parker exhibited the best basketball thus far in his career last season, finishing fifth in MVP voting as a result of his high level of play.
His average 32.1 MPG throughout the regular season led the Spurs, and the All-Star point guard is currently on the rise.
He will most definitely see a slight rise in his total, but nothing too drastic, considering coach Gregg Popovich constantly monitors the playing time of his veterans. Due to this, his minutes won't reach nearly that of some of the league's other major stars, whose totals finish in the upper 30s.
Still, Parker, the Spurs' unquestioned leader, will average over 30 minutes again during the upcoming campaign.
Danny Green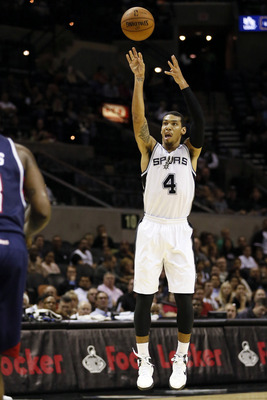 Soobum Im-US PRESSWIRE
2012-13 Projected Minutes Per Game: 21.6
Danny Green began the season as an unknown name, but soon emerged as one of the team's most important role players, following an early injury to Manu Ginobili.
The UNC product was given the opportunity to start in place of the injured veteran, an opportunity of which he took full advantage, marking the emergence of one of the team's most polarizing players.
Even after Ginobili recovered, Green maintained the starting job, allowing Ginobili to provide energy off of the bench. While Green's minutes per game (23.1) were rather low for a starter, the transformation that he saw from the beginning of the season to the end was quite impressive.
He'll likely reclaim his starting job this season, and while the emergence of Nando De Colo and Cory Joseph will result in a slight decrease, a similar average as last year should be expected for the young guard.
Kawhi Leonard
Troy Taormina-US PRESSWIRE
2012-13 Projected Minutes Per Game: 30.6
If any member of the San Antonio Spurs is going to end up with a dramatic increase in playing time, it will be Kawhi Leonard.
Leonard's explosive start to his career last season proved that he was ready to accept a large role, and one day become a star. While Pop was hesitant to put too much focus on a rookie, Leonard—now a sophomore—should see a spike in his minutes.
He will be the team's starting small forward from the start, allowing him to receive an abundance of playing time right from opening night.
His youth is also a key factor that will determine the amount of time he sees per night, as many of the team's other stars are aging veterans and won't be able to handle a large amount of playing time, as compared to the younger Leonard.
Pop seems intent on making him a full-fledged star, and the easiest way to increase his production is to allow him more opportunities each night.
Tim Duncan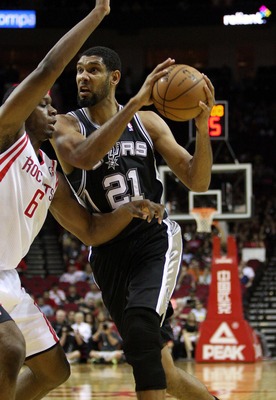 Troy Taormina-US PRESSWIRE
2012-13 Projected Minutes Per Game: 26.2
Tim Duncan is still one of the most important members of the San Antonio Spurs, which will be true until the day he retires. However, it would be false to claim that age hasn't affected the once-great player. While he still remains an above average member of the team, he has undoubtedly shown signs of slowing down.
His stats have slipped, both in points and rebounds, but his time spent on the court has also taken a hit as he his seasons dwindle down.
Coach Popovich understands the importance of a rested player in the postseason, so he always ensures that his older players don't tire out during the regular season.
Duncan, being the aging veteran that he is, has his minutes monitored very carefully, and is no stranger to missing a complete game for rest.
His 28 MPG last year were good for second on the roster; however, the emergence of Kawhi Leonard as well as the added year to his age will result in another drop in playing time. He'll still play his fair share, but don't expect him to come anywhere close to averaging 30 minutes per night.
Boris Diaw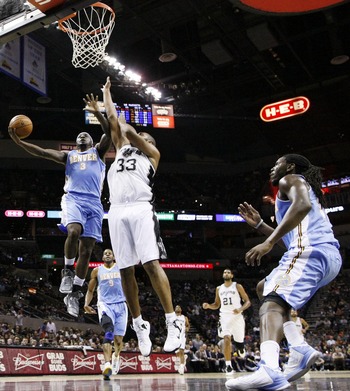 Soobum Im-US PRESSWIRE
2012-13 Projected Minutes Per Game: 25.8
Boris Diaw showed a vast improvement last season following his departure from Charlotte and his arrival in San Antonio. His multi-faceted game, as well as his strong overall ability eventually led to his placement in the starting lineup, a title that he carried throughout the second half of the season.
Over the course of last year, Diaw averaged 25 minutes each night, and that total shouldn't change very much in the upcoming season. Diaw was cast at a solid role, to start and contribute on the boards, while also being an effective perimeter threat as well as an excellent playmaker.
He will likely resume his starting job once the regular season picks up, and their lack of depth at the post positions will further help him solidify his chances of maintaining the role.
Overall, Diaw's playing time should stay very similar to last year, with perhaps a few added minutes on a given night to compensate for Duncan's decreasing time.
Manu Ginobili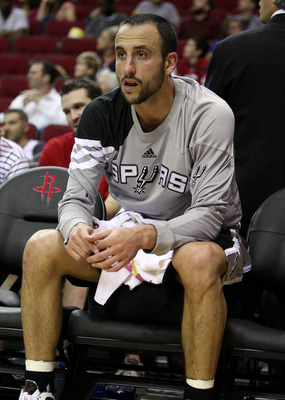 Troy Taormina-US PRESSWIRE
2012-13 Projected Minutes Per Game: 25.1
Manu Ginobili suffered a major decline in his 2011-12 season, which was likely due to his multiple extended absences.
His seven-minute drop in playing time from the previous season is the result of two main factors: his injury-plagued season and his age.
There is no way to predict that this season will be plagued by injury as the last one was, so with him expected to begin the season at full health, Ginobili's minutes should rise a bit from his 23.3 last year.
However, age is still an issue, perhaps more so than it was before. Due to this, it would be unwise to expect Ginobili's playing time to reach the upper 20s, as Pop is very careful to rest his older players.
Don't expect anything close to the time received in his younger days, but his playing time should improve from last season's totals.
Stephen Jackson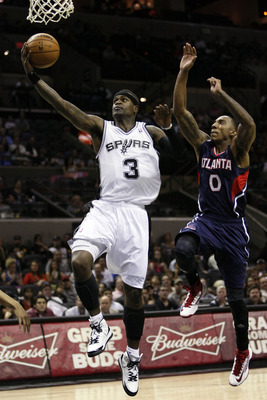 Soobum Im-US PRESSWIRE
2012-13 Projected Minutes Per Game: 26.2
After Stephen Jackson joined San Antonio on the trade deadline last season, he immediately became one of their largest contributors, and one of their primary backups.
He assumed the role of rookie Kawhi Leonard's backup, playing the small forward position for the majority of the time. However, his 6'8'' frame allowed him to spend a few minutes playing at the power forward, and his shooting skills resulted in multiple instances in which he entered the court as the 2-guard.
This season, his time shouldn't fluctuate greatly, as his overall increase in his production is countered by his age, which Gregg Popovich monitors so intensely.
Jackson provided the team with an offensive spark off of the bench, as well as a strong perimeter defensive presence too.
Now, in his contract year, it wouldn't be wise to expect any change from last year's successful campaign.
Patty Mills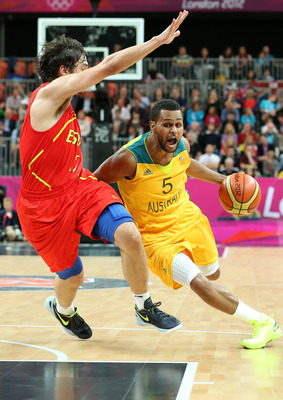 Christian Petersen/Getty Images
2012-13 Projected Minutes Per Game: 18.9
Patty Mills was a pleasant surprise for the San Antonio Spurs, who picked up the Australian guard late last season to replace the retired TJ Ford as the team's backup point guard.
Mills proved to be a more than serviceable backup, as he exhibit multiple dominant performances, which was capped off with a great Olympic run, where he led all opponents in points per game.
This year, he should find himself with consistent playing time each night, wavering around 20 minutes per night, give or take a few minutes depending on the night.
The guard position is filled tightly, but Mills is the only true point guard excluding Tony Parker, so he should claim the backup point guard as his own. While Parker will see a large amount of time each night, he can't play forever. I wouldn't put it past Coach Pop to give him a solid rest every once and awhile, so Mills should find himself with plenty of opportunities to impress.
Tiago Splitter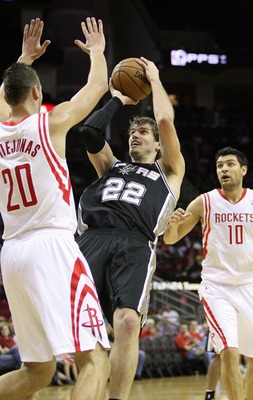 Troy Taormina-US PRESSWIRE
2012-13 Projected Minutes Per Game: 21.2
Tiago Splitter has been one of the most inconsistent members on the team, as he'll either show up to dominate or arrive completely uninterested on any given night.
While this may not stop this season, he should still see consistent minutes, as the team desperately lacks height, something only he and Tim Duncan have in abundance.
Duncan's age will prevent him from playing large amounts, and when he needs fresh legs, Splitter—who matches Duncan in terms of height—will likely be called as a replacement.
Splitter also has shown great potential, so the Spurs may look to integrate him a bit more this season, to prepare him for the post-Duncan era, where he will likely have a fairly large role.
With these factors in mind, Splitter should see a small increase in time this season, as well as a more consistent role.
Dejuan Blair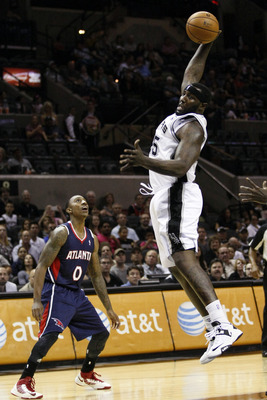 Soobum Im-US PRESSWIRE
2012-13 Projected Minutes Per Game: 18.1
DeJuan Blair began last season as the starter, but road the bench for the second half of the season after Boris Diaw took his place.
This gave rise to multiple trade rumors during the offseason, driving Blair to work harder and become more fit to help remain on San Antonio.
While Diaw will remain the starter, Blair should most likely find himself with a bigger opportunity this season. His strong preseason play has reminded fans of the force that he can be on the glass, as well as an outstanding offensive threat in the paint.
The Spurs need help in the post, and while Blair's height may pose an issue, his toughness should allow him to find a consistent role this season.
Gary Neal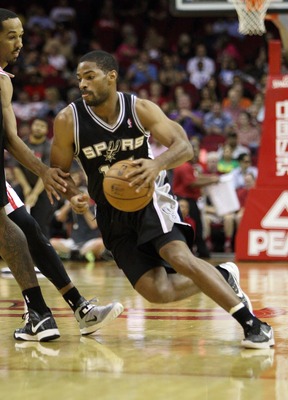 Troy Taormina-US PRESSWIRE
2012-13 Projected Minutes Per Game: 16.2
Gary Neal suffers from the unfortunate fate of being a shooting guard in a point guard's body, which is likely the leading contributor as to why he is yet to find himself a consistent role.
Neal has contributed greatly at times, often from beyond the arc, but he has found himself on the bench for long periods on other nights as well.
With such a confusing situation in the guard positions, there is no guarantee that this inconsistency will be put to a halt, especially for someone like Neal who is neither a point guard nor a shooting guard naturally.
Each position is deep, so the chances of him gaining extended minutes is a limited possibility, unless someone suffers from an injury, or he is shipped off to another team—which may occur by the end of the year, taking into account their surplus of guards.
Matt Bonner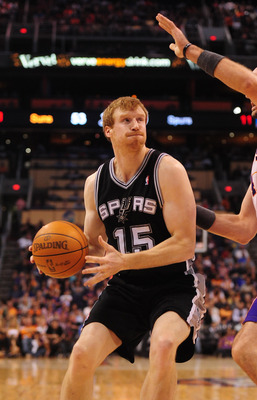 Mark J. Rebilas-US PRESSWIRE
2012-13 Projected Minutes Per Game: 10.1
Matt Bonner is perhaps the most polarizing player on the roster, as he can do nothing more than pop threes at an impressive rate. However, despite his single-faceted style of play, he always found himself on the court for a solid number of minutes each night.
Why? The reason is a complete enigma, and this season, Pop needs to come to his senses and decrease Bonner's playing time greatly.
He provides the team with no post threat, which guys like DeJuan Blair do. His only asset is his ability to knock down the long ball, but the Spurs are in no need of three-point specialists with Stephen Jackson, Gary Neal and Danny Green only headlining the long list of players who can claim that role.
Bonner may still find himself a factor in comebacks, as well as in garbage time, but don't expect anything close to what he did last year in terms of minutes.
Cory Joseph and Nando De Colo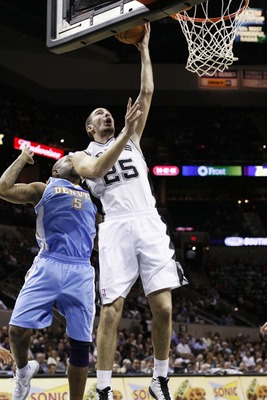 Soobum Im-US PRESSWIRE
2012-13 Projected Minutes Per Game: 7.2 and 9.2 (respectively)
Both Cory Joseph and Nando De Colo have had extremely impressive preseasons, in which they have shown remarkable comfort at the guard position.
Unfortunately for both of them, there is absolutely no room in the rotation for a pair of expendable, inexperienced guards, whose main purpose on the team is to develop so they can contribute in the future.
De Colo has shown similarities to Manu Ginobili, and Joseph has exhibited a comfort in leading the offense, but with Parker and Ginobili leading the attack with Green and Mills backing them up, there really isn't enough room for either player to make a big splash.
However, both of these players have the potential to be the next Danny Green. Don't be surprised if one eventually leaves his mark, but as for now, they will both struggle to find decent playing time.
Keep Reading

San Antonio Spurs: Like this team?