BCS Rankings 2012: Breaking Down the Oregon Ducks
Steve Dykes/Getty Images

Have you calmed down enough since the first BCS standings were announced to read this? If you're not quite there yet, take a deep breath. Repeat.
If you haven't yet heard, the Ducks start at No. 3, behind No. 1 Alabama, and—here's where it gets tricky (or nasty, if you are an Oregon fan)—No. 2 Florida.
Are you thinking: "Here we go again. 2001 all over. Take out the "C" in BCS and you have what it really is." For those of you not born then, Oregon finished second in the AP poll in 2001, but got passed over for the BCS National Championship game.
Deep breath. OK, now we're ready to calmly analyze what these first BCS rankings really mean for the Oregon Ducks.
Begin Slideshow

»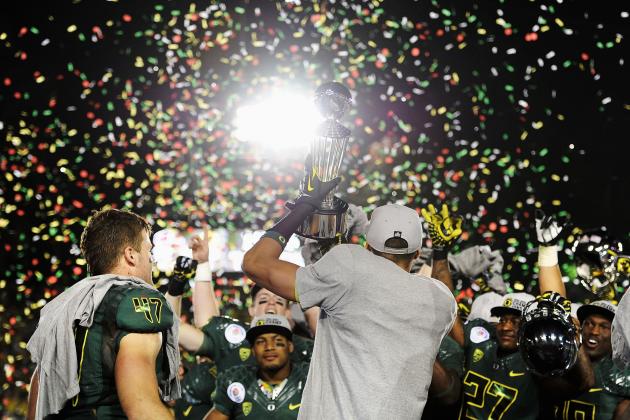 Harry How/Getty Images

How did Oregon get to this point? What led to the Ducks being ranked No. 3 in the first BCS standings?
It really started with the hiring of Chip Kelly, but, for our purposes here, we won't go that far back. This season's national BCS ranking really began with Oregon's terrific win over Big Ten champion Wisconsin at the Rose Bowl.
The Rose Bowl victory got the attention of the national media and poll voters. And, let's face it, the Ducks are a fun team with several interesting side stories. You may pooh-pooh peripheral things like a cute mascot and potential Heisman Trophy candidates, but it helps keep your program in the dialogue.
Although the non-conference games to begin this season were weak, you still have to go out and beat 22 guys who are trying really hard. Putting up an average of 52.4 points as the Ducks did in September keeps a team relevant on the national scene.
There are many factors in the BCS rankings, and I think, having been burned in the past, Oregon has figured out how the game works.
And make no mistake, it is a game.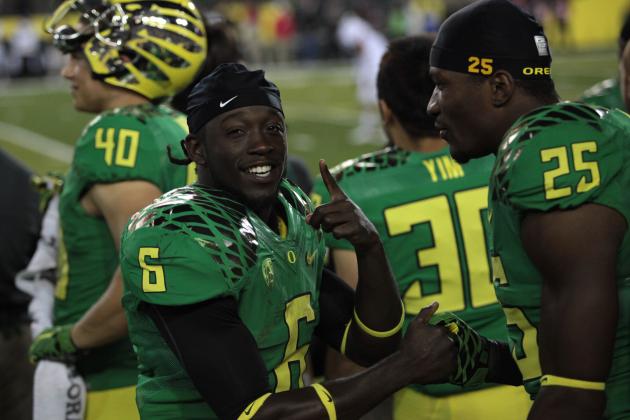 Scott Olmos-US PRESSWIRE

I can hear your brains working: "What is the Ducks' best win so far in this young season?"
Most of you will say the total destruction of a ranked Arizona team. Or the sweet satisfaction of embarrassing Washington for the ninth consecutive year.
While those were ridiculously fun and important games, the best win—please remember, we are talking about the BCS standings here—was the first game against Arkansas State. You have to assume that people tuned in to see if the Ducks would pick up where they left off, and, sure enough, they did that and more.
Oregon led 50-3 in the first half. Marcus Mariota made everyone say: "Darron Who?" De'Anthony Thomas was electric, Kenjon Barner was solid and the defense was better than ever.
When that first game was in the history books, the nation said: "Yeah, the Ducks, I like that team."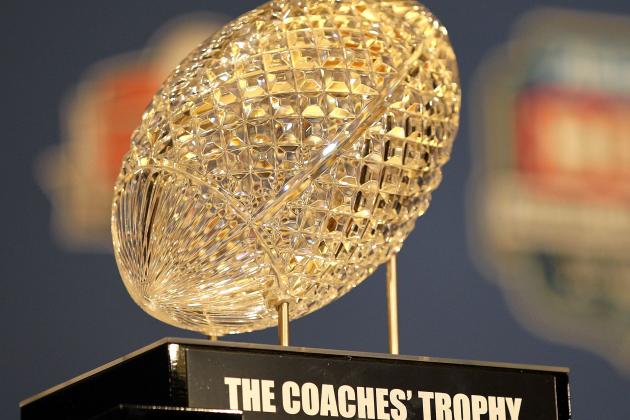 Andy Lyons/Getty Images

Here come the numbers.
Oregon opens at No. 3 in the BCS rankings with 899 points, only 10 points behind No. 2 Florida with 909 total points.
No. 1 Alabama has 976 total points, while Kansas State is nipping at Oregon's heels with 896 points. Notre Dame is No. 5 to start with 877 points.
My point here is it's close. I guess that's a good news, bad news scenario. Oregon is close to No. 2, but Kansas State is close to No. 3.
It's probably important to not overthink the numbers.
Scott Olmos-US PRESSWIRE

I believe I know the answer to this question, but I would really like to hear your take on Oregon's first BCS ranking this season.
Are the Ducks ranked where you think they should be? Are they too high? Is being ranked below Florida completely insulting to you?
Although this might seem heretical in some circles, is Alabama's ranking justified? Is perennially overrated Notre Dame deserving of its No. 5 ranking, or is it deja vu all over again?
How would you rank the nation's best teams?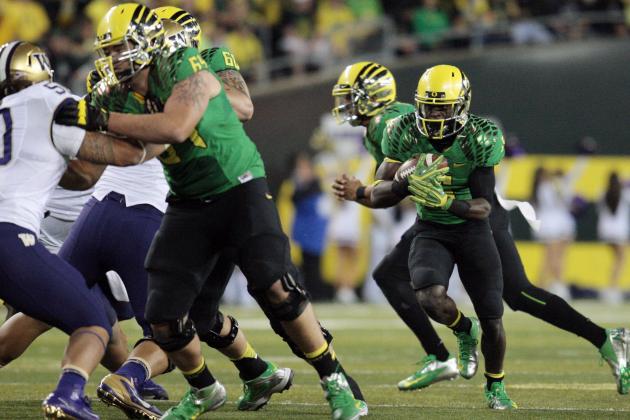 Scott Olmos-US PRESSWIRE

On ESPN's special to announce the first BCS rankings, analyst Kirk Herbstreit made a couple of comments about the Ducks that are worth repeating. When it was apparent that the Ducks may have been robbed in this first week, Herbstreit said: "It's all in front of Oregon from here."
I took that to mean that if the Ducks win out, and our competition beats each other up, Oregon will be one of the top two teams standing at the end.
But can the Ducks win out? Here's the remaining schedule for you to ponder, or if you're like me, worry about:
Oct. 18 at Arizona State
Oct. 27 Colorado at Autzen (OK, not so much worry on this one)
Nov. 3 at USC
Nov. 10 at California
Nov. 17 Stanford at Autzen
Nov. 24 at Oregon State (yikes)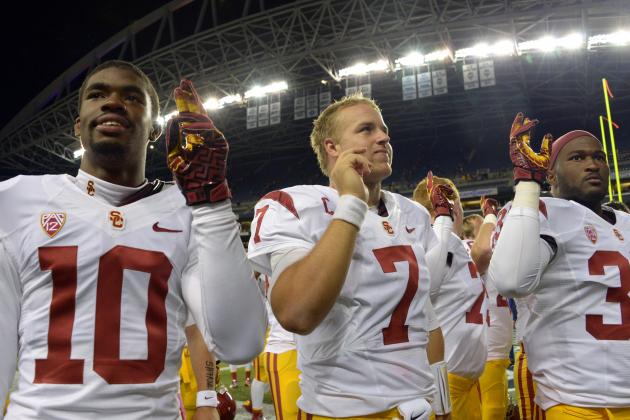 Kirby Lee-US PRESSWIRE

Yes, the Nov. 3 game that we all circled on our calendars in February is still the game that will probably matter the most.
I say "probably" because have you heard of this little team up the road in Corvallis? Every Duck fan's worst nightmare is running the table until Nov. 24, and then have it all come crashing down.
This week's contest in Tempe is no walk in the park either. The Ducks will win, but not before all their fans over the age of 50 have major heartburn.
Stanford at Autzen? It's where ranked teams come to die. Piece of cake.
Ducks at Cal? If you read this space often you know that is not a serious question.
So, yeah, there is some trouble ahead, but the smart money is on the Ducks to win out.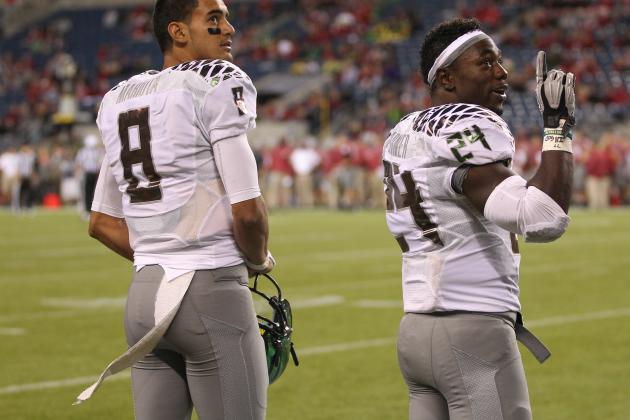 Otto Greule Jr/Getty Images

If you are an Oregon fan, here is what helps you sleep at night: Chip Kelly, Kenjon Barner, Marcus Mariota, De'Anthony Thomas, Dion Jordan, Ifo Ekpre-Olomu, Kiko Alonso, etc. etc. etc. Book the flight to Miami now.
However, Kirk Herbstreit said one other thing in the telecast that should make you pause: "BCS voters still don't know if the Ducks wear orange and black or green and yellow."
Without statement wins, starting with this week at Arizona State, maybe Oregon does get lumped in with Oregon State in the voters' minds.
A sobering thought.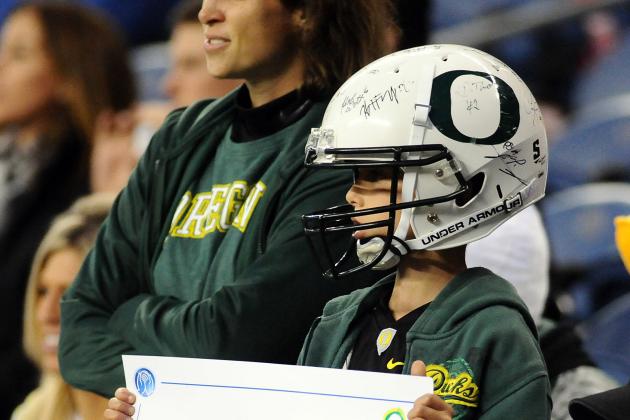 James Snook-US PRESSWIRE

Please don't tell this fan quite yet, but there is a very good chance that the Ducks will go from No. 3 in the BCS rankings to No. 1 the final week.
How, you say?
Simple, really. On Oct. 27 Georgia, who has to be ticked off at its one loss to South Carolina, beats Florida. It's also conceivable that Florida will lose to South Carolina this weekend. Then, on Nov. 3, Oregon beats down the Men of Troy, and LSU, also ticked off, rises up and smashes Alabama big-time.
And before you all call me an idiot or worse, yes, I really believe that LSU will beat Alabama. Also, by now, we all know that USC is not quite what they were cracked up to be in the preseason.
Ducks win out, and the SEC cannibalizes itself. The only question is will a one-loss SEC team top an undefeated Pac-12 team.
If that happens, prepare for Armageddon.